On Championship Sunday, It Was Manning's Moment
Peyton Manning's Broncos got the best of Tom Brady's Patriots thanks to a defensive performance for the ages. Denver now heads to Santa Clara to meet the Panthers in Super Bowl 50. Here's a breakdown of both games, plus the latest NFL offseason news and details on a Super-sized cross-country road trip
DENVER — There was an emotional Archie Manning, looking all wrung out, near the Broncos' locker room on Sunday after his son's team prevailed in a three-hour, 29-minute festival of noise and emotion, the most momentous and likely last of the 17 Tom Brady-Peyton Manning meetings. This had the air of the final game of Peyton Manning's life early Sunday afternoon, but Manning and the Denver defense sent the script to rewrite.
In a quiet moment just before leaving the stadium, his 4-year-old son Marshall clinging to his legs ("Can we go NOW, Daddy?"), Manning considered this question: Did you think when you walked on the field for warmups today that you might be walking on a football field for the last time as a player?
Quick shake of the head no, and this:
"I didn't have that thought," Manning said. "I had a peaceful feeling going out onto that field. Not that I knew we were going to win by any means, I just had a peaceful feeling. I didn't add that to my plate, because there was a lot on it already. This has been—ah, a unique season. Today I did the same routine I've been doing the past couple weeks and tried to follow that."
But this day was anything but routine. "After the adversity of this season, I just never thought he'd have this opportunity," said Manning confidant and former Bronco John Lynch, who huddled with Manning for a few minutes afterward at his locker. "But today,  it's like the stars just aligned for him."
The stars, plus one of the most vicious defenses Tom Brady has ever faced.
* * *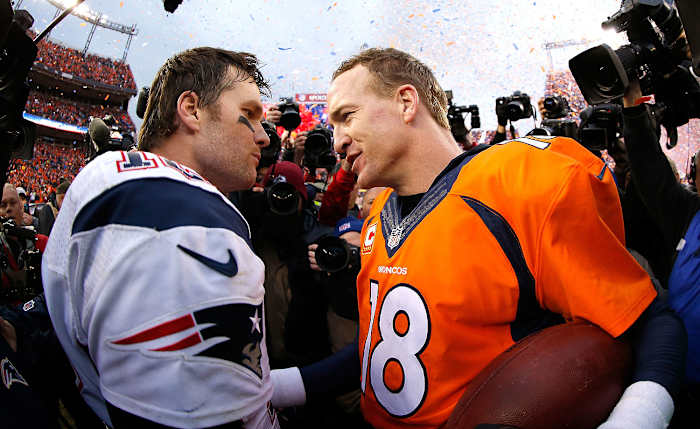 Hard to imagine Vince Lombardi and Hank Stram on the sidelines of the Los Angeles Coliseum 49 years ago at the first Super Bowl, thinking of the monstrosity the game would become. Much harder to think anyone in the Coliseum that day could have envisioned teams from Charlotte and Denver playing a few hours up Route 101 in Santa Clara in the 50th such championship game. The NFL has taken some unforeseeable turns, such as the 49ers building a home stadium 46.2 miles from Fisherman's Wharf.
Of course you couldn't have seen a Super Bowl in Santa Clara 49 years ago. Or a franchise from Charlotte playing in it. But how about 49 weeks ago? Or, in Denver's case, 49 days?
But it is what it is, a statement that seems cruelly apropos for the Patriots and the coiner of that ism, Bill Belichick, 20-18 losers to Denver in the AFC title game here Sunday. And to Arizona, a 49-15 loser to juggernaut Carolina in the NFC Championship Game. So on Feb. 7 it's the 17-1 Panthers and new-age quarterback Cam Newton against the 14-4 Broncos with star-in-the-twilight Peyton Manning, who turns 40 in eight weeks, in the golden Super Bowl.
• ULTIMATE MISMATCH IN SUPER BOWL 50: Andy Benoit explains how Carolina might try to defend Denver's dominant pass rush
I'll focus mostly on the AFC game, where I was on Sunday, but get in a section about the Panthers through the experience of a incredible play by Ted Ginn Jr., the kind that will give Ron Rivera goosebumps when he and the team review the tape early this week in Charlotte. Also, you can read The MMQB'sRobert Mays on the Panthers victory and what it means to their veteran leader, Thomas Davis, who vows to play despite a broken arm.
The early line on Super Bowl 50 from the intelligentsia is that Carolina's offense, and the irrepressible Newton, will be too much for Denver, because the Broncos won't be able to score with the Panthers. That could well be so. But just as Denver will have to find answers for the quick road-graders on the Panthers' defensive line and the ball-hawking back seven, so too will Carolina need its edge protectors to neutralize Von Miller and DeMarcus Ware (three sacks, 11 quarterback hits combined against New England). More about the defense in a moment, but first the headline act—which did not disappoint.
Interesting to note coming into this game that the 17th meeting between Brady and Manning seemed to be the first real mismatch between the two. Not between the two teams, because the Denver D has held down foe after foe this year. But while in 2015 Brady still played like he was in his prime, Manning was stumbling to the finish line of a historic career. And though during the week Belichick said, "I would never, ever, ever underestimate Peyton Manning," it was clear that the balance of power in the rivalry had shifted to Brady once and for all.
But this game can humble you, and it can fool you. Last week Manning survived throwing horizontally and short. On Sunday, on a lovely day for football (46 degrees, clear at the start, 6 mph winds barely felt on the field), Lynch knew it could be different for his friend. That's what he meant by the stars aligning for Manning. "No wind, no rain, a perfect day for throwing for Peyton," Lynch said. "I thought the ball came out of his hand the best it has all year." Early, Manning, heading into the slight wind, took the Broncos 69 yards in 11 plays, throwing it 15, 11, 11 and 18 yards past the line of scrimmage on the drive, completing three of those passes. The final one, the 21-yard touchdown pass to well-traveled tight end Owen Daniels, came on a double-move against linebacker Jamie Collins. Early in the second quarter, incredibly, Collins bit again on the double-move, and this time it was a 12-yard touchdown.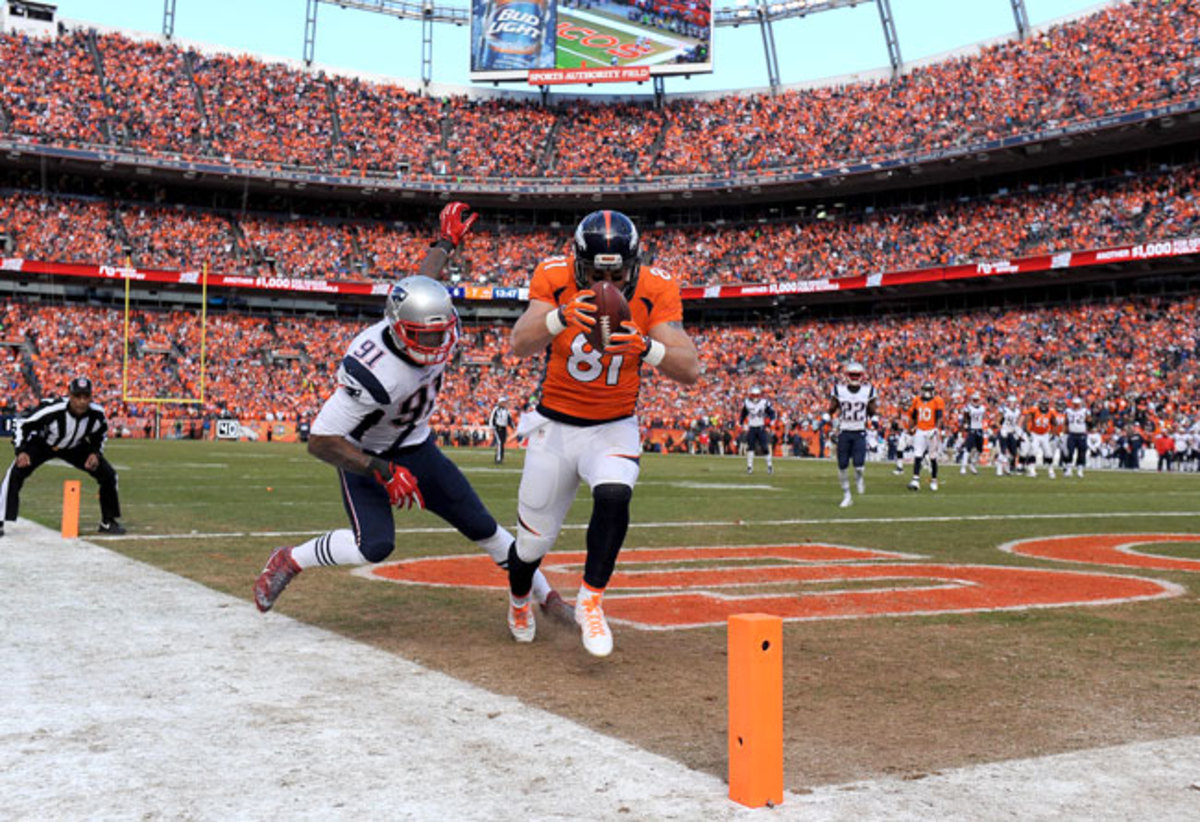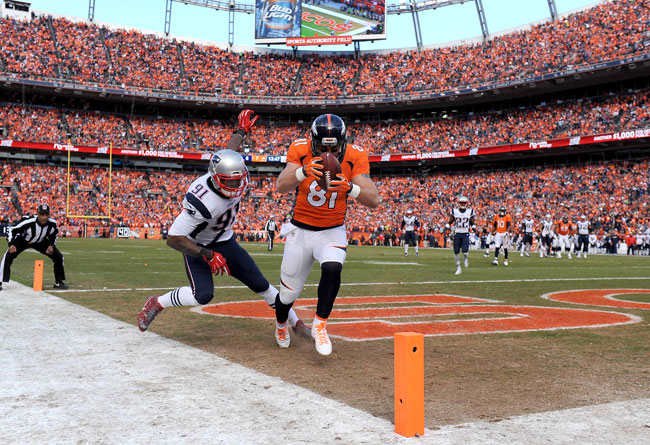 "Twice!" Manning exclaimed later, with Marshall pawing at him. "One was inside, one was outside. We thought we needed to take some shots, and we said, hey, if we get into the red zone and we can just score some touchdowns as opposed to field goals, they can make a difference, and it ended up being the difference in the game. Later, we just missed on the one to Jordan Norwood and I would have loved to hit that."
"I was in shock," said Daniels, and let the record show that Manning threw three touchdown passes at home all year, each one to Daniels. "I just wanted to contribute in any way. I'll block the whole game; I don't care. But two touchdowns … incredible."
The Denver defense did much of the rest, with Manning being asked, as he has been since he re-entered the lineup a month ago, just to manage the clock and the game. The end of this one made it the classic of classics. Trailing 20-12 (the most painful missed kick of Stephen Gostkowski's career robbed the Patriots of an oh-so-vital point; more about that later), Brady had four fourth-down conversion attempts, three of them inside the Denver 20, in the final seven minutes. On the first attempt, from the Broncos' 16-yard line, Ware blew by left tackle Sebastian Vollmer (that happened all day) and pressured Brady into an arcing throw to Julian Edelman, who was crushed by Chris Harris for a loss of one; no conversion. The second time, from the Denver 14, Brady, under pressure, lofted a pass to Gronkowski that was defended closely in the end zone by Talib; incomplete. Finally Brady made two terrific conversions on the last drive. After Ware embarrassed Vollmer twice and leveled Brady, the plucky QB laid a perfect rainbow into Gronkowski's hands for a 40-yard gain. But even when New England scored on the last fourth-down conversion, a four-yard pass to Gronkowski with 17 seconds left, heavy pressure on the two-point try foiled the attempt to force overtime.
• THOMAS DAVIS: 'I'M NOT MISSING THE SUPER BOWL: Robert Mays reports from Charlotte on the Panthers' injured war horse
What drama, though. How Brady hung in, and how Manning hung on, will be a story replayed by NFL Films for years. The outcome will be reviled in New England and replayed endlessly in the Mountain Time Zone. After the clock hit zero, Manning had a 12-second moment with Brady, and another almost as long with Belichick, amid the crush on the field.
"I really feel that when everybody tries to analyze me versus Tom and me versus Belichick, I think it's more about enjoying the games and the rivalry," Manning  said. "And today I hope everybody enjoyed that game. I know I enjoyed being there. That's what I told Tom and Bill—that I've enjoyed this game and I've enjoyed all of them. I've enjoyed the rivalry and all the games we've been in. It's been such an honor to play against both of them. This is my seventeenth time playing against the Patriots with Tom at quarterback. It's my 24th against Belichick as head coach or defensive coordinator. I can't shake either one of them. They are always there. They're always standing between me and where our team wants to go. What a rivalry. It's been such a big part of my career. So I wanted to take the time to pass that along to them, with how much respect I have for both of them."
Hints of the end for Manning? Stay tuned. If it is, consider this: John Elway brought Manning to Denver in 2012 to solidify a weak position and to win a Super Bowl. Since that day the Broncos have had the best winning percentage in football—54-17, .761—and have been to two Super Bowls. (New England is 54-19 since 2012, with one Super Bowl appearance and victory.) Denver has been the AFC's first seed three times and second seed once in the last four postseasons. Manning's job won't be complete unless the Broncos beat Carolina in what, obviously, might be his curtain call in Denver.
If Manning doesn't win in two weeks … if he exits Denver with two conference titles and with the Broncos owning the best winning record over his time here, would you call the experiment a failure? I don't see how. Disappointment, surely, for not winning a world title. But averaging 13.5 wins a year? Most markets would say, Sign me up for that.
So maybe it is the end for Manning, except for one more thing—the biggest Super Bowl there's ever been.
* * *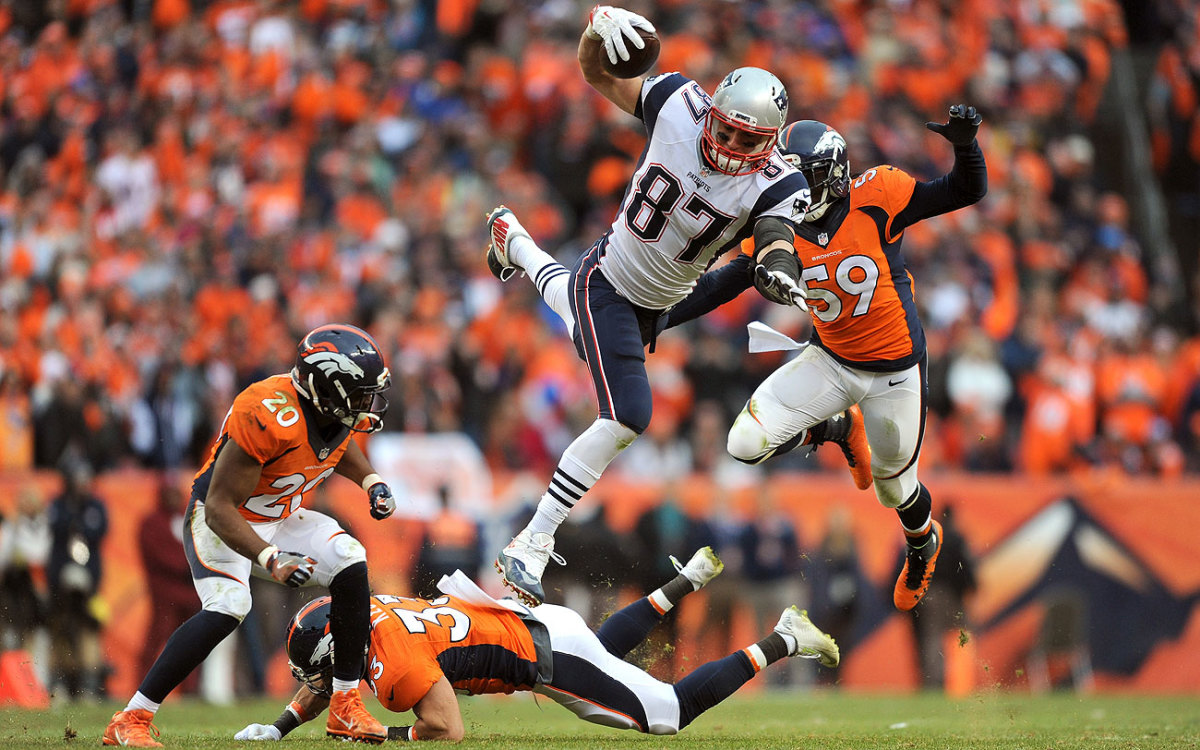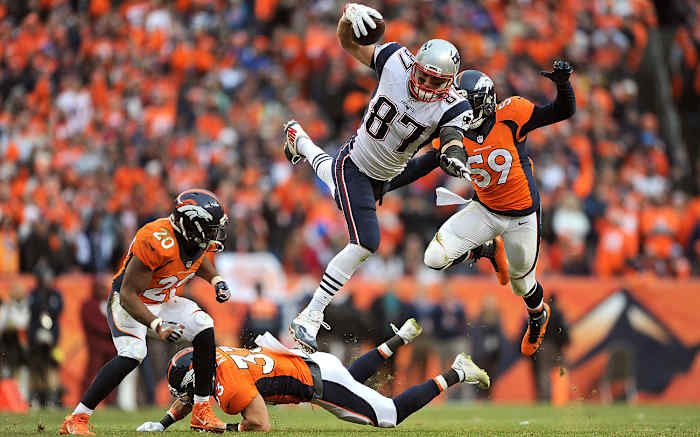 Postmortem on the Patriots
A few things now about the Patriots. I'm left to think about why they're cleaning out their lockers today, and four things come to mind:
1.The tenuousness of football. Last season ended with Malcolm Butler making the singularly brilliant interception at the goal line to win a game for New England that looked so lost. This season ended with Tom Brady converting a fourth-and-10 pass for 40 yards with 90 seconds to play, then a fourth-and-goal for a touchdown to Gronkowski, and then a two-point conversion pass to force overtime being tipped away from Julian Edelman. They won a Super Bowl by four points, agonizingly. They lost an AFC Championship by two, agonizingly. That's postseason football.
2.As great as he is, Stephen Gostkowski did not have a good day … and the new rule pushing back the PAT was a monstrous factor. Don't argue about the efficacy of the new rule, which pushed back the line of scrimmage for extra points to the 15-yard line. Under the old system Gostkowski had made 468 straight PATs. Throughout the league, the point-after was a non-competitive play, a waste of time, the kind of play that, were you inventing rules for a new game, would never be on the books. You don't design plays in a fair athletic contest that are successful 99.6 percent of the time, which the PAT was in 2014. Even under the new system, Gostkowski had made 55 more in a row entering Sunday. That's still incredibly lopsided in the kicker's favor. But the equivalent to a 33-yard field goal is slightly challenging, and the fact that Gostkowski pushed his attempt a foot right shows that the kick is not the gimme it was a year ago. That's bad for the Patriots this morning. It's good for the game overall. The stratagem in play for three quarters after Gostkowski's miss changed the game. If the late Gronkowski touchdown had made it 20-19, a Gostkowski PAT would have forced overtime … and you might have liked the Patriots' chances there, despite the fact that Brady was running for his life throughout the fourth quarter: In the second half, Denver's possessions ended thusly: punt, punt, punt, field goal, punt, punt.
3.Home-field advantage was huge. Since Manning was signed by the Broncos in 2012, New England has lost all three of its games in Denver. In New England's last three AFC title games against Manning—all home games for Manning—the Patriots are 0-3. I was amazed during the course of the game at the sustained intensity of the 77,000 in the stadium here. The scoreboard would plead for noise, the scoreboard would show the decibel level in the stadium, and the scoreboard would show fans in full throat, all while the Patriots had the ball. The noise contributed to two penalties, at least, for New England. Meanwhile, when Denver had the ball it was library-quiet, marvelous for Manning to audible without having to scream or hand-signal. Think back to Week 17, when New England could have clinched home-field in the AFC playoffs with a win over the Dolphins, who had nothing to play for. The Patriots put the emphasis on healing for the playoffs, playing passively, almost like a get-through-this-thing-unscathed preseason game. Miami won 20-10, and that was the big difference between playing in Denver instead of Foxboro. Big difference.
4.New England's got to be more competitive on the offensive line next season. Left tackle Sebastian Vollmer was a fourth-quarter turnstile for DeMarcus Ware, and Marcus Cannon was no better on the right side. Tough break to see incumbent left tackle Nate Solder go down in October for the year with a biceps tear, but that's football. It was amazing, really, that New England had a shot to win late in this game with the abuse that Tom Brady took all afternoon—20 significant quarterback hits in all. It's a credit to Brady that he played so gamely under the kind of 60-minute pressure he faced. It might have been the most he's been beat up in a game in his career; his first Super Bowl against the Giants may be the only game to compare.
The Patriots certainly aren't done. The defense is young and a potential top-five NFL unit in 2016. Brady shows no signs of being at the end—though the NFL's scheduled March appeal of the Deflategate case theoretically could take Brady off the field for the first four games of 2016 if the league prevails. Regardless of the outcome of the case (the NFL doesn't have the goods on Brady, but that hasn't stopped the snowplow of league justice), I expect New England to be back atop the AFC East in 2016 and playing in the Super Bowl tournament next January.
* * *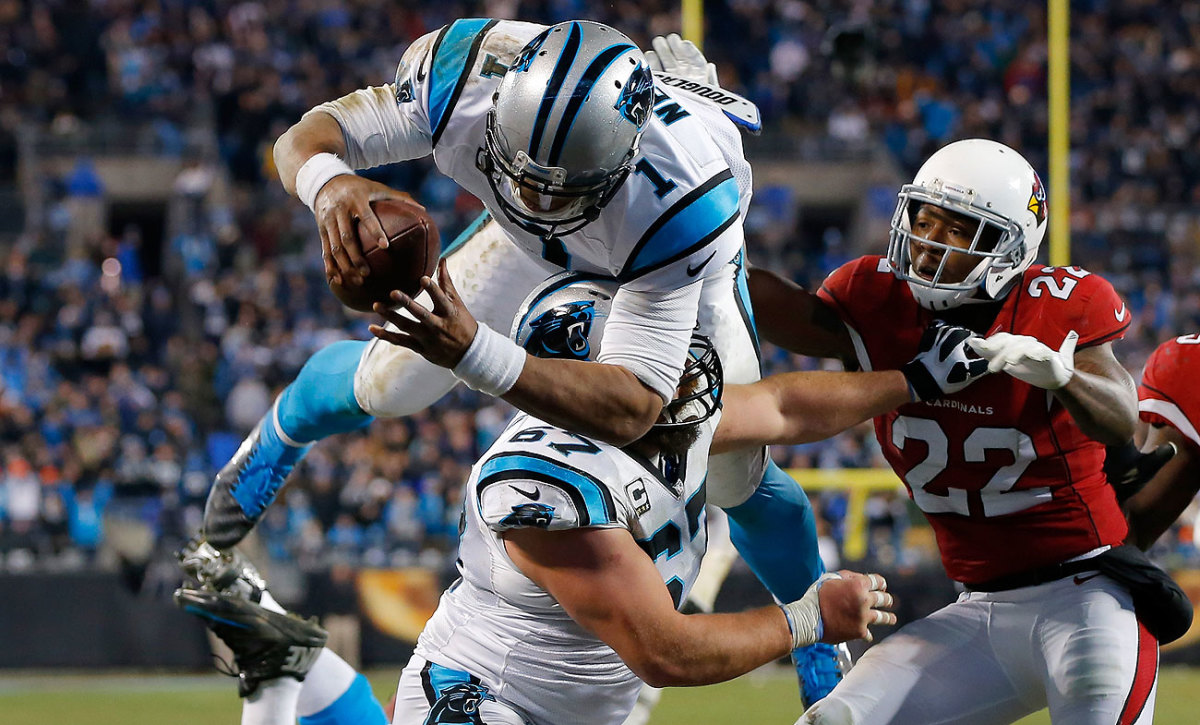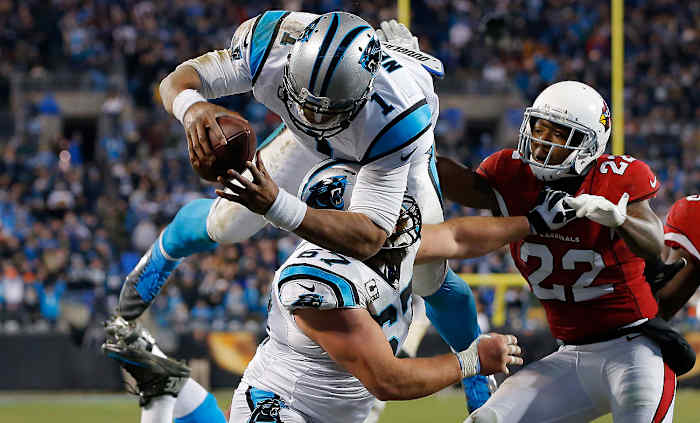 The play of the day in Carolina, and it wasn't a touchdown.
Carson Palmer and his mates did enough on Sunday to self-destruct in the NFC Championship Game, and it's a virtual certainty that even if Ted Ginn Jr. doesn't resuscitate his track days late in the first half in Charlotte, the Panthers still would be headed to Super Bowl 50. But knowing Ron Rivera a bit, I bet the play Ginn made, which most people in the stadium had little idea was even being made, will be a highlight for Rivera this week as he discusses why he loves this team. When we spoke last week, he said, "What I like so much about this team is the consistent effort and the unselfishness.''
You can't describe Ginn's play any better than with those two words. And you can't define what the NFC's Super Bowl team is about any better than with this play.
The situation: Carolina led 24-7 late in the second quarter, and Cam Newton was trying for one more score before the half. He overshot tight end Ed Dickson up the right seam, and the ball was picked off by Patrick Peterson at the Arizona six-yard line. At that moment Ginn was a yard deep in the end zone, about six yards wide of Peterson. The Cardinals cornerback began his dash up the left sideline, and Ginn did too, sprinting and weaving through traffic. At one point near the Arizona 35, Peterson had a lead of more than 10 yards on Ginn. But Ginn kept coming. And when Peterson had to slow and turn a bit because of traffic, Ginn pounced, tackling him at the Carolina 22.
For a moment Ginn had saved an Arizona touchdown. And on the next snap, Carson Palmer was intercepted by Panthers safety Kurt Coleman. So now, truly, Ginn had prevented Arizona from cutting the lead to 24-14 at halftime and giving the Cardinals life.
"I just tried my hardest to run him down, and basically I hoped to help turn the game around," Ginn said from the winners' locker room Sunday night. "I used to be a track athlete, and sometimes in football you just have to get into track mode, put your head down and just go. I didn't think I had much of a chance.''
But in that case, you don't think … you just sprint until the other guy's out of bounds or tackled or in the end zone.
"I've played football for a long time," said Ginn, a nine-year veteran who played for the Cardinals in 2014, "and the way I analyze it is, it's a good football play. Stick with a play. You have to feel it's never over, and it can work out. That's part of what this team does.''
Ginn scored Carolina's first touchdown of the game on a 22-yard end-around in the first quarter. He's been that versatile guy the Panthers hoped he'd be when they signed him in free-agency after last year's lost season in Arizona. Carolina GM Dave Gettleman has made a lot of smart moves with veteran players, but none smarter than Ginn. Gettleman's strength is in tuning out the negativity others might have about players he likes. And he liked Ginn's speed, hands and skill set as a receiver/runner/returner.
"Maybe I was an afterthought to other people, but I came out and showed them what I had," Ginn said. "One thing I could say is, I am a fighter. I made a play that helped our team win. That's something I take pride in."
For more on the Panthers' victory, Robert Mays was on the scene in Charlotte and reports on the Thomas Davis story.
• 'I'M NOT MISSING THE SUPER BOWL': Panthers veteran linebacker Thomas Davis vows to play through a broken arm
* * *
The MMQB Across America
This website is going to do something a little different over the next two weeks, to commemorate Super Bowl 50. Starting today in Kennebunkport, Maine, and ending Feb. 6 in San Francisco, we're driving coast to coast, doing stories and videos along the way—some on making Super Bowl history come alive, some on the players and teams in the game this year—as an Americana way of covering the Super Bowl. A few highlights of the first week:
• From Kennebunkport, Me., Kalyn Kahler reports on Don Crisman, a man who has seen all 49 Super Bowls and will be in Santa Clara for No. 50.
• From Middletown, N.J., where Vince Lombardi is buried, Jenny Vrentas tells the story of the roots of Lombardi and how his force of will shaped the first Super Bowl.
• From Pontiac, Mich., Robert Mays reports from the site of the birth of the 49ers dynasty. It happened on the strangest Super Bowl day in history, at a monstrosity of a stadium that lies in ruins and is about to be razed.
And across the country our staff will go, unearthing the kind of stories you find on the ground in little towns and cities where the players and the games were born. On the first leg of the trip, Vrentas, Mays and Kahler will be joined by videographer John DePetro and editor/weekend preview writer Gary Gramling. On the second leg Kahler and DePetro stay on board for the long haul to Santa Clara, joined up by Robert Klemko, Emily Kaplan and editor Dom Bonvissuto.
Ideas for us along the way? We have a number of stories planned, but we're open to some good ideas. Please send your best ones to talkback@themmqb.com. Follow the #SB50RoadTrip journey on Facebook, Twitter and Instagram, and look for the stories, in words and video, beginning later today at The MMQB.
* * *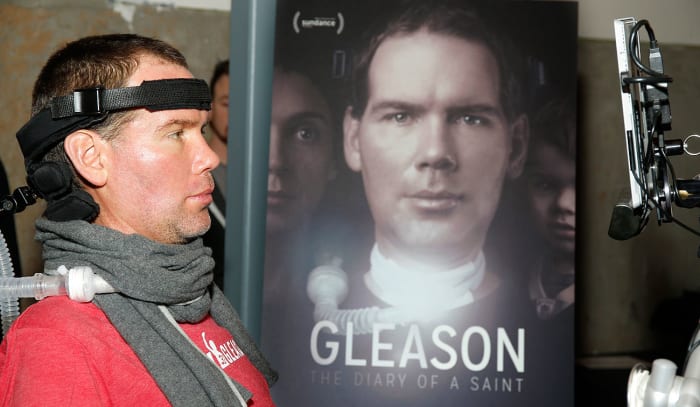 On Gleason, Coaching, OT, More
'Gleason' is one raw, wild ride. I am an old softie, but I counted six times I either teared up or flat-out cried in the 111 minutes of the documentary about the life of Steve Gleason, the former Saint and current face of ALS. The film premiered Saturday at Robert Redford's Sundance Film Festival in Park City, Utah, and in quiet moments in the theater you could hear sniffling and emotional gasps from the sellout crowd of 550—including former NFL player Lonie Paxton, who sat next me and was as affected by the show as I was. The New York Times wrote of the film: "Prepare to be wrecked." I'll have a longer story on "Gleason" in February on this site. For now, here's what you need to know: Gleason, diagnosed with ALS five years ago at age 34, allowed a team of videographers into his life to record video journals for his son, Rivers, who was born the autumn after Gleason learned he had the affliction. That became an intimate look into his life and that of his wife, Michel Varisco, and how the two dealt with Steve's soul-crushing malady. And it is all in this documentary. I mean, all. The nightmare of bodily functions when you have ALS … The family discord with Steve's father, who took an angry Gleason to a faith healer … Gleason at one point wailing, garbled because ALS was robbing him of his voice, into the camera: "I DON'T WANT TO DIE!" … Gleason staring into the camera saying, "Today I'm going to talk about my insecurities," and then doing so, painfully … The marital problems between Steve and Michel …. I can't recommend the film strongly enough. As for how you will be able to see it, and when: The filmmakers now begin the process of selling the documentary to a distributor. Could be on HBO or CNN, could be on Netflix, could be in theaters. I don't know yet, but I'll you posted.
The out-of-work coaching unemployment line is long. Jobless as of this morning are former head coaches of note: Tom Coughlin, Lovie Smith, Mike Pettine, Eric Mangini, Mike Singletary and Jim Tomsula, For the record, Minnesota hired two former head coaches as assistants—Tony Sparano (offensive line) and Pat Shurmur (undisclosed role). And the Ravens hired former Vikings head coach Leslie Frazier, who was let go with the Lovie Smith staff in Tampa Bay, to run Baltimore's secondary. That means three former head coaches are on John Harbaugh's staff: Frazier joins Marty Mornhinweg (quarterbacks) and Marc Trestman (offensive coordinator). It continues to astound me that smart people who run football teams do not wait for coaches on the teams in the final four. That's not apropos of this list, but the paranoia of the race to get head coaches and staffs hired works to the detriment of the Sean McDermotts and Matt Patricias, assistants whose teams were still playing when the last hire was made.
Tony Dungy is anti-both-teams-being-guaranteed-a-possession in overtime, and here's why. Dungy's reasoning: "Tweaking the overtime rule to guarantee each team one possession would bring up more decisions down the road. I would assume most coaches would kick off in those circumstances, because if you stop them you can win with a field goal, [and] if they score first, you're guaranteed to get the ball knowing exactly what you need to do and have the advantage of being able to go for it on fourth down if necessary. However if Team A scores first, how does the Team B coach play it? If Team A kicks a field goal on the first drive, and Team B drives and comes up fourth-and-two with a chip shot field goal—do you kick it or go for it on fourth down knowing that if you merely tie the game you are back to the old sudden-death rules where a field goal beats you? Also: Say Team A scores a touchdown and Team B also scores on their guaranteed possession. Does the Team B coach go for two? You'd have to think about it, knowing that if you tie it up you now have to defend that situation where Team A now needs only a field goal to win. So what is fair? How far do you take it out in hypotheticals? What it comes down to for me is, at some point you have to play defense and stop the other team." Got it. What it comes down to for me is there's still an edge for the team that receives in overtime. If there was not, more teams would kick off to start overtime. Only two of 23 overtime games this year saw the coin-flip winner kick off.
Credit Tom Gamble for Chip Kelly being the Niners coach today. Niners GM Trent Baalke told me that team senior personnel executive Tom Gamble, who is his right-hand man in all things personnel and the sacrificial scout in Philadelphia when Kelly and Howie Roseman clashed, was the key man in turning San Francisco on to Kelly. "I talked to my most trusted agent, Tom Gamble, and I got the answers to every question I had," said Baalke. "All I had to do was ask Tom. That drove the decision-making process as much as anything. Actually, there's some similarities with Chip's situation [in Philadelphia] and what I've gone through here. You're valued one way, say, three years ago, and now you're valued a totally different way today [by the public and media]." Baalke and Niners CEO Jed York spent five-and-a-half hours with Kelly at Kelly's home in New Hampshire, where he's from. "I like the person, and I like the coach," Baalke said. "He's passionate about learning more every day. He's a strong leader, and I believe he's an excellent communicator. I think Chip has an openness to collaborate. None of us has all the answers. Certainly I don't. I think it's going to work out." The key will be an open dialogue among the three men—Kelly, Gamble and Baalke—and the ability of Kelly to trust the personnel side of the building. It's clear he didn't trust Roseman, and that led to the downfall of the great idea of hiring Kelly in Philadelphia.
* * *
Four questions with Dirk Koetter
The new Tampa Bay coach was pretty heavily medicated when Lovie Smith got fired 19 days ago. That's because 20 days ago Koetter had hip replacement surgery and was incommunicado. It was no big surprise that Koetter got the Bucs job, but the whispers that the fix was in and Koetter knew he was getting the job and Smith was gone? Absolutely false, from what those not named Dirk Koetter have told me. Koetter knows the Bucs haven't been patient with head coaches, but now it's his shot, with his quarterback, to get on the Buccaneers' coach-go-round. Koetter has spent a lifetime in coaching—going back to drawing up plays for his dad, an Idaho high school coach. I talked to Koetter about the job the other day.
The MMQB: You've known you wanted to be a coach for a long time, right?
Koetter: Really early. I knew. I was a good student. My parents wanted me to go to law school or get a business degree, but I went to college for one term and took classes to get on that road, but I came home and said, "I'm switching to education. I just don't want to do this." The bottom line was, I wanted to be like my dad. And now, to be a head coach in the NFL, well, it is very cool.
The MMQB: Like many coaches, you've got a reputation for being pretty thorough. What about the book you've used in coaching interviews over the years?
Koetter: I have a 150-page book that outlines every step of the program. That is a starting point for me. Same thing as OC—you customize what you're doing based on who you have there. You better show the team you're prepared for everything. Let's not kid ourselves. They are hiring you to win football games right now. More games are lost than won. I've been [using the interview book] since I interviewed for the Boise State job [in 1998]. There's everything from what is our practice schedule for a Thursday night game, a Monday night game … how you use your time during the week and on game days … how we use analytics. I mean, every single thing about my program is there in that book.
The MMQB: You brought up analytics. How useful a tool will it be for you?
Koetter: Oh, that whole analytics thing got so blown out of proportion this year. [In November, Koetter called the emphasis on analytics and advanced numbers "a freaking joke."]
It's so much a part of the NFL. Your guy Andy Benoit [The MMQB's tape-studier and game-reviewer] is a perfect example. There's so much out there to know. Pro Football Focushas added a lot. It's such a broad topic. But absolutely we'll use it. The very first day after I was hired, when I saw our head of analytics, I gave him a 25-page list of what I wanted. Actually, I am very fired up about it. I am a huge believer in it. As an assistant, I never had the power to say, "This is what I want." Now I do, and I'm really going to work with it. For instance, this season we were the most penalized team in the league. Every coach can say to players, "Don't jump offside!" I need to find a way to educate our players. Now I need to tell them, "This is the way it affects us winning and losing games." So I want to know the numbers on that.
The MMQB: You were always hands-on with Jameis Winston, and I assume you don't want to lose that. How does your relationship with him change now?
Koetter: I have tremendous faith in [quarterbacks coach] Mike Bajakian. Mike and Jameis deserve more of the credit than I do. Bruce Arians is the greatest example of a guy who doesn't have to worry about criticism of his play-calling. I think you used the word "bittersweet" when you talked about me not being the coordinator anymore. But there is also the positive side. Now I can play 100 percent to what I think are [Winston's] strengths. I mean no disrespect to Lovie, because he didn't dictate to us at all. But now as head coach it's all on me. I can tell you this: Jameis is not worried. He knows that he is very secure in his spot with me. Jameis and I are gonna be rowing that boat in the same direction for a long time. Jameis wants to be coached. And he will be."
* * *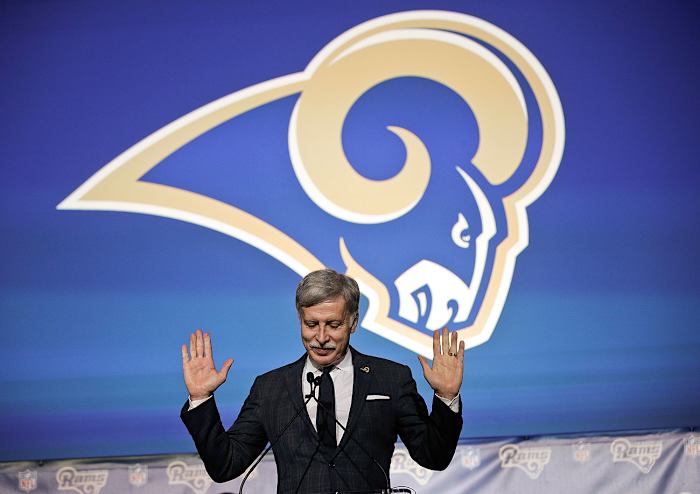 L.A.: One team or two?
Eric Grubman, the NFL executive vice president in charge of the Los Angeles decision, worked for six years on market studies of L.A. as well as the competing franchises to move there. So there's no one inside the NFL—except possibly Roger Goodell, whose job for years before becoming commissioner was to weigh Los Angeles options—more qualified to answer this question: Why is the NFL so set on making Los Angeles a two-team market again, when the league failed so notably in 1994?
"I think that L.A. is a one-team market, I think L.A. is a two-team market, I think L.A. is a three-team market, I think L.A. is a four-team market," Grubman told me. "But each of those models is going to rest on a couple of essential foundations. One is you have to a have a killer stadium, and two is you have to have flawless execution of the market because you have to have an identity that is unique, and your brand has to really resonate. As big as it is, it is a very competitive place, and second place in anything in Los Angeles, in anything, gets no air time. So if you have two teams in one stadium and they execute flawlessly and it's a great stadium, they'll be terrific. If you have two stadiums and each of them execute flawlessly, they'll be terrific. If you have two stadiums and one executes well and one executes poorly, it doesn't matter what that second stadium is. It is all about execution, plus a great stadium. With that, I think you can have any number of teams, up to a point of course. And Los Angeles loves a winner. They love a winner, they love sizzle, they love being first."
For years the Clippers didn't win, and for years they didn't register on the L.A. sports meter. Odds are that if Los Angeles hosts two football teams, at least one will be like the Clippers of old (or the Lakers of today). The Rams, for instance, have played an astounding 12 consecutive seasons without being over .500, and the Chargers, should they come, haven't had a double-digit-winning season since 2009.
Then there's the matter of the quarterback position. Philip Rivers turns 35 this year; this will be his 13th NFL season. The Rams don't have a quarterback of the long-term future unless either Case Keenum or Nick Foles shocks the world. So what we have here is one team for sure and maybe a second, and an iffy future for both in terms of on-field success.
"Grading NFL clubs' probability to win looking forward is the same as grading history on stocks to try to predict future performance," said Grubman. "And every expert in the world will tell you that you can't do that. You can grade a management team that is running a company, and you can grade a coach who is running a team, but as long as those variables can change, then performance can change. I think when you raise the stakes and you raise the bar, you generally get a response. Owners are not dumb and owners aren't shy. They don't want to be second place wherever they live and play."
* * *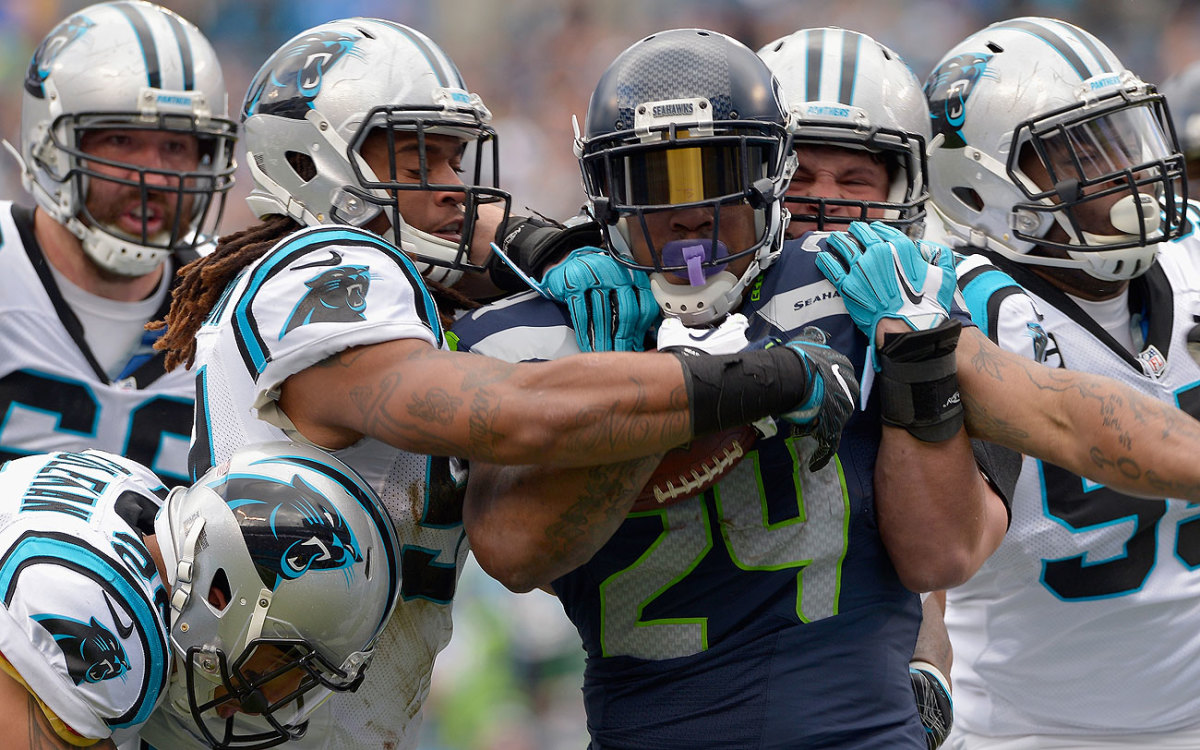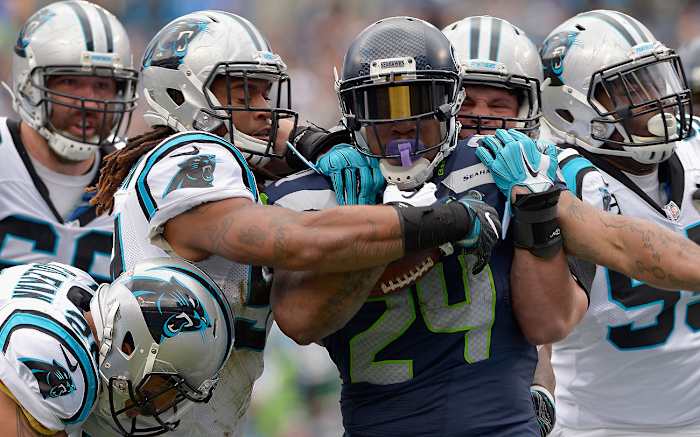 Marshawn Lynch's place in history
Seattle GM John Schneider told the "Brock and Salk" show on ESPN Radio in Seattle, regarding Marshawn Lynch: "We're going to treat him with as much respect as we possibly can … I'm under the impression that he's leaning toward retirement."
If that's so, and Lynch fades into retirement, how will history treat him?
He's 36th on the all-time rushing list, with 9,112 yards … bookended by decidedly non-Hall-of-Famers Ahman Green at 35 (9,205 yards) and Terry Allen at 37 (8,614 yards). Lynch's 71.7 yards per game ranks 37th in NFL history. He'd be first eligible for the Hall of Fame in 2021 if he retires now. A few thoughts on his Canton case:
I think it will be tough. Edgerrin James has 3,134 more yards than Lynch, and though James is a finalist this year as the 11th-leading rusher of all time, he's hardly a lock for the Hall. Corey Dillon is 2,129 yards ahead, Steven Jackson 2,326 and Fred Taylor 2,583, and they're iffy at best. Lynch does have a storied playoff history, mostly, with six 100-yard games out of 13 playoff appearances. (James, in 13 playoff games, rushed for 100 yards only twice.)
In addition to that big-game pedigree, Lynch is certainly one of the three or four most important players on the Seahawks' current great run. (He might be one or two, alongside Russell Wilson.) Lynch had some great playoff moments; his 67-yard game-clinching touchdown run to knock defending Super Bowl champ New Orleans out of the playoffs in 2010—the swatting away of Tracy Porter with a brutal stiff-arm might be the most memorable moment of his career—is an all-timer. Seattle fans will always wonder what would have happened if Darrell Bevell put the ball in Lynch's hands instead of Russell Wilson's on the decisive play of Super Bowl 49 just 50 weeks ago. Would Lynch have gotten stoned by the Patriots' goal-line crew of 315-pounders on the defensive front? Or would he have found a way to slither or pound it in for a second straight Seattle Super Bowl win? We'll never know. But we do know that he became the single player the city and its upstart fans rallied around. They loved the fact that he was counter-culture and no big fan of The Man. (Though his personality and fan-favorite status cannot be considered by the 46 voters for enshrinement.)
• A MARSHAWN KIND OF WAY: Those who know Lynch him call him the best teammate they've ever had
For my money, in the first half of this decade (2010 to 2014) only Adrian Peterson was better, but no back was more physical while being elusive enough in the open field to make people miss. I consider Lynch one of the best backs I've seen.
I think it's impossible—or at least not smart—to judge the Hall of Fame case of a player who generates numbers on numbers alone. If voters do, Lynch won't make it. I always think you have to go by what your eyes tell you. And my eyes have told me that Lynch has a better case than the 36th-leading rusher of all time should have.
* * *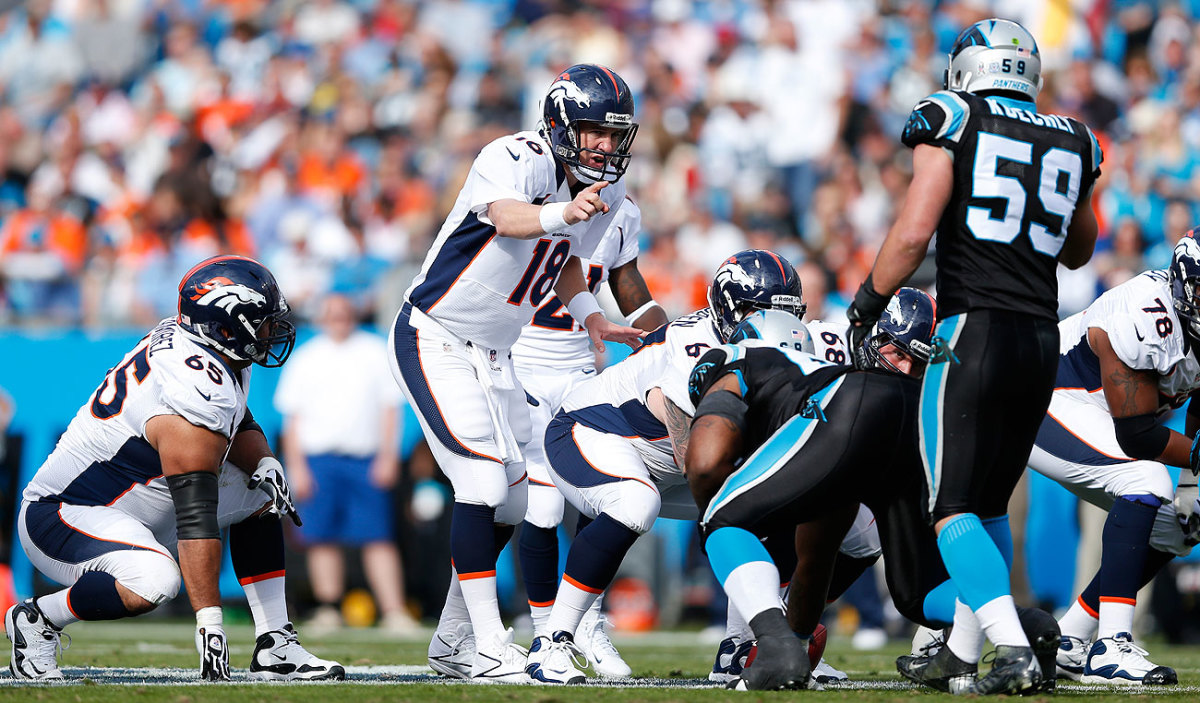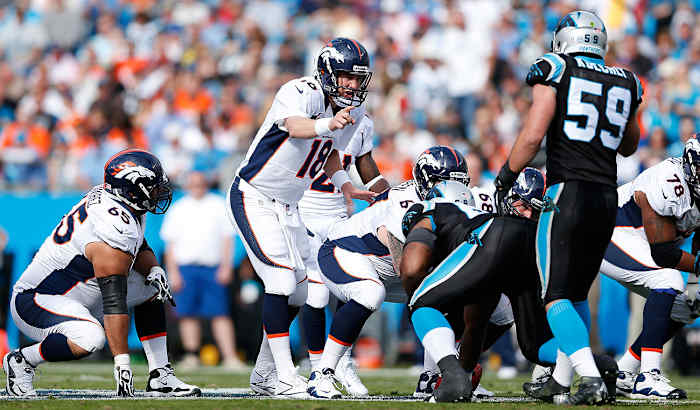 Quotes of the Week
I
"It was a game for the aged."
—Longtime Denver columnist Woody Paige, on 39-year-old Peyton Manning beating 38-year-old Tom Brady in the AFC championship.
II
"When I was a kid growing up, it was Peyton Manning and the Colts putting up all the points and being the most explosive offense out there. It's going to be a lot of fun now to play him on the big stage."
—Carolina middle linebacker Luke Kuechly, on the prospect of playing in Super Bowl 50 against the guy he grew up watching as a youth football player in Cincinnati.
III
"I feel like I lost the game. It's kind of a cruel reality that it came down to that. I just feel awful about it. It was my fault, 100 percent."
—New England kicker Stephen Gostkowski whose first-quarter missed PAT—his first blown extra point since his rookie year in 2006—was a major factor in New England's 20-18 loss in the AFC title game.
IV
"I don't anticipate Peyton will be back. I think it's fitting that potentially the last game would be Peyton and Tom Brady. I equate them to what Larry Bird and Magic Johnson meant to the NBA."
—Troy Aikman, on KTCK Radio in Dallas, on Peyton Manning's future.
V
"That one, that can get me a little nauseated, to be honest. That's a bit sickening."
—Chargers quarterback Philip Rivers to Mighty 1090 Sports Radio in San Diego, on the possibility—tiny though it may be—of the Raiders relocating to San Diego if the Chargers leave for Los Angeles.
VI
"I would eliminate all of it."
—Jon Gruden, to Men's Fitness, on instant replay.
Yes. Jon Gruden would rather see pro football with no replay.
VII
"I dissented because I felt the NFL would be best served by having less realignment. Moving one team would be less disruptive to our fan base. And, also, having just one team in Los Angeles would give the league the best chance to be successful."
—Kansas City owner Clark Hunt, to me, for a story on why the owners chose the Rams to move to Los Angeles instead of the Chargers and Raiders moving to a stadium in Carson, Calif. 
Hunt believes what I do: that the NFL should not go to L.A. with two teams now. The league and Rams owner Stan Kroenke should make the 283-acre Inglewood site a dream location for a single team, and make that team a part of the fabric of Los Angeles, before trying to add a franchise that the locals don't care much about.
VIII
"We've probably got about a foot, and it's coming down steady right now. The wind is the worst part; it's blowing hard. There's probably, by my parents' house, four- to five- to six-foot drifts. The roads are terrible."
—Angels outfielder and South Jersey resident Mike Trout, in a phone call to The Weather Channel at midday Saturday, describing the blizzard of the year.
* * *
The Weekly Awards
OFFENSIVE PLAYER OF THE WEEK
Cam Newton, quarterback, Carolina. In the most important game of his life, Newton accounted for 382 passing/rushing yards and four touchdowns—passes of 86 and five yards, and rushes of 12 and one. Asked after the game by the Charlotte Observer'sJoe Person how he was feeling, Newton replied: "Super." In his fifth year as the man drafted to be the Panthers' franchise quarterback, Newton stood and delivered in the biggest pro football game ever played in North Carolina. Newton has shown that a large quarterback can be an athletic quarterback and a pocket quarterback, and he has shown you can have a lot of fun in the process of being a great football player. The Super Bowl is 13 days away. The MVP coronation is 12 days away; the night before the game, Newton will be named the league MVP. If he stays healthy, it could be the first of several.
DEFENSIVE PLAYER OF THE WEEK
I could name DeMarcus Ware, Malik Jackson, Derek Wolfe or Aqib Talib for their impact on the Denver-New England game. The 20 quarterback hits the Broncos laid on Tom Brady are the most in an NFL game since the league began keeping quarterback-hit stats as part of the official game book in 2006. Incredible day of pressure on a besieged Tom Brady. Of all those Broncos defenders, I'm going with ...
Von Miller, outside linebacker, Denver. His franchise-playoff-record 2.5 sacks and his interception—all in the second and third quarters—made Tom Brady's life miserable. Miller added two more tackles for loss in one of the great defensive performances in Broncos playoff history. He did it at an opportune time for his team and himself: As a looming free agent, Miller, who turns 27 on Feb. 10, has ensured that he's going to make quarterback-type money, and the Broncos almost assuredly will put the franchise tag on him later this winter.
COACH OF THE WEEK
Wade Phillips, defensive coordinator, Denver. Tom Brady dropped back to pass 62 times in this game (56 attempts, four sacks, two scrambles when pressed out of the pocket) … and the Pats produced 18 points. Remarkable for the man who may go down as the best quarterback of all time. Phillips told me after the game that a big key was throwing changeups at Brady and proving that Denver could get pressure with three rushers (on quite a few snaps), making sure Brady felt the heat even when he got rid of the ball quickly. Phillips has a great crew of players to work with, but he's been a chess master at moving around not only the big stars but also burgeoning standouts like Malik Jackson. Also, he's not afraid to put linebackers like Danny Trevathan on running backs in deep coverage. "I got a defense full of stars," Phillips told me after the game. Takes one to know one.
SPECIAL TEAMS PLAYER OF THE WEEK
Britton Colquitt, punter, Denver. In a field-position game, Colquitt had a big role in the Denver victory: nine punts for a 47.0-yard average, a 41.7-yard net and four punts dropped inside the 20. Successive third-quarter drives for the Patriots started at the 8- and 4-yard lines. That's a big factor in a two-point game … and both those drives ended in New England punts.
GOATS OF THE WEEK
Carson Palmer, quarterback, Arizona. "You wonder how you ever bounce back from a game like this," Troy Aikman said on FOX after Palmer's sixthturnover of the day. Two lost fumbles, four interceptions. The last two picks came in desperate times late in the game, but still … Sunday was a disastrous championship game debut for Palmer. And his postseason has been no great shakes either. That's eight turnovers in eight playoff quarters this month for Palmer. Yikes.
The New England offensive line, particularly tackles Sebastian Vollmer and Marcus Cannon. Celebrated last week because they kept Brady clean against Kansas City, the Patriots' front five deserve the goat horns this week because Brady was abused more than in any other game in memory except perhaps Super Bowl XLII. There's enough blame to go around on any losing team, but if New England had blocked Denver's three- and four-man rush even a C-plus level, it would be the Patriots, not the Broncos, going to Super Bowl 50.
Stephen Gostkowski, kicker, New England. I have no fear of saying that this man, with four or five more years like he's had in his first 10, will go down as one of the great kickers of all time. His missed extra point in the first quarter was his first after 523 consecutive accurate PATs, which is amazing in itself—he hadn't missed an extra point since his rookie year, 2006. The reason it became so big, obviously, is that the Patriots had to go for two after the Rob Gronkowski touchdown in the closing seconds that made it 20-18. Had Gostkowski made the PAT in the first quarter, the Pats would have kicked the PAT after the Gronk TD to send the game to overtime (assuming all else remained the same). Of all the odd plays on a memorable day of football, the Gostkowski miss was the most unexpected. And costly.
FORGOTTEN EXECUTIVE OF THE WEEK
Marty Hurney, fired GM, Carolina. In his last two drafts as Carolina GM before being fired in October 2012, Hurney's first-round picks were Cam Newton (2011) and Luke Kuechly (2012).
* * *
Stats of the Week
Bill Belichick has coached 31 playoff games for New England, and he's had a lot of good pass-catchers in those games—Randy Moss, Deion Branch, Rob Gronkowski and Wes Welker among them.
On Sunday, running back James White was targeted 16 times by Tom Brady. No Patriot in the Belichick era has ever had more targets in a game. (Two others, David Patten in 2001 and Julian Edelman against Kansas City last week, also had 16 targets in a game. But no one's exceeded White's total on Sunday.) James White: fourth-round pick from Wisconsin last year.
* * *
Factoids of the Week That May Interest Only Me
I
Sunday, of course, was the 17th meeting—and quite possibly the last—between Tom Brady and Peyton Manning. On the day of their first meeting, Sept. 30, 2001, which was also Brady's first NFL start:
• It was 19 days after 9/11.
• Unemployment claims in Las Vegas were skyrocketing. The fear of flying was costing the vacation mecca $30 million a day.
• In lower Manhattan, a reporter wrote of the still-strong stench, almost three weeks after the Twin Towers fell, of something burning at the site of the World Trade Center's destruction. "It's the smell of souls being disturbed," said a vendor on the street near the site, to N.R. Kleinfeld of The New York Times.
• The Patriots posted a story the other day of Brady being interviewed before the start. Sounding eerily confident for a 199th overall pick with the franchise quarterback (Drew Bledsoe) out with an injury, Brady tells interviewer Mike Lynch: "I've been waiting for this for a long time. I've been preparing for it since I played high school ball. Hopefully it's the start of a successful long career." Lynch closes by saying, "Hope it works out well for you."
• It was Martina Hingis' 21st birthday.
• Taylor Swift, 11, was auditioning for country/pop gigs and singing for fun near her home in eastern Pennsylvania.
• A new ESPN show was in development and 22 days away from debuting. "Pardon the Interruption," it was called, with a couple of sportswriters as hosts.
• Arizona strong safety Pat Tillman had two tackles in the first four defensive snaps of a game against the Falcons, but the Cardinals lost to Atlanta, 34-14. He would play only 10 more games before enlisting in the U.S. Army, doing several tours in Iraq and Afghanistan as an Army Ranger.
• Doug Flutie quarterbacked San Diego past Cincinnati, 28-14. For the Chargers, Junior Seau and Rodney Harrison combined for 15 tackles, while rookie quarterback Drew Brees did not play.
• Michael Strahan, on his way to breaking the single-season sack record, had three sacks against the Saints' Aaron Brooks.
• Kicker Jake Arians, Bruce Arians' son, scored the only three points for Buffalo in a 20-3 loss to Pittsburgh.
• Rich Gannon threw two touchdown passes to Jerry Rice, who was three weeks shy of his 39th birthday, to lead Oakland over Seattle.
• "Zoolander" was in its debut weekend.
• Cam Newton was a seventh-grader in Atlanta.
* * *
Mr. Starwood Preferred Member Travel Note of the Week
While in Utah, I experienced something city folk just don't get to see. There was a reception Friday night for those in Park City to see the "Gleason" premiere on Saturday. And so I drove out to the reception, maybe 25 miles into the mountainous country. On my way back, about 10:30 Friday night, I was struck by the stark beauty of the snow-splashed mountains—and by being able to see them as if it were 15 minutes beyond dusk. I got out of the car, turned the engine off, looked and listened … no sound but the wind. And there were the majestic mountains, illuminated by a full moon. What an awesome sight.
The next morning the former mayor of Park City, Dana Williams, introduced himself to me at Starbucks. I described what I'd seen, and he told me about the "dark-sky ordinances" that were law in the area. You can't point lights up into the sky—as some people do to illuminate trees or homes—and strong lights must be baffled to point all light toward the ground. The result, I can tell you, is one of the great night sights I have ever seen.
Good for Park City. I'd never been there before, and it's charming, with a good balance between the ski industry and Main Street life and protecting the environment, with 450 miles of nearby walking and biking and cross-country ski trails.
* * *
Tweets of the Week
I
II
III
IV
V
* * *
Ten Things I Think I Think
1. I think this is what I liked about championship weekend:
a. The Carolina player you're about to get to know a lot better: Carolina defensive tackle Kawann Short. What a force. Makes three plays every game that influence the outcome. Had a sack of Carson Palmer and a forced fumble Sunday.
b. Luke Kuechly. A pick returned for touchdown for the second straight week. What linebacker does that?
c. Lawrence Taylor, in 15 career playoff games: one interception returned for touchdown.
d. Luke Kuechly, past two weeks: two.
e. The NFL has dozens of players like Kurt Coleman, the hard-hitting and reliable safety who has moved around in a decent career. He had two interceptions for the Panthers in what surely is the highlight of his professional career.
f. You had to be in the stadium Sunday in Denver to feel how much the fans affected the game. That was one loud place.
g. Patriots gunner Brandon King waylaying Jordan Norwood on the first punt of the AFC title game. Great pursuit. King's always around the return man.
h. Linebacker Jamie Collins with a textbook wrap-up of Ronnie Hillman for minus-one on the first Denver run.  
i. Brandon McManus's kickoffs.
j. Danny Amendola making three Broncos miss on his 28-yard first-quarter punt return.
k. Good challenge by Bill Belichick on the Manning horizontal pass. I didn't think there was indisputable evidence, but I don't have a vote in this particular election.
l. The on-field mike of ref Ed Hochuli in Denver: "Please clear the field! Please clear the field! What are you doin' out here?" That's what Hochuli said to a live audience when photographers rushed onto the field before the clock hit zero.
m. The Bills hiring Kathryn Smith as the league's first full-time assistant coach. She'll be the quality-control coach for special teams in Buffalo. Quality control is the ground zero point for many coaches, the first rung on the NFL ladder. She'll break down tape, look for tendencies on the opponent and on her unit, and do a lot of the grunt work that coaches who are just starting out do. It'll be interesting to follow her career—and to see if other teams will follow the Bills' lead with female coaches.
n. "I am convinced that no deflation occurred and that the Patriots are innocent. It never happened." Good Deflategate column by Joe Nocera of The New York Times.
o. Nice work by the Niners, signing two players from Canada who will be strong contenders to make their 53-man roster next season: wide receiver Eric Rogers and offensive lineman Colin Kelly, both at need spots for San Francisco.
p. Good to see Drew Brees at the "Gleason" premiere, spending time with the Gleason family in Park City. Brees has been a rock for the Gleason family. Also good to see Scott Fujita, as loyal a friend as one could ever want, as an executive producer of the film. And nice support too from D'Qwell Jackson, who was on hand, as was Gleason friend and former tight end Eric Johnson.
q. The NFL's three finalists for its Man of the Year Award—Anquan Boldin, Eli Manning and Benjamin Watson. Terrific off-field presence by all.
2. I think this is what I didn't like about championship weekend:
a. Larry Fitzgerald, with a 30-yard day and a big second-half drop when the NFC championship was still sort of a game.
b. Fitzgerald, Michael Floyd and John Brown, the receiving brain trust for Arizona, putting up 90 yards and no points.
c. Demaryius Thomas, with another big drop for Denver. This will not go down as his finest year. Or close.
d. The big lost fumble by Patrick Peterson.
e. The (supposedly) powerful and explosive Cardinals being outgained by 189 yards.
f. Sad to realize that a consummate pro, Carson Palmer, will go through the offseason and perhaps the rest of his career, after having the best regular season of his life, with this poor performance haunting him.
g. Sad, too, to realize that we're going to get harangued for the next 12 days about Cam Newton and whether he's allowed to have so much fun and be so demonstrative in playing a game. If his teammates and coaches like and admire him—and they do—then why does anyone care how much he celebrates?  
h. Bill Belichick not deferring. Why change?
i. No pass interference call on Denver's T.J. Ward for a clear penalty on the second New England series.
j. It's a week old, but former Pats quarterback-turned-talk-show-host Scott Zolak's tip and subsequent confirmation that the NFL crew of officials—a playoff crew, mind you—forgot the K balls and the gauges at the hotel last week … I'm not sure what deleterious term to give this, but it is something beyond wicked bad, as they'd say in New England. It's reprehensible. If remembering the game balls for special-teams play is not on the checklist for the officials when they leave the hotel for the game, then you  better get either a different checklist or some different officials.
3. I think the saddest thing coming out of Sunday's game was the broken arm suffered by Carolina linebacker Thomas Davis, one of the good men in the game. Davis suffered torn ACLs in three consecutive years to the same knee but came back each time and has been a top player and leader for the defense. After the rout of Arizona on Sunday, Davis said, "I've got to two weeks to heal up. I ain't missing the Super Bowl." That's probably his optimistic side speaking. In the life-is-unfair-sometimes department, the Carolina player who has worked the hardest to get to the Super Bowl should be in it if there is any justice.
• THOMAS DAVIS VOWS TO PLAY: Robert Mays on the Panthers' veteran leader
4. I think I'm a big fan of Green Bay coach Mike McCarthy telling Eddie Lacy he'd better get in good shape in 2016, or else. 
5. I think Hue Jackson and the Browns now have the most important information about their draft fate on April 28, when they (almost certainly) will select a quarterback with the second pick. With the NFL's announcement of the 96 underclass players who declared for the draft, Jackson and his front office will have a decent crop to choose from: Cal's Jared Goff, Paxton Lynch of Memphis (underclassmen) and North Dakota State's Carson Wentz (a fifth-year senior). If they want to trade down a bit, there's Christian Hackenberg of Penn State, Connor Cook of Michigan State, or Ohio State's Cardale Jones.
6. I think when I do pay attention to the Senior Bowl this week, it'll be to get educated on at North Dakota State's Wentz, the most notable of the quarterbacks in Mobile, and the man trying to make the leap into the top 10 of the draft despite not playing at the highest level of the college game. Interestingly, Pro Football Focushas partnered with the Senior Bowl to dissect all the players there. The site will grade each practice and the game on Saturday and create a set of player profiles on all the players there. I asked PFFfor its post-season take on Wentz, and ace college grader Steve Palazzolo checked in with this: "The North Dakota State quarterback ticks all of the boxes for NFL scouts—size, arm strength, athleticism—and it's probable a close-up look will only enhance his standing around the league. PFF analyzed Wentz's seven-game 2015 performance [he missed several games with a broken wrist], watched every throw and graded it based on difficulty and execution. Already this shows him as comparable in performance level to fellow first-round hopeful Paxton Lynch. The first thing that stands out about Wentz's game is the easy velocity he creates, often zipping passes into tight windows, even if his timing in the passing game is not always ideal. In our grading, he finished with a ratio of 2.56 positively graded throws for every negative, a ratio that would rank second among FBS quarterbacks (Cal's Jared Goff ranked third at 2.15). While Wentz's percentage of 'big-time throws' (difficult throws, executed well) doesn't stick out at 4.1 percent (Goff comes in at 4.86 percent), the nature of the throws will turn heads. Whether throwing a laser up the seam or showing touch on the deep ball, Wentz has the ability to win a game with his downfield throwing, especially if given an opportunity in a vertical passing offense. He'll come back with some head-scratchers at times (turnover-worthy throws on 3.6 percent of dropbacks, the same percentage as Michigan State's Connor Cook), adding to his nature as a potential boom-or-bust quarterback. Wentz's athleticism will help; he is often used as a designed runner in North Dakota State's offense, and while that won't be as big a part of his game in the NFL, his ability to pick up first downs as a runner is just an added bonus." Really looking forward to learning more about Wentz—who's practicing against big-timers for the first time in his life—and others this week from Mobile.
7. I think this is the Journalism Warning of the Week, from the short period of time when reporters could not confirm the story of Patriots linebacker Darius Fleming kicking out a window in a car on a road near Gillette Stadium and rescuing a woman from her smoky vehicle: Because no local municipalities could immediately verify that there'd been an accident matching the circumstances that Flaming described, skepticism about the event abounded. The doubts began with TMZ Sports: "TMZ Sports has learned the Foxborough Police Department is now looking into the crash claims made by Patriots linebacker Darius Fleming ... and as one law enforcement source put it, 'It's starting to look like Manti Te'o.'" Fleming's story, of course, turned out to be true. Now, this NFL player's tale of a heroic highway rescue is not so important that we issue bulletins about it on websites and Twitter. If the story is to be debunked, it should be debunked only when it's been proven to be inaccurate. On the afternoon in question, the story could not be confirmed immediately, but it was confirmed after a few attempts. Until such a story can be absolutely reported as false from some law-enforcement agency, it's not a good look for anyone to be putting out reports even introducing the thought that Fleming could be lying. There's such a race to be first on even marginal midweek NFL stories—and a backup linebacker possibly kicking out a car window to save a damsel in distress is a marginal midweek NFL story, to be sure. This should be a cautionary tale for everyone in the business. God knows I've messed up my share of stories too, and deserve blame for jumping the gun. Guilty as charged. So it's a cautionary tale for me as well.
8. I think this is the photo of the week, from Denver Postpolitical reporter John Frank, from the floor of the Colorado State Senate on Friday. You don't need a lot of words to describe how this state feels about its football team when you see this.
9. I think the best game of what-if, maybe all season, was played the other day on Dallas radio station KTCK by Troy Aikman, about what might have been if Jimmy Johnson had stayed longer than five seasons in Dallas. Here it is: "Bill Belichick, fortunately for Tom [Brady], doesn't want to do anything other than coach. That's good, because he's really good at it. There's this tendency among all his former players to say, 'What would it have been like if Jimmy stayed around?' And I find myself around this time every year, when the Patriots are playing in another AFC Championship Game, I find myself thinking, 'Man, I wish Jimmy didn't have any other interests other than football back when he was coaching, and didn't want to fish, and didn't want to get on a boat out in the Keys.' Because he was, essentially, at that time, Bill Belichick. But unfortunately for us, and for all Cowboy fans, he had other interests. Bill doesn't. It's made a huge impact in the history of our game."
10. I think these are a few other thoughts of the week:
a. Stark and important story on former Steelers Super Bowl XL hero Antwaan Randle El struggling with life at 36, from the Pittsburgh Post-Gazette'sJ. Brady McCollogh. Randle El doesn't think the game can be made safe enough to recommend our youth playing it—period. He tells McCollogh: "There's no correcting it. There's no helmet that's going to correct it. There's no teaching that's going to correct it. It just comes down to it's a physically violent game. Football players are in a car wreck every week."
b. Really rich detail on the life of former NFL tight end Jackie Smith, who had a famous drop in a Super Bowl that ruined his life for a while—but not forever. Excellent job by SI's Ben Baskin. It took Smith a while to put his miscue in perspective, but now he has, as he told Baskin: "Family is what's really important. Not football. Not some drop. I'm still the luckiest guy in the world."
c. Cool story from Dana Hunsinger Benbow of the Indianapolis Starabout the Indiana Pacers' usher who worked for three presidents.
d. Hey Chris Mortensen, down there in Houston at the MD Anderson Cancer Center, getting the lowdown on treatment for your throat cancer: Football world's still thinking of you. Good luck with your treatment protocol.
e. RIP Lou Michaels, the kicker for Baltimore who missed two field goals (from 27 and 46 yards) in a Super Bowl III loss to the Jets—especially bothersome because Michaels' brother Walt was the Jets' defensive coordinator.
f. And RIP Bill Johnson at 55. He was the first American skier to win gold in an Olympic downhill event—in 1984. But a stroke in 2010 was extremely debilitating, and he spent his end years in an Oregon assisted-living facility.
g. People in the rest of the country could give two craps when a blizzard hits the East Coast. People on the East Coast, from the tenor of my Tweets while in Utah and Denver, think quite differently.
h. It's just weather.
i. Coffeenerdness: Heard something at the Park City Starbucks on Friday that I'd never heard at a Starbucks—or any coffee shop for that matter—when a barista at the jam-packed-never-seen-anything-close-to-this-film-and-ski-mob shop handed a customer an egg-and-gouda sandwich and said, "Can I get you some Sriracha sauce with that?"
j. Beernerdness: Tried a couple of Utah beers on my trip to Sundance. Good. Not memorable. The preferred one: Yard Sale Winter Lager (Uinta Brewing Company, Salt Lake City), a hearty amber. Tasty and worth a try.
k. Just one more reason why Golden Retrievers are good, from Cam Inman's story about the Niners' Chip Kelly hire in the San Jose Mercury News: "SANTA CLARA — Trent Baalke traveled 13,000 miles over 10 days in search of the 49ers' next coach, and no stop proved more decisive than a New Hampshire home with a golden retriever named Henry. As Chip Kelly's dog sat—and shed—on Baalke's lap for most of a five-hour interview, an alliance was formed between a second-chance NFL coach and an embattled general manager."
l. You go, Henry! Good dog!
m. Henry is 6. And yes, Henry did shed on Baalke's lap for a spell, I can confirm exclusively.
n. Interesting hot stove banter from Peter Abraham of the Boston Globe, after the baseball writers dinner in Boston the other night, that will cheer the cockles of Red Sox partisans: "Spent a little time with Xander Bogaerts and Mookie Betts. Both guys carry themselves with the confidence their talent merits. You can't help but get the feeling in talking to them that they're on the verge of big things. I don't think it's a stretch to think they are the best position players on the team right now and could be among the best 10 to 12 players in the American League in the coming season."
o. I may be crazy. (No, I am.) But someone asked me recently what players I'd be willing to give up for Matt Harvey if I were Red Sox GM. I said no package would include Bogaerts or Betts—and I wouldn't trade either for Harvey straight up. I just feel that Bogaerts and Betts are pretty close to sure things for the next several years, and they'll be two of the best all-around players in the game. I just don't trust pitching to stay healthy. If you'd tell me Harvey would have the endurance of a David Price, then of course I'd trade one of them for him. But they don't sell insurance for that kind of stuff with pitchers.
p. David Blatt couldn't have been surprised at his whacking by the Cavs. He had to feel the discomfort being around the players.
q. Good for the Mets, going beyond where they wanted to go to beat out Washington for Yoenis Cespedes. ("Yes-pedes!" tweeted Jerry Seinfeld, the big Mets fan.) Mets desperately needed a bat, even one that goes into prolonged cold streaks the way Cespedes' does.
r. Run, Bloomberg, run.
* * *
The Adieu Haiku
For Peyton Manning,
one more Super Bowl to play.
Uh, how'd this happen?
• Question or comment? Email us at talkback@themmqb.com.