On RG3, Rules and the NFL's Reaction to the Latest Concussion Story
Robert Griffin III is a Brown, and his new coach is ready to get to work. Plus more on recent changes to kickoffs and ejections, Colin Kaepernick's deadline and the NFL's angry response to latest New York Times concussion article
Of all the things that surprised me about Robert Griffin III signing with Cleveland, this might have been the topper: New coach Hue Jackson has totally bought into The New Browns Way. The Moneyball thing, the Harvard-educated front office, the experimental methods the moribund Browns are using to try to escape awfulness. While lifetime baseball analytics guy Paul DePodesta has heard sniggering from NFL people about his "chief strategy officer" role with the Browns, lifetime football guy Jackson is, at least for now, a fan.
"I wouldn't trade our process for any I've seen since I've been in the NFL," Jackson said Saturday from Ohio. "I don't do anything without us all talking things through. They don't do anything with talking to me. Paul's input was very valuable in the process of signing Robert. He was good about the psyche of an athlete coming back from injuries or adversity, and about the fact that it's a people business. We all talk football, football, football, but this is a people business foremost. And all of us in the process here are joined at the hip."
The Browns have more question marks than 10 teams in the league combined. We'll have plenty of time to address those, but for now, the signing of the wayward Griffin leads the pack. It's not a bad idea. The Browns will pay Griffin $6.75 million this year on, basically, a show-me contract, and the team can choose whether to exercise a second year of the deal worth $7.5 million if Griffin's any good this season. It's a good risk to take. Griffin is 26 and was a healthy scratch for all of 2015. He ought to have a chip the size of LeBron James on his shoulder, and the starting job will be his to lose.
• THE COACHING PERSPECTIVE ON THE DRAFT'S TOP QBS: The skinny on how much offensive responsibility Wentz, Goff AND Lynch had in college, plus more draft notes
When Jackson watched Griffin work out recently, the first-year coach was convinced Griffin can make all the throws. When Jackson spent time with Griffin watching tape (with associate head coach Pep Hamilton in there too), and then with Griffin man-to-man, he was convinced Griffin was worth the chance. What, really, did the Browns have to lose? They still can draft a quarterback of the future with the second overall pick (or the 32nd, or the 65th), and if Griffin stumbles, it only costs them one year when the quarterback of the future wasn't on the roster anyway … and when Colin Kaepernick would have cost a third/fourth-round pick plus $11.2 million in 2016 pay.
Griffin was a pretty easy call.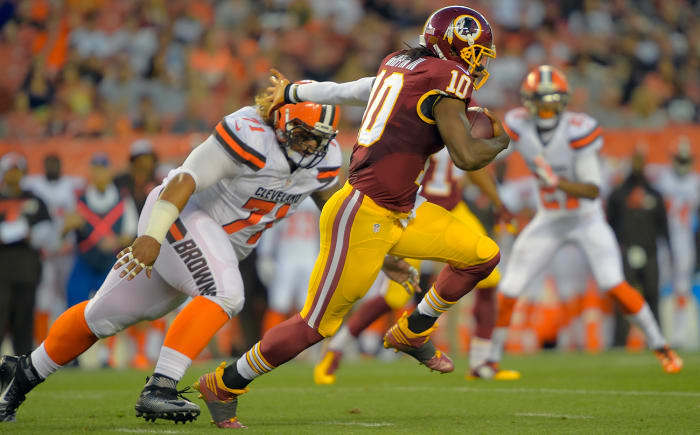 "When I looked in his eyes," said Jackson, "I see a young man who's been kicked around a little bit. When we talked, there was a humility to him. He took ownership of what happened to him, of what he needs to work on to be good. He knows he played a big part in what happened. There are still questions to address and work to be done. He knows. In this league, you don't always get another chance like this. Here's one."
What messed up Griffin, I will always believe, is not the problems he had with coach Mike Shanahan or offensive coordinator Kyle Shanahan in Washington. Wrecking his knee at the end of his rookie year killed him, because it badly stunted his development. Remember: The Washington offense was cobbled together (with the zone read) in 2012, and the Shanahans felt it wasn't sustainable long-term to expose Griffin to such punishment. The 2013 offseason and preseason was going to be used to teach Griffin the full Shanahan offense, but because he spent it in a rehabbing sprint to get healthy enough to play by September 2013, he couldn't spend nearly enough time in the classroom to learn a new way to play. Then new coach Jay Gruden fell in love with Kirk Cousins, and here we are. "That probably played a huge role in what happened with his development," Jackson said.
• HOW IT WENT WRONG FOR RG3: In September, Peter King looked back at the onetime phenom's fall in Washington
A month from today, the Browns will have a chance to draft a quarterback to go head-to-head with Griffin for the next year or two. Jackson was coy when I asked him if the team still could pick a quarterback high, but there's a good chance he doesn't know yet what the first or second rounds hold.
"I don't think signing Robert says anything about what we'll do in the draft," Jackson said. "You never know. You can never have enough good players."
In Cleveland, a few would be nice. You can tell the Browns are optimistic about Griffin, but this franchise was optimistic about Tim Couch and Brady Quinn and Brandon Weeden. And Johnny Manziel. They've had 24 starting quarterbacks in the past 18 seasons. So pardon Brownsland for eye-rolling Griffin. "He has to earn the right to be our guy," Jackson said.
The bar is low.
* * *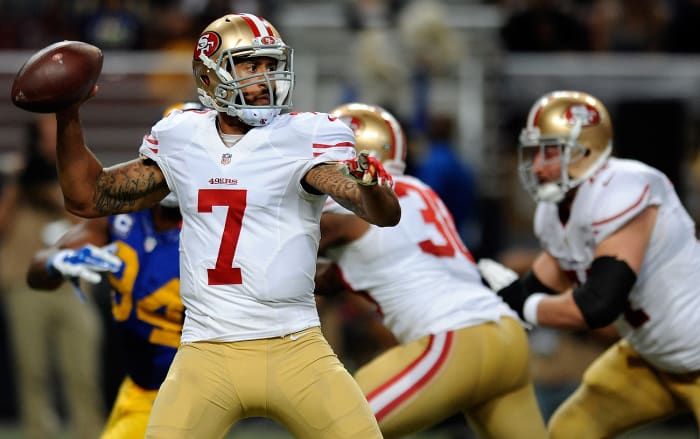 A spin around NFL news
From Florida to Cleveland to New York to Santa Clara to Alabama, it was a spicy week. Rules changes, a new home for the 2012 Offensive Rookie of the Year, in-defense-of-football chatter at the league meetings, the future of Colin Kaepernick, another story attacking the NFL for misleading concussion data—and the NFL coming out swinging in response—and the death of a player who must not be forgotten.
The news in brief:
• The ejection rule is not popular, but it's another example of the coaches not making the rules. It's been clear from the end of the season that Roger Goodell wanted to crack down on chippy and dirty play, and so on Tuesday when the membership didn't pass a proposal that would eject a player who got two unsportsmanlike-conduct calls in the same game, it wasn't dead for these meetings. It came up Wednesday morning and passed.
Bengals coach Marvin Lewis joked about Goodell's influence on the rules process—"I think the commissioner will take things personally if they don't go through; a lot of it comes directly from him," Lewis said—but it's not really a joke. Goodell thought it was bad look for the league for Odell Beckham Jr., and Vontaze Burfict to take gratuitous shots on players and not get ejected, and it was. And the ejection-on-two-unsportsmanlikes rule was seen by the league as another way to ensure bad behavior would result in dismissal from the game.
• RULE CHANGES FOR 2016: Peter King and Don Banks discuss new rules
The problem, of course, is that Beckham and Burfict were flagged for unnecessary roughness on their fouls, not unsportsmanlike conduct, and thus weren't subject to ejection or even half of what it would take for an ejection per the calls on the field. The league will put another point of emphasis on officials' plates this year, urging them to have quicker trigger fingers in issuing ejections for flagrant fouls. But the coaches thought the unsportsmanlike rule would prompt players to bait guys with one unsportsmanlike foul in a game into a second. There's certainly something to that. Said Seattle's Pete Carroll: "I don't think we need more ways to throw guys out of games. It's such a big decision, and it's already in the game; the officials can do what they need to do anyway. I don't know why we need another additional way to do it."
• The case of Colin Kaepernick. Come Friday, Colin Kaepernick's $11.9 million salary for 2016 will be guaranteed, which has led to speculation that the 49ers will be motivated to move him before then, or release him. I don't see either happening—unless the Broncos get serious about dealing something significant for him, say the 61st pick in the April draft. I believe Chip Kelly wouldn't want to go into training camp with Blaine Gabbert and a highly drafted rookie as his only serious quarterback options in the NFC West, where the Niners are a clear fourth out of four teams right now.
• CAN A CFL WIDEOUT SPARK KELLY'S NINERS REVOLUTION? The amazing journey of Eric Rogers, from D-III to arena ball to Canada to the NFL
Not to say Kelly absolutely wouldn't do it. I still think it's probable that the 49ers would keep Kaepernick, absent a decent offer, through this season. Even if San Francisco takes a quarterback with the seventh overall pick in the draft, the cap number of Kaepernick, Gabbert and the rookie combined would be about $21.4 million—not prohibitive for the most important position on the field. I think Kelly's telling the truth when he says he's looking forward to working with Kaepernick and Gabbert. But the problem with saying anything with certainty now is that Kelly hasn't been exposed to either player on the field yet. The way the NFL works now, after the 2011 collective bargaining agreement, is that coaches and players cannot work together until April, and so Kelly doesn't know much of anything other than what he's heard about Kaepernick, and he's not going to make any judgments based on what other people think. Kelly wants to be around him, which he'll get to do beginning next Monday, when rookie coaches are allowed to start working with the players on their roster. What happens if after four weeks Kelly is sour on Kaepernick? Doubt that happens, but that's why all you can do here is talk about what is likely—and what is likely is that Kaepernick will be a 49er this year.
• Roger Goodell should give John Harbaugh a title: President of Football. I asked a few coaches during the league meetings about the future of football, with all the questions about the safety of the youth game and the long-term effects of head trauma on those who play football. The coaches, predictably, came out swinging—but none more than Baltimore coach John Harbaugh. From Harbaugh: "It is America's game. It's a game that reflects our values and what we're about. It's a courageous game. It's a noble game. It's an honorable game, and I'm proud to be a part of it … When you drill down on football—when you go to high schools in inner-city Baltimore, when you go to high schools in rural Indiana—and when you see how important it is to the kids who play it, the difference it makes to single moms who are trying to raise their kids in a tough environment, that's what football is.
"Has there ever been a high school football player—I've never heard one—that looks back and says, 'I'm really disappointed that I played high school football. That was a big mistake.' No, they all look back and say, 'I was a football player. I played football, and it made me, to a big degree, the man I am today.' You can get those values in other ways. But football is doing the job all across America. When moms take a look at that and see what it's doing for their sons, they want their sons to play football."
When I asked Harbaugh what he was running for, he said: "I see a lot of people out there who are pretty passionate about attacking football. I think it's about time some people were passionate about defending football. And all of us who know what football is all about, we should stand up and do that. It's a great sport. And I'm willing to do that. I'm not afraid to do that."
High school coaches might want to play this Harbaugh video for their teams, or for their booster clubs.
• Kevin Turner: 1969-2016. On Thursday, former NFL fullback Kevin Turner died at 46 of ALS. Although there have been studies linking degenerative brain diseases such as ALS to football, and it seems likely such diseases can be accelerated by head trauma, and this brain disease and football are likely in lockstep, studies are still being done to prove the link. But I've always through the position Turner played, lead blocker on several good running teams in Philadelphia and New England, has to result in more head trauma than most players endure. Fullbacks and veteran special-teamers who have high-impact collisions would be the players most worrisome to me as far as long-term trauma is concerned.
In 2013, I spoke to Turner at length about his fight with ALS, and about the lawsuit in which he was lead plaintiff, the $765 million concussion suit, the settlement of which remains in the hands of the courts. What struck me was his love of football—and the fact that he not only allowed his son to play but encouraged him. "It's not complicated," Turner said. "I love football. I always will love football. I love football so much I let my oldest son play the game, because I knew he would love it too."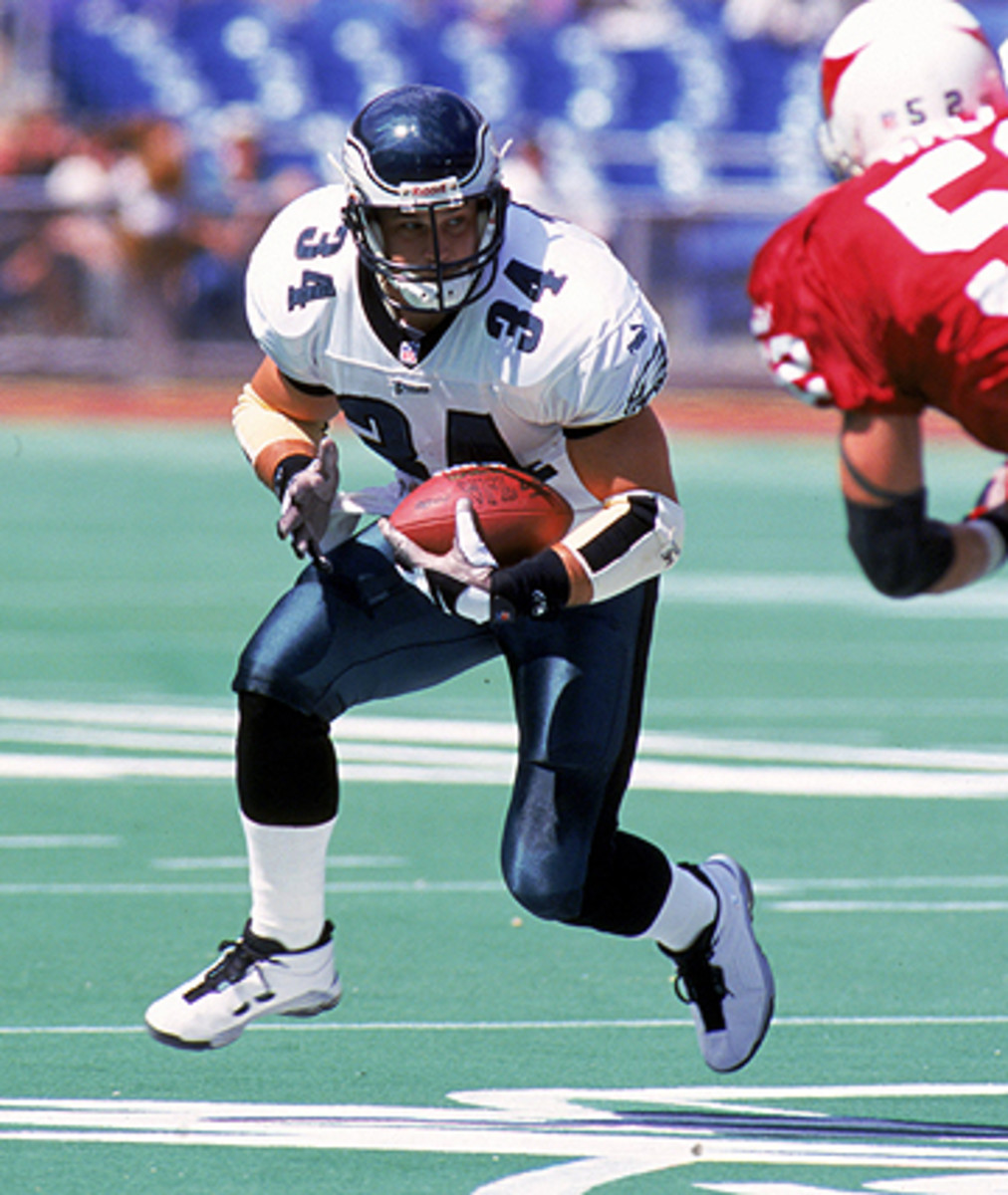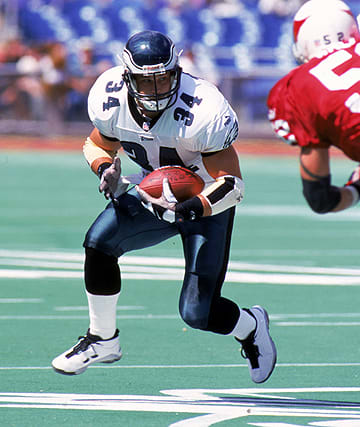 Now that Turner is gone, I find myself wondering: How much better off would he have been had his career come 20 years later? I ask that because Turner told me the day we spoke about a game on Sept. 7, 1997, against Green Bay, when he was an Eagle. He suffered a concussion that day, and the difference in the attention paid to concussions then compared to now seems particularly stark.
"We played them in Philly," Turner told me, in a voice that was already a little scrambled because of the effects ALS had on the muscles that controlled his speech. "I remember the opening kickoff, and then I remember, maybe late in the first quarter, going up to our backup quarterback and saying, 'You'll think I'm crazy, but are we in Green Bay or Philly? And how are we doing?' He went and got a doctor. Turns out I had played a bunch of plays on automatic pilot. The doctor said, 'Remember these words,' and I couldn't. And he gave me the test three or four times, and finally I think it was the fourth time, I remembered the words, and they let me back in the game. You can't imagine the fit I would have thrown if they wouldn't have let me back in the game."
Turner played the rest of the game. He remembers a long drive in the fourth quarter—being the lead blocker for Ricky Watters play after play—that led to the winning touchdown. Nineteen plays, 80 yards, touchdown. Block after block.
"That's just what you did then," he said.
He watched film with his teammates the next day, and there was a series of plays he had no idea had happened. He was back at practice Wednesday. He played the next week. Concussion protocol? No such thing.
That wasn't the only time he played when he shouldn't have. But he blamed himself as much as he blamed the football culture of the day. "Football didn't do this to me," he said. "My ignorance did it. That, and maybe others who should have known better."
I asked him that day how he could still love the game.
"Now," Turner said, "you see doctors, trainers and coaches who have the knowledge about concussions and head injuries treating them different than when I played. We should be excited about the game now. It's the most beloved game in the country, and they're making it safer now. Now, a guy wobbles back to the sidelines, and it's likely he's done for the day. But they'll examine him now. Refs are looking now. Trainers, doctors are looking. Hopefully, after 10 years, after maybe one more generation of players understands it's okay to say you have a concussion, players will learn a different game."
A remarkable man, gone at 46. His death should be another clarion call to be sure no player ever plays with a concussion again.
* * *
The league comes out swinging
Last Thursday, the New York Timeswrote a long piece claiming the NFL, using shoddy medical and reporting practices, omitted more than 100 diagnosed concussions from its first purported conclusive gathering of concussion data from teams, between 1996 and 2001. The Times also attempted to link the NFL and the tobacco industry by writing, "… records show a long relationship between two businesses with little in common beyond the health risks associated with their products."
I'll get to the main point of this note in a moment—that the NFL's vitriolic 3,567-word reaction in two long statements, and ads bought on the Timeswebsite attacking the story, denote a sea change in how an embattled league reacts to a critical story. But some background first.  
There are some good points made in the Times story. The chairman of the data-gathering committee, Dr. Elliot Pellman of the Jets, called the committee's research independent and meticulous, though most of the committee members were employed by NFL teams, and this meticulous work certainly missed at least 10 percent of the documented concussions over the six seasons. The paper reported that two concussions suffered by Jets star Wayne Chrebet, on the team of the chairman of the committee, were not included. The 49ers had zero concussions listed in the study between 1997 and 2000, the paper reported, though quarterback Steve Young suffered two in this period; similarly, concussions suffered by Troy Aikman are also not included in the study. One of the league's major points of contention was that teams weren't mandated to participate fully in the study, only strongly encouraged to do so. The Timesquoted a paper saying then-commissioner Paul Tagliabue "mandated" all head injuries should be reported.
• THE NFL'S MOST POWERFUL WOMAN NOBODY TALKS ABOUT: Katie Blackburn operates behind the scenes, but her NFL impact is impossible to miss
The league insisted that if concussions were missed, they were missed out of data-gathering flaws in an era when concussions were not an exact science, and not because the committee purposely tried to hide the injuries.
The MMQB'sJenny Vrentas has been our reporter covering much of the head-trauma issue since our inception in 2013. As she noted upon examining the Timesstory and the league's response, "Had this study been more comprehensive and more accurate and potentially less biased if in fact these data omissions were deliberate, the alarm could have been sounded much sooner on the head-injury issue. CTE hadn't been discovered in football players in the '90s, but as one researcher I talked to put it, even if we didn't know it was CTE then, this should have been the warning bell for a relationship between repeated blows to the head and long-term consequences. Instead, the start of critical research was delayed."
Here's what I gleaned from the Timesstory: The NFL's first attempt at a concussion study was shoddy, which surprises no one. The NFL's first attempt at a concussion study seemed to not include obvious and well-known concussions, which shouldn't surprise anyone. There are some anecdotal but not conclusive attempts to link the tobacco and football industries, which don't work and in my opinion weaken the Times' story. I also was stunned to see this be the lead story on Page 1 of the Times on Friday. None of the revelations in the story surprise anyone who saw "Concussion" or read "League of Denial" or has watched the NFL shift the focus from that flawed era of the study of NFL head trauma by starting anew with stronger efforts over the past decade. That's probably why the reaction in most quarters to this story is not to ignore it because it has no validity, but to ignore it because no one believes the NFL did a good job regarding concussions two decades ago anyway.
The NFL's reaction was perhaps as angry and pointed and detailed as I've seen about a media story in the 32 years I've covered the league. It's new executive vice president of communications and social responsibility, Joe Lockhart, said on Saturday that the Times"used tabloid tactics" and "showed complete disregard" for the truth. Lockhart was the White House press secretary for two years in the Clinton presidency. I asked him how often during his White House job he responded as harshly as he did here.
"You mean, how many times a day?" he said.
"Why did we respond this way? We live in a world of advocacy journalism. Organizations like the NFL have to advocate for themselves. This story was wrong, and deserved a response. One of the things I believe strongly in is that people aren't broadcast to any more. They discover news. So you have to tell your story on many platforms. It's not enough to issue a statement and say it's not true and then go home for the evening. The information flow now is as much on social platforms, on Twitter, on other areas. We feel very strongly about this, and we want people to understand that."
Comparing the NFL to Big Tobacco, Lockhart said, "is so breathtakingly irresponsible it would be malpractice for me to sit by and not say so."
The surprise is, it's never been handled this way in the past.
I will leave you with one story I heard from the league meetings last week. The league's chief medical officer, Elizabeth Nabel, addressed the owners about medical issues. She talked about the evolution of understanding heart disease, and the fact that early opinions about how to treat heart disease turned out to be either faulty or wrong, and it took about 50 years before the science of understanding heart disease was conclusive and indisputable. The clear implication: CTE and head trauma and the long-term effects of concussions could take a while to fully understand. For now, it's smart to take it all very seriously—but to understand no one has all the answers. The facts should speak. That's going to take some time to develop.
* * *
Quotes of the Week
I
"My succession plan has been in place almost from the first interview we had. I don't ever want to quit, I just don't want to quit. In this case, familiarity hasn't bred contempt; it has bred optimism. I' not quitting."
—Dallas owner and de facto general manager Jerry Jones, in an interview with me at the annual NFL meetings when I asked Jones, 73, if he had a succession plan in place for the day he ceased running the Cowboys.
Remember the movie "City Slickers," when the city yuppie (Billy Crystal) went to find himself out west and was influenced by a career cowboy (Jack Palance) who ended up dying on his horse? Sounds like Jones is determined to do the same, 20 or 30 years down the road.
Very interesting, to me: Jones worked the lobby, the meeting rooms and the bar at the Boca Raton Resort & Club with the same verve I've seen him have for 20 league meetings in a row. He lives for this game, and this league, and he loves everything about it. That's why, as he says, I can't see him getting out. Voluntarily.
II
"It's very easy to get lazy in the NFL—not having everything scheduled and not having everything like at Alabama where it was so structured. We had study hall or we had to get a workout in in-between classes and had five classes a day. In the NFL, everything's on your own."
—Trent Richardson, the bust of a first-round running back from Alabama, in a cautionary-tale story in the Birmingham News by Matt Zenitz.
III
"If they draft a quarterback, I'll take the guy under my wing. I've been through a lot more than a lot of guys go through their entire careers."
—Robert Griffin III, after signing with the Browns, on his last three frustrating years in Washington.
IV
"Greg Hardy? He won't be a Raven. I can tell you that."
—Baltimore coach John Harbaugh, asked if the Ravens would have any interest in the free-agent defensive end with the ugly incident of domestic abuse on his résumé.
V
"I'm going to make medical history. I'm fighting this thing to the end. I have too much to do."
—Network NBA analyst Craig Sager, on HBO Real Sports, upon being told he has three to six months to live. Sager has leukemia.
VI
"I can tell you that we are extremely angry, disappointed, frustrated, confused. A lot has gone on behind the scenes over the last couple of months where we feel like we presented a lot of evidence and a lot of information which would hopefully lead the league to conclude that maybe the judgment that was initially made was not appropriate. The league has essentially decided otherwise. It's very frustrating. It's very disappointing."
—Patriots president Jonathan Kraft to Tom Curran of CSN-New England, about the league's decision not to return the Patriots' first- and fourth-round picks that were surrendered in the Deflategate sanctions. Kraft believes the science used by the league in the Ted Wells Report does not hold up.
VII
"This isn't the NFL! I'm not going to be pushed around!"
—Miami owner Stephen Ross, in a recent business meeting about a major tax exemption, to a business rival, according to Crain's New York Business.
VIII
"That is not true. This one's out there just to get clicks."
—Rams GM Les Snead on "The Rich Eisen Show," on a report Thursday that the Rams made a deal with the league to avoid having to do the HBO "Hard Knocks" show by taking Michael Sam in the seventh round of the 2014 draft.
* * *
Stat of the Week
It's logical, I suppose, to say the Browns ought to dump Josh McCown (2016 cap hit: $5.04 million) now that Robert Griffin III has been signed. I get that. The Browns wouldn't want such a costly backup quarterback, particularly when Griffin is on board and they're very likely to draft a quarterback in a high round in April.
But let's not put McCown out with the trash. His 2013 season in Chicago and 2015 season with the Browns were both good, though the last one was cut short by injuries. And he's 36. But assuming the Browns cut him, as an insurance policy I don't know how you'd do a lot better. I eliminated his nightmarish season behind a bad Bucs line in 2014 here—even though part of his badness in 2014 was trying to do way too much. Look, though, at his 2013 and 2015 seasons.
Josh McCown, combined passing line 2013 (Bears) and 2015 (Browns)
| | | | | | |
| --- | --- | --- | --- | --- | --- |
| Games | Comp.-Att. | Pct. | Yards | TD-INT | Rating |
| 16 | 335-516 | .649 | 3,938 | 25-5 | 100.1 |
That's not three games, or six. It's 16, with 13 starts.
I made a stir a week or so ago by saying John Elway should try to trade for Bengals backup AJ McCarron. I still think he should. But without that deal, I'd sign McCown when the Browns cut him and let him compete for the starting job with Mark Sanchez and whoever Elway drafts in April.
* * *
Factoid of the Week That May Interest Only Me
Bruce Arians says that New Era, which makes and markets his Kangol-type caps, is producing a houndstooth cap, in honor of the first coach Arians worked for in his coaching career, Bear Bryant at Alabama.
* * *
Mr. Starwood Preferred Member Travel Note of the Week
There's not a lot better than taking a day off (or two, or nine) to see spring training baseball. That's what I did last Thursday in Sarasota after the close of the NFL meetings.
I like getting there early (gates opened before Pirates-Orioles at 11:05 a.m.) and just observing. On this day I saw Adam Jones with significantly more power in BP than I thought he had, Jones and Buck Showalter signing a boatload of autographs, players spending 30 minutes or so stretching and being stretched by fitness people (longer than I thought), and, in general, fathers and mothers and daughters and sons having a lot of fun watching baseball.
Thanks to Patrick Gleason of the Ravens and Jim Misudek of the Orioles, I got to spend a few minutes talking to Showalter before the game. "What are you doing slumming down here?" Showalter asked. He recalled his days as a high school baseball and football player at a small Florida school, and how his dad and he would drive three hours on some fall mornings to Tuscaloosa and sit in the faculty section behind the Bama bench. They'd watch the game, but young Buck got transfixed by watching Bear Bryant and his coaches coach—and by how much actually happened on the sideline. He got a big thrill taking a recruiting visit in high school to Alabama and meeting Bryant, who asked him in a mumbling tone, "So, you gonna play basebawl or footbawl?" Showalter went to Mississippi State, as it turned out, and played baseball, but has a soft spot for Alabama (he and Ravens GM Ozzie Newsome often talk Tide) and knows Nick Saban pretty well.
All in all, not a bad way to spend an off day.
* * *
Tweets of the Week
I
Brandt was retweeting a note about the NFL buying ads for the space around the New York Times story critical of the NFL's concussion-reporting practices two decades ago.
II
III
IV
This came in the wake of owners voting for the ball to be placed at the 25-yard line (instead of the 20) after touchbacks on kickoffs. The rule will be implemented for the 2016 season.
* * *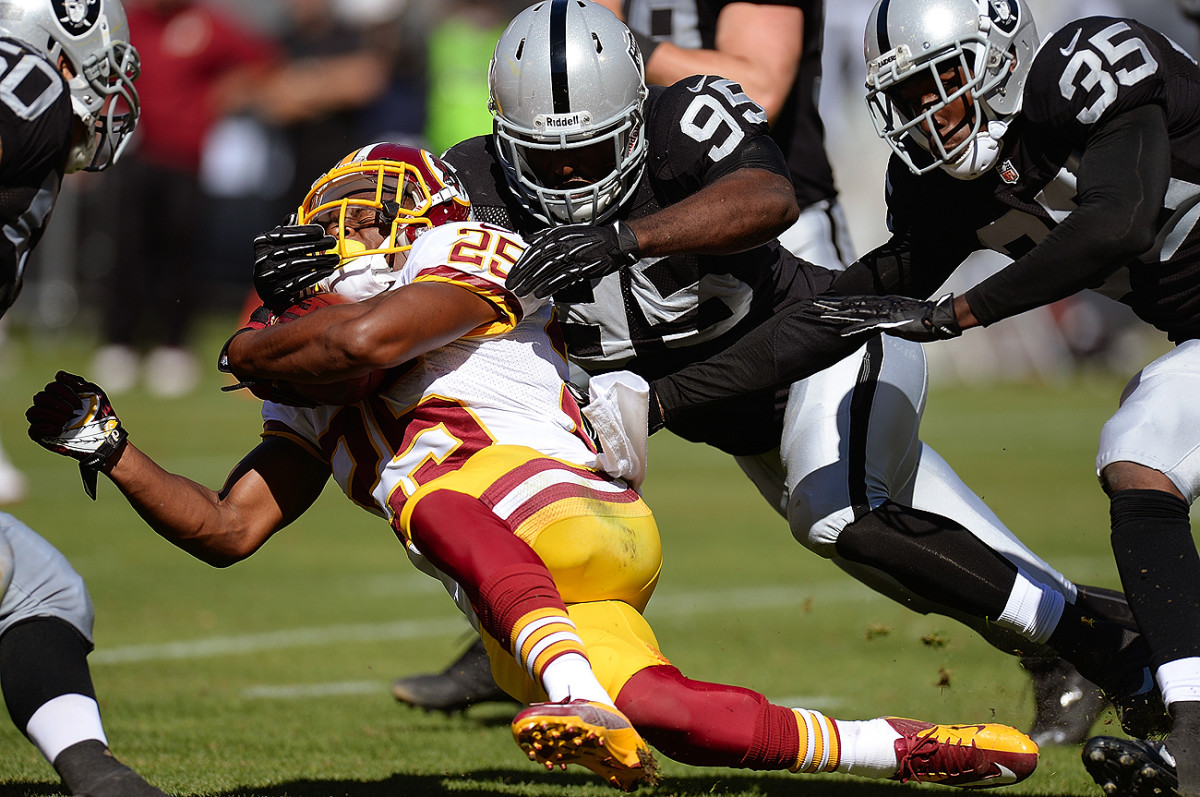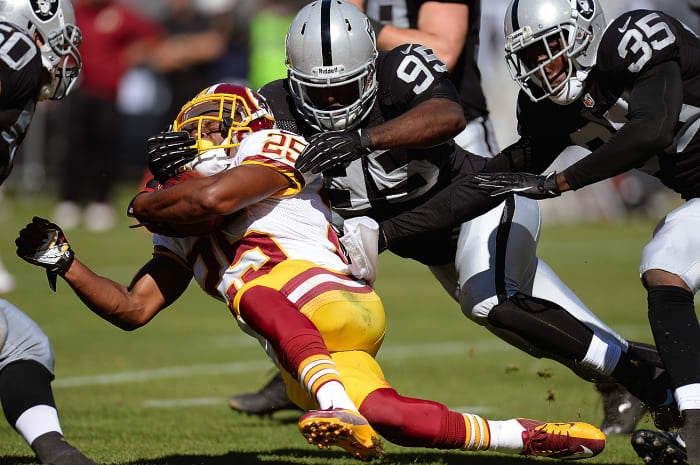 Ten Things I Think I Think
1. I think we should start on that Feely Tweet. Let me ask you a question: If you had a kicker who could pop up a kick quite high and deep, and make it fall down around the 8-yard line, and if you had a good kick-coverage team that could clog the running lanes as soon as the returner caught the ball, wouldn't you think there would be a very good chance you could prevent the returner from getting the ball out to at least the 25-yard line? I would. Which is why the NFL Competition Committee made a curious stand at the league meetings. Two coaches told me they would strongly consider popping up kicks so their coverage team could smother the returner. Now, bold coach statements in the spring have a way of disappearing when the season starts, so we'll see. But this rule change makes little sense to me. I think it will encourage higher kickoffs and more of the kind of returns the league was trying to eliminate.
2. I think Bruce Arians is a good man and a colorful, smart coach. But he's wrong when told me, "People that say 'I won't let my son play [football],' are fools." I know thoughtful parents who won't let their sons play football. Some are just not sure about the science, and they figure if they make a mistake and allow children to play tackle it could show up later in life in advanced brain trauma. Some think other sports are fine, just so long as it keeps the children active and playing a team sport. Parents who deny tackle football to their sons are, in most cases, concerned about the health of their kids, and they are absolutely right to be.
3. I think this is not going to be a popular story in many circles, but it needs to be told. It's from Eric Adelson, of Yahoo Sports, about the fact that we don't know everything yet about brain trauma and CTE, and it's better sometimes to say, "I'm not sure," than to make a categorical statement before all the facts are in. Very good of Adelson to make the point.
4. I think the should-we-sign-Johnny Manziel dilemma was put quite well by an owner who loves him, Jerry Jones of Dallas, but is afraid of his personal demons. Jones told me: "You can be the smartest mathematician, you can be the greatest politician, but if you can't get it straight with your life, you don't get those chances. I am more concerned with that, and with that in mind, I'm not thinking about where he is with football and the Cowboys … Will [he] have the discipline and the will to get out there and do it day in and day out and make like Peyton Manning and make a career out of doing it every day? That hasn't been shown." Exactly.
• THE FALL OF JOHNNY FOOTBALL: Emily Kaplan examines Johnny Manziel's past to find answers about his future
5. I think I have a lot of respect for veteran NFL reporter Howard Balzer, who wrote last week that multiple sources told him the Rams drafted openly gay defensive end Michael Sam in 2014 as a part of a deal to avoid being the NFL's team on "Hard Knocks" that season. But I can't find any proof that the story is true. A lot of the story seems logical—the NFL needed a team to take Sam as the draft wound down, and coach Jeff Fisher being a friend of the league, it made sense to get the Rams to be that team. But on Friday three people close to this story vehemently denied that a deal happened between the league and Rams. Again, I can't swear that the story is wrong. I just found no reliable people Friday to tell me it's correct.
6. I think Twitter feuds between Odell Beckham Jr. and Josh Norman bore me to tears.
7. I think I liked Jenny Vrentas' interview with Bengals executive VP Katie Blackburn, 50, who is being groomed to run the Bengals when her father, Mike Brown, walks away. (Mike, the son of Bengals founder Paul Brown, has already ceded many areas of control to his daughter.) Blackburn, a college hockey player at Dartmouth, is in her 25th year with the team. I can tell you she's well-respected by the agents she negotiates with, and by those in the league office. Blackburn to Vrentas on the future of women in influential NFL roles: "There are a lot more opportunities for women, and I absolutely expect it to continue to grow. There are more opportunities for women to get in today at NFL teams, because there are bigger marketing staffs, there is an IT department, there is data analytics, and obviously there are opportunities also in scouting or even coaching. The more opportunities women have to get in will give them more of an opportunity to grow into other positions."
8. I think Titans GM Jon Robinson, in a stealth way, is doing the best job he can convincing GMs in the top 10 that he'd absolutely, unequivocally trade the first pick in the draft. And he would. I don't think he will, at the end of the process. But I do think he's creating the image that he's open for business. And what he really needs is the Niners or Rams to fall deeply in love with one of the quarterbacks. That hasn't changed.
• RESUSCITATING THE TITANS: Peter King talks to Tennessee GM Jon Robinson, the man who holds the key to the 2016 draft
9. I think I believe the Rams will play in China—a regular-season game—in 2018, as was leaked last week. And I think there are 31 other coaches who would find it a nightmare to make that trip … and maybe 20 or so owners who would be intrigued by it. There's a first-team-in sense about China that intrigues lots of owners, who view their teams as sports franchises/profit centers. Imagine if the foe is Seattle. Imagine how many Chinese might buy Russell Wilson jerseys, or join Seahawks fan groups and spend money on Seahawks stuff. Or Rams stuff. What I'm saying is that on the surface you'd never think teams would want to play in China. But a bunch of owners do. And owners control this league.
10. I think these are my non-football thoughts of the week:
a. Love this story (and I know it's an NFL one) by The MMQB's Kalyn Kahler, illustrating an offseason day in the life of Browns wideout Andrew Hawkins, who wants to be an NFL GM when his playing career is over. Hawkins commutes from Florida to Columbia University and back—a 20-hour day—once a week. Tremendous detail by Kahler.
b. Sad week. Garry Shandling, one of the funniest man I have ever seen—and he was funny naturally—died on Thursday at age 66. The scenes in "The Larry Sanders Show" with Hank Kingsley ("Hey now!" was Jeffrey Tambor's trademark) left me weak in the knees, they were so funny. Remember the one when he told Hank he had to stop saying, "Hey now," and Hank protested?
c. RIP Joe Garagiola, one of the voices of my youth. What a cool announcer. He made baseball seem so folksy on the NBC Game of the Week.
d. And RIP Ken Howard, of "The White Shadow" fame, who did a groundbreaking job playing a white basketball coach in a predominantly black inner-city high school. What I remember about Howard in that role is how that show brought up taboo subjects for TV in the '70s—teen pregnancy, drug use, race relations.
e. Man, the news that Craig Sager, who has leukemia, doesn't have long to live is a crusher too. I don't know Sager, but I admire anyone who steps out of a comfort zone to do different things in an industry of sameness. Sager's been great for basketball and seems like class personified.
f. Fantastic job, Rachel Nichols, on your monologue excoriating North Carolina for passing a bill that bars any local government in the state from passing a law protecting anyone due to their sexual orientation or gender identity. A gay couple could walk into a North Carolina restaurant now, and the restaurant could legally ask them to leave for any reason—including that the restaurant management is anti-gay. Nichols urged the NBA to pull the 2017 All-Star Game from Charlotte if the law is not overturned.
g. Agree or disagree with that, or any of Nichols' stands on controversial issues. I just admire her for never shying away from matters that matter.
h. Happy 40th birthday (last Thursday), Peyton Manning.
i. Alex Rodriguez says he plans to retire at the end of the 2017 season to spend more time with his family. Then he says he could change his mind and continue to play—at age 42. What an admirable fellow.
j. Terrific column by Mike Sielski of the Philadelphia Inquirer, on Temple men's basketball coach Fran Dunphy's incredibly classy response after a crushing loss to end his basketball season, to an 11-year-old reporter for Sports Illustrated Kids. As Sielski recounts, the young reporter, Max Bonnstetter, asked Dunphy how he felt about his upperclassmen after the heartbreaking last-minute loss. "I feel great about them—Max is your name?—just like I feel great about you, Max, because you're a pretty cool guy and the fact that you would ask that question the way you asked it. I love these guys. That's the problem. You love them like crazy, and now, the seniors are gone, and we won't see much of them after this. They'll work, some of them, at trying to be professional basketball players. Some of them will be professional in some other way. And so it hurts, to be honest with you. That's part of the problem of this situation. The abruptness of the ending is frightening, to be honest with you. But thank you for the question, Max."
k. Dunphy and his players lost on a tip-in at the buzzer, and 15 minutes later Dunphy has the presence and perspective to say that. My kind of coach.
l. With baseball getting close, I've been enjoying a cool blog by Boston Globebaseball writer Alex Speier called 108 Stitches. I like guys who love their jobs in this business, and Speier is devoted to his. So fun to read him and Peter Abraham at the Globe.
m. Coffeenerdness: You dropped the Smoked Butterscotch latte, Starbucks? Shame on you. (Actually, praise the Lord. My waistline thanks you, Starbucks.)
n. Beernerdness: One of the big treats of the Florida trip was discovering the craft beer stand behind third base at Ed Smith Stadium in Sarasota. What a selection; had to be 50 different beers there: Harpoon (Massachusetts), Lagunitas (California) and so many breweries in between. I stuck to the Florida brews and loved two: the Sarasota-based JDub's Passion Wheat ale, with touches of mango and passion fruit (fabulous and light; great summer beer) and Tampa's Cigar City Cracker White Ale, reminiscent but not quite as memorable as Allagash White. A great find at a nice ballpark. And I appreciated how loyal they were to the Florida beers. If I went to a week's worth of Orioles games, I doubt I'd have been able to try them all.
o. The Rolling Stones, playing Cuba. In a free concert. If that isn't the cool news of the week, what is?
p. Maybe I shouldn't be happy for Jim Boeheim, but I am. And I have nothing to do with Syracuse, except I ate the Dinosaur Bar-B-Que there once.​
q. God save the presidential election season.
* * *
The Adieu Haiku
Kevin Turner dies.
How many Turners are there?
Fullbacks live in fear.
• Question or comment? Email us at talkback@themmqb.com.