Family ties: Journey of George Atkinson's twin sons to the NFL
Raiders great George Atkinson, one of the NFL's toughest players, has twin sons, Josh and George III, who are now navigating their own journeys through the NFL. 
Get all of Andrew Lawrence's columns as soon as they're published. Download the new Sports Illustrated app (iOS or Android) and personalize your experience by following your favorite teams and SI writers.
AZUSA, Calif. — Thirty-seven days before the NFL draft, on an 80-yard strip of artificial turf on the edge of the Azusa Pacific University campus, two young men tossed around a football on a sunny afternoon. The longest completion traveled 15 yards in the air, maybe 20—not nearly as far as the personal connection between these two young men, which goes deeper than the game itself.
They are brothers, but not in that clichéd way teammates often refer to one another. No, they are blood brothers—identical twins, in fact. The arc of their football connection traces to one of the gridiron's original badasses, Raiders great George Atkinson—the fearsome defensive back who once regarded receivers as punks that jump up to get beat down.
Following in his heavy footsteps was not part of the plan. And yet here these boys are, 23 years old and still playing a kid's game. George III, the tailback with the cap in sweats and gym shoes, is poised to begin his third training camp with the Raiders. Josh, the DB in the gloves and shorts and cleats, is on the cusp of achieving his pro ambitions. The sight of him at Azusa Pacific's pro day, enjoying a leisurely game of catch in the middle of his biggest gridiron audition to date, suggests it won't be much longer before he's working in the family business, too.
"This is just something that I've been preparing for my whole life," he says.
Players like Josh don't generally hang around places like Azusa Pacific, a Division II evangelical Christian school nestled in the San Gabriel Valley, about 20 miles northeast of L.A. While the Cougars have been competitive under their coach of 11 years, a young and affable defensive mind named Victor Santa Cruz, they haven't sent a player to the draft since Christian Okoye, aka "the Nigerian Nightmare" (look him up, kids). That was in 1987, back when APU was an NAIA school.
Every alum who followed Okoye into the NFL had to find his own way. Few of those Cougars clawed up to the next level and really stayed there. Pro scouts just don't sniff around these parts—at least, that's how it seemed until Josh landed here. 
As far back as last October, with two weeks still to go in the Cougars' season, NFL reps were skulking around this tiny campus, poring over the film of this promising cornerback. Last week nearly half the league turned up for his pro day. Some teams (like the Lions and Browns, whose pass defense landed in the bottom quarter of the league in 2015) have obvious needs, while others (like Seahawks and Patriots) have sterling reputations for unearthing and polishing diamond-in-the-rough type talents.
The players on offer here—six from APU, 11 more from the University of Hawaii and one more from Arkansas-Monticello—weren't all rubble. There was the Cougars' Paul Flores, a XL-framed ex-high school quarterback who dabbled at tight end before settling down in the interior line. There was Hawaii's Max Wittek, a tall, fair-haired passer with a strong arm and a lot of fine print. (Buyer beware: He washed out of USC and has suffered injuries to both knees and his off-forearm.)
And then there was Josh, the 5' 11 5/8", 209-pound prospect that everyone had come to see.
***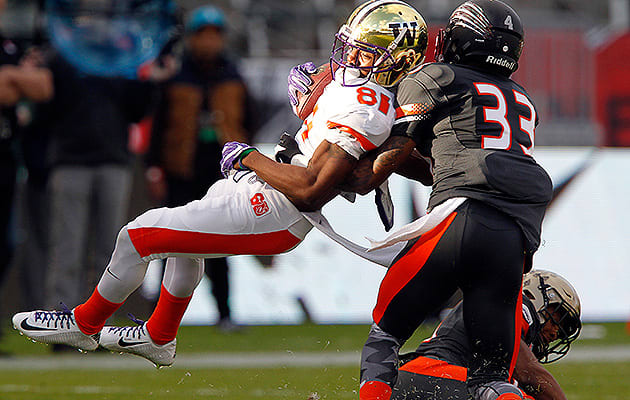 Even by the overly rehearsed standards of pro days, Josh's performance was something else, similar to the difference between studying for an exam and writing the answers all over your clothes. Of course no one would level such an accusation at Josh, not after his half a dozen wardrobe changes—really, a welcome breach of etiquette in an event that encourages far too much dressing down. "I had it all planned out down to the socks," he says. "Doing these drills, I just want to make sure I was in my comfort zone."
For the feats-of-strength portion of the workout, which was staged inside an auditorium space on the APU campus reserved for chapel services, Josh started out in a white T-shirt and a pair of long baggy black shorts that drew titters from his teammates. What was so funny? He was cloaking the bend in his knees, which the scouts running the drill might've noticed if they hadn't been so busy obsessing over the bow he kept in his left arm as he was setting the bar for his launch.
NFL Mock Draft: Browns, 49ers select quarterbacks in Round 1
After all the gamesmanship, Josh vaulted 36 inches into the air, or half an inch farther than the top-15 cutoff for his position group at February's NFL scouting combine. His bench press (16 reps) results fell into the same range. If anything lagged it was his broad jump (9' 9"). But it's tough to fault Josh for that. He performed it on carpet, after all, in an aisle stage right of the pews, where one imagines an usher shuffling through with a collection plate in hand.
Where Josh really cashed in was on the artificial turf, in the 40-yard dash—which he had to perform twice after scouts realized that the green runway they had chosen for this drill rested on a slight incline. So they ran him downhill, then up, then took the average of the two heats. The unofficial time was 4.3 seconds. There were other drills, of course, including a backpedaling exercise in which Josh got to show off his hip swivel (lord, do scouts love hip swivels…) and his soft hands (he didn't let a ball touch the ground). But all anyone could talk about afterward was his 40 time, which is especially quick for someone his size. It appeared to confirm what many in the league surely suspect: He really does take after his father.
***
"Soul Patrol" would be a great name for a '70s R&B group. You can almost picture the album cover—Afros, wide lapels and platform shoes. How this benign name wound up describing one of the meanest bands to ever tour the NFL simply beggars belief.
Soul Patrol was an Oakland-based band, a quartet that gigged in the Raiders' secondary. There were the front men, the corners: smooth Willie Brown and the taciturn Skip Thomas (aka "Doctor Death"). And then there was the rhythm section, the safeties: Jack Tatum (aka "The Assassin") was one percussive hitter. George Atkinson was the other. They called him "The Hitman" for a fairly obvious reason: If he was on the field, he was bound to strike. It didn't matter if the ball was coming in his direction or not.
Atkinson, a two-time Pro Bowler who endured in the Raiders' defensive backfield from 1968 through '77, would wallop an opponent simply to send this message: Cross the middle at your own risk. (Actually, it's somewhat surprising that slogan wasn't engraved into the rings the Raiders received for winning Super Bowl XI.) The seemingly random acts of unkindness Atkinson directed toward the Steelers' Lynn Swann so inflamed Pittsburgh coach Chuck Noll—a stoic man, typically—that Noll would go on to describe Atkinson as part of a "criminal element" in football. (Atkinson subsequently filed a $2 million defamation lawsuit against Noll and the Steelers, and lost.) Ask the Hitman about this game they call football that the kids play today, and he chuckles. "I would not get paid in today's world the way I played," says the 69-year-old Atkinson, currently a broadcaster for the Silver and Black. "My salary would go to the commissioner."
***
The only idea that seems more unlikely than a guy this tough being part of some lovey-dovey R&B group is a guy this tough being someone's father. But Atkinson is indeed a father to nine, with George III and Josh bringing up the rear. And believe it or not, they were the only kids in the Atkinson litter to show a genuine interest in football even though they were born 13 years after their old man played his last down with the Broncos in 1979. "They didn't know anything about the NFL," the eldest Atkinson says. "They didn't know that I had played in the NFL." The fact that they'd settled on opposite sides of the line of scrimmage—George III on offense, Josh on defense—was almost too perfect.
But then again, maybe it was natural? "Personality-wise?" says George III, laughing. "Josh was always defensive? I'm not sure. It just happened to work out that way. He wanted to shut me down, and I want to run past him." It's been that way since birth. George III beat Josh into the world by a full minute—but only, Josh says, because "I pushed him out."
Together, they urged their old man to teach them everything he knew about the game. He played catch with them in the park as youngsters and exposed them to aerobic training adolescents (which led to brief stints as track and field sprinters). He even worked as an assistant on their Grenada High football teams because no one could coach them tough like him.
Josh Doctson's journey from walk-on WR to prized NFL prospect
When the twins emerged as standouts on the Northern California prep scene and went on to receive scholarships to Notre Dame, the Hitman was dumbstruck. That break—not one but two places among the Irish's vaunted 2011 recruiting class—was so much bigger than he got coming out of the high school in the Jim Crow South. Circumstances relegated him to Morris Brown, a modest HBCU based in Atlanta—a campus, like Azusa Pacific, that didn't seem as if it would register on pro scouts' radar. But sure enough, Al Davis tracked him down and drafted him in the seventh round anyway.
From Notre Dame, the Hitman figured, his boys would have a much easier path. But their road turned out to be the furthest thing from that. Part of a cohort that featured a number of second-generation jock stars—like Austin Collinsworth (son of Cris), Torii Hunter Jr. (son of the All-Star outfielder), and Corey Robinson (son of the hoops hall of famer David)—the Atkinson twins struggled to fit in. George III flashed some potential as big-play runner and kick returner, but not enough to entrench himself as a backfield starter. It was pretty much the same story for Josh, who so foundered in the Irish's zone coverage schemes that Notre Dame tried him out at receiver.
By the end of their junior years the boys reached a crossroads: Do they keep going or turn off?George III felt like he had shown enough in South Bend to hazard a jump to the pros and signed as an undrafted free agent with the Raiders. But Josh hadn't, so he chose to play the longer game. First he'd get that Notre Dame degree (in communications), then he'd take his talents elsewhere. To a lesser-known school, like his dad's, maybe. "I felt like in terms of the league, if you show you can play they'll find you no matter where you are," Josh says.
MAYS: Jared Goff may be the new Tim Couch...in a good way!
***
It was around that time, in 2015, that Santa Cruz, the APU coach, got a call from "somebody who knew Josh" he says, asking if he'd be interested in taking on the young corner as a sort of finishing school project. He was too willing. "On his recruiting trip, the two of us really connected," he says. "I remember him going home and [me] being like, 'Hey, you need anything else? You good?' And he was like, 'Coach, I'm coming. Don't worry about it. I'm coming.'"
Blanket Coverage: What happened to Rex Ryan's defense in Buffalo?
At Notre Dame players tend to get lost in the shuffle and become casualties of "the system." At Azusa Pacific, players can't escape their coaches, whose offices are conveniently located in middle of the campus, across from the chow hall. Josh's post-graduate football experience was full service. Not only was he on chummy terms with the headman, but Santa Cruz also coached his position. What's more, his attack-oriented defensive scheme played right into Josh's strength as a press corner.
The more he excelled, the more emboldened Santa Cruz felt moving him around his formations—down in the box, alone in the deep middle. "By game four, we knew we had a guy who is a next-level player," Santa Cruz says. Once the word was out on this Atkinson kid, nobody really chanced throwing his way. Josh's 2015 line—36 tackles, three picks, seven breakups—doesn't really do him justice. One thing that doesn't show up is this: He didn't get beat on a deep ball once. "That's something I take pride in, being a shutdown corner," he says. "I want to carry that same momentum into the league."
***
Where Josh winds up in the final analysis is anyone's guess. A speedy, gently used corner his size could just as easily get snatched up in the last quarter of the draft (depending, of course, on a team's appetite for risk) as he could sign as a free agent after the fact.
• BURKE's BIG BOARD: NFL Draft's Top 100 players
What matters is that, unlike many players who hope to hear their names called next month, being drafted won't be a capstone achievement for Josh. He's already on to the next thing: training camp. He's downloading as much information as he can from his brother about what happens on each day so he can get a head start on preparing his mind and body. "Whatever team gets him, they're gonna have a guy who's gonna be a first-in, last-out of the building type guy," says Santa Cruz. "You're gonna have a guy who's going to be constantly banging on his position coach's door to ask, 'How do I learn more?' And you're gonna have a guy who's a competitor every single snap."
NFL prospects hurt by red flags hanging from draft profiles
Josh has also been "keeping his fundamentals tight," as the Hitman likes to say. All the time father and son are watching film on other great corners. A study session could break out anytime. Josh could be downstairs minding his own business only to hear his old man holler, apropos of nothing, for him to come upstairs and look at this YouTube of Darrelle Revis!
But the guy that really impresses the old Raider? New England's Malcolm Butler, a Super Bowl hero and Pro Bowl starter two years removed from D-II ball. "When the Patriots were making their run," Josh recalls, "my pops, man, he pointed him out. He's got that golden eye. He pointed him out a while ago. 'That kid's gonna be solid.'"
His kid looks like he's gonna be pretty solid, too.