Laremy Tunsil's Nightmare to Remember
A surreal draft evening in Chicago saw the former presumptive No. 1 tumble out of the top 10 thanks to a bong-hit video from a hacked Twitter account—and that was just the start of the weirdness. The MMQB staff has the scene from Chicago, as well as other draft hotspots in an eventful first round
CHICAGO — The oak doors were slightly ajar, the only thing seeping through was growing confusion. Laremy Tunsil stood in a storage room in the back annex of the Auditorium Theatre. For 12 minutes, he could hide.
It was less than a half-hour after the Mississippi tackle had been drafted at No. 13 by the Miami Dolphins, and two hours after his life had been rattled by a series of mystifying shenanigans. As he straddled two realities—excitement and humiliation—Tunsil was summoned into this makeshift war room to strategize. How could he explain to the world what the heck just happened? There were at least three people in the room: Amy Milam, who works with Tunsil's agent, Jimmy Sexton; a public relations assistant from the NFL; and a Dolphins employee. Tunsil also spoke to someone on the phone. The group spitballed ideas.
"You can just leave if you want," one of the advisors told him. Another said: "You can go back out there and just give really bland answers." Or, he was told, "You can no-comment everything."
The 20-year-old considered his options. And then, just past 9:30 p.m. local time, he decided he was ready to re-emerge. Tunsil slipped a teal Dolphins hat on. His copper-studded loafers clicked on the cold floor. He swung open the doors. "How are y'all?" he said to a group of reporters waiting. "Alright, where do I go next? I'm ready."
Tunsil spent the next 20 minutes working through his media obligations. But by the time he and his mother left the Auditorium and walked into the chilly Chicago night, clarity seemed even further away.
• DENVER WINS THE DRAFT, TOO: Peter King on the Super Bowl champs' bold swoop for quarterback Paxton Lynch, and other first-round notes
* * *
Three weeks ago, before the Rams hijacked the 2016 NFL draft by trading up for the top pick, Tunsil was considered the surest selection at No. 1. The Titans, under first-year general manager Jon Robinson, had prioritized protecting Marcus Mariota, and Tunsil, a lightfooted 6-foot-5 behemoth from Ole Miss, was considered an elite, top-of-the-draft left tackle. However, as the quarterback-needy Rams and Eagles diverted the draft buzz with their plays for the top two quarterbacks, Tunsil was quietly fading from favor among several NFL teams. 
The hot rumor as Thursday approached was that the several teams, including the Chargers at No. 3, coveted Notre Dame tackle Ronnie Stanley over Tunsil. Multiple sources told The MMQB that Tunsil's off-field behavior was becoming increasingly worrisome and reason for some teams to remove him from their draft boards altogether. Much of it had to do with the culture at Mississippi, sources say. The football program was served in January with notice of allegations of a number of NCAA violations. Last season Tunsil was suspended seven games for receiving impermissible benefits, and at the combine in February teammate Robert Nkemdiche said Tunsil had been with him when Nkemdiche fell out a hotel window. Then, two days before the draft, Tunsil's stepfather filed a lawsuit against him for "intentional infliction of emotional distress," stemming from a dispute last June. For a player pegged as a potential No. 1 pick, there were enough problems surrounding Tunsil to turn some teams away.
• ROUND 1 ANALYSIS: Andy Benoit weighs in on all 31 first-round picks
The stage was set for perhaps the most bizarre draft night in memory. Minutes before the 8 p.m. ET start to the first round, a video was posted to Tunsil's Twitter account showing the Mississippi tackle wearing a gas mask and smoking from a bong. As news of the video spread, team executives around the NFL hurriedly reconsidered their draft boards, and Tunsil's reps frantically worked the phones to limit the damage, claiming that Tunsil's account had been hacked and that the video was years old.
The Ravens, at No. 6 and in the market for a tackle, chose Stanley. Ozzie Newsome, explaining the pick, acknowledged that off-the-field considerations went into Baltimore's decision. Two spots later the Titans, who'd traded back into the top 10, took another tackle—not Tunsil, but Michigan State's Jack Conklin. Giants general manager Jerry Reese, explaining tackle-needy New York's choice of cornerback Eli Apple at No. 10, said: "He was the highest player on our board without issues." It briefly appeared that the drop might be truly precipitous, but when the Dolphins saw Tunsil— the second-rated player on their board—available at 13, they couldn't resist. Miami GM Chris Grier told reporters at the team facility that he investigated the leaked video but knew it was about two years old. "We know the story behind it," Grier said. "We'd rather leave that to maybe the kid to address, but we know the story behind it. We're comfortable with what it is."
But that was hardly the end of the strangeness. Minutes after the Dolphins' selection, as Tunsil and his entourage exchanged relieved hugs in the green room, word began to spread that he'd been hacked again. This time it was his Instagram account, on which were posted images of apparent text messages between Tunsil and an Ole Miss coach discussing arrangements for paying his rent and his mother's utility bill.
When Tunsil settled into the podium to speak to reporters, he managed a grin. "How are y'all doing?" he asked reporters. "Are y'all good?"
"What the heck happened with that video?" a reporter asked.
Tunsil, hands on the desk in front of him, shoulders relaxed, smiled again. "Somebody hacked into my account," Tunsil said. "I made that mistake several years ago. And somebody got into my photos…"
Then Tunsil was asked about the Instagram posts. He said he'd just found out about them, and reiterated that he'd made a mistake. Asked by reporter as to whether there'd been an exchange of money between Tunsil and a coach, he first responded, "I wouldn't say that." But when pressed a few moments later, he said, "Those messages?" almost as if he hadn't understood the previous questions. "Those were true. Like I said, I made a mistake."
Asked again if there had been an exchange of money, Tunsil then responded matter-of-factly, "I have to say yeah." A further question about whether he'd met with the NCAA was being posed when Milam appeared from behind a curtain, cutting the session short. "He's got no more comments. Thank you guys so much," she said, tapping the offensive lineman on the shoulder, whisking him away and leaving media as baffled as Tunsil apparently had been.
"There's no way I heard that correctly," a reporter in the front row said. "There's no f---ing way that just happened."
The Ole Miss athletic department did not respond to a request for comment on Thursday night.
Admissions by prospects of pot-smoking and allegations of under-the-table payments are draft-season staples, and they don't dictate how a player's pro career will play out. But Tunsil's tumultuous draft night will have reverberations. While he is no longer subject to NCAA rules concerning impermissible payments, the marijuana video could lead to his being entered into phase one of the NFL's substance abuse program. And, of course, there is the matter of the millions of dollars the episode may have cost him on his rookie contract. According to SportRac, Jared Goff, the No. 1 pick, is projected to receive a contract worth more than $25 million. The deal for a No. 13 pick will be roughly $12 million.
* * *
On the morning of the NFL draft, Laremy Tunsil was sitting on the second floor of a middle school on Chicago's South Side. As a part of a character service initiative, he and nine other prospects joined Roger Goodell and Chicago mayor Rahm Emmanuel on a visit to Ariel Community Academy in the Kenwood neighborhood. Upon arrival, the prospects were led upstairs to the school library, where seventh and eighth graders were typing away on iPads. During these types of service events, it's easy to tell which athletes are comfortable and which have their minds elsewhere. Tunsil promptly went up and introduced himself to two 13-year-olds.
"Hey, little guy," he said to one student. "What's up? What y'all working on?"
"Why did you want to be in the NFL?" one of the kids asked.
Tunsil crouched low and looked the kid in the eye.
"It was my dream," he said. "And it's always important to follow your dream."
"Where do you want to be drafted?" another boy asked.

"I just want to go somewhere warm," Tunsil said with a laugh.
Some 12 hours later, that wish would be granted. Tunsil would be going to Miami. It's safe to say it wasn't how he wanted to get there. —Emily Kaplan
* * *
The Ravens Repeat History
OWINGS MILLS, Md. — Not long before the Ravens went on the clock around 8:45 p.m. ET, shouts of elation could be heard emanating from the team's war room, a clear tell that a top prospect had unexpectedly fallen to them at number six. "I know you guys can probably hear us cheering and screaming when that happens," assistant GM Eric DeCosta said to reporters at the press conference where he explained the team's very unexpected pick.
Much of the pre-draft speculation had centered on defensive line prospects who could bolster the Ravens' aging pass rush. Linebacker Terrell Suggs turns 35 in October and is coming back from his second Achilles injury. Fellow linebacker Elvis Dumervil turned 32 in January after leading the team with a measly six sacks in 2015. Improving the defense was a great need, but after the Rams, Eagles, Chargers, Cowboys and Jaguars passed on Ronnie Stanley, Baltimore stayed true to its philosophy of drafting the best available player on their board and pounced on the offensive tackle from Notre Dame.
• ANALYZING ROUND 1: Andy Benoit examines the 31 picks
Twenty years after the Ravens drafted Hall of Fame left tackle Jonathan Ogden with the first pick in franchise history, they took a 6-5, 312-pound lineman whom GM Ozzie Newsome views as an elite blindside blocker, ready to compete with Eugene Monroe for the starting left tackle job. Ogden, of course, began his NFL career at guard before moving to tackle, and coach John Harbaugh acknowledged the possibility of Stanley doing the same, saying there's "a good chance we could do it that way. We are always going to try to put the best five linemen on the field, he has a chance to be in our starting lineup."
Stanley's position coach at Notre Dame, Harry Hiestand, coached with Harbaugh at Cincinnati from 1989-93 and remains a close friend. "I talked to Harry for a very long time one night all about Ronnie Stanley," Harbaugh said, "and he couldn't speak highly enough to his character, to his intelligence, how much he loves football. When you have people you trust in this profession, that goes a long way."
Character issues dominated the 2016 draft, especially at Stanley's position. Once thought of as perhaps the first overall pick of the draft, Ole Miss tackle Laremy Tunsil fell to the Dolphins at No. 13 after his verified Twitter account published a video on Thursday night of him wearing a gas mask and smoking a bong. Tunsil said the video "happened years ago" and that both his Twitter and Instagram accounts were hacked on Thursday night. Newsome admitted the Ravens took off-field issues into consideration in the drafting Stanley over Tunsil, who was suspended seven games by the NCAA in 2015 for receiving improper benefits. "That's always a part of it, anytime that you get information," the GM said. "Our scouts get a lot of information, and when things happen, a lot of times we aren't surprised. I can't neglect the importance of what our scouts do in the fall and spring, getting information for us." —Kalyn Kahler
* * *
The Rams, Rediscovered
LOS ANGELES — This meant something different for everybody, but it was unquestionably big. The Rams kicked off their public bid for the hearts and wallets of Los Angelenos with a free event where fans could learn which quarterback the team would take in its first draft since moving back to SoCal this offseason.
About 3,600 people gathered in the shadow of the Staples Center to hear the name everyone already knew was coming: Jared Goff, the Bay Area blond who led Cal from 1-11 as a freshman to eight wins and a bowl appearance as a junior. Current Rams players who never paid much attention to the draft in prior years showed up to participate in on-stage interviews with emcees Andrew Siciliano and Kara Henderson Snead, the wife of Rams general manager Les Snead.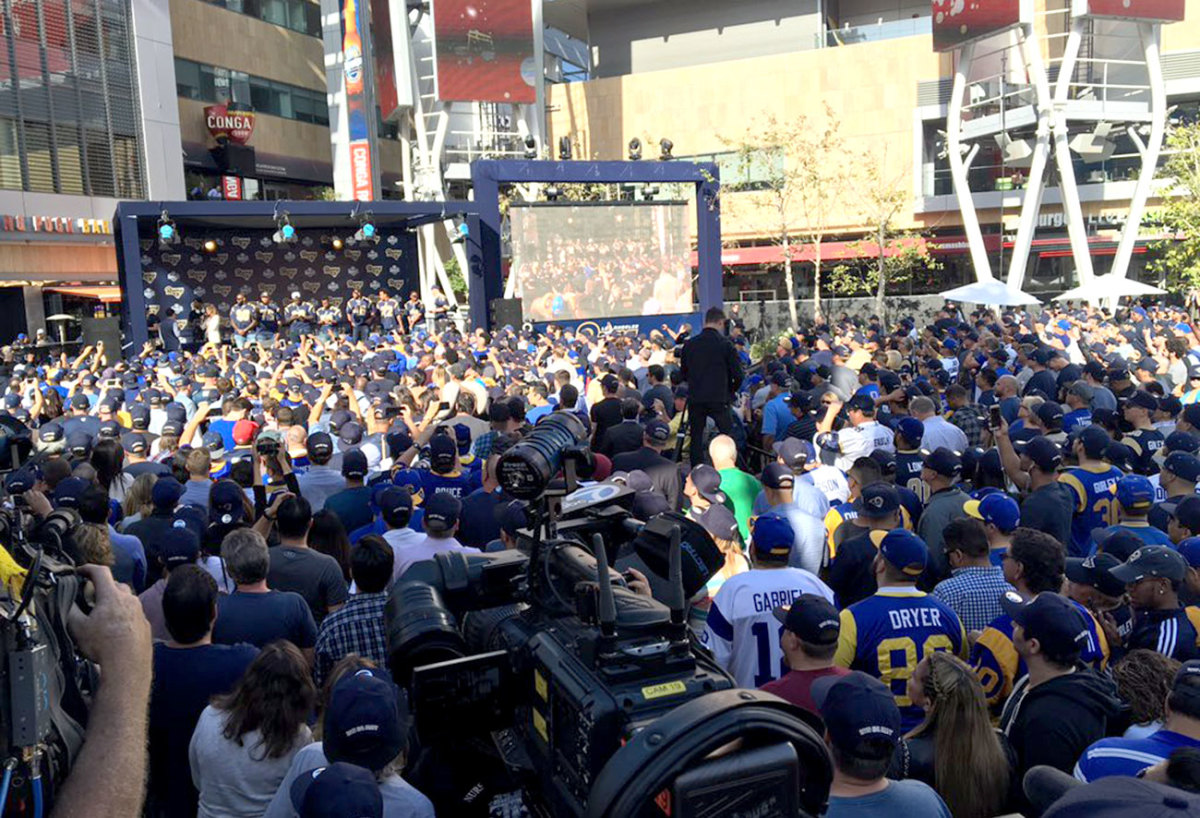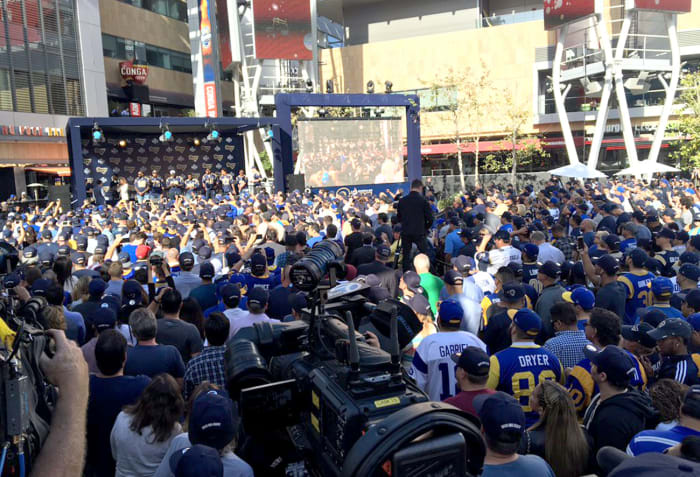 Cornerback Coty Sensabaugh reflected, between efforts to clear his sinuses, on the history being made.
"I'm sorry, my allergies are acting up a little bit out here," he said. "I didn't even watch the draft last year, not since I was drafted, but I wanted to see the fans for the first time. It's all exciting—they're going to do a 30 for 30 on us one day."
And did he prefer Jared Goff or Carson Wentz?
"I don't really know much about them," Sensabaugh said. "I know one of them is from Cal and one of them is from … North Dakota State?"
The identity of the quarterback didn't matter so much today. But it will in a few months, when the Rams meet for training camp and the vital question of when Goff will be named the starter comes closer to resolution. For some of the elders in attendance, Thursday was more about loyalty. Rams fans wearing sweaters and jerseys purchased in the early 1990s stood alongside legends such as Jackie Slater, Eric Dickerson and … Marshall Faulk?
"I'm here because I played for the Rams, and they happened to be in St. Louis," said Faulk, who never played in L.A. Faulk watched the draft party from the patio section at Wolfgang Puck's. "When I was in St. Louis, guys like Dickerson, Slater—greats who played in L.A. and not St. Louis—were there to support us. That's what you do. You come and support the organization regardless of where they are."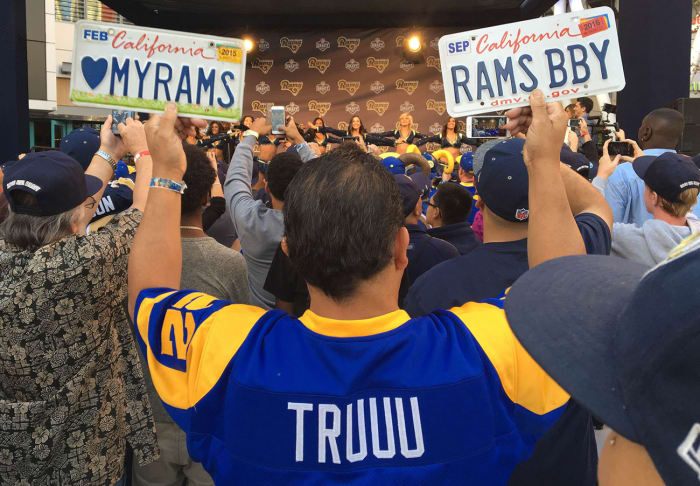 The man hoisting two weathered vanity license plates reading MYRAMS and RAMSBBY would agree. Joey Martinez, 48, is a second-generation Rams fan who attended games in Anaheim and at the Coliseum, and kept watching from afar when they departed for St. Louis, never thinking they might actually return.
"Never could turn away from them," said Martinez, who wore a number 22 jersey with a custom-embroidered Truuu on the back for the Rams' Trumaine Johnson. "There were some friends who gave up on them, and I was upset, but I couldn't turn away. There's nothing better than having them back."
A quarter-mile away, at the Courtyard Marriott on the other side of West Olympic Boulevard, Les Snead and coach Jeff Fisher emerged from their makeshift war room to talk about their No. 1 pick. Snead grinning, Fisher looking dour behind a greying mustache, both said the things you might expect two men who are getting a second chance at developing a No. 1 overall pick to say. They inherited Sam Bradford in 2012, and now they get to start fresh with their guy.
• FIRST-ROUND BREAKDOWN: Andy Benoit analyzes all 31 picks and what they mean
Fisher, characteristically, downplayed any suggestion of grandiosity: "I don't know if it's historic or monumental, but it's a big deal for our franchise."
Snead, playing to the home crowd, busted out a prepared line to kick off the very carefully planned rebirth of a franchise.
"We'll do what's right to develop him, so he's ready when he goes on the field on Sunday," the GM said. "I don't know how you go about giving the guys the stars on that sidewalk, but I have a feeling that they did something to earn it—and I think in sports, you earn that star, that billboard, whatever it is in our league, on Sundays, on Monday nights, Thursday nights. Our goal is to get him ready to be successful on those days." —Robert Klemko
* * *
CLEVELAND'S LONG VIEW
BEREA, Ohio — The Browns once owned the second overall pick in this draft. But by the time the team's new regime had finally selected a player off the board, it was nearly 10 p.m. ET. His name: Corey Coleman, a Baylor speedster who runs a sub-4.4 second 40-yard dash and won the 2015 Biletnikoff Award as college football's best receiver.
New head coach Hue Jackson wanted a receiver, and who could blame him? Last season, the Browns' receiving corps caught eight touchdowns, total. For context, there were 25 players in the league who caught at least that many individually.
But last night's pick was about more than just one player. By moving down from the No. 2 pick to No. 8 a few weeks ago in a with the Eagles, and then trading down again last night from No. 8 to No. 15, the Browns have amassed, as new chief strategy officer Paul DePodesta put it, "a few more bites at the apple." And that's what the Browns, who haven't been to the playoffs since 2002, need—as many opportunities as they can get to stockpile players who can help them win games.
• BRONCOS BOUNTY: Peter King on Denver's move for a quarterback, plus more from the first round
You could say the night went according to plan. The Browns got their top-ranked player at a position of need, plus an extra third-round pick this year and an extra second-round pick next year (they also sent a sixth-rounder to Tennessee, who wanted to jump back up to grab an offensive tackle). The bounty for trading down twice in the first round? The Browns will have two first-round picks and two second-round picks in 2017—"in effect, two drafts," DePodesta said.
Having draft picks is one thing. Getting the right players is another. (Just ask Eric Mangini, who began his Browns tenure trading back out of the No. 5 slot—so the Jets could draft Mark Sanchez—but only lasted two years in Berea). But Coleman, whom Jackson calls "probably one of the most dynamic players in the draft on offense," looks to be a smart fit. The biggest knock on the wideout is that he comes from Baylor's college-style spread offense, where he wasn't asked to run an NFL route tree. But there could also be a positive—don't count out Jackson weaving in some of the Baylor concepts both Coleman and quarterback Robert Griffin III know well.
The Browns could have stood pat at No. 2 and selected a quarterback of the future. With Jared Goff off the board at No. 1, that would have been Carson Wentz. But they saw greater value in taking a different route. "To get not only players we really wanted," DePodesta said, "but also have as much draft capital as possible."
Only time will tell if it will work, but after the first round, we now know the strategy of the Browns' new regime. —Jenny Vrentas
• Question? Comment? Let us know at talkback@themmqb.com