As One Freely Walks Away, Two Badly Want Back In NFL
Tom Coughlin wants to coach again, and Dwight Freeney wants to play. Both make their case, while the rugger-turned-returner retires from 49ers. Plus a commencement speech, a telling Vegas text and more
Is it me, or has it been particularly comatose around the NFL the past week or so? The post-draft frenzy has settled into a spring nap. A handful of bullet points to get you ready for your week:
• Tom Coughlin sounds very much like he'd like to coach again—but he understands the big 7-0 could be a roadblock for interested teams in 2017.
• Ditto Dwight Freeney—who really wants to play one more year at the football-geriatric age of 36—though he's got a better 2015 résumé than Coughlin to show teams.
• Fun Fact of the Week! Here's a 2015 comparison of pass-rushers: Freeney, Eight sacks in 317 snaps … Olivier Vernon, 7.5 sacks in 977 snaps. Vernon, of course, signed a five-year, $85 million contract this offseason.
• Freeney-Belichick. Come on. It has to happen.
• Jarryd Hayne retires to play Olympic rugby. Let's not rip the guy for doing something every single one of uswould do.
• Free Brady! FREE BRADY!!!! Come with me on my New England commencement speech tour.
• Good for you, Dennis Allen, saying what has to be said in New Orleans.
• Young quarterbacks, raised to be CEOs of their teams. Why? It's socio-economic.
• HOW QUARTERBACKS ARE MADE: Robert Klemko on the what the 2016 QB draft class says about what it takes to mold a potential pro
Quick hits in this game of attrition, leading with two men who want back in and another chasing a dream (he hopes) for the second year in a row:
* * *
On Coughlin, Hayne and Freeney
• Tom Coughlin is doing just fine without football, but he'd probably be doing better with it. "I've coached 47 years of my life," Coughlin said Sunday evening. "You take it away, and that's not an easy thing to duplicate." He said his "motor is starting to run again" and sounded very much like he'd like to coach next year, but he realizes he'll need a partner willing to accept a different kind of coach. And not just in the discipline area. "We'll see," he said. "It'll take two to tango. The 70-year-old-man stuff will be a factor, and I'm sure they'll know this would be a three- or four-year thing." And how will he prevent the age thing being a nonstarter? "They'll have to know the guy," Coughlin said. "If I have an opportunity to speak to anyone [about a coaching job], they'll see what I'd be able to do for them."
Regarding the Giants and the departure he did not want to happen, Coughlin said: "I'm not gonna go there. Fifteen years in the organization, and I'll stand by that. I'm disappointed how it ended, but I had a lot of great times there. I'll be rooting for them every time they play."
• A DAD'S PERSPECTIVE ON RETIREMENT: Archie Manning talks with Jenny Vrentas about Peyton's post-football plans, Eli's big change and more
For now, Coughlin spends his time watching his grandchildren play sports and live life—there was a First Communion over the weekend in the Coughlin family. Coughlin also is immersed in the business of The Jay Fund, the charity he started 20 years ago after the death from leukemia of one of his players at Boston College, Jay McGillis. The charity financially supports families going through sudden cancer treatments for a child. Coughlin's goal is to raise $10 million to make the charity self-sufficient for years into the future, and he's $6 million toward the goal now. Coughlin's annual golf tournament to benefit the cause happens next Monday at TPC Sawgrass in Jacksonville, with a dinner and auction Sunday night.
It's interesting, talking to people around the NFL about causes they support. Coughlin got emotional Sunday night about his cause. "You know, we have an event every fall on a Friday night—we've been doing it 11 years now," he said. "And I never, ever thought I'd do anything outside of football during the season. Never. But it's like Saint Jay is there to guide me. Hey, this isn't about you. This is about doing something good for people. Put your idiosyncrasies down and do the right thing."
The Giants, by the way, are 10-1 on Sundays following the Friday night Jay Fund galas, including two upsets of more than a touchdown. "That's Saint Jay," Coughlin said.
​• Good for Jarryd Hayne. On Sunday, Australian rugby player-turned-49er Jarryd Hayne announced he was quitting football to join the Fiji rugby team (he was born in Australia to a Fijian father and Australian mother) for the Rio Olympics. The reaction vacillated between "good for him" and "he knew he couldn't make the team this year" and "this is a coward's way to bow out of a game he wasn't mastering." Lord help us.
As Mike Florio noted Sunday night on Pro Football Talk, an Australian anti-doping official points out that Olympic athletes must be in the World Anti-Doping Agency program for six months before to the Olympics in order to be eligible. Whether Hayne has been in the program was unknown Sunday night, and it couldn't be determined whether the WADA strictures would disqualify Hayne. If it does, we have a story. But for a moment, let's assume Hayne can play in the Olympics—and left the 49ers because he truly has a deep desire to be an Olympic athlete, as he said in his retirement statement.
Those are big ifs. But let's say they are true. Why rip Hayne? He left a starring role in Australia's National Rugby League to try out for the 49ers last year. And he made it. He wasn't great, and barely kept his spot on the team, and there was no lock he'd make Chip Kelly's 2016 team if he stayed. But it's a pretty significant accomplishment, coming from overseas having never played American football at any level and making the team and contributing a bit, and even starting one game. If the chance to play rugby in the Olympics comes along for the country of his father's birth, who is anyone to criticize the decision?
Again, we don't know the whole story yet. I'm just not willing to look at the dark side of what very well could be another fairy tale attempt by a guy who had a fairy tale story to even make an NFL team in 2015.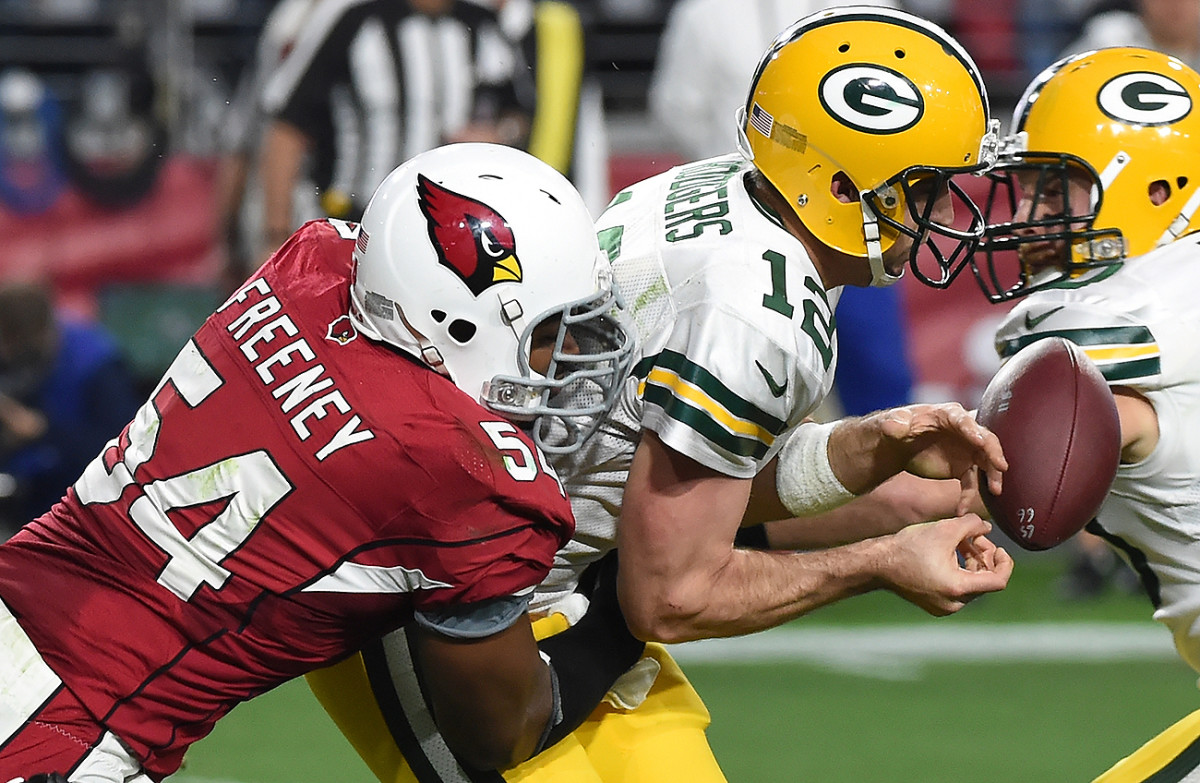 • Freeney for free. Almost. So you watch a 35-year-old pass-rusher who's supposed to be on his very last legs—you truly don't know if he'll make it through the season—and Arizona handled Dwight Freeney superbly. In 13 games (11 regular-season, two playoff), he played an average of 24.4 mostly pass-rush snaps per game, and he had his best sack season since 2011. Interesting. Eight sacks in 317 snaps last year; 8.5 sacks in 697 snaps in 2011. His redemptive season included three sacks of Aaron Rodgers in Week 16.
"To get a three-sack game at any age," Freeney said, "is like hitting two homers in a game. That day was a great feeling, knowing I can still can play this game at a very high level."
• TEN TEAM NEEDS UNFULFILLED: Andy Benoit identifies glaring roster holes remaining with draft, free agency complete
Then the Cardinals went out and dealt for a younger edge player, Chandler Jones ("He plays the same position," Freeney said), a guy who can play more than just passing downs. But whether it's Arizona or elsewhere, Freeney is determined to play one more season. He's turned down TV feelers this off-season because he wants GMs and coaches to know he's all-in on the NFL for 2016. "I'm still having fun," he said. "Why stop? I still have the fire to play. My body feels great. I still have more to give."
I asked, "What hurts when you wake up in the morning?"
"My golf swing," Freeney said.
"I mean, nothing hurts. I consider myself an anomaly. How I eat, how I train—that's the reason why I know I can still play at a high level for another year."
Last point for Freeney, who grew up in Bloomfield, Conn., 80 miles due west of Foxboro: What would he say if Bill Belichick called, and he could ride into the sunset a Patriot after so many great years with the Colts?
"Well," Freeney said, "that's hard to fathom. But I'm not against Bill. I understand the dynamic involved, but at the end of the day, this is a business. My first allegiance right now is to Arizona, if they're interested. But if it happened that I ended up in New England, I can tell you, both sides would win."
* * *
Quotes of the Week
I
"I'm here to share some things I've learned—things like if you're dating a woman that's way out of your league, ask her to marry you. If you can throw a football 80 yards, for some reason people think that's pretty cool. And if you're playing the New England Patriots in the Super Bowl and you've got 26 seconds left and you're down by four and it's second-and-goal on their 1-yard line, try not to throw an interception. That's purely, purely hypothetical though, of course."
—Russell Wilson of the Seahawks, in his commencement address at the University of Wisconsin on Saturday.
II
"To not only be able to play in a game but also say that I started a game in the NFL is something that I will remember for a lifetime. I am retiring from the NFL because the Fiji Rugby Sevens team reached out to me about the opportunity to join the team for the upcoming Olympics, and I simply could not pass that chance up. The Olympics has been something I have admired since I was a little boy, and it is an opportunity I feel very similar to me joining the NFL." 
—Jarryd Hayne, announcing his retirement Sunday after spending one season with the 49ers.
III
"At one point, I was ready to call Sean and say, 'Quit calling, he's in my building!' "
—Washington GM Scot McCloughan, in Emily Kaplan's story on The MMQB about cornerback Josh Norman landing in Washington in a whirlwind free-agency experience, regarding the aggressive pursuit of Norman by Saints coach Sean Payton.
All's fair in love and free agency. Kaplan's story is a good one.
IV
"Free Brady! FREE BRADY!!!"
—A few of the voices (quite a few, actually) from the crowd of graduates at Saturday's Plymouth (N.H.) State University graduation, when I got to the podium to deliver the commencement address to the class of 2016.
V
"I never thought I'd say I was thankful for tearing my ACL, but I am, because I grew so much as an individual. I was able to get my degree and I got stronger mentally, physically, through it all. I'm in a great position now, and that has a large part to do with the summer I had at Duke University."
—Toronto Blue Jays pitcher Marcus Stroman, to MLB.com. Stroman graduated from Duke University on Sunday in Durham, N.C., walking with his classmates after earning a bachelor's in sociology. He was able to do classwork last year while rehabbing a torn ACL.
• BUSINESS OF FOOTBALL: Andrew Brandt on the changing landscape for young NFL players
* * *
Stat of the Week
Smartest quote of the weekend: "There are no positions set here."
It came from New Orleans defensive coordinator Dennis Allen, and it should have come with an exclamation point. Three of the Saints' top four picks in the draft were defenders, and Sean Payton evidently chased Josh Norman fervently when he was unexpectedly cut loose by the Panthers last month.
• JOSH NORMAN IN D.C.: Emily Kaplan catches up with the ex-Panther as he starts fresh in Washington
For anyone to have thought the Saints would be in contention for Paxton Lynch with their first-round pick is folly. Look at the defensive categories the Saints rated dead last in 2015, and the closest bad team in each defensive category:
• Yards per play: Saints 32nd at 6.64. Next: Giants, with 6.09. New Orleanssurrendered, on average, half a yard more than any other team in football per play. That's enormous.
• Yards per rush: Saints 32nd at 4.92. Next: Washington, 4.83.
• Yards per pass play: Saints 32nd at 8.35. This one's alarming. Next: Cleveland, 7.85, and San Francisco, 7.61. Consider it this way: Drew Brees led the league with 4,870 passing yards … and the average yards per pass play of the mega-prolific Brees was six-tenths of a yards less than New Orleans' defense allowed.
• Points per game: Saints 32nd at 29.8. Next: Jacksonville, 28.0.
• Red-zone scoring percentage: Saints 32nd at 67.7 percent. Next: Philadelphia, 65.6.
* * *
Factoid of the Week That May Interest Only Me
Pittsburgh running back Le'Veon Bell has a Rottweiler named Beautiful.
* * *
Mr. Starwood Preferred Member Travel Note of the Week
My thanks to Paula Lee Hobson and Laure Morris from Plymouth (N.H.) State for the generous offer to speak at PSU's 145th commencement Saturday. The school feels like an oasis in the middle of the New Hampshire forests, and the love of the place just oozes from the locals. Once you get to Plymouth, you want to stay there a long, long time.
• WATCH: Peter King's commencement speech at Plymouth State
Graduations are changing, with more spontaneous enthusiasm than in my day. I have to say I like the change. Every graduate present for the ceremony, about 840 undergrads and graduate students, walked across the stage to shake hands with university president Donald Birx, and the expressions of glee were cool to see. Three guys imitated a dabbing Cam Newton. Lots of fist-pumping. One blood-curdling WOOOOOOO. And the crowd of about 5,500 grads and parents was so into it.
One of the things I learned about Plymouth State is that approximately 40 percent of this year's undergrads are the first member of their families to graduate from college. I just thought that was so fantastic, and as a grad of a state school myself, I know how important state-funded education can be in an era when kids and families don't want to be saddled with huge debt at age 21 or 22. My message to the class basically was about being versatile, being open to new things, and to say yes to new opportunities, because you never know where they'll lead. I brought up Tom Brady wanting to transfer from Michigan when he was buried on the depth chart early in his time there; Brady said yes when Lloyd Carr recommended he stay because he'd just have to prove himself somewhere else the same way he'd be proving himself at Michigan. Brady's always said that decision, staying in Ann Arbor, was one of the best he's ever made.
But what I hope resonated with the grads was about gratitude. I asked them to stand and face their families and loved ones there for the ceremony, and to give them a standing ovation. So many of those families sacrificed so much for these students.
One last thing: Loved the messages on the graduation caps. A few of them:
That was quick
Be the change!
Mom, I did it!
(In sea blue) Seas the day
It's all about love
Thanks Mom!
Thanks Mom and Dad
We're just getting a piece of paper
That last one? Students received place-holder diplomas, the real ones to be sent next month after all student work has been audited and graduation becomes official.
* * *
Tweets of the Week
I
Think of the versatile players picked in the first four rounds:
• Tyler Ervin, the rusher/receiver/returner picked 119th by Houston.
• Tyler Boyd, the receiver/returner picked 55th by the Bengals.
• Cyrus Jones, the outside/slot corner and returner picked 60th by the Pats.
• Emmanuel Ogbah, the inside/outside pass-rusher picked 32nd by Cleveland.
• Artie Burns, the slot/outside corner picked 25th by Pittsburgh.
• And of course, Jalen Ramsey, the safety and inside/outside corner picked fifth by the Jags.
I might add Braxton Miller, the slot receiver/passer picked 85th by Houston.
II
III
* * *
Ten Things I Think I Think
1. I think this was the most interesting text of the week I got: "The Raiders and Vegas could happen." There was more than that, but the drumbeat is starting that Mark Davis knows he's not going to get a good stadium deal in northern California, knows he'll get a better one in Vegas, and knows he has some friends (well, acquaintances might be a better word) in high places such as Jerry Jones who are intrigued by the financial windfall that Vegas might be. Just watch. Not saying it's going to happen, but I am saying it's not a pipe dream.
• EVERYTHING'S FASTER IN TEXAS: In one of the biggest offseason makeovers, the Texans gave their new quarterback some fast friends in the draft.
2. I think I could brag about the staff at The MMQBquite often, and I do. But if you didn't make time to read Robert Klemko on the making of the modern quarterback, you really should. The theorem revolves around the fact that developing quarterbacks, unlike the development of premier players in some other sports (some, not all) and at other positions in the NFL, is often much more possible in upper-middle-class environs. As Klemko reported, using the 15 quarterbacks drafted by the NFL last month:
• All but two of the 15 quarterbacks grew up in homes that were valued near or above the median home value where the players lived, and seven of the 15 lived in homes double the average cost, including the top two, Jared Goff and Carson Wentz.
• All but two spent their early childhood in two-parent homes.
• In their developmental years, with many paying significant fees and/or traveling great distances to do so, 12 of the 15 received individual instruction from an independent quarterback coach who was not a parent or a team-affiliated coach.
• Twelve played offseason 7-on-7 football during high school.
• Connor Cook grew up in a home more than four times the value of the median home where he grew up, and he was shuttled to camps and to individual coaching sessions, and he worked with QB guru George Whitfield before the combine. "When you have two parents and you have wealth and you have structure, you have more access and you're exposed to more things," Whitfield says. "Then you know when to get on that circuit. To know when to get some highlight tapes—you need an institution behind you. Really, truly, you could have a working-class family and many have made it out, but when you just peek around the league at some of your star quarterbacks, they were raised to be CEOs, and rightfully so."
3. I think, as a postscript to the story, I remember at Panthers training camp in 2014 having a conversation with Cam Newton, who was adamant about how inner-city quarterbacks were at a disadvantage compared to the care and coaching that so many other young quarterbacks get. City quarterbacks simply couldn't afford the camps and traveling to the 7-on-7 leagues in the spring and summer.
4. I think my early candidate for offensive coordinator of the year is Tennessee's Terry Robiskie. He's going to love the ground and pound, but he's also going to make the receiver group play better than it ever has. Just ask Roddy White about the impact Robiskie had on his career in Atlanta.
5. I think this is the best softball uniform of all time:
6. I think the dumbest stuff I heard this weekend was Browns first-round receiver Corey Coleman making excuses for his poor conditioning. You go to your first pro camp and there are issues with being in shape? That would worry me. A lot.
7. I think, in the study of brain trauma in former athletes, this could be truly important research. Per Nathaniel Vinton of the New York Daily News, two researchers from Mount Sinai Hospital's Icahn School of Medicine in New York may have found a way to diagnose brain abnormalities through a simple PET-scan. Looks very promising. Good story.
• HOW THE JETS LANDED HACKENBERG: The Penn State quarterback won over Todd Bowles & Co. during a secret workout in early April. But the prospect's old college coach loomed
8. I think this was a perfect strike by Kirk Cousins on Saturday night at the Marlins-Nationals game in Washington.
9. I think this is a great idea from longtime NFL scribe Clark Judge: greeters at the door of the Pro Football Hall of Fame … who are actual Hall of Famers.
10. I think these are my non-football thoughts of the week:
a. Story of the week, an Americana gem, by the great Eli Saslow of the Washington Post, about what's happening in the heartland—and it isn't pretty. 
b. I was fortunate to spend some time Saturday with New Hampshire congresswoman Annie Kuster at the Plymouth State commencement. Smart woman, with some good ideas about campaigns and candidates being slaves to them, even after just being elected.
c. Weekend baseball: Not often you can say this, but David Ortiz was a single shy of the cycle Saturday in a ridiculous display to beat Houston … Jose Altuve is an incredible ballplayer … Matt Harvey is a worry … Nick Cafardo is right: Boston should trade Clay Buchholz … Texas and Seattle could go down to the wire in the AL West … Fun series this week, Seattle at Baltimore … I know he's not underrated in a classic sense, but Chris Sale is the most under-appreciated player in baseball. WHIP since opening day 2014: 0.995. That's not Kershaw or Arrieta, but Sale's been quietly great for a long time … Ice and snow on Progressive Field in Cleveland Sunday morning, May 15 … One day the baseball scribes will have to think hard about Carlos Beltran—who hit his 400th homer Sunday—for the Hall … Get that guy Rutledge off third base, John Farrell … How the Astros are nine below .500 is beyond me … Way to go, Marcus Stroman. The Jays pitcher marched in the Duke graduation ceremony Sunday. 
d. Carlos Correa is a joy to watch.
e. If you're starting a franchise today, who'd you take as your backbone: Manny Machado (23) or Jose Altuve (26)?
f. If I lived in or near Houston, I'd be thrilled at the prospect of watching the Astros for the next 10 years.
g. I have not seen a punch in a baseball brawl like Rougned Odor's to the jaw of Joey Bautista in, well, forever. What's that going to cost Odor? Five games? More?
h. Interesting schedule. By Friday, Washington's Tanner Roark will have pitched against Miami four times in the first seven weeks of the season.
i. The Red Sox have six players with more RBIs than Miguel Cabrera or Paul Goldschmidt. Just finished a seven-game homestand during which they averaged 10.6 runs per game.
j. Read this story by Andy McCullough of the Los Angeles Times, and it's hard not to like a man driven from baseball by the pressure of it more than having just an 88-mph fastball.
k. So KTLA-TV in Los Angeles handed a weather reporter a sweater live on air and had her put it onbecause of complaints her dress was too skimpy? One of the most ridiculous overreactions in media history. And if you thought the dress was in some way inappropriate before airtime, KTLA, you should have done something about it then—not in the middle of the newscast, for crying out loud.
l. Coffeenerdness: Very nice latte, Squam Lake (N.H.) Marketplace, on the shore of the real lake from "On Golden Pond." Lots of care taken with that one, with strong espresso.
m. Beernerdness: Tried the Woodstock Inn Brewery (North Woodstock, N.H.) Lemon Blueberry Pale Ale at a Plymouth State reception Friday night, and this is what I liked: It's a lighter beer, with faint lemon/blueberry notes. The worst of the off-center fruit beers are the overwhelming ones. This one is light, with just the right aroma and flavor.
n. Treadmill on Sunday: six miles, 56:24. Trying to get in shape for a 10-miler in September. Miles to go before I sleep. Many miles.
* * *
The Adieu Haiku
Pop Warner: No kicks.
When will the pro game follow?
By '20—my guess.
• Question or comment? Email us at talkback@themmqb.com.