The Ryan brothers' constant quest to carry on their father Buddy's legacy
Fathers always hope to pass on a legacy through their sons, but this is particularly true for the Ryan family. Every step of Rex and Rob's coaching careers has been for their dad. 
Last month, Rex and Rob Ryan were sitting together on the leather couch in the head coach's office at One Bills Drive. Behind them was a framed photo: Buddy Ryan seated in a cart with Rex leaning over, on the field for the Bills' home opener in 2015.
For an hour the fraternal twins talked frankly about the regrets of the last football season that had led them here, to Orchard Park, N.Y., working on the same NFL staff for the first time in more than two decades. At the end, their greatest motivation was revealed.
"He's struggling," Rob said of their dad, Buddy. "That's another reason…"
Rex cut in: "We're going for broke, man."
"Because, who knows?" Rob added. "He's not going to be able to watch us coach for much longer, I don't think. But hopefully he can see this one, because we have got big plans."
• From the Vault (1994): Buddy Ryan inspires both love and hate
Buddy Ryan passed away Tuesday morning, at the age of 85, the Bills confirmed in a statement. He'd been battling health issues for a number of years, including a stroke and multiple bouts with cancer, which had been a private weight on each of his three sons. They had watched their stepmom decline mentally—Buddy's wife, Joanie, died in 2013 after a battle with Alzheimer's—and their dad decline physically within a span of a few years.
Buddy is more than just the family patriarch for Rex, the Bills head coach, and Rob, who joined his brother in Buffalo this offseason as the assistant head coach for defense. He is a defensive patriarch for the sport of football. As the defensive line coach for the New York Jets in 1968, he watched the lengths his team went to in order to protect Joe Namath and applied that to his side of the ball, where he devised creative ways to torture the quarterback. Buddy Ryan's mission, starting with the Super Bowl III champion Jets, is conventional defensive wisdom today.
• The Ryan Family Defense; How Buddy Ryan invented the 46
He coached the Purple People Eaters for two seasons in Minnesota, but it was in Chicago where he unveiled the "46 defense," an innovative eight-man front designed to out-man and out-wit the offense. The results: A ridiculous 64 sacks in the regular season, and an average of just 12.4 points allowed per game, during the Bears' 1985 Super Bowl XX season. That team became the blueprint for defense dictating what happens to the offense, not the other way around.
"The greatest defense of all-time was my dad's '85 Bears, and I don't think in my career I'll ever coach a better defense," Rex said in 2013. "But I'll sure as heck try."
Each step of Rex and Rob's coaching careers has been for their dad. 
In 2011, when Rex's Jets opened the season against Dallas, where Rob was the then-defensive coordinator, Rex sent out his defense lined up in the "46" for the first snap of the game. Buddy had flown in from Kentucky for the game, despite the fact that four days later, he'd need surgery for the gland cancer in his neck.
The "46" is less used in today's NFL, but on an American football field in Milan, Italy last summer, I spotted a whiteboard listing defensive lineups for the Milano Rhinos. One of the team's coaches, Joe Bommarito, had been a NFL scout with the Jets while Rex was head coach. Bommarito had brought Buddy's famed defense worldwide. When Rex heard about this later, he lit up. "That is fantastic," he said.
Fathers always hope to pass on a legacy through their sons, but this is particularly true for the Ryans. Each step of Rex and Rob's coaching careers has been for their dad, starting with their first NFL coaching gigs on Buddy's Cardinals staffs in the mid-90s. Rob recently vented about the end of his tenure with the Saints, in large part because he didn't want the Ryan family to be known for a defense that didn't reflect his dad's philosophy of always being multiple and always aiming to confuse the opponent. For Rex, the criticism that he's just a defensive coach stings harder, because he saw how much it hurt his dad.
• GALLERY: An SI photo tribute to Buddy Ryan
Buddy Ryan SI Photo Tribute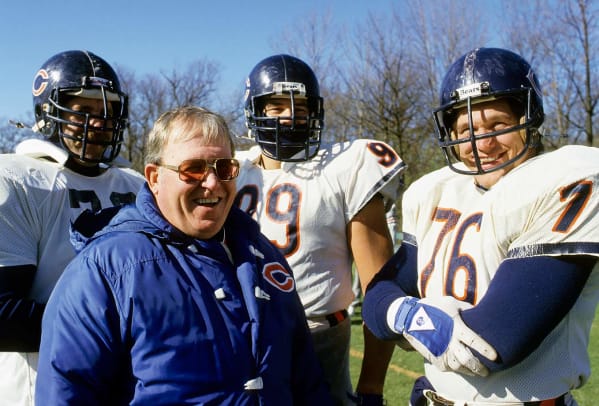 Buddy's head coaching tenure was brief: The Eagles, from 1986–90, and the Cardinals, from 1994–95. The night Rex got his first head coaching gig in 2009, for his dad's old Jets, Buddy was foal-watching on his horse farm in Shelbyville, Ky., where a male thoroughbred born that night was named "Jetie." When Rex called with the news, Buddy told him bluntly: "That's my team. Don't f--- it up."
Six years later, after Rex had been fired by the Jets and hired by the Bills, Buddy was no longer healthy enough to offer his son advice.
"Right now, he is not able to do that," Rex said last spring, in Orchard Park. "But I want the Ryan mantle to not just be as a defensive coach. People say, 'it's just defense.' I want it to be broader than that. I want it to be that these guys can coach, period. Until I win that thing, I don't know if our family will be considered with the others."
• Remembering Buddy Ryan: Best quotes from the former coach 
For the Ryans, this season was already going to be about defending their family name. Now it will be more than ever. And you can already guess how the Bills defense will line up on their first snap of 2016: Eight men in the box, with both guards and the center covered. Just how Buddy drew it up.