Panthers Training Camp: The Magic is Back in Carolina
Lunch-time card tricks and practice invitations to high school teams are just a couple ways the Super Bowl runners-up are trying to keep it loose in Spartanburg. Plus a receiving star in the making and more notes
You can follow The MMQB's 2016 Training Camp Tour onTwitter, Instagram,Facebookand Snapchat (themmqb)
SPARTANBURG, S.C. — On the annual NFL training camp tour, you never know what you're going to see. Two things happened Thursday with the Carolina Panthers that I've never seen in prior trips. One was a high school team stretching before practice with NFLers, working on an adjacent field for a couple of hours, then listening to words of wisdom from some players and coach Ron Rivera afterward. "I mean, I'll remember this the rest of my life," said Spartanburg High linebacker Connor Shugart, after Luke Kuechly told him and his linebacker peers these are the best days of their lives.
I thought that would be the Thursday highlight. Then I entered the Wofford College cafeteria for lunch.
Here were maybe 25 members of the NFC champions, encircling a cafeteria table, eyes intently watching a 30-ish magician, Carl Michael of Myrtle Beach, as he did one card trick after another. Howls. Peals of laughter and "NOOOOOOOO WAY!"
Wide receiver Devin Funchess screamed after one, right into Michael's face: "YOU ARE PLAYING MY BIRTHDAY NEXT YEAR!!!!"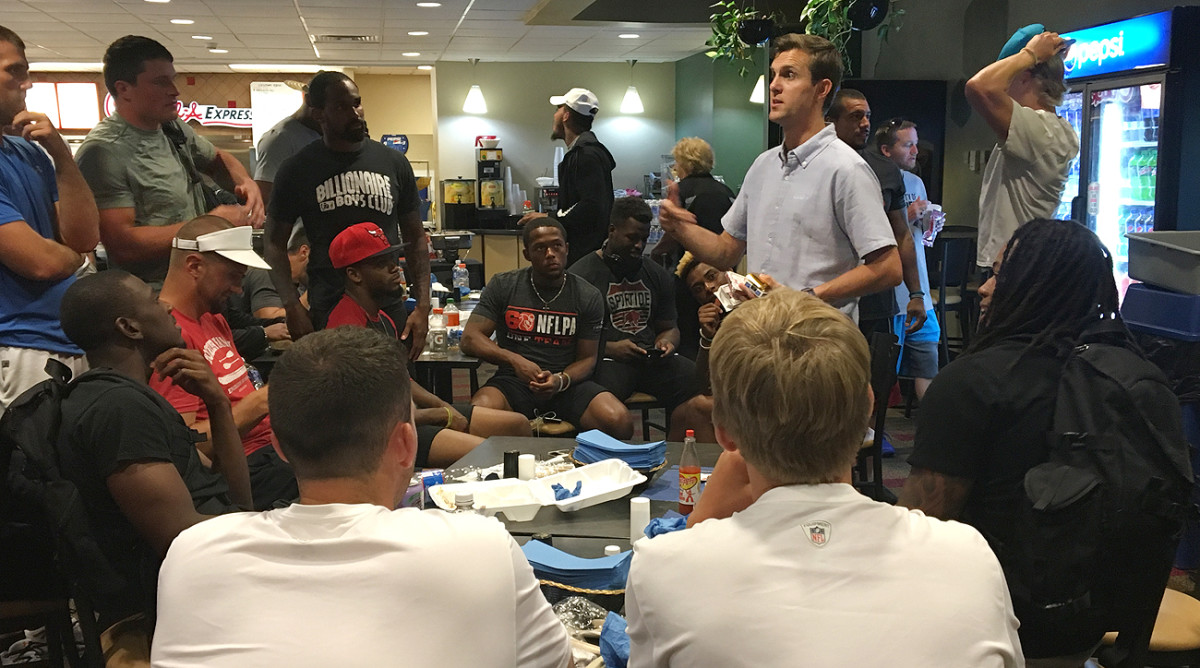 The meaning of this? No idea. I've always thought "keeping 'em loose" was a vastly overrated trait in NFL camp. What exactly keeps players loose? On this day, Cam Newton was disinterested in Michael's magic, and he wasn't the only one. And so I'm not trying to say this helped the Panthers' preparation to defend their NFC title. It was what it was—a lunchtime diversion with a magician, a friend of backup quarterback Derek Anderson, who had a bunch of football players laughing and happy and very demonstrative.
This trick drove the enthralled Panthers over the top: Michael had a player pick a card (eight of clubs) from a deck that had a punch-hole through the 52 cards. Then he put it back, tied the deck together with a rubber band, walked a few feet away, tossed the tied deck to Anderson and asked him to throw it to him across the room, to the floor in front of him. Anderson did it—and as Michael reached for it, and kicked his right foot, and there, to the shock of all, was the eight of clubs—punch hole through it—on the top of his shoe.
• THE MMQB CAMP REPORTS: Steelers | Bills | Eagles | Patriots | Giants | Colts | Jets | Packers | More
"IMPOSSIBLE!!!!!!" one player yelled. Others hollered.
"Hey D.A.," coach Ron Rivera said to Anderson, in the middle of the fun mayhem, "the sound you just heard is the sound of guys' heads exploding."
GM Dave Gettleman watched the fun. "I've been a part of teams that went to seven Super Bowls," said the veteran scout, "and I've never been to one with a crappy locker room. Does this stuff help? Who knows, but I do know how much the guys on this team care for each other."
After his lunch display in the cafeteria at Wofford College here, Michael had a fan. Pro Bowl linebacker Luke Kuechly was all over Michael, asking for help, taking advice the way he'd take it from a trusted coach. He even assisted the magic man on a trick during lunch. But then lunch was over, and something interesting happened. Kuechly had a break before afternoon meetings started, and he sought out Michael, and he sat with him in a room just off the lobby of the Wofford cafeteria building.
Kuechly wanted to know everything. He showed Michael his hand placement on the cards, a hard grip of the cards. "You're crushing the cards," Michael told Kuechly. "Take it easy. Treat 'em like eggshells." Kuechly did. They sat together for more than a few minutes, and when Michael told Kuechly he probably wouldn't have time to get into it during the season, Kuechly said: "No! This is my new thing!"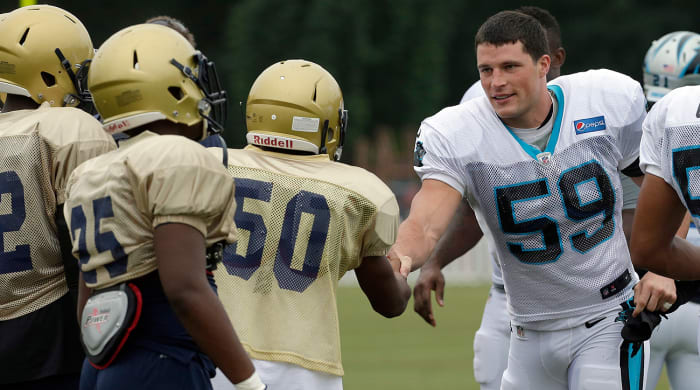 Come to Panthers camp any other day, and you wouldn't see this. That's the treat of going on the road to see teams in the summer. You see the real thing some days—and not just practice. You see teams being formed. Ron Rivera did some work on that this offseason, spending a day with his mentor, John Madden, in northern California. Madden is where Rivera got his main teaching point with his players entering camp: Every season's different. You never pick up in the new season where you left off last season. Too many things change.
One thing that hasn't changed around here is the camaraderie. "This is the best locker room I've ever been in," said Anderson, the 10-year vet. "There's something about the family thing around here. It's real."
• INSIDE THE NFL NOTEBOOK: Albert Breer on quarterback whisperers, a slim Big Ben, the power of a positive environment and much more
Will it matter starting Sept. 8 in Denver? I don't know. But for a day, there was a high school team on the field, getting lessons in football and life from the Panthers. And there were players—all positions, all races—bonding over grilled chicken and magic tricks at lunch.
In his office Thursday afternoon, Gettleman shared his ethos of team-building. "A--holes need not apply," Gettleman said. "That's my philosophy."
We saw that on a summer day in South Carolina, when teams are formed, on the field and at lunch.
* * *
Five Things I Thought About the Panthers
1. The high school involvement was great. So owner Jerry Richardson told his staff after last season he wanted more involvement between community and team, and he wanted particularly to reach out to youth football. Riley Fields, Carolina's director of community relations, and media relations czar Steven Drummond went to work. They thought it would be a good idea to get a local high school on the field with the Panthers in training camp—to not only support youth football, but to support football in general, with the game under attack for its danger. Drummond and Fields came up with this plan, the coaches and GM bought it, and as Rivera said after the practice, "This was a great day for the kids and great for our team." That's what it felt like watching it.
2. Third-round corner Daryl Worley looks like a keeper. "Savvy," is the word secondary coach Steve Wilks uses for the kid who looks like he belongs in the starting 11. Carolina drafted three corners in the spring, and all should play opening night in Denver.
3. Man, this region loves this team. On the seventh training-camp practice of the summer, the Panthers set a team record for summer attendance in this, the 22nd season at Wofford. Think of that: Carolina had an all-time high of about 46,000 fans here in 2014, then shattered that last year with about 70,000. Add to that the fact that the stadium will be full tonight in Charlotte when the team holds its annual summer practice for hometown fans. "It's good to be under the NFL shield," said team president Danny Morrison on the field Thursday. "But what really helps is having a good team with players the community likes."
• THE BEST NFL T-SHIRTS: The MMQB's Football Lifestyle column debuts with a roundup of the top men's and women's T-shirt options for all 32 teams
4. I plan to write more about Newton's off-season and Rivera's involvement in it Monday. But suffice it to say the Panthers love the 2015 MVP, and he seems as excitable and frenetic as he was last year. "He's the right guy for us," Gettleman said. He'd be the right guy for a lot of teams right now.
5. Devin Funchess will have a better year than Kelvin Benjamin. Funchess is a star in the making. Newton's developing a great bond with him, and he's having a great camp. Funchess caught a lovely 60-yard go-route from Newton on Thursday.
• Question or comment? Email us at talkback@themmqb.com.