For the NFL, the Future Starts on Thursday Night
Ten games this season will be broadcast live on Twitter, and both the social media entity and the league have vested interest in the experiment. Plus an update on our high school band donation drive and reader mail
A prologue to the normal Wednesday mailbag:
You have responded warmly and generously and incredibly to help fund the refurbishing and replacement of instruments for the 248-member marching band at flood-ravaged St. Amant High School in the Louisiana town of Ascension Parish, where 97 percent of the property was flooded. That included a total washout of the band room of one of the best bands in the state, and I put out a call for donations in my Monday column this week. You came through.
In the first 36 hours of our drive to make this marching band whole, 805 donations poured in, totaling $65,705. That includes the $25,000 donation by the United Way that started the campaign.
When I reached the St. Amant (pronounced SAN-ama) band director, Craig Millet, Tuesday night, he was pretty emotional hearing the news of the generosity of so many Americans. "I'm in shock," he said. "Oh my. Good lord. I'm elated. That's incredible—something I never, ever expected."
I told you that I'd contribute the last $5,000 of our $75,000 goal if we got to it by Friday, Sept. 23. I'm so thrilled by the giving to date that I'm going to send it today. And I'm going to keep the window open until the 23rd, in hopes that we can get to $100,000. If we do, great; if not, you've opened your heart and wallets so much that it's great that we're close to our goal in such a short time.
Contribute via this United Way page; every cent goes to the band.
Thank you, thank you, thank you. I'll have more updates on Twitter and in my Monday column. Share the St. Amant story and the donation link with anyone you know who loves high school bands, or who is in one, or who was in one, or who wants to do something, anything to help a needy group of school kids whose town was ravaged by an all-time flood.
* * *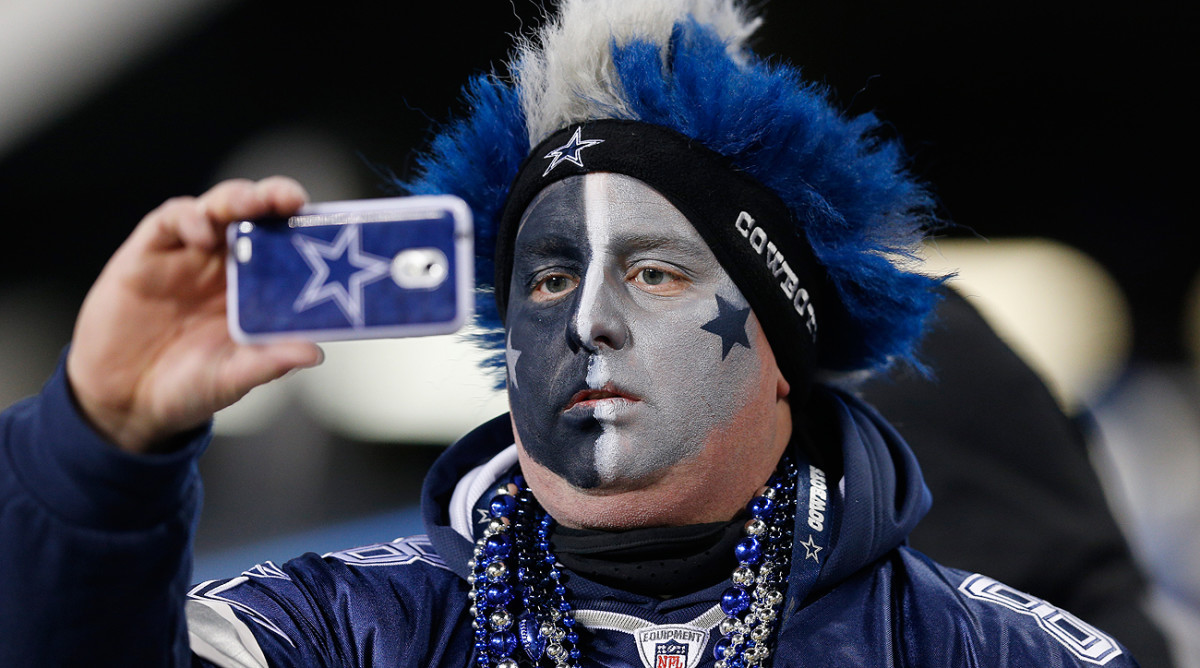 The NFL starts a grand experiment Thursday
The current TV contracts don't expire until 2022. For this season plus five to follow, you'll still be able to watch the 267 annual NFL games the traditional way, all on traditional TV or cable. But last year, the league put one game on the internet for free, and the response was positive. So this year there's been a big increase in the flirtation with the internet. Beginning Thursday with Jets-Bills, the NFL goes to the next frontier—10 Thursday games (Weeks 2-3, 5-7, and 11-16), available on Twitter. The NFL has the games in three places: CBS for the first five, NBC for the last five, with NFL Network and Twitter doing all 10.
You might ask, Why Twitter, especially with the game available on two channels so many Americans would have on the TVs already. The reasons: Some people, young people mostly, don't have cable and use non-traditional ways to watch TV like Hulu and Apple TV; they'd use a livestream. Many watch on mobile devices, at bars or malls or traveling. And people around the globe with no access to live games, mostly ex-pats I'd assume, will watch at all hours of the day. (Quirky exception to the rule: Twitter will have the games all over the world, except for communist countries with limited or no access to the internet and Canada, where the Thursday night games will be TV only because of the league's agreement with the Canadian carrier.)
• 2016 NFL BROADCAST GUIDE: Richard Deitsch has the breakdown on what to expect from each network, from pregame shows to the broadcast booth
I think there's another reason why lots of people in the U.S. will watch, and it may trump the numbers of the other three. "So many NFL fans use two screens to experience the games," said Anthony Noto, Twitter's chief financial officer and the former CFO of the NFL. The NFL estimates that seven of 10 people watching their games on TV have a second screen open at some point during the game.
I'm one of those. On some Monday nights and many Thursday nights, I've got the game on the TV in my home, with Twitter open on either my open laptop or smart phone. I'm either monitoring commentary during the game, or commenting myself between plays. It adds to my enjoyment of games. We'll see how many do that for Thursday night football this year, but the NFL is banking on the experiential fan, the one who lives on his smart phone between plays while attending games, doing the same at home. Most probably do already.
(For these 10 games, you can find the presentation by opening Twitter, or going here, or pressing the "moments" lightning bolt on your Twitter page. It's going to look like this when the game is happening. As you watch on Twitter, an aggregated series of Tweets from commentators and fans will roll by on the page.
Streaming begins from Orchard Park, N.Y., on Twitter with the 7:30 p.m. ET pre-game show on CBS and NFL Network, with the game beginning around 8:25 p.m. "We have a great audience for the NFL—young, mobile first, and global," said Noto. "We want to provide an incremental audience to the NFL that can be monetized."
Money is the key, both for Twitter and the NFL. If the NFL sees increased action on social media, it grows the audience the NFL needs to keep interest in the game. If Twitter provides that platform and becomes a strong internet partner for the NFL, Twitter grows in an increasingly dog-eat-dog internet environment with giants like Facebook. With the NFL trying to grow revenue from the estimated $14 billion in 2016 to $25 billion by 2027—that's commissioner Roger Goodell's stated goal—new streams must be found. The future is so cloudy about TV that no one knows the composition of the providers in the next TV contract in 2022. Could it be the internet? Twitter certainly hopes so.
• THE MMQB PODCAST WITH PETER KING: Like the Monday Morning Quarterback? Then subscribe to the new podcast from Peter King
Twitter, which has experimented with streams of college football and the Republican and Democratic national conventions, would be doing well to duplicate the quality of service of Yahoo last year. Last season, when Yahoo streamed the Sunday morning Buffalo-Jacksonville game from London, I gave it a test-drive. Every Sunday last season, I'd get a lift to the NBC Studios late Sunday morning in advance of working on "Football Night in America." So I brought my laptop, set it up on the seat of the car, got Yahoo up on my browser and turned it on. For 30 minutes or so I watched, and it was perfect. The picture was perfect. Audio, perfect. Game, not so perfect. (You can't have everything. There's a reason the NFL picked Buffalo-Jacksonville.) Tech dufus that I am, I was amazed that the picture on my laptop, through good and bad cell zones, looked like the picture on my home HD TV.
So it'll be interesting to watch, and to experience, the game and the Tweets on one device. I won't care about the financial implications, only the experiential ones. But the NFL and Twitter will be. The long-term future of both entities will be impacted by these 10 football games over the next three-plus months.
Writer's note: In the interest of full disclosure, I have a daughter who works for Twitter.
Now onto your email:
• MONDAY MORNING QUARTERBACK: Peter King on Jimmy Garoppolo, Jack Del Rio and much more from a jam-packed Week 1
* * *
HOW IS JEFF FISHER STILL COACHING?
Having been forced by the NFL to watch the Titans play for years, I just wonder why Jeff Fisher is still a head coach. After riding Eddie George to a Super Bowl in 1999, Fisher has been slightly better than mediocre since. Watching the Rams get dismantled by the 49ers just reinforces that opinion. Are the Rams content with a coach who goes 8-8 in a good year? How does mediocrity keep going like that?
—Richard Ernsberger
Rams owner Stan Kroenke seems determined to sign Fisher to an extension despite not getting the Rams to the playoffs in four years. He points to Fisher's handling of the move to Los Angeles. I get that, but if there are more clunkers like the 28-0 debacle Monday night, it's going to be tough for Kroenke to keep standing behind Fisher.
• FANTASY FOOTBALL: Gary Gramling offers advice on Jameis Winston, Victor Cruz and replacements for Keenan Allen
ON THE ST. AMANT BAND
It was with great surprise that I went to The MMQB this morning and found my friend and colleague Craig Millet featured in it! Thank you so much for your efforts in helping them. The damage and devastation has been mind boggling in our area. You are also very correct that it has not been given enough media attention. Not that we need it—the Cajun people are proud and would never complain or ask for help. That is why I love this area. I am a Packers transplant in Saints country, but this is where I want to live for the rest of my life. I like to call myself a Born Again Cajun. 
—Jared Gray, Lafayette, La.
Great to hear, Jared. Talking to Millet a couple of times now, his concern for his band students is heartfelt and so welcome in such a tough time.
ON KLEMKO'S BRANDON MARSHALL STORY
So important that you write the story of our athletes' protest. I am a 70-year-old white woman and support our black friends. Hate is so apparent and Marshall responds to his haters with respect. He is showing who is the better man in this oppressive society.
—Pris Robichaud
I'm really happy that Marshall told his story to Robert Klemko after the season opener. Marshall has a lot of admirers, and he understands when you put yourself out there the way he did, you're going to have some tomatoes thrown at you too.
JARED ODRICK'S ESSAY
I have always enjoyed the times that The MMQB has current (or past) players write articles. Football players tend to get the brunt of the assumption that they are dumb jocks at best, and violent thugs at worst. There have been some incredibly thoughtful and well written articles featured on MMQB by athletes. I believe this article by Jared Odrick takes the cake—it was thought-provoking and poignant. I wanted to commend The MMQB for putting these protests on center stage and allowing these athletes to share their message. 
—Dan
We're fortunate Odrick chose us to publish his story. It was strong and timely. It's great to see and hear players get into social issues more than they have in the past.
ARIANS ON BEAR BRYANT
The podcasts are off to a great start. Thanks! Only two players on the current Cardinals roster were born when Bruce Arians worked with Coach Bryant—Carson Palmer and Evan Mathis. And Mathis played college ball at Alabama. Given that players often are not historians of the game, when Arians talks about Bryant, I wonder how many know anything about the greatest coach of that era?
—David Maze, St. Gallen, Switzerland
I doubt many. In fact, I bet fewer than half the players in the league know who Bear Bryant is. I could have listened to Arians talk about Bryant all day.
• Question or comment? Email us at talkback@themmqb.com.