The Pride of Pennsylvania
A matchup of unbeaten teams, and two similarly physical passers, headlines the Week 3 slate. Here are four reasons why Steelers-Eagles will be compelling theater on Sunday in Philadelphia. Plus reader email
Best three games of Week 3: Vikings-Panthers and Broncos-Bengals in the early window … Steelers-Eagles, late window. There's a lot to like about every one of them, with prime Super Bowl contenders in each game. But I'm drawn to 2-0 Pittsburgh at 2-0 Philadelphia. Four reasons:
1. Battle of two 2-0 teams. Team with the biggest average margin of victory in the NFC (Philadelphia, 17.0) versus team with the biggest average margin of victory in the AFC (Pittsburgh, 15.0) in the first two weeks.
2. You may have over the years read my disdain for the quirk in the NFL scheduling process that has each AFC team playing each NFC team just once every four years, meaning that rivalry games like Steelers-Eagles (and Giants-Jets and Cowboys-Texans and Washington-Baltimore and Oakland-San Francisco) are played once every four seasons. It's terrible that the league doesn't find a way to play these game more often, because unless Ben Roethlisberger is still playing at age 42, this is the last time (and only the second overall) that he'll ever set foot on the Eagles' home ground in a game that matters.
3. The Steelers have played one regular-season game in Philadelphia since 1997. It happened eight years ago today. Eagles 15, Steelers 6—a game that would be one of Pittsburgh's speed bumps on the way to a Super Bowl win over the Cardinals that season. The game was a rough one for Roethlisberger. The Eagles sacked him eight times, allowed just 131 passing yards, and left the Steelers with problems to solve on the offensive line. I remember the game. When I looked it up, I thought: There will be more than 21 points scored this week.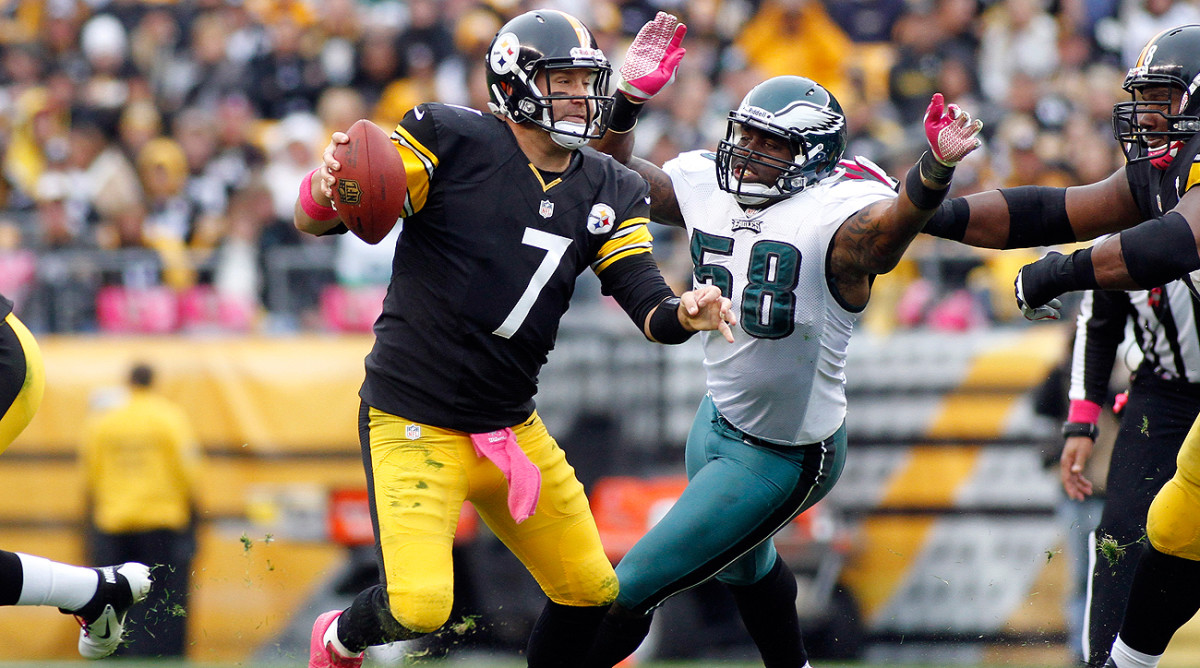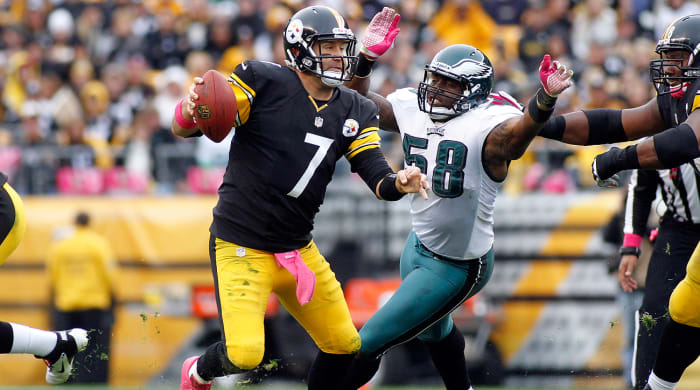 ​
4. And there's the quarterback matchup: Roethlisberger, the 13-year pro, against Carson Wentz, playing his third game. Miami of Ohio versus North Dakota State. Physical passer/runner who has learned when to duck out of bounds versus physical passer/runner who hasn't. (It's a game we should have the privilege of seeing every year, but, well, I've been heard on that.) Wentz played so much like Big Ben on Monday night that I'm left to wonder: Did Roethlisberger watch the game Monday night, and did he see the abuse Wentz took, and did he watch Wentz keep getting up from the monster shots (particularly the second-quarter obliteration by Chicago linebacker Jerrell Freeman), and did the kid remind him of his younger self?
• THE MMQB PODCAST WITH PETER KING: Subscribe on iTunes.
A few words about Wentz, who has been wholly impressive so far.
Just think: If Minnesota GM Rick Spielman hadn't picked up the phone Aug. 31—exactly three weeks ago tonight—and called Eagles GM Howie Roseman and started the ball rolling on the trade for Sam Bradford, there's a very good chance Wentz would have been inactive for Philadelphia in these first two weeks, and wouldn't be facing Roethlisberger on Sunday. Maybe Bradford would have played better for Philadelphia than Wentz in the first two weeks, but not by much. Wentz hasn't turned the ball over, he's completed 61 percent of his throws, and he's thrown three touchdown passes (would have been four if Jordan Matthews caught the easiest pass of his year on Monday night in Chicago) in wins over the Browns and the Bears.
• MONDAY MORNING QB: Peter King on Sam Bradford's storybook start, five thoughts on Patriots QB situation and much more from Week 2
The trade accelerated Wentz's move to starter. No one's knocking it. I thought two plays Monday showed what a great pick this was, and how smart it was for Philadelphia to be so aggressive to move up to get Wentz last April. The first one was nullified by a hold, but that's not important. You'll see what's important.  
With 10:35 left in the first half, and the ball at the Eagles 26, Wentz dropped back to pass. Chicago linebacker Jerrell Freeman hesitated at first, creating a hole in the Philly front. Then he rushed through the B gap on the right side like a freight train. Wentz saw tight end Brent Celek about to come free from the first level of coverage, and Wentz waited … and waited for what seemed like 10 seconds … and just as Freeman was about to hit Wentz into Lake Michigan, Wentz threw a perfect spiral 27 yards in the air, toward Celek, in between three Bears defenders. It was a perfect throw, the kind that would have made Roethlisberger pump his fist had he been watching 225 miles west in his Pittsburgh suburb.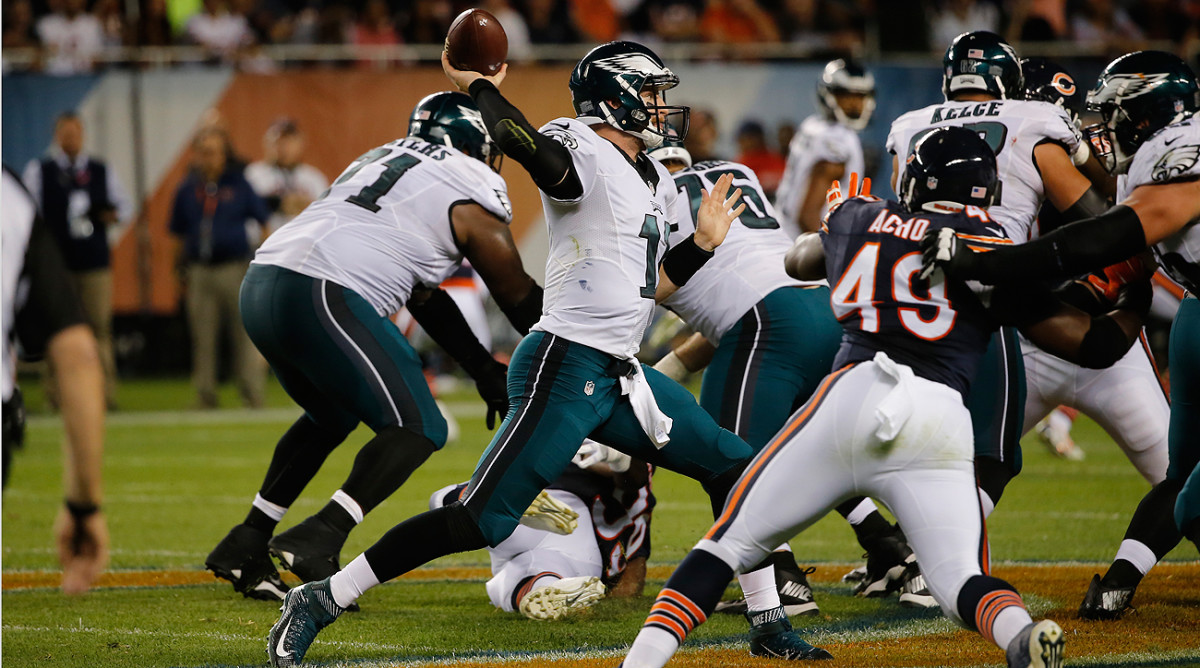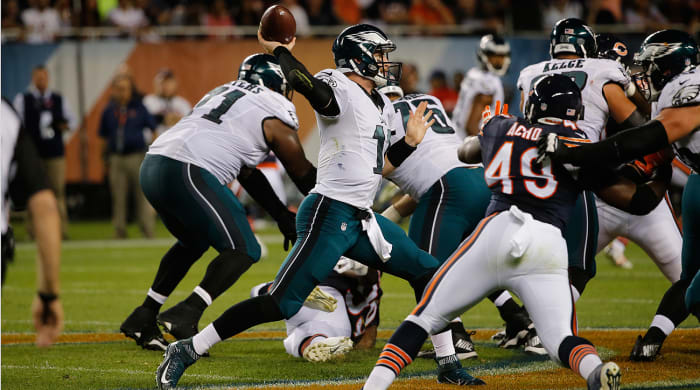 Freeman at full speed rocketed his right shoulder into Wentz's midsection, a perfect form tackle, and Wentz launched backward, into the ground. There is no way possible that Wentz didn't either lose all of his breath or severely bruise a rib.
"You wanna see a tough young quarterback?!" Jon Gruden was saying on the air, admiration dripping from his voice.
But wait.
The ball hung in the air, between the defenders, and 27 yards beyond the car crash between Freeman and Wentz, Celek pulled it out of sky. Complete.
"You earn a lot of people's respect," Gruden said, "when you stand in the pocket and make a throw like this. … This is big time. Wentz is lucky to get up from that."
But he got up, and the only thing you noticed about him was agony—not from the hit, but from the official's flag, and the holding call that negated the 17-yard completion for first down.
So what do we know about Wentz? Enough to be intrigued. Not enough to declare him the 15-year answer in Philadelphia. But enough to say: Man, can't wait to see how he'll play against a better defense Sunday, and against a quarterback who will be a better match than either of the first two quarterbacks he saw. Yes, Sunday in Philadelphia, for lots of reasons, will be compelling theater.
Now for your email...
* * *
​MMQB ISSUE FEEDBACK: HE LIKED IT
I'm an 82-year-old sports nut. My response to your current NFL issue can best be described by my emails to numerous friends ... "If you enjoy the NFL just a little bit, go out and buy the Sept 19th of Sports Illustrated! It's a truly remarkable example of modern-day sports journalism."
—Bob Ford
Thanks so much, Bob. We wrote it for people precisely like you.
MMQB ISSUE FEEDBACK: HE DIDN'T LIKE IT
The irony is staggering: Peter King states, in his Editor's Letter, "the football world is ridiculously overcovered" in an issue with literally 100 percent NFL stories and published directly after two NFL preview issues (including one double-issue!). At least there was a Dustin Johnson ad. In all seriousness, am I the only reader who remembers the second 's' in Sports Illustrated? How about covering baseball in September, international soccer/MLS, the U.S. Open, the FedEx championship, the WNBA, or overlooked college sports? Sincerely, an increasingly disappointed fan.
—Matthew T. McEvoy
Point taken, Matthew. Thanks for your feedback.
• BRAINS BEHIND THE BRO: Andy Benoit on why Rob Gronkowski isn't just the best tight end in the game—he's the smartest
ON ODRICK'S POINT AFTER
I just finished reading the article by Jared Odrick. It was well written, and I agreed with many of his points. Certainly, our country was founded by leaders who objected to the way that things were being done by our British friends. A new country was born out of that adversity. However, even though I encourage anyone to protest a system that mistreats any segment of our population, I do not think that disrespect to the American flag is the way to go about it. Many men and women have died trying to uphold the primary tenets of what that flag represents, and I respect their sacrifice as I think that we all should if we benefit from the luxury of living in America. Mr. Odrick has benefited from living in a free society as did Colin Kaepernick. If they must protest, and I will protest with them the injustices that our society has yet to remove, let us protest without besmirching the best country in which to live, work, pray and celebrate our lives.
—Dr. John Ferguson
It's a difficult call, and I understand those who are angry. But I defend the right of Kaepernick and others to protest. I can only imagine if I felt so strongly about the oppression of some of our citizens that I would be moved to not stand for the anthem, or not pay my respects to the flag for a country I love. I don't think Kaepernick or any of the disaffected players are doing this to slap soldiers or police officers in the face; they're doing it to say: Something's wrong in this country, and we cannot face the flag until we see some serious efforts made to correct the injustice we see.
• TAKING STOCK OF OUR STARS: In the wake of anthem protests, Robert Klemko asks the question—who do we want our athletes to be?
KICKOFF RETURN STRATEGY
Regarding your question: "Why are so many returners receiving the ball three to five yards deep and then returning the ball?" You're focusing on the wrong stat here by looking at average return. The main factor is to consider the negative effect of the loss of those ~5 yards (small because the impact is small) vs. the positive effect of long returns (small because the long returns are rare). In reality, the answer is likely that they are extremely close, so the team is sacrificing the relatively small loss in equity of the five yards to gain the relatively small equity gain from a long kickoff return. It makes total sense that football coaches would look at situations where there is lots of small loss vs. occasional large gain and decide to roll the dice in a low risk/high reward scenario, even if the overall gamble may be slightly negative. Think of it as coaches buying a lottery ticket; most of the time they lose a buck, but every once in a while they strike it big. No coach ever gets fired over losing a buck, and these bucks lost are never going to (in the eyes of fans or owners) add up to enough to make the team go bankrupt.
—David, Isle of Man
Wait. NOW JUST WAIT A MINUTE! You can't just write from the Isle of Man without thinking I would want to talk much more about the Isle of Man than your email! I had to Wikipedia your home. You're one of 85,000 residents of this island in the Irish Sea between England and Northern Ireland. I am so happy you read me, and so happy you took time to write. I would love to hear about your life there. What do you do? How did you get hooked on the NFL? Are you an ex-pat? Write back and I'll try to use it next week. As for your point, I think back to the New York Giants' second Super Bowl team under Bill Parcells in 1990, and how, late that season, he told me his entire season strategy was based on field position. Every yard was gold. He told me four of his top five most important players were special-teamers, including his gunner on the punt team, Reyna Thompson. Parcells explained to me how much he gained through simple exchanges of punts, and why it was so important on a team with an offense that was just okay and a defense that was good but probably not good enough to dominate the competition. So that's why I think you might say, "What's the difference with four or five yards? It's worth the risk." Maybe so, if you have an explosive returner you think can regularly give you more yards than average. But for the most part, I'd take the ball at the 25 rather than the 18.
THANKS FOR THE PODCAST
I wanted to drop you a line to say thanks for the podcasts. I was on business in China last week, and I could not watch any of the first week of the NFL. Much of the internet I use in the U.S. is blocked in China, (Twitter, Facebook, Google), but I was able to get to The MMQB site and found your podcasts with Bruce Arians and Michael Bennett. Those were two very enjoyable hours, and although it did not make up for missing the start of a new NFL season, I did feel a little closer to home. I had a couple of Chinese beers (very light, not much alcohol, but not bad tasting) while listening, and the interviews felt very genuine and intimate. It was like I was listening in on a very private conversation between friends. It really worked! Please keep up the great work, and I look forward to more of these during the year.
—Rick Stannard
Really appreciate that, Rick. I'm having a lot of fun doing the conversations. I think you'll really like our show this week: The Wide Receiver Show, with two accomplished ones, Brandon Marshall and Larry Fitzgerald.
TSA PRE-CHECK
I travel 50-100 times/year, and about two years ago I started to notice a trend at Denver's airport where if you're a Monday morning business traveler, depending on the season (not Christmas or Spring Break), the standard line was consistently shorter than the pre-check line. My theory is that there is a weird entitlement mentality amongst frequent travelers where they want to go through the exclusive line despite the fact that the normal security check is 75% shorter. It just goes against common sense: Why get in a long line when there is a drastically shorter one 10 feet away? The main benefits of pre-check tend to be the line moving faster and not having to unload half your bag and empty your pockets. There is also the possibility that we're all going to get sick (cancer anyone?) from the body scanning machines over time, and the pre-check line just requires a metal detector. That being said, the main currency at the airport is time. Everyone is rushed to hurry up and wait. The length of the pre-check line only seems to be getting longer and longer as more people find out about it. I have to think that a day is going to come where there are more pre-check lines than there are standard lines at the main airport hubs. If that happens, the pre-check process will continue to be valuable. As it stands, it's certainly starting to lose its luster.
—Kevin B., Boulder, Colo.
A lot of you write to say you think it's because TSA has given away a bunch of free passes into the TSA line, either to encourage people to pay to get the privilege or because it's fruitless to make people who travel 100 times a year take off their shoes. Either way, it's becoming frustrating to use the TSA line.
• Question or comment? Email us at talkback@themmqb.com.