J.J. Watt Injury: The Texans Got 99 Problems
Another back issue for Houston's defensive superstar has many NFL observers wondering: Will J.J. Watt ever be the same player again? Plus an extended look at best NFL coaches of all time and readers weigh in
This is what we know this morning about the best defensive player of this decade:
• J.J. Watt has likely re-herniated the same disc that was surgically repaired in July. After further examination this week, the Texans will determine if he will have more surgery or just a course of rehab on the back.
• It's unlikely Watt—who has played 88 straight games since being Houston's first-round pick in 2011—will play again this season. Unlikely, but it hasn't been ruled out.
• Did he come back too soon from the summer back surgery? I'm told the Texans prevented Watt from coming back for a week after the medical staff okayed Watt's return, essentially giving Watt an extra week of rehab. But no one will be able to answer that question until or if a back specialist does the surgery and determines if Watt's injury is the result of a pre-existing condition.
• No one knows if Watt, 27, will return as the player who was most like Reggie White of anyone in football. No one. So don't believe those on either side of the argument.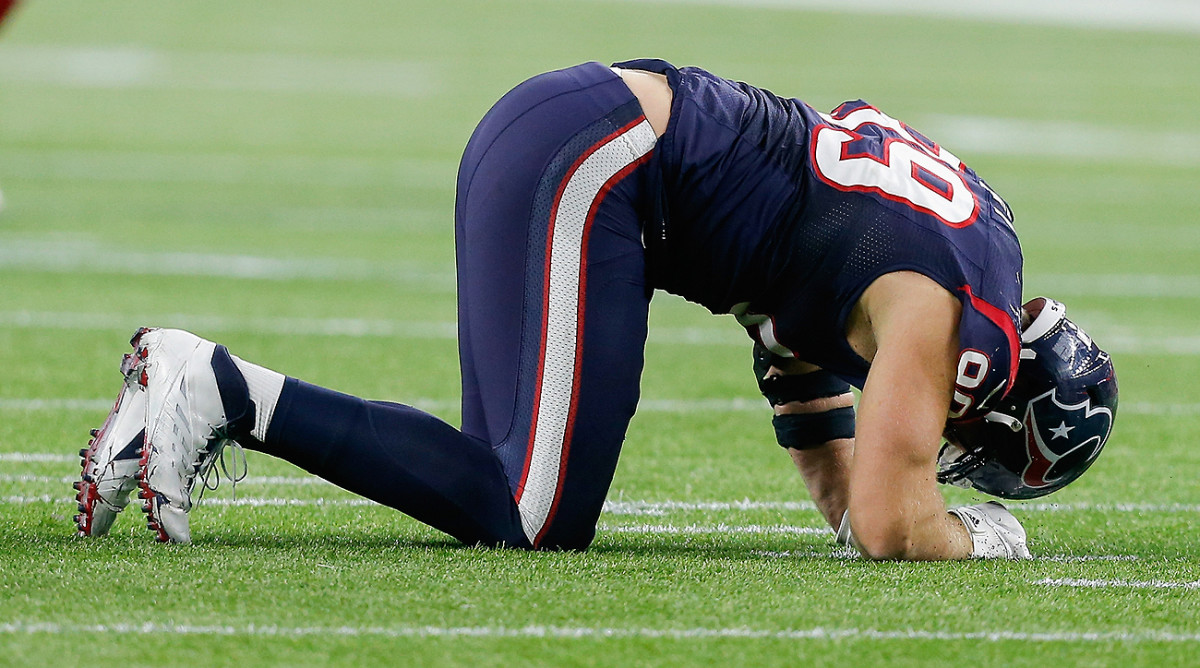 This is certainly a depressing moment for Houston, but all is not lost. Not to distract from the news of the day, but the Texans have picked two highly impactful front-seven players—Whitney Mercilus and Jadeveon Clowney—in the first round of the past five drafts, and both are healthy and playing now. And there's a wild card player—former Baltimore fourth-round pass-rusher John Simon from Ohio State. The Ravens made one of their few personnel mistakes in cutting ties with Simon, and he came to Houston to be reunited with former Ohio State assistant Mike Vrabel. Simon's off to a fast start, with 2.5 sacks. If Houston struggles and loses, it's likely not to be a defensive issue, but rather an offensive one. But that's an issue for another day.
Watt got to 74 sacks faster than all-time sack leader Bruce Smith. Faster, in fact, than any player except Reggie White. Now everyone will want to know the unknowable: Did Watt get so great because he pushed his body beyond its limits in prepping to play in the first place? And then did he get hurt because he was asking his body to do too much?
Last spring, he was convinced to take it easy by Houston team doctors. He had a serious hernia surgery early this year, and also was suffering from back pain that finally forced another surgery in July.
When I saw him in April, I asked Watt if his injuries in year six were finally a wakeup call for a body that had been asked to too much.
"Probably. Probably," he said. "I think it was my body telling me to slow down a little bit in the offseason … Let's work a little smarter."
There's no indication Watt wasn't working smarter. There's no indication he came back too soon. What we know now is either a coincidence (the same disc rupturing twice in less than a year) or a cumulative effect of working way too hard to play the sport of football. Whatever, Watt's won three Defensive Player of the Year awards. And no one knows if he'll ever be the same.
• SUBSCRIBE TO THE PETER KING PODCAST: Download current and past episodes and subscribe on iTunes.
* * *
The Greatest Coaches Debate, Continued
Thanks for the multitude of responses to my list of top five coaches of all time. I said Monday that I'd give you your say and allow you to pick your top five, which I'll do momentarily. First, I'm going to extend the five to 12, because I think there are so many deserving coaches. And when I write Monday Morning Quarterback next week, I'll open up discussion again for some of you—if you're still speaking to me then.
So, my top five this week were:
1. Paul Brown.
2. Bill Belichick.
3. Vince Lombardi.
4. Chuck Noll.
5. Don Shula.
And now for the end of my list:
6. George Halas. Won six titles. Coached 40 years. Won 68 percent of the games he ever coached. (Noll: 57; Belichick: 67.)
7. Bill Walsh. Great innovator, obviously, and 10-4 as a playoff coach, with three titles. His coaching lives to this day.
8. Tom Landry. Only man who's won more playoff games than Landry (20) is Belichick (22). Understated trend-setter.
9. Curly Lambeau. Won six titles in a much different age. Won 95 more than he lost, and established a power in Green Bay.
10. Bill Parcells. Only coach to lead four teams to playoffs, and took two to Super Bowls. A fixer. Players swore by him.
11. Joe Gibbs. Won three Super Bowls without a superstar quarterback. Only three coaches won more playoff games.
12. John Madden. Only two coaches have won more than seven of 10 career games: Lombardi (.750), Madden (.739).
• BUSMAN'S HOLIDAY: The MMQB cracks open the vault and finds Peter King's road trip with John Madden from a 1990 issue of Sports Illustrated
And now for your say:
* * *
The Arguments
I'd put Gibbs ahead of Shula, and it seems like a no-brainer.
Playoff seasons: Gibbs 10-16 (.625), Shula 19-33 (.577)
Playoff wins: Gibbs 17 in 16 years, Shula 19 in 33 years
Shula had a long run and as a result won the most games, but only one championship team—the perfect-season Dolphins. Gibbs had three championship teams in half the time Shula coached, and never had a Hall of Fame quarterback. Shula was utterly out-coached by Ewbank, Gibbs, and Walsh in Super Bowls. You may want Shula coaching your team in September but in January? Not so much.
—Kemp Honeycutt
* * *
How in the world can you leave Tom Landry off this list? Simply amazing. 20 straight winning seasons and no one has come close to matching.
—Henry Cano
* * *
It's hard to argue with your list. At this point, though, I would put Belichick first (and I am by no means a Pats fan but what he has done in this modern era is miraculous).
1. Bill Belichick
2. Bill Walsh
3. Paul Brown
4. Vince Lombardi
5. Chuck Noll
(Honorable Mention: Don Shula, Bud Grant, Tony Dungy, Sid Gillman, Tom Landry, Marv Levy).
I would also add that I think Bill Parcells—as successful as he was—might be the most overrated coach of all time. If Scott Norwood's kick just breaks a little to the left, Marv Levy might be on everyone's short list.
—Dave Filipi, Columbus, Ohio
* * *
I think you're missing Jimmy Johnson in your top five. He revolutionized the game by demonstrating how valuable draft picks are, building depth on the DL, and was the first coach in the modern era to have success as a coach/player-control dual-hat system. His mid-90's Cowboys are on the VERY short list of greatest teams ever.
—Peter F., San Diego
* * *
The real Top 5 NFL coaches: Gibbs, Lombardi, Walsh, Halas, Parcells. Most overrated: Shula. Biggest talent waster: Noll. (Just ask Marino.)
— Daniel P., Virginia
* * *
How you don't have Bill Walsh in your Top 5 is completely absurd! Not to take away from any coaches in that list, but your top two selections are directly influenced by Bill Walsh. Paul Brown does not have a long successful run, especially in the twilight of his career (68-75), without Bill Walsh and the introduction of the "Midwest" offense commonly known as the "West Coast" offense. And if you ever listen to any Bill Belichick interviews, he commonly infers that a lot of his defensive innovations were created out of a need to stop the 49ers offenses during his years as defensive coordinator of the Giants.  He also quotes the "Book of Walsh" as the foundation of how to draft, manage personnel, run practices, game plan, and run football operations as a whole.  Bill Walsh's fingerprints are all over the NFL today and will be for a long time.
—Ernie Lopez
• BILL WALSH'S COACHING TAPES: Two years ago, The MMQB rewatched film from Walsh's Niners heyday and found an enduring genius
* * *
So many comments, so little time. Thanks, all, for checking in. I will address some of the above in bullet points:
• Ernie, Paul Brown would be number one on this list if he never met Bill Walsh, so—in the immortal words of Jimmy Johnson—puh-leeze.
• Shula "wasted talent" and averaged 10.5 wins a year for 33 years. I see.
• Jimmy Johnson is an incredible coaching talent. I truly believe that's so. But he had big success with one franchise for five years, coached another team with moderate success and one playoff win for four years, and he chose to do something else with his life. You can't put him on a list of the best five coaches in NFL history. I respect Johnson a lot. But 89 wins in nine years with a dominant short run with one team—you can't put him in the top five, or 10 or 15.
• Regarding the overrated Parcells: I covered the guy for four years, and I saw how he affected the teams he coached. He was a dominating presence on the team I covered, and then on others I didn't cover daily but covered for SI. His Giants beat the great Niners teams three straight times in the postseason—1985 (17-3), 1986 (49-3) and 1990 (15-13 in a monumental upset) and never lost to them between 1985 and 1990. That plus making four teams into contenders make it silly for "Parcells" and "underrated" to be used in the same sentence. 
But all of these argument are subjective, and I respect every one that you have made. Keep them coming.
• SUBSCRIBE TO THE PETER KING PODCAST: Download current and past episodes and subscribe on iTunes.
* * *
The Rest of the Mail
CHUCK THE GOOD DOG
Great on you Peter for adopting a rescue dog. Hope to read some future articles about Charlie. Thanks for including the link to Jim Moore's story about his dog.  Not a dry eye in the office right now. Dogs are life enhancers—that is why God gave them his name,  just backwards.
—Brian, Winnipeg
I've taken some shots at you the past few years, but just wanted to congratulate you on your new pup, and THANK YOU for rescuing instead of going to a breeder. There are SO many good dogs that are given up for the stupidest reasons (they shed, going away on vacation and couldn't find a sitter, so turned him into a shelter) and really deserve good homes. Hopefully by putting this on The MMQB, more people will realize that. These poor dogs shouldn't have the stigma of being "bad" because they are turned in. I'm convinced that if healthy, properly trained and socialized, 99% of all shelter dogs are wonderful, faithful companions that deserve a good "forever" home. Thank you from a fellow rescue parent (dog and two cats).
—Chris G., Melrose, Mass.
Thanks for writing, Brian and Chris. The early returns on Chuck on positive. He is an absolute nut job—what country pup experiencing city life for the first few days wouldn't be—but these five band-aids on my arms are signs of a nervous dog, not a hostile one. He just likes to nibble a bit.
ON DOUG PEDERSON'S FAMILY QUESTION
This paragraph from today's MMQB caught my attention: 
Pederson probed about Wentz's focus. "I asked him something that was important to me," Pederson said Sunday night. "You can be a dedicated person, but sometimes your family can be a drag on you. Sometimes they can be demanding, and distracting. I asked him, 'Is your family gonna be a distraction?' He said, 'No sir. Coach, I can tell you, it's all about football for me.'"
I'm not surprised that this conversation took place, but I was disappointed that it was presented without critique in King's piece praising Pederson and the Eagles organization. Should this kind of attitude toward family be accepted as just a fact of the game? Shouldn't NFL players, even elite quarterbacks, be expected to treat their families as more than a "drag" and a "distraction"? NFL coaches should be helping their players not just to be great on the field but to be great men.
—Matthew McDonald, Boston
Matthew, I understand your critique, but I think you need to understand where Pederson is coming from—and I probably should have put this point in perspective a bit. It's logical to ask a player what his relationship with family and relatives will be when he is signed, because many players have families who have been anchors.
• CARSON WENTZ AND THE YOUNG QB REVOLUTION: Peter King sees a trend developing, as evidenced by success of very raw players in Week 3
ON RYAN ALLEN
I'm not usually one to write to sports journalists, but this last Ryan Allen performance made me remember Paul Zimmerman, Dr. Z, and his love of special teams. He used to write about how the coffin corner punt was a lost art, that "punts inside the 20" was too forgiving, and how a great punt should be inside the 10. I can't help but wonder about what would he write about this game and the changes in the kickoff rules, including Belichick's strategy of just skying the ball and forcing returns.
—Diego Mangueira, Brazil
Thanks for writing from Brazil. No question the strategy of the new kickoff rule has been big in the first three week. I can tell you one thing Zim would have said: Every play in the game counts, even the ones you're not paying attention to.
WENTZYLVANIA
Is there any doubt that after three weeks the Rookie of the Year is Carson Wentz, the Coach of the Year is Doug Pederson and the Coordinator of the Year is Jim Schwartz?  And I'd say Howie Roseman is in the running for Executive of the Year too.
—Joe, Phoenixville, Pa.
All good candidates. Mine right now would be Wentz, Bill Belichick, Josh McDaniels and Minnesota GM Rick Spielman.
ABOUT YOUR SUPER BOWL PREDICTION…
Still think the Steelers will win the Super Bowl?
—Keith
Who knows? I've covered the game long enough to know you probably didn't truly like your Super Bowl teams if you change them after three weeks.
THANKS FOR BLEDSOE STORY
I sent the Albert Breer video story about Drew Bledsoe to one of the young guys that works for me, and he told me he had no idea how serious the injury was or any of the stats that Bledsoe piled up. All he knew as an 11-year-old kid in 2001 was that the Pats started this incredible run, and that Brady was the QB that had a big part in it. My young co-worker did not live in the 70's and 80's, when for the most part the Patriots stunk and were a laughingstock. Bledsoe had a big part of changing that. He took some helacious hits over his entire career and kept getting back up. Fans are fickle, and if history is any indication, the Patriots won't be good forever. Tom Brady is once in a lifetime, and when he retires I'd take a guy like Drew Bledsoe over 95 percent of what's out there.
—Dean
Glad we could educate you. Great to get your email. Thank you.
• Question or comment? Email us at talkback@themmqb.com