Tom Brady Does His Job
The Patriots QB returned from suspension and, like a cog in a machine, picked up right where he left off. Plus more from Week 5, including reeling TV viewership, an appreciation of a tough veteran and the weekly awards
From the start of the week to the end of Sunday's game, Bill Belichick and Tom Brady were going to keep the return of the prodigal son pretty unemotional, as The MMQB's Tim Rohan learned Sunday. "We have two players back from suspension this week," Belichick told his team in the Week-5-opening meeting last Monday. "Tom Brady and Rob Ninkovich." Nods in the room, and a few smiles. Otherwise, crickets. The same as every week, when Belichick would announce the transactions he felt his players needed to know.
All week in practice, it was all football. No vengeance. Same thing Sunday on the field in Cleveland. Brady pumped his fist and seemed to scream when he ran on the field to cheers (amazingly for a road game, there were no audible boos when he came out on the field), and he dramatically—for him—signaled a first down after a scramble during the 33-13 win.
For all the talk about how volcanic Brady would be Sunday, he wasn't. For all the stick-it-to-Goodell expectations in New England, he didn't. Brady will never get back these four games that he missed, and he'll certainly never be right with the commissioner of football. But Brady is a classic control-what-you-can-control guy, and his surgical performance, the ridiculously efficient eighth career 400-yard passing game in his first football game in nine months, wasn't much of a surprise to anyone he lockers with. All week, Brady seemed determined to show that this week wasn't about him, and his manner during the blowout of the Browns confirmed that. Mostly, he was almost calm. Businesslike and calm.
"To me," said injured Cleveland quarterback Josh McCown, who watched from the opposite sideline, "he didn't look much different today than he looked 10 years ago. He's 39. I can tell you, as a 37-year-old guy, it was pretty encouraging to watch how good he was. You wonder, How long can he be this good? You see no sign of any decline."
Brady's decision-making, particularly, was very good. On his first of three touchdown passes to Martellus Bennett, he bounced on his back foot a couple of times, waiting for wideout Chris Hogan to clear in the back of the end zone. Hogan didn't, and Brady quickly lofted one to his next option, Bennett, who leaked out to the right for a seven-yard TD. On the second TD, from the Browns' five, Brady quickly focused on Rob Gronkowski, but two safeties bracketed him in the end zone. Bennett, running a draft route over the middle with a linebacker trailing, was next, and Brady threw him a strike. The third TD, from 37 yards, was easy. Bennett ran away from coverage down the right flank and Brady just laid in an easy spiral. But on the first two, the decision-making was fast and smart.
One down for Brady, 11 to go. And in Brady's absence, the Patriots learned a few things about themselves. One: Jimmy Garoppolo is ready to play, at a high level, in the New England offense. He might be a top-15 quarterback right now. If I'm the Patriots, I'm trying to figure a way to keep Garoppolo so he can be the quarterback of the future. And I'm trying to do it next off-season, instead of waiting until his contract expires after the 2017 season; by then he'll have too much of a market. Who knows how long Brady lasts—it could be three years or five, no one knows—but if the Patriots feel Garoppolo is the quarterback of the future, and how can they not, they'd be silly to take a 2017 first-round pick for him. Two: Jacoby Brissett is not ready to play. No harm there. He's still a baby in the New England system. Three: Belichick always tell his players to "do your job" and the system will work, regardless who's out on the field. Going 3-1 without Brady makes that feel more real.
Finally, the schedule won't help the Patriots this year, and winning home-field in the AFC is going to be exceedingly hard. The best teams in the conference, in some order, are New England, Pittsburgh and Denver. The Patriots play the other two on the road down the stretch, as well as suddenly good Buffalo on the road and the Seahawks and Bengals at home.
Maybe one day, in a book or a gauzy TV interview, we'll hear some frank talk from Brady about his first in-season vacation since he started playing football as a kid in California. But not now, not on Belichick's watch.
"I'm just trying to move on," Brady said. He's off to a good start.
* * *
Kind of a wild Sunday. Atlanta outplayed the previously unbeaten Broncos, in Denver. Break up the Bills! Buffalo's a running juggernaut, and the Bills have won three straight. Dallas rookies Dak Prescott and Ezekiel Elliott have the Cowboys in first place in the NFC East. Minnesota's the last unbeaten team standing. San Diego must have a black-cat mascot. The Giants can't play offense; the Jets can't play defense. Each has lost three straight. We'll get to all that, but a brief detour to a burgeoning story: the fall of TV ratings, and why people are finding other things to do instead of watching this.
• HOW BUFFALO RETURNED FROM THE BRINK: Andy Benoit dissects the changes the Bills have made in current 3-0 run
* * *
TV or not TV: That is the question
We're all suddenly experts in something we don't truly know much about: Why are the NFL TV ratings down more than 13 percent? Everyone, including me, is guessing, but there's one factor that seems clear: In a presidential election year, pro football ratings go down. Per NFL research:
| | | | | |
| --- | --- | --- | --- | --- |
| Year Before Election Year | Rating | Election Year | Rating | Change |
| 1995 | 11.5 | 1996 | 10.8 | -6.1% |
| 1999 | 10.6 | 2000 | 9.6 | -9.4% |
| 2003 | 9.5 | 2004 | 9.3 | -2.1% |
| 2007 | 9.4 | 2008 | 9.2 | -2.1% |
| 2011 | 10.6 | 2012 | 10.2 | -3.8% |
| 2015 | 11.2 | 2016 | *9.7 | -13.4% |
* Through four weeks.
What's different this year is the size of the drop. Could it be attributable to the gargantuan ratings in prime-time news shows that Donald Trump and Hillary Clinton are getting—and surely got last night for the second presidential debate?
So, theoretically, once the election is over, the ratings should logically recover … correct? The seven weeks of the regular season and the playoffs should see some correction—presumably the way previous election years have corrected after the mania of the election, particularly on the prime-time games.
"I would be silly to make a prediction," NFL executive vice president for media Brian Rolapp said Friday. "A lot of this is a confluence of events. But the election obviously is significant. We saw the election growth starting in the summer, then in the preseason. I always try to look at things in historical context."
The 2000 election would seem to be a good comparison year. That was the razor-thin Bush-Gore race with intense interest up to election day and even after, because the courts had to play a role in the weeks following the race to determine who won. "I think it was soon after 2000 that we went on another growth spurt," said Rolapp.
I asked Rolapp if it's possible the NFL has simply reached the end of growth, period. Is there a chance there's just a minimal additional audience out there to grow the game? "I guess there is a ceiling out there, somewhere," he said. "When you are this big, it's hard to grow significantly year to year. I suppose there is a ceiling, but we try to push it."
Maybe the confluence of events—the loss of some stars, the record-breaking ratings for news networks in prime time this fall, the anthem protests, the hugeness of the game, people getting pangs of conscience for watching a violent sport—is contributing. But just my opinion: History says the audience comes back. Maybe not this year, but soon. Let's see if the ratings continue to fall this significantly after Thanksgiving. If so, then the league has something big to worry about.
​• SHOULD THE NFL BE WORRIED ABOUT RATINGS? Andrew Brandt dives into the issue of declining viewership numbers and what it ultimately means
* * *
Three noteworthy items from Sunday
• In the immortal letters of Aaron Rodgers, R-E-L-A-X. Cowboys fans find their heads spinning out of control after the first five games of the season because they don't know if—when Tony Romo is healthy in two or three weeks—the starting quarterback will be Romo or wunderkind rookie Dak Prescott. The owner doesn't know, the coach doesn't know, Romo doesn't know, Prescott doesn't know. So what? Some things are not knowable right now. Romo gets an MRI on his back today, Prescott will play a tough defense Sunday in Green Bay, and then Dallas will have the bye, and 20 days from now, when Dallas hosts Philadelphia, Romo's back should be healed enough for him to play. Prescott's a 69-percent passer, winner of four of five starts, and hasn't thrown an interception in 20 quarters. To agonize over who should start when both are healthy is silly, for this reason: The Cowboys, since the end of the Aikman era in 2000, all too often haven't had one healthy competent quarterback. Having two should be something to celebrate, not agonize over. I would expect Romo to get his job back, but either way, Dallas will have one of the five best quarterback situations in the league for the second half of the season, assuming Romo can stay upright—never a great assumption.
• Talk about winning a trade. Last spring the Patriots traded their fourth-round pick, 127th overall, to Chicago for the Bears' sixth-round pick, 204th overall, and tight end Martellus Bennett. The Patriots ended up flipping No. 204 with two other low picks to Miami, in order to move back up for Miami's fifth-round pick, No. 147 overall. Then New England got an offer it couldn't refuse from Seattle—dealing the 147th pick to Seattle in a package that netted Seattle's fourth-round pick in 2017. So the Pats essentially traded the 127th pick in 2016, plus some low-round filler, for a pick that will be around No. 127 in 2017. And they got the other half of the best tight-end tandem in the league in the process; no teams come close to the dangerous combo of Rob Gronkowski and Bennett. "Pick your poison," Bennett said after catching three touchdowns from Tom Brady on Sunday. The Patriots win, again.​
• Atlanta might have a defense. Three noticeable players from the 23-16 Atlanta upset of the Broncos in Denver: edge rushers Vic Beasley and Adrian Clayborn, and physical safety Keanu Neal. I certainly am spoiled by Dwight Freeney, who had three significant pressures, but those newbies (all acquired in the past 19 months) really stood out. Paxton Lynch, in his first NFL start, was sacked six times, and the Broncos rushed for just 3.5 yards per carry. It's true that we're entranced by the multiplicity of the Atlanta offense, but the Falcons earned their fourth win Sunday because they can finally send rushers after the quarterback who get home.  
• INSIDE THE NFL NUMBERS GAME: A Q&A with NFL Media analytics expert Cynthia Frelund
* * *
Frank Gore: An appreciation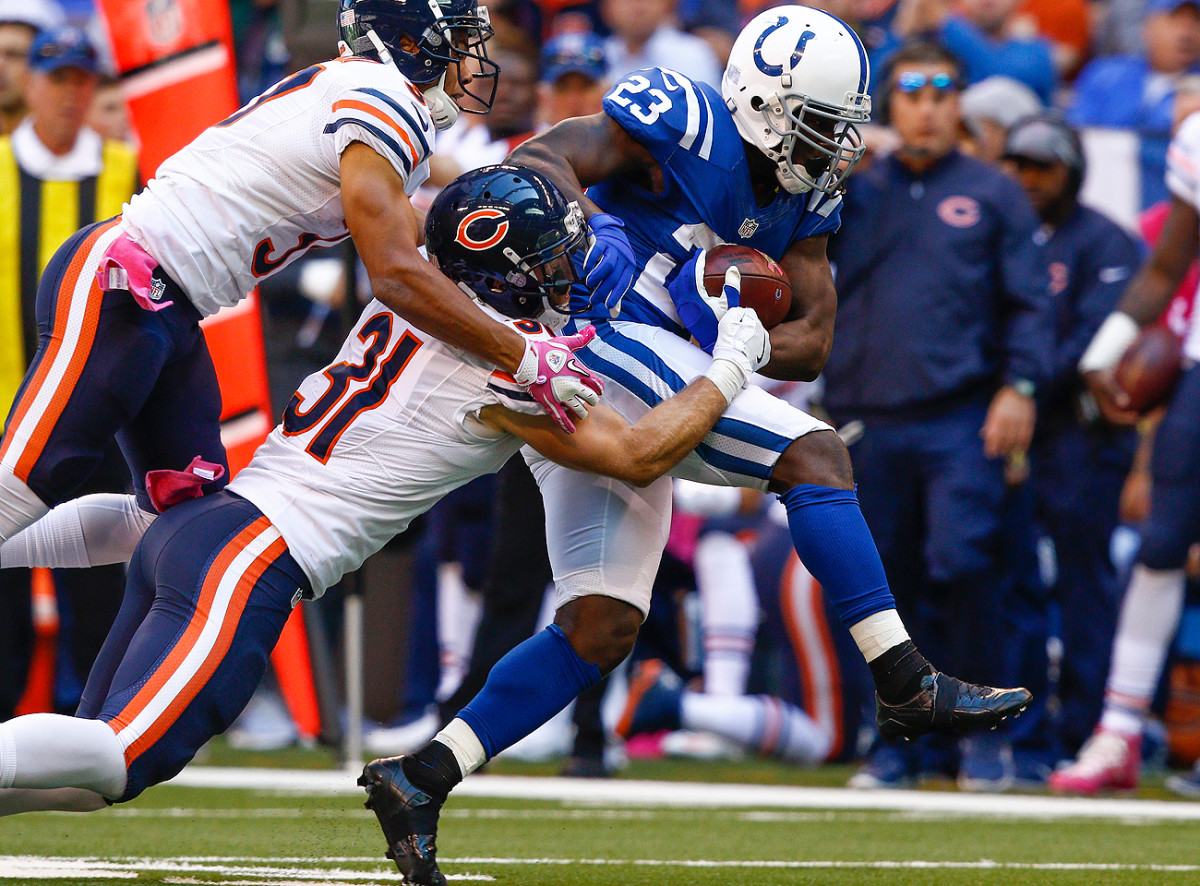 On Sunday, 33-year-old running back Frank Gore of the Colts passed Jim Brown on the NFL's all-time rushing list with his 14-carry, 75-yard game. And I did not want the occasion to pass without noting it, and recognizing what a special career Gore has had. He is the sporting combination of Jaromir Jagr, Tim Duncan and Dustin Pedroia, a third-round pick, a metronome, a smart grinder who will quit when he decides he's ready. Gore's career might have lasted only a couple of years because of a dreadful spate of injuries—torn ACLs in each knee while at the University of Miami, reconstructed shoulders (both of them) after his rookie year with the Niners in early 2006. But since 2006, Gore has played 11 years and risen to No. 9 on the all-time rushing list. With two reconstructed shoulders and two reconstructed knees, he's had 2,779 rushing attempts … and he has no plans to quit. It's a truly amazing feat.
The Colts got a season-saving 29-23 win over Chicago on Sunday, but afterward there was emotion in the locker room for Gore as much as for the win. Said Andrew Luck: "You won't find a guy that loves football more than Frank Gore. He is a beautiful teammate. He's a great football player. He's a great locker room guy. You get so happy when he has success because he deserves it. To pass Jim Brown, that's so cool."
No one will call Frank Gore a Jim Brown, because Jim Brown is the best running back who ever lived. But I find it a monument to the human spirit that Gore has passed Thurman Thomas, Franco Harris, Marcus Allen, Edgerrin James, Marshall Faulk and Brown this year … and is 372 yards from passing eighth-place Tony Dorsett.
Gore's stream of consciousness, via phone from Indianapolis, after the game:
"It's a blessing. It's all a blessing. To pass Marshall and Jim Brown, it's big. So big. Coming out of college with two ACLs, the knock on me was I'll never stay healthy. Third-round pick. The 49ers reached. As a matter of fact, I knew when I got to San Francisco I had to get my shoulders done, but I didn't want people to say that about me—injury-prone. So I played my rookie year, then I had the right one done, waited a couple of weeks, then had the left one done. I was ready to play the next year.
"I remember when coach [Mike] Singletary brought Jim Brown in to talk to the team one year, I knew who he was, but I didn't know everything about him. I learned. Then he talked to us, and I was surprised he called my name. He said, 'I love the way you play.' He told the team, 'You got a horse. You got a great back.' Wow. Blessed. Just blessed. I had to learn to trust my knees again after the surgeries, but I did.
"I just attack the game. I attack every day.
(Now a little emotional)
"When I passed Jim Brown, the guys were all like, 'Congratulations, man!' I said, 'Come on! Let's play football! Let's get this win!' That's the way I was raised. And it's the way I'll always play. After the game, they gave me the game ball, and [owner] Mr. [Jim] Irsay said to me, 'I am so happy you're a part of the horseshoe.' All the guys, so good to me. Andrew Luck … Man, all the money in the world, and he's all football. All football. I love that.
"I don't think about how much longer I'll play. I just play. The man up above will let me know when it's time."
• SUBSCRIBE TO THE PETER KING PODCAST: Download current and past episodes and subscribe on iTunes
* * *
The story behind the cutest Tweet of this season
So the other day, injured Cleveland quarterback Josh McCown Tweeted out this photo of his daughter, Bridget McCown, a senior at Marvin Ridge (N.C.) High School near Charlotte, and six of her friends.
Turns out that Friday was Jersey Day at Marvin Ridge. According to Bridget, seniors are supposed to wear football jerseys of their choice. Most kids wear Panther jerseys, but she and a friend thought it would be fun to gather all the jerseys of McCown's career—he's played for seven NFL teams, twice for Chicago with different numbers, while being in camp with Miami but never playing a regular-season snap. He was in camp with the 49ers in 2011 and got cut, and also played for the Hartford Colonials of the ill-fated United Football League in 2010. Those jerseys were nowhere in sight either.
"We collected them," Bridget McCown, 18, said Sunday night, "but I couldn't find the Cardinals and the Panthers. Then we got friends to wear them. The hard thing was, we only had like two minutes to get a picture taken by the time we got it all organized, or we would have been late for class."
Her senior friends loved it. From left to right in the top row: That's Haley Little with the Bucs jersey, Morgan Wunder (Dolphins), Sue Grover (Raiders), Heather Hanlon (Lions), Leah Briggs (Bears) … and then Bridget wearing the current model (Cleveland) in the lower left, with Mary Steury (the other Bears jersey) to Bridget's right. "It's been crazy," Bridget said. "Dad posted it on Twitter—I don't have a Twitter—but then it just blew up. SportsCenter picked it up. I got over 100 texts. It's been crazy."
I asked Bridget how it felt as a kid, always having to pack up and move, with her dad being on so many different teams. The McCowns, who have four children, have used Charlotte as a home base, and the family lives there while Josh commutes during the season when he can. Then the family joins him at as many home games as they can. "It's been crazy at times, and I haven't always been happy about it," she said. "But I've had so many awesome experiences seeing different parts of the country. So really, I've been fortunate."
That's one good daughter.
• GOOD MORNING, COACH WARNER: Robert Klemko goes back to school with the Hall of Fame QB who now is a coach for his son's high school team
* * *
Quotes of the Week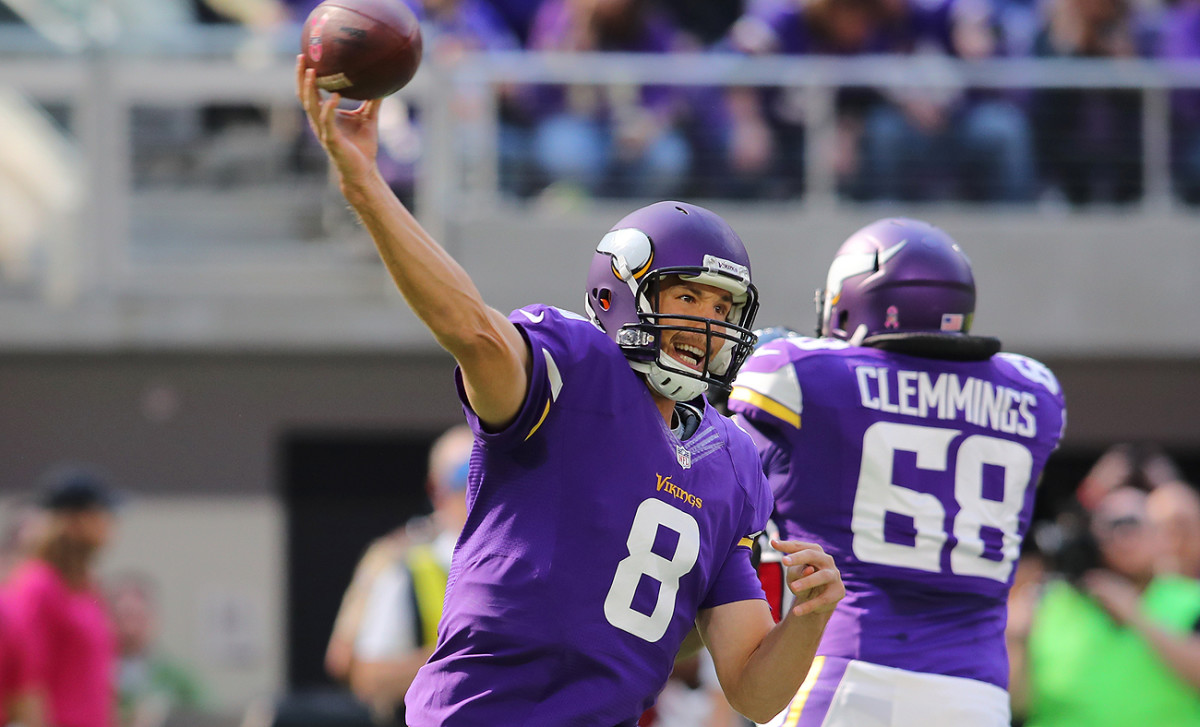 I
"When you lose Adrian, that kind of changed things a little bit. You've seen more spread. You've seen more of the gun runs. You've seen more of quick-gain passes from the shotgun."
—Minnesota quarterback Sam Bradford, on the difference in the Vikings offense, and a big factor why they're 5-0. They're not dedicated to making one player, the injured Adrian Peterson, the focal point of what they do.
II
"He's not coming out. You can ask me a hundred times. He's going to be in there the rest of the season."
—Miami coach Adam Gase, on the underachieving Ryan Tannehill, the 21st-rated quarterback in the league, after a dispiriting home loss to Tennessee on Sunday.
III
"We must be the luckiest kids in America."
—Desert Mountain (Ariz.) High School quarterback Austin Nuessle, to backup quarterback Kedon Slovis, riding to Desert Mountain offensive coordinator Kurt Warner's house so Warner could install the game plan for that week and instruct the young passers on its finer points. Robert Klemko's story is great. It will leave you wishing that when you were in high school, Kurt Warner coached you.
IV
"You have to accept the situation and know that's going to be the case. A shark smells bloods, and he's going to swim around it—and apparently there's blood in the water. It's tough to be in that situation, but I would do the same."
—Giants receiver Odell Beckham Jr., acknowledging that teams will try to bait him to lose his temper and throw him off his game. Let's hope for the sake of Beckham's future that he can be this mature on game days.
V
"We both had to deal with Ted Wells, and we both got screwed."
—Buffalo guard Richie Incognito, on what he has in common with Tom Brady, on "The MMQB Podcast With Albert Breer."
* * *
The Award Section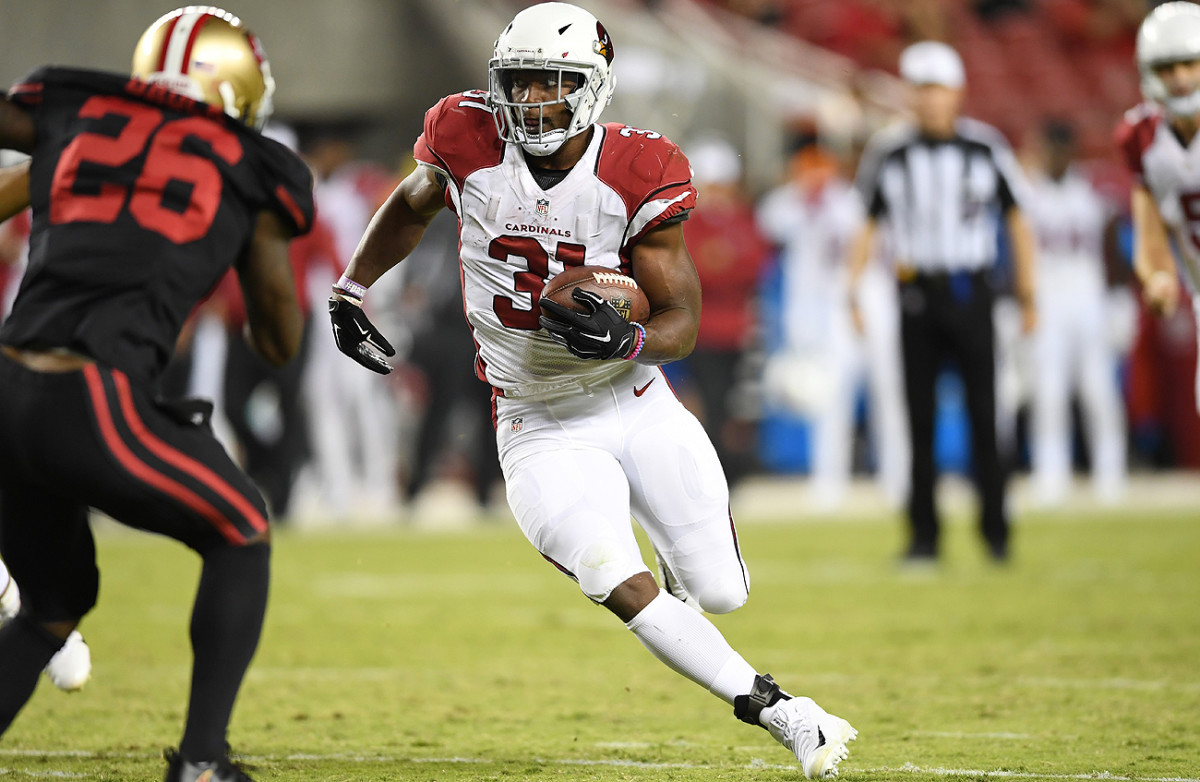 OFFENSIVE PLAYERS OF THE WEEK
Tom Brady, quarterback, New England. At 39 years, 2 months and 6 days old, coming off his four-game Deflategate suspension and playing for the first time in 37 weeks, Brady had one of the best games of his 256-game (regular season and playoffs) career. He completed 70 percent of his throws (28 of 40), for 406 yards, three touchdowns and no interceptions. Masterful, to the surprise of no one.
David Johnson, running back, Arizona.The second-year back from Northern Iowa continued to buttress a rising-star reputation Thursday night in the 33-21 win at San Francisco on a day when the running game had to be dominant as Carson Palmer (concussion) sat. Johnson rushed 27 times for an NFL season-high 157 yards and two touchdowns, and added 28 receiving yards. "He is the catalyst," said Larry Fitzgerald. "When he starts getting his groove, teams start coming down to the box. It gives us opportunities to make some plays behind the defense in the passing game. Some of the cuts and some of the things he's able to do on the field, you just don't see that too often." That's what I see too.
LeSean McCoy, running back, Buffalo. A different back under new coordinator Anthony Lynn (see below), McCoy continued his renaissance with an 18-carry, 150-yard performance in the 30-19 win at Los Angeles. Running with the instinct and great cutting ability that made Rex Ryan deal for him with the Eagles when he got the Bills coaching job in early 2015, McCoy was the key element in keeping the chains moving as much as Buffalo could against one of the great fronts in football. Pretty huge accomplishment, averaging 8.3 yards per attempt against the Rams.
• LESEAN MCCOY'S NEW REALITY: Jenny Vrentas went into the film room with the Bills running back and coach Anthony Lynn to see how they prepare for an ever-more-complicated game
DEFENSIVE PLAYERS OF THE WEEK
Calais Campbell, defensive end, Arizona.At an age (30) many edge players are going downhill, Campbell ascended Thursday night. In the win over San Francisco, he sacked Blaine Gabbert twice, once for a safety. His biggest play was an interception of Gabbert just before halftime when San Francisco led 7-0 and could have salted away the time before half and entered the intermission with an unlikely lead. But Campbell's pick at the Niners 21 led to the tying touchdown before the half.
Vic Beasley, outside linebacker, Atlanta. For a first-round pick—and purported pass-rush savior for the Falcons—who had just five sacks in 20 career games entering Sunday's fray at Denver, Beasley took a huge step in the Falcons' victory. He sacked Denver quarterback Paxton Lynch four times (he got credit for 3.5, including a shared sack with Dwight Freeney that looked an awful lot like Beasley's alone) and had seven tackles. Rushing from Lynch's right all day, Beasley consistently beat the Denver right tackle—Ty Sambrailo, then Michael Schofield—with speed. Great time for a breakout game.
SPECIAL TEAMS PLAYERS OF THE WEEK
Jakeem Grant, punt returner/wide receiver, Miami.Bad times for the Tennessee special teams. A punt return for touchdown last week contributed to special teams coach Bobby April getting fired after four games. And on Sunday, Grant weaved through the beleaguered Titans punt unit for 74 yards, breaking or evading four players with good chances to tackle him. A terrific return by Grant, a 5'7" sixth-round rookie from Texas Tech.
Adam Vinatieri, kicker, Indianapolis. Amazing. A week after hitting a 53-yarder and a 49-yarder in a loss to the Jags, Vinatieri was five-for-five in a narrow win over the Bears, hitting from 54, 53, 26, 41 and 46, the last one his career-record 38th consecutive made field goal. The man is unreal. At nearly 44 years old, he's made nine straight from 50 or farther.
COACHES OF THE WEEK
Bill Belichick, coach, New England. So routing the Browns by 20 in Cleveland isn't the biggest win of his life. It's not his biggest win of the last month. But it allowed Belichick to reach a heck of a milestone. He became the fourth coach in history to win 250 games (regular season and playoffs), and he did it in 22 years. Belichick, even with that shaky first five years of his career in Cleveland, is averaging 11.7 wins per year (counting this year as three-tenths of a season, seeing that we're five games into the year). The other three coaches to exceed 250 win in their career—Don Shula, George Halas and Tom Landry—reside in Canton, where Belichick surely will be five years after he retires.
Anthony Lynn, offensive coordinator, Buffalo. Since Rex Ryan fired Greg Roman as coordinator and appointed long-time aide Lynn to run the offense, Buffalo's running game has become one of the league's most feared. The Bills ran for just 75.5 yards a game under Roman in 2016; that number has skyrocketed to 178.3 per game under Lynn—and Lynn has reinforced the fact that Buffalo will be a strong running team first and second, then a throwing team third. Excellent job so far by the understated Lynn, who has the respect of his players.
Kyle Shanahan, offensive coordinator, Atlanta. Returning to his childhood home, where he often accompanied his father (longtime Denver head coach Mike Shanahan) to work on Saturdays, Shanahan had the best game of his 12-year NFL coaching career. With Denver one of three NFL unbeatens entering Sunday, and with the best defense in football, Shanahan used multiple weapons in a 23-13 statement win for the Falcons. Atlanta gained 372 yards and kept Matt Ryan relatively clean with a good, diversified game plan.
• ALBERT BREER'S GAME PLAN: Kyle Shanahan and the Evolution of a Young Coach
GOATS OF THE WEEK
C.J. Mosley, linebacker, Baltimore. With Washington leading 13-10 midway through the third quarter, Mosley stepped in front of a Kirk Cousins pass and made an interception at the Washington 13-yard line. Mosley rumbled to the 1 and tried to stretch out the ball over the goal line … and promptly fumbled the ball into the end zone, where it went out of bounds. Touchback. Washington took the ball at the 20, drove for a field goal, and there was no more scoring. Washington won, 16-10. So instead of having the ball first-and-goal at the 1-yard line midway through the third quarter, trailing by three, Baltimore turned it over to Washington and blew the golden scoring chance that very well could have changed the outcome of the game. Terrible decision by Mosley.
Drew Kaser, holder/punter, San Diego. Another ridiculous way to lose a game for the Chargers. With two minutes left in the fourth quarter, down three, the Chargers had a makeable field goal … except that the holder, rookie Kaser, missed a snap that was right in his hands, a perfect snap, the kind of snap that in The Great Snaps of NFL History would have its own chapter.An absurd way to lose, befitting San Diego's season.
* * *
Right Combination of the Week
Ben Roethlisberger, quarterback, and Sammie Coates, wide receiver, Pittsburgh. There's no way the Steelers, without the explosive production of suspended wideout Martavis Bryant, could be a complete playoff team unless the prolific Roethlisberger found another gem of a receiver to complement Antonio Brown. He's found one. Talk about the right combination—Roethlisberger and the angular second-year man from Auburn combined six times for 139 yards and two touchdowns Sunday in the win over the Jets. One thing Roethlisberger and offensive coordinator Todd Haley know is that any team can take any single player out of the game with blanket coverage. What the Steelers have done without Bryant—Roethlisberger's number two threat for the past two years—proves how good this offense is, and how adaptable Roethlisberger is.
* * *
Stats of the Week
I
Odell Beckham Jr., has led all wide receivers in drama early this season, but not much else. He's in a bit of a slump. After averaging a touchdown a game through his first two years, he's had one touchdown in his past six games, dating back to the last regular-season game of 2015. Drawing a line of demarcation on the dry spell of Odell Beckham Jr.:
| | | | |
| --- | --- | --- | --- |
|   | Rec. Yards | Avg. Per Game | TDs |
| First 26 Games | 2,701 | 103.9 | 25 |
| Past 6 Games | 413 | 68.8 | 1 |
II
David Price, 0-8 with a 5.64 ERA as a starting playoff pitcher in his career, is owed $187 million over the next six seasons by Boston.
* * *
Dr. Z Unsung Guys of the Week
Each week, in conjunction with Pro Football Focus, I'll point out three players who played well but were under the radar. Paul Zimmerman would have loved this section. This week's trio:​​
1. Steelers OT Chris Hubbard. Hubbard turned in a stellar performance in his first career start. On 52 pass-blocking snaps, Hubbard didn't allow a single sack, hit or hurry of Ben Roethlisberger and earned Week 5's best pass-protection grade.
2. Bills TE Charles Clay. Clay caught all five passes thrown his way, for 73 yards, and was even more impressive as a run-blocker against the Rams, posting the week's best run-blocking grade (86.5) of any tight end.
3. Titans DL Karl Klug. Klug was a key part in the Titans defense hindering the Dolphins running game. He had the highest run-defense grade of any interior defensive linemen this weekend. He also added two quarterback hits and four hurries, on only 13 pass-rush snaps.
Go here to access PFF's grades on every NFL player.
* * *
Factoid That May Interest Only Me
Arizona actually will have two bye weeks this year. The Cardinals are in the midst of their first one. Coach Bruce Arians gave the Cardinals five days off after the 33-21 win at San Francisco last Thursday night. The Cards don't play until next Monday night, so giving the players Friday through Tuesday off makes sense; it still gives Arizona six days to prepare for the next game. The real bye week comes precisely in midseason—in Week 9.
The first half of the Cards' season, in terms of fits and starts, is one of the stranger ones I've seen. Detailing it:
• Five games in the first 26 days.
• No games in the next 10 days.
• Three games in the next 14 days.
• No games in the next 13 days.
The weirdness culminates with five road games in the final seven weekends.
THE MMQB: Like us on Facebook for extras you won't see on the site.
* * *
On Your Night Table
How to Lie With Statistics, by Darrell Huff
Recommended by Vikings punter Jeff Locke
The fourth-year player from UCLA graduated with a 3.89 GPA and majored in Economics. This book was written in 1954, but Locke says it has tremendous lessons for today—namely, don't believe everything you hear. It is the biggest-selling statistics book in history, with more than 1.5 million copies sold. "I read this book and took so much from it," Locke said. "The overarching point is: Don't believe what you first hear or what you first see. Dig into the stats and find out the truth. It might be what you first heard, but it might not be either."
Locke is watching the current presidential race—but not the same way as most Americans. He said he will not watch the debates, including last night's, but rather will read the transcripts of the debates online, then check out the veracity of the candidates' points by reading at least two of the fact-checking sites that parse every word said in the debates.
"Personally, I want to think as logically as possible," Locke said. "That's something that was reinforced with this book." 
You can buy How to Lie With Statistics here.
* * *
Tweets of the Week
I
II
III
IV
V
* * *
Pod People
From "The MMQB Podcast With Peter King," available where you download podcasts.
This week's guests: Drew Brees and Doug Baldwin. I love this episode. Lots of enlightening talk from two very smart people and players.
• Brees on his drive to win a second Super Bowl: "We won one, and that was in my ninth year in this league. Here I am in my 16th season. To win another one would be so meaningful because I feel it literally would be with two totally different teams. As I look at a guy like Peyton Manning, he won one is ninth year, and he won in his 18th year. Literally two different teams—once with the Broncos, once with the Colts—at two different stages of his career. [Tom] Brady won in years two, four and five—you can say that dynasty in New England. And then, listen, they had a ton of success since then, but he didn't see another one 'til Year 15, 10 years later."
"It's interesting you know those years," I said.
"Oh, I do know those," he said.
• Brees on why he loves the concept of flag football for very young players: "I don't think tackle football is necessary until you get to middle school or high school. I think there's just not enough coaches to coach proper technique with pads on with kids in elementary school. That's just the truth. I think kids have more fun in flag football … You will bring a lot more people to the sport by starting them off with flag football. You get them to fall in love with the sport, then you gradually evolve to the physical nature of the game."
• Baldwin on the need for white players to join the anthem movement: "I think it is difficult for other ethnicities to understand it because it is hard to put yourself in the shoes of other ethnicities and to feel the experiences that they didn't experience. It is important that other ethnicities, especially the white Americans, do take part in it and recognize that it is not just a one-sided thing. In order for us to find solutions we have to do it together, so it is vitally important that other races get involved."
* * *
Photo Op
Many who travel know this picture: It's a life-size Franco Harris statue, grabbing a football just above ground level, as he did (or didn't do, depending on whether you live in western Pennsylvania or northern California) in the famous Immaculate Reception game of 1972. It sits in the arrivals concourse of Greater Pittsburgh International Airport, next to a statue of George Washington, the father of our country, and I've always been taken with the fact that the regional powers-that-be think so much of the Steelers. Visitors must know of our Steeler pride! Great symbolism: Pittsburgh values patriotism and the Steelers, and not necessarily in that order.
* * *
Ten Things I Think I Think
1. I think these are my one-sentence truths of Week 5:
a. If I could pick one running back for the next five years to center my running game around, it'd be David Johnson of the Cardinals.
b. Blaine Gabbert (42 career games, 56.1 percent career completions) is too inaccurate to be trusted to be a starting quarterback.
c. Please, please, please, Colts: Keep that roof open. It makes a lovely tableau for football games in Indianapolis.
d. There's no quarterback in football throwing the deep ball better than Ben Roethlisberger, and I mean no one.
e. Bill O'Brien cannot be sleeping well, with the lack of quarterback production he's getting from Brock Osweiler (70.2 rating, 29th in the league) through a very shaky five-game start.
f. After watching a good chunk of Tennessee-Miami, I would like to announce that the reports of the demise of DeMarco Murray have been greatly exaggerated.
g. Of course you should be smitten with the Raiders at 4-1, but no team can give up four touchdowns a game (27.4 points, to be exact) and not have that come back to bite them, and soon.
h. It's entirely possible the best element of the 2016 Packers through four games, stunningly, is the front seven.
i. The Jets are a very tough watch right now, and there may be no more shocking statistic after five weeks than this one: New York's opposing passer rating is 118.6.
j. It is a mark of the craziness of the National Football League that Denver Broncos fans are waking up this morning muttering: "Hope Trevor Siemian's healthy enough to play quarterback Thursday night against the Chargers."
2. I think there's no logical reason for Chip Kelly to not play Colin Kaepernick on Sunday in Buffalo, unless Kaepernick is hurt or Kelly thinks Christian Ponder has passed Kaepernick on the mental depth chart.
• TOM HERMAN'S SOCIAL NETWORK: Albert Breer on the University of Houston head coach's strategy for connecting with a new generation of players
3. I think I will always wonder if Larry Fitzgerald, with a competent quarterback for most of his career, could have challenged Jerry Rice's all-time record for catches (1,549) or receiving touchdowns (197). Probably not. And Fitzgerald told me last month: "His records are unattainable." But Fitzgerald, who is 33, is 500 catches and 95 touchdowns away from Rice. And seven of the 13 quarterbacks who he's caught touchdowns from are: Shaun King, Richard Bartel, Max Hall, Brian St. Pierre, John Navarre, John Skelton and Matt Leinart. Six of Fitzgerald's 13 years have been spent, mostly, with quarterbacks not named Kurt Warner or Carson Palmer. What would Fitzgerald's numbers have been like with even, say, a middling quarterback for half of his career?
4. I think if I were an NFL owner, and I knew the Tom Brady legal fight sapped my team of $359,000, I'd be furious right now. Livid. How'd I get that number? Darren Rovell of ESPN revealed that the legal battle between the NFL and Tom Brady over his four-game suspension and subsequent court battle cost an estimate $23 million. Say that figure is true, or close. And say it got split down the middle between the league and the Players Association (though it probably cost the league more, because of the Ted Wells investigation). That means the owners in the NFL, effectively though not directly, each had a $359,000 stake in the legal action against Brady. I'd be telling Roger Goodell right about now: Please send a strongly worded letter and a $25,000 fine the next time, unless you've got overwhelming evidence that the public confidence in the game has been irrevocably harmed.
5. I think this is what a mobile, confident quarterback will do for you: On the first Buffalo touchdown drive of the game at the Los Angeles Coliseum, Tyrod Taylor had 6.12 seconds, a lifetime for a quarterback, to look and look and scramble left and look some more and fire a strike to Justin Hunter in the end zone for a touchdown. Beautiful patience and execution and decision-making by Taylor.
6. I think Brian Hoyer (.714 completion rate, 108.5 rating) is a great example of a quarterback who should have a job for a long time in the NFL—just not as a starter.
7. I think what I love about Matt Ryan's game right now is that he's not mesmerized by the notion that he has to get the ball to Julio Jones X number of times in a game, but rather simply passes to the open guy. Three men—Tevin Coleman, Devonta Freeman and Mohamed Sanu—each had more catches and more receiving yards than Jones in the 23-16 upset of the Broncos, and knowing Jones, he absolutely did not care. He knows his time will come next week, or the week after. Or maybe both weeks. Atlanta's got such an egalitarian offensive society.
8. I think, not to overdo a story that has gotten far too much attention already, I have to say one thing about offensive coordinator Mike Sullivan of the Giants implying that there is something unmanly about a defensive player who will not play Odell Beckham straight up without using mental games: It's ridiculous. "If a defender is very confident, if he has complete belief in his own abilities and if he's a true competitor, why does he want to tip the scales?" Sullivan asked last week. "Doesn't he want Odell to be at his best? … Why are they trying to rattle him?" Because that's sports! If Mike Sullivan thinks it's somehow unfair or non-sporting to take advantage of a hothead on the other side of the field, he'd be the first coach I ever heard of who felt that way.
9. I think this was Jenny Vrentas' reaction to the new stadium in Minnesota—I'm a bit of a stadium junkie, and I have not been to U.S. Bank Stadium yet—after I asked her to write a few lines about it Sunday because she was on hand for the win over Houston:
"Sunday afternoon was the perfect showcase for the $1.1 billion U.S. Bank Stadium. The MMQB hadn't been up here for a regular-season game yet, though Emily Kaplan got a tour in the summer, and this week happened to be the Vikings' first afternoon game in their new building. The futuristic stadium design works exactly as intended. The sunlight poured in through the transparent ETFE (ethylene tetrafluoroethylene) roof, basking down on the field and half the stands. The five giant hydraulic doors that open toward the downtown skyline were pivoted open three hours before kickoff—probably for the last time this season, given that the Vikings aren't home again until November, and well, the weather probably won't be so nice by then. The indoor-outdoor feel here is perfect for this city. For those who visited the old Metrodome, it's a little surreal to see an uber-modern structure nearly double the size on virtually the same footprint. Your ears don't pop when you walk inside, but the new 66,000-seat stadium certainly feels just as loud as the dome was, and perhaps even louder. In a wildly unscientific sample, a decibel app on my phone recorded noise levels around 100 decibels on a couple third downs—and that's just sitting in the press box, high up in a corner and behind the stands. Before the game, ESPN's Ed Werder reported that the Vikings actually have been practicing with simulated crowd noise for home games. In their first three games at U.S. Bank, the Minnesota offense has picked up seven false-start penalties, so this is something to which they're still adjusting. Of course, any NFL owner who has opened a new stadium would agree on the best attribute of the Vikings' new home: A 5-0 team."
10. I think these are my non-NFL thoughts of the week:
a. Two years and six days ago:
b. Rutgers 26, Michigan 24, in Piscataway.
c. Upset this year? Not a chance. Michigan 78, Rutgers 0, Saturday in Piscataway.
d. Michigan held Rutgers without a first down for the first 50 minutes of the game.
e. Please, no charges of running up the score. Michigan didn't. Rutgers is terrible.
f. I loved this Sunday New York Postism: "Rutgers holds Michigan to less than 80."
g. Stanford has lost by a combined 86-22 the last two weeks. I bet not even Pete Thamel saw that coming.
h. Alec Baldwin was pretty darn good on "Saturday Night Live."
i. No question about it: Lin-Manuel Miranda's open on "SNL" was the best one I've seen in years. Maybe ever.
j. A highlight of every TV week is the CBS Evening News "On The Road" segment by Steve Hartman. Friday night's piece on the good deed done by Philadelphia Orchestra classic trumpet player David Bilger is the story of the week, and the good deed of the week too. 
k. My other story of the week: I had no idea that gangsters nearly ruined baseball in Taiwan a few years ago, but Ken Belson in The New York Timeshas a fairly haunting, extremely well-told story about the human cost of it.
l. Every signing happens for different reasons at different times. And Jon Lester and David Price signed in different years. But to think the Red Sox could have had Lester pitching in Cleveland on Friday instead of Price, and for significantly less money. History-altering decision for Boston, and a great call by the Cubs.
m. Rick Porcello/Price for Boston in Games 1 and 2 of the American League division series: 7.2 innings, 14 baserunners, 10 earned runs, 11.74 ERA.
n. I was in Citi Field for Madison Bumgarner's ace performance Wednesday night. Though the Mets lineup looked like it was March 13 in Port St. Lucie (someone named T.J. Rivera batted fifth for New York), it was such a pleasure to watch a master at his craft. I love great pitchers pitching great in big moments. That's Bumgarner.
o. Coffeenerdness: You do not want to drink the Citi Field coffee.
p. All hail Terry Francona, for his excellent managing job in Game 1 of the American League Division Series, bringing in his best reliever, Andrew Miller, in a 4-3 game in the fifth inning with the meat of the Boston order coming up. After a rough beginning, Miller struck out David Ortiz, Hanley Ramirez and Xander Bogaerts in succession, and by the time he came out of the game, Cleveland had a 5-3 lead and only seven outs to go. The final: Cleveland 5, Boston 4.
q. Not exactly apples to apples compared to Francona's decision, but in the ballpark: One day we're going to learn why Buck Showalter called for six relievers out of the bullpen in an 11-inning wild-card loss to Toronto, and none of them was Cy Young candidate Zach Britton, the best relief pitcher in baseball. It makes zero sense. But as Showalter told Tyler Kepner of The New York Times, a manager can't always say everything he knows about a situation, and there simply has to be something bubbling beneath the surface on this.
r. Beernerdness: White beers, wheat beers, pilsners … mostly my beers of choice for the past couple of months. I'm turning a blind eye to IPAs lately. Hope my taste for them comes back soon, and hope this is just a tasteless phase I'm going through.
s. Uber alert: For the first time in 36 years, we are car-free. And thrilled about it. After five years of being city-dwellers with a car, we decided that 83-minute "drives" in Manhattan to go 7 miles (which has happened) simply had to go. And so we'll rent when we need a car, and take the subway and walk and ride a bike at other times, and be much happier.
t. Frankly, we should have done this three or four years ago.
u. Facebook Live is becoming quite the medium for The MMQB. Tell us what you think of our chats by sending us an email.
v. On the subject of great international causes, please help the people of Haiti, where there is so much death and destruction after Hurricane Matthew.
w. On the subject of great American causes, please help the people of the Atlantic coast reeling from the flooding.
x. Now for a great local cause, and I know what great things the Matt Light Foundation does for troubled youth: Light is auctioning off four seats in a Gillette Stadium box for the Patriots' game with Cincinnati on Sunday, plus a great painting, and you can find out all about it here.
* * *
Who I Like Tonight
Carolina 23, Tampa Bay 13. This is your chance, Jameis Winston, to shake the balance of power in the NFC South. With Cam Newton (concussion) out of the Carolina lineup and Derek Anderson in, Tampa Bay has a shot to save a season going south. But if the Bucs lose to go 1-4 entering the bye and give Carolina the booster shot its sagging season needs, it's going to be a long year. Two trends the Bucs must reverse: Winston has turned it over 10 times in four games (eight picks, two lost fumbles); and the 3.4 yards per rush average, whoever's running it, is a loser's game. The Bucs are likely without their top two backs, Doug Martin (hamstring) and Charles Sims (knee), and going against the Carolina front (3.5 yards allowed per rush) won't help. Even with the Panthers missing Newton, I'll be surprised if the Bucs can make this a game deep into the fourth quarter.
* * *
The Adieu Haiku
The Vikes, 5 and 0.
Mike Zimmer, coach of the year?
Heck! Zimmer for prez!
• Question or comment? Email us at talkback@themmqb.com.