The Little Things in Denver
NFL teams always are on the hunt for any advantage they can gain. Denver feels like it found one in dedicating two full-time coaches to studying the tells of opposing players. The Broncos believe it's working
ENGLEWOOD, Colo. — What can a 10-degree difference in the way an offensive lineman points his foot tell you about the upcoming play? The Broncos are one of a handful of teams who believe such minutia can tell you a whole lot, which is why they've gone to great lengths under coach Gary Kubiak to educate players in yet another realm of growing specialization in the NFL.
The Broncos employ two unheralded assistant coaches whose job descriptions are a closely-held secret. It boils down to this: Find the tells. Does a certain offensive tackle divulge run or pass with the placement of his feet? Or does a quarterback tip a play with a simple hand gesture? If so, Kubiak would like his players to know about it.
That sort of thinking excites guys like DeMarcus Ware, who had long been the lone preacher and parishioner of his own church of football thinking. Over nine years with the Dallas Cowboys, he developed this theory that NFL teams ought to spend way more time studying and informing players of the individual bad habits of opposing players. Ware wanted to know these things, and he wanted coaches to study them and teach the individual tendencies, not just the standard personnel and situational team tendencies taught around the league. His pearls of wisdom were met with pushback year after year.
• HOW DID THIS GUY BECOME PEYTON MANNING'S SUCCESSOR? Kalyn Kahler profiles Trevor Siemian, the NFL's most unlikely success story of 2016
"When the center points, or the quarterback says something, they're telling you everything, so why not use it?" Ware says incredulously. "Every team should do it; the Dallas coaches would say, 'You can't go off of somebody's tendencies.' And I would say, 'Well, this guy on the other team has been doing this one thing for nine years and he hasn't stopped doing it.'
"I had that argument with coaches. In the end, I said okay, I guess I'll be the only one to use it then."
Then Ware signed with the Broncos in 2014, and then the team hired coach Gary Kubiak in 2015. Kubiak and Ware could not have been more aligned in their thinking. Kubiak hired two coaching interns that year—ex-Hawaii assistant Philip Rauscher and former Bills quality control coach Thaddeus Bogardus. Their job? Tendencies. But not just the broad offensive and defensive tendencies being coached everywhere. Rauscher and Bogardus have a special mandate to also study the bad habits of opposing players, and both coaches have the unique privilege of briefing the offense and the defense, respectively, on those habits.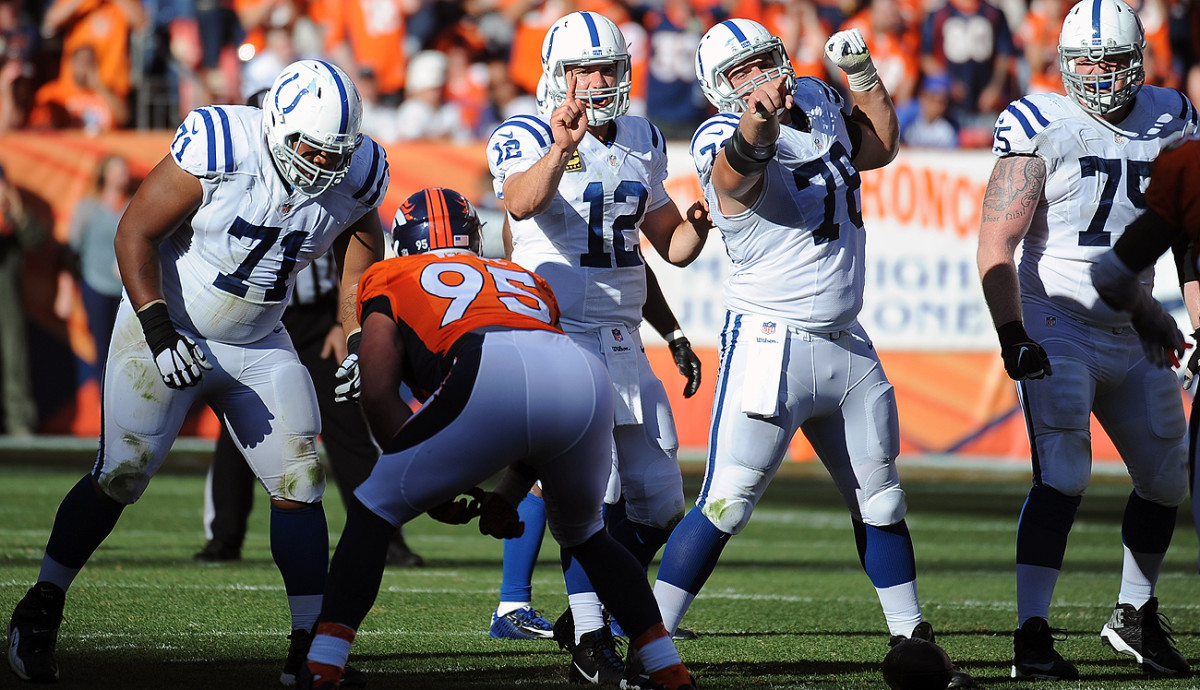 Their current titles are nondescript and imply anonymity: "Coaching assistant," or what most teams describe as a quality control coaches. Technically, they're low men on the totem pole, but they might be the two most relied-upon men in their roles in the league. The defensive players grin at the mention of Bogardus, who earned his MBA from Ball State in 2012. "Thad does everything," says outside linebacker Shaq Barrett. "He practically prepares us to go. Everything that you need to know, Thad knows." Offensive players have a nickname for Rauscher, a former UCLA tight end: "KGB."
Bogardus and Rauscher pore over hours and hours of film, and not just the silent, All-22 copies of games; they'll break down the television broadcast, hoping an on-field microphone catches an audible call or a piece of defensive communication they can then catalog and use to discern patterns. They do the same with hand signals shared between quarterback and wide receiver or cornerback and safety. Then both coaches prepare briefings for position coaches and lead a weekly meeting with the offense and defense to point out the smallest bad habits.
The coaches are careful to stress that these are simply clues, and not necessarily the gospel truth of what will transpire on a given play.
Some examples:
"A defensive lineman might tilt in his stance when he's going inside, or communicate a certain way when it's a twist."
—Offensive tackle Donald Stephenson
"Stances, code words, how a quarterback holds his hands or bends his knees, a center's heels." 
—Outside linebacker Shane Ray
"How does a cornerback stand on any given playcall? Is he flat-footed or on the balls of his feet? Where are his hands?"
—Wide receiver Jordan Norwood
"If this one guy has his right hand down, he's going this way, or he has his left hand down he's going this way."
—Tight end Virgil Green
Then there's counter-counter tells. The coaches work to identify which guy knows he has a tell and is doing it intentionally so he can break tendency at a key moment. "There's a lot of smart guys in the league," said offensive lineman Ty Sambrailo, "so having tendencies isn't necessarily the worst thing because people then assume that of you and you can use it to your advantage."
The dedication to this study is something unique to Denver, according to Broncos players who have been in other locker rooms and players across the league. In Kansas City, where Stephenson spent the first four years of his career, lower level coaches communicated this sort of information, and it was left to position coaches to brief players. There was no offensive meeting dedicated simply to identifying individual tendencies.
"You've got to pay attention and be patient," Ware says. "I feel like studying this stuff is just starting to be a big thing in the league."
"A running backs coach might see something the defensive line is doing and tell the offensive line coach about it," Stephenson says. "Here, we have an actual meeting. There's a guy for it. We probably focus on it more than other teams."
Stephenson's ex-teammate, Chiefs wide receiver Jeremy Maclin, said the study of individual behavior is something veterans do, but wasn't emphasized by coaches or built into the schedule in Kansas City or in Philadelphia, where he spent his first five seasons,
"Looking at that stuff… that's next level," Maclin says. "I do that, especially when you're going up against one of these good corners. The average guy in the league doesn't do that."
In the Denver wide receivers room, Rauscher collaborates with position coaches Tyke Tolbert and Marc Lubick to create a film reel consisting of individual tendency breakdowns of each defensive back they'll face that weekend, which players can then view on their tablets at home. Norwood, a veteran of the Browns, Eagles and Buccaneers, says he's never seen that sort of commitment to the study of individuals. "It's more detailed here than in other places," Norwood says. "I can't say I ever got a film breakdown of each individual player until I came here."
It is, perhaps, a symptom of Denver's success; the Broncos have lost just 16 regular season games since 2012 and won the Super Bowl in February on the strength of four defensive turnovers. Though NFL teams rally behind the notion of taking the season one week at a time, the Broncos are built for the playoffs, and their philosophy reflects that. "This franchise has been to the playoffs a lot," says Stephenson, who joined the team this offseason, "so I guess in the playoffs those little edges really do matter."
Naturally, the next question is: Were there specific examples of moments in playoff games where the attention to detail paid off? To a man, the players were wary to go into detail on how the Broncos respond to the clues.
"I cannot go into specifics," said Sambrailo, "but for example, we'll look at safety rotation. Usually a defense will roll safeties towards pressure. You can look up at the movement in the secondary and then look at the guy in front of you and piece together what's going on. Phil tells us which teams will tip you off that way and which ones won't."
Often enough, the breakdown is even more micro. Coaches will identify one player on each side of the ball who has the worst habits and brief the entire offense or defense on that player.
"It's hard to study all five guys and look for tendencies, so we try to key in on one guy, whether it's guard, center or tackle," says Barrett. "You go down the list of all five guys and say, well he doesn't have tendencies I can use, and you cross him off the list. But there's usually one guy."
Says Stephenson: "If it's something blatant, we'll zero in on that one guy. Maybe nobody on their team has told him, Don't do this because you're giving it away."
To drive the point home, the two coaches will then recruit a scout team player to play the weak link. Practice squad tackle Justin Murray might spend any given week dropping his outside foot back just a few inches further when it's a pass play, so that everyone on defense can get familiar with the habit. Then players get comfortable spotting the tell and relaying it to the rest of the defense. That's why you'll see Ware on Sundays turning to Aqib Talib and banging his fists together to signify run, or quickly shooting a hand to the sky to show pass. You'll see it most often in the second half of games, when fatigue sets in and bad habits manifest.
"You've got to pay attention to it and be patient," Ware says. "I feel like studying this stuff is just starting to be a big thing in the league."
One man in the locker room didn't see what the big deal was. Of course, cornerback Aqib Talib said, the Broncos put a lot of emphasis on player tendencies, just like he'd done at his previous stop ... in New England with Bill Belichick.
Well, Aqib, your teammate DeMarcus said they didn't do that sort of thing while he was in Dallas.
"Well that's why they suck on defense," Talib concluded. "They're not getting that little extra stuff they need."
• Question or comment? Email us at talkback@themmqb.com.