Raiders are Scary and Good
It's Halloween, and Oakland delivered a freaky performance—23 penalties, more than 600 yards of offense, an OT win—to headline Week 8. Derek Carr reflects on how far the team's come. Plus notes on Atlanta's statement, Carolina's season-saver and more from the NFL's best weekend of the 2016 season
Two years ago, when Derek Carr and Khalil Mack were Raiders rookies, and Oakland stumbled to an 0-10 start and lost by 52 to the Rams and got swept by a combined 57 by Denver, Carr would say the same thing so many Sundays to Mack after another debacle. "Look at me," Carr would say. "It's gonna get better. I promise. We gotta stick together. It's on us—me and you. Be loyal to your faith and our families and our team, and we'll be okay. We're gonna earn it. Okay?"
The Raiders won a totally bizarre football game Sunday at Tampa Bay. They set an NFL record with 23 accepted penalties for 200 yards. The best kicker ever from 50 yards away, Sebastian Janikowski, missed the game-winner from 50 as time expired, and missed from 52 on the first series of overtime. But on an 86-degree afternoon, the precocious Carr, playing the best game of his life, set the record for this 57-year-old franchise with 513 passing yards and threw the game-winning touchdown pass 13 minutes into overtime.
Oakland is 6-2, and 5-0 on the road. Next Sunday night: Denver (also 6-2) at Oakland for the AFC West lead. In November.
Totally spent, Carr still walked around his locker room after the game to check on his mates. "When I got to Khalil," Carr said from the bus on the way to the Tampa airport afterward, "we just hugged, and we just laughed. You think of those times a couple years ago, but there was nothing to say. Khalil and I know where we were, and we know where we are now. We just laughed."
* * *
On the verge of death Sunday morning, a 97-year-old league had a pretty good 14 hours. Though the league continues to set all-sport records for ticky-tack fouls called in a season, the NFL had a big day:
• The epidemic of ties. The NFL went 33 game weeks (462 games total) without a tie, then two games in a four-game span were draws: the 6-6 Seattle-Arizona slugfest eight nights ago, and the 27-27 missed-chance-fest between Washington and Cincinnati on Sunday morning in London. The Competition Committee never asks me, but I think there should be no fifth quarter. Ties should be played until they're broken. What is it, an extra three or four series a year, maybe?
• Tom Brady is not human. In the first 225 regular-season games of his career, the New England quarterback never had four straight in any season in which he exceeded a passer rating of 120. He's 39. He came off his four-game suspension Oct. 9 having not played a football game in nine months. Now he's 4-0, and here are the passer ratings in those four games: 127.7, 140.0, 124.2, 137.0. That's right. The man seven months older than the Miami Dolphins' head coach has never played better football.
• The MVP is seething. The Panthers (2-5) saved their season with a 30-20 home win over Arizona, but the story afterward was Cam Newton saying two late hits (one very low by Calais Campbell that should have been flagged but was not) continue to "take the fun out of the game" for him. "At times I don't feel safe," he said. "Enough is enough." Newton's been adamant that he's not being protected by the officials the way other quarterbacks are. After seeing Campbell hit him below the knee in the pocket, you get where he's coming from. Newton said he was going to contact Roger Goodell, and he should.
• The Saints have life. A 25-20 win over Seattle that came down to the last play means a couple of things: Because the NFC South is all muddled, and the Saints are showing some defensive gumption, and they'll be 4-4 with a win at San Francisco next week, and their schedule isn't killer, beating Seattle means they could be playing meaningful football in December with a quarterback who can beat anyone.
• The NFL needed a day like this. With the league in the crosshairs for so many things—lousy games, lousy ratings, domestic violence, a blizzard of penalties—you hear the sighs of relief from Park Avenue. The day: a competitive and exciting game in London, for once … A Goliath team without peer (New England) for everyone to take aim at … A duel to the end, one of the great games of recent vintage (Atlanta 33, Green Bay 32, a week after San Diego 33, Atlanta 30) with Matt Ryan making one more play than Aaron Rodgers … No idiotic excessive-celebration flags.
• WHAT'S RIGHT WITH THE BROWNS: From Hue Jackson's play designs to Terrelle Pryor's ascent and young corners stepping up.
• And a night, too. From Tony Romo versus Sam Bradford in 2015 to Dak Prescott versus Carson Wentz in '16, and I didn't hear any complaints Sunday night. Dallas, down 23-13 with 12 minutes left in the fourth quarter, scored the game's final 16 points. You know what I loved about Prescott down the stretch? He did next to nothing for three-and-a-half quarters and didn't wilt. He finished a 90-yard drive late in the fourth quarter with a scoring pass to Dez Bryant, and capped the only drive of OT, a 75-yarder, with a touchdown pass to Jason Witten. Prescott's got a six-game winning streak heading into Dallas' game at 0-8 Cleveland next week. I kinda like the Cowboys.
And the Raiders. Remember when they were good? Like, eight coaches ago? They might be good again.
* * *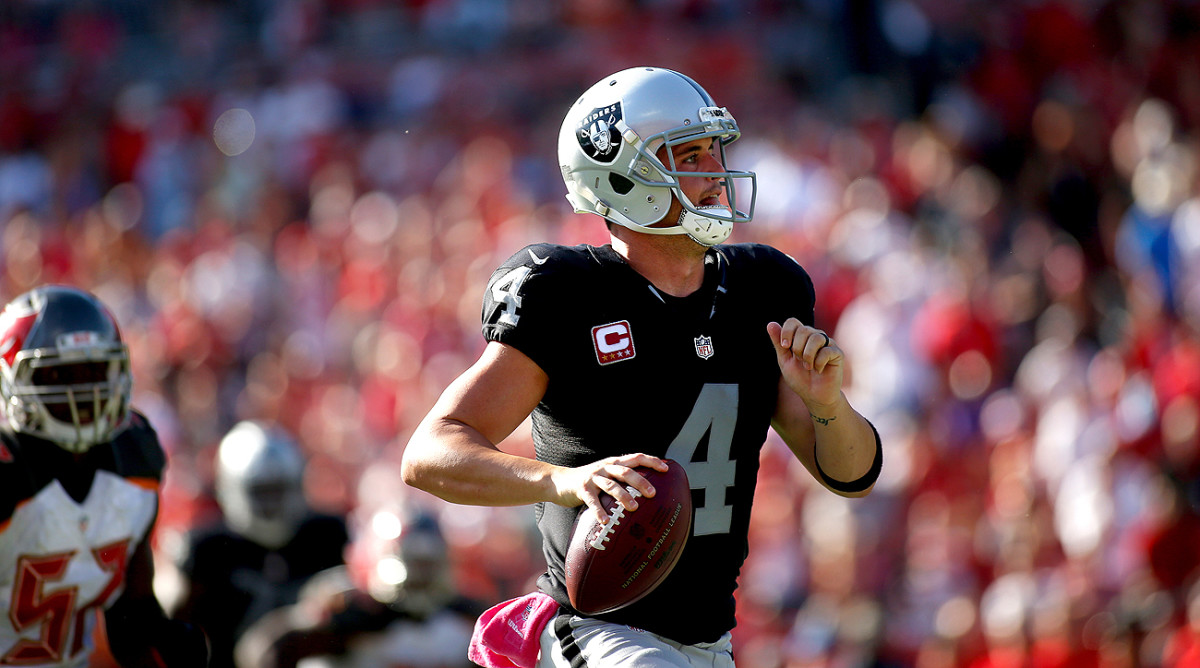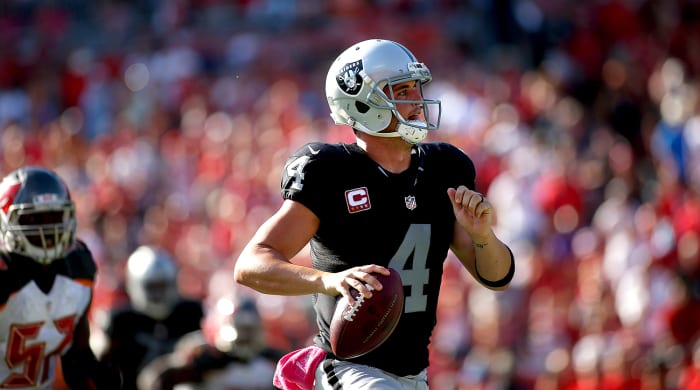 "When I get off the phone with you," Carr said, "I'm going right to sleep. I am just exhausted. Longest game of my life."
But he did want to savor the moment, here on a fairly quiet bus. Quiet, because playing five quarters in a place that feels like the dead of summer tends to wear out a team.
"You play for the franchise that had Ken Stabler, Daryle Lamonica, Jim Plunkett and Rich Gannon play quarterback," I said. "You just threw for more yards [513] than anyone in Raider history ever did. What's that like?"
"I am not even kidding you," Carr said. "Someone mentioned that to me after the game, and I almost started crying. THAT IS CRAZY. I'm a Cali guy. My mom's side of the family were Cowboy fans. My dad's side were Raider fans. Now I'm a Raider. This little kid from Fresno and Bakersfield … you mean, I did that? I did that?! It is crazy.
"I remember my rookie year how hard it was to throw for 130 yards. It was hard. It was hard to get a first down. And now, where we are—we still have a lot of work to do. A lot. Those penalties … ridiculous. But we'll fix that. I know we will. But what we've done so far … God is good. God is good. I love the people on this team so much. I love how we've worked and played together."
Carr was rambling, in sort of a tired and giddy way. But what he did in this game was put himself into a few conversations. The MVP conversation, for one. On pace to throw for 4,600 yards with 34 touchdowns and six picks, Carr will be in the discussion if Oakland keeps winning. And in the discussion with the best quarterbacks playing today. He's still got to string together some big wins and big games. But some of his throws Sunday in Tampa, a few dropped into a bucket from 25 or 30 yards away, and one in particular placed as well as a quarterback can place a huge throw, convince me that Carr, 25, is fit to be one of the next generation to take over for the Manning/Brady/Brees class.
With 1:40 to go in the fourth quarter, Oakland trailed 24-17. The Raiders had the ball at the Bucs' seven-yard line. Oakland was going to flood the secondary with five receivers: two wideouts would do short outs, two receivers would do posts from opposite sides, and tight end Mychal Rivera would troll the middle with a short crossing route around the goal line.
"Goodness," said Carr. "they covered it so well. Then, something we didn't expect—they dropped an eighth man into coverage. So it was five receivers and eight guys covering."
The imbalance had one advantage for Carr. He could wait an extra second or so, because he had five offensive linemen blocking three Tampa rushers. That gave him a chance to see who was being doubled and where a small crease might be. And he saw Rivera flashing across the middle, covered well by Tampa linebacker Kwon Alexander. But perhaps not well enough.
A quarterback—a good one, anyway—knows he's going to have to fit some crucial throws into small areas. That's the difference, quite often, between good and great passers. And here, Carr threw a pass low and outside for Rivera. The tight end probably wouldn't catch it, but it was the best shot for Carr in such a mismatched 5-on-8 setting.
"When I look at my throws on plays like this," he said, "I never look and say, 'Look at that throw.' I look at the catch, or the receiver trying to make the catch. I'm such a fan. So often I look and wonder how he caught that ball. I'm still a football fan, and the catches these guys make, it blows my mind sometimes. And this play, Mychal's catch was the great moment."
Well, the ball was placed perfectly, and Rivera went down and got it, close to the ground, with Alexander clinging to him. Great example of Rivera knowing exactly where he had to go to get the ball and getting it, and of Carr putting it where his man—only his—could nab it.
I asked Carr how good his team was, and whether it was ready to play at the league's highest level. "I don't look at that," he said. "I know everyone else does, but we're so young, and we have a long way to go."
Good attitude to have, especially with the Super Bowl champs coming to town. Oakland hasn't beaten a team that currently has a winning record, and its two losses—to Atlanta and Kansas City—were against winners. So the Raiders have things to prove. But the next four games include three at home and a neutral-site game with Houston in Mexico City on Nov. 21. Now it's up to Carr and Mack to build a good team at home to go with the one that's had a road-field advantage this year.
• FOOTBALL LIFESTYLE: Dominic Bonvissuto on a new brand's creative NFL T-shirt designs, inexpensive sunglasses and Salute to Service gear
* * *
Two Sunday storylines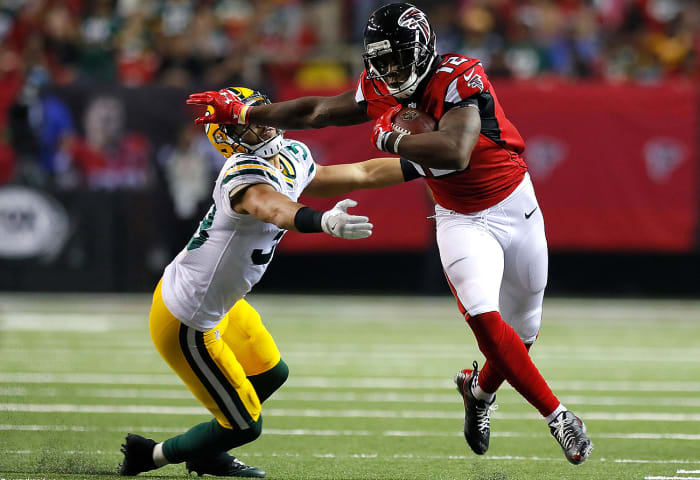 • Big accomplishment for Ryan and Atlanta. Admit it: You thought this was a rerun of 2015, a hot start for Hotlanta and fading as November approached. But Atlanta plays better defense this year than in recent seasons, and the Falcons don't get down if Julio Jones can't take over a game. That's the biggest thing I see in Matt Ryan and play-caller Kyle Shanahan as Atlanta reached the season's midpoint with a 33-32 win over the Packers. Shanahan might be seeing the game better and making better play calls after moving from the field during games and calling the plays upstairs. Also, Ryan's not consumed with finding any specific receiver; just the open one. Case in point: In difficult victories over Denver, New Orleans and Green Bay, Jones caught six passes combined, for 74 yards. But the Falcons scored 101 points in those three games … and newcomer Mohamed Sanu had 15 catches, combined, in those games. "First and foremost," Ryan said after his 80-percent passing day, with three touchdowns and no picks, "Julio is one of the most unselfish players I've ever been around. On every snap today, he was doubled. He had a corner with a safety over the top every play. But the good thing is he understands that his impact helps the other guys, because he's not open and someone else is. This year has been different for me with the new additions, but it's been a good year. These guys all love to practice." The Falcons have a short-week Thursday trip to Tampa, then their final pre-bye game at Philadelphia, a homecoming for Ryan. The win over Green Bay, and how they won, is a sign the Falcons will be tough to keep out of the playoffs. 
• A season-saver for Carolina. I get it that the Panthers have scored 79 points against Arizona in their last two meetings, but the reason for their 30-20 win on Sunday wasn't an explosive offense. It was a defense that, in the previous three games, had allowed an average of 35 points and 470 yards per outing. Not good. But this was a favorable matchup for Carolina, an immobile quarterback with an oft-leaky line. The Panthers sacked Carson Palmer eight times and sprinted to a 30-7 lead. It's the kind game—at least for three quarters—that Carolina played all last season. Could it have been as simple as the desperate team realizing its plight? The 1-5 team knowing one more loss could doom any chance of January football? "No," said defensive tackle Star Lotulelei, who had a career-high three sacks of Palmer. "It was the same message we get every week, the same approach. We know, like Cam [Newton] said during the week, nothing needs to be said. We know what our situation is. And today we just played the kind of football where everybody helped everybody else. Our defensive ends squeezed the pocket so the tackles could make some plays. Our linebackers played aggressive, downhill. Our corners came up and tackled. It was a really good, really aggressive day." The Panthers still have Kansas City, Oakland, Seattle and Atlanta on the schedule, so a long winning streak is unlikely. But if Carolina plays like it did Sunday, those foes will have to be just as worried about facing the Panthers.
• TAKE RON RIVERA OUT TO THE BALL GAME: Kalyn Kahler's Q&A with Carolina's Cub-Crazy Coach
* * *
The MMQB's High School Week
The vast majority of what we do in written and video and podcast form is about the NFL, obviously. But we understand those who come to our site are high school and college fans too. That's one of the reasons why we're spreading our wings. We've added some college coverage this season with Emily Kaplan's weekly Wednesday college football column. This week we'll give you six stories—five in print, one in video form—on high school football, and I'm really excited about what we have planned. I wanted to get us in touch with some high school issues across the country, because high school ball shows the hope, the problems, the health issues, the social activism and the importance of the game that in some parts of the country is still growing, and in some parts is being abandoned. Our planned lineup (subject to change):
• Monday: Thanks to the new partnership between Sports Illustrated (the parent of The MMQB) and FOX Sports, Jason Whitlock pens a guest column on why he believes football, and specifically high school football, is so important. Whitlock, the co-host of "Speak For Yourself" on FS1, writes about the influence the game, and a football coach, had on one vulnerable high school teammate of his growing up in Indiana.
• 'HIGH SCHOOL FOOTBALL IS A FORCE FOR GOOD': Jason Whitlock on the power and potential of an embattled game
• Tuesday: Tim Rohan journeys to the Mexican border town of Matamoros and finds a Mexican teen (not alone in this practice) who crosses the border every morning to go to high school in Brownsville, Texas, and start on the offensive line for the football team. It's a classic case of America as land of opportunity. "I can see how people like our presidential candidate, who's never lived in a town like this, might have a firm stance on immigration," high school coach Jason Starkey told Rohan in Brownsville. "There's got to be a compromise here … If it were me and my family, I'd be doing a similar thing these guys do: coming over here in search of a better life."
• Wednesday: Emily Kaplan reports from a tough Chicago South Side neighborhood about the importance of high school football in trying to help kids have some kind of future away from the violence that surrounds them. At Chicago Vocational High—where Dick Butkus went nearly 60 years ago—some 46 of 50 players on the team do not have a father or father figure in their houses, and for many of the players, it falls on the 40-year-old head coach, Larry Williams, to be that strong male influence. As Kaplan reports, in mid-season the offensive star of the team was shot while standing on his porch. He survived but can't play anymore. It's a jarring look at life in this neighborhood, and what football means to the youth who live there.
• Thursday: A doubleheader … Reporting from Frisco, Texas, and the sparkling new NFL/high school facility built by the Dallas Cowboys, Albert Breer has a video story detailing the marriage between the Cowboys and the nine Frisco high school sports teams. Owner Jerry Jones believes it's incumbent on the local pro teams to support the high school game, for the community and for the future of the game. Reports Breer: "The Jones family sees the survival of their game running right through the high school game in Texas, where the masses are running toward, and not away from, football."
• Also Thursday: In 2013, The MMQBdispatched staffers to look into the future of football, particularly with so much concern about head trauma, in three American communities: Lawrenceville, Ga.; Smith Center, Kans.; and Indiana, Pa. Robert Klemko revisits the football climate at each school to see if the numbers are dropping (in one case, participation is down significantly) and gauge the direction in which football is headed in those communities.
• Friday: Reporting from Camden, N.J., Kalyn Kahler finds post-Colin Kaepernick activism alive and well at a varsity football game played by Woodrow Wilson High. African-American and Puerto Rican players in Camden join the national anthem protest spawned by Kaepernick. "He led us in a way, without us even knowing," said Woodrow Wilson senior wideout Gennaro Medina, who is Hispanic, and who kneeled (as the vast majority of his teammates did) in Wilson's game Saturday afternoon in south Jersey. "What goes on in our area today, that is what really played a role in us kneeling."
Please read and react at talkback@themmqb.com.
* * *
On the Brett Favre book
Jeff Pearlman has a new book out this week—"Gunslinger: The Remarkable, Improbable, Iconic Life of Brett Favre." It's an exhaustive effort to chronicle the life and times of the most interesting person I've covered in my 32 years on the NFL beat (Pearlman writes that he spoke to 573 people for the book), with the scars and the wonder.
The scars include his tempestuous relationship with Aaron Rodgers, which has been well-documented in the run-up to the release of this book. And it also includes the claim, late in Favre's career, by offensive lineman Artis Hicks of the Vikings that Minnesota had a bounty program at the same time as New Orleans was found guilty by the league of having one. (The NFL, given the heavy hammer it used on the Saints, has to look into this.) There are a few examples of the wonder, but let me be up front in saying that I have only skimmed the book for two hours last week, because in the middle of a season I knew I couldn't give the 383 pages a full reading.
Pearlman's so good at recreating important moments in a subject's life—brilliantly done in "Sweetness," his book on Walter Payton. He did that in "Gunslinger" on what made NFL people fall in love with Favre in his senior year at Southern Miss. It's well-known that on July 14, 1990, Favre was in a terrible car wreck ("I thought he could have been dead," a good buddy on the trip that day told Pearlman), and had to have 30 inches of his intestine removed, and doctors told him he wouldn't play football that fall.
But exactly eight weeks later, Favre, about 34 pounds lighter than his playing weight of 226, took the field for Southern Miss at Alabama, which returned 16 starters from its ninth-ranked team the previous year. He took a shot to the groin on the first play of the game, but that was the only time all game he was writhing in pain. In the final minutes, he "threw a laser," as Pearlman put it, to a back for 34 yards, setting up a Southern Miss field goal to beat 'Bama 27-24. The legend was born. The next week Favre lost by a point at Georgia. Two months later he threw a touchdown pass in the final minutes to stun Auburn, at Auburn, by a point. The chapter on the accident and this meteoric season is really good.
Also very good was the reporting on the trade from Atlanta to Green Bay in early 1992, after Favre's rookie season with the Falcons. The deal began with Atlanta GM Ken Herock asking for two first-round picks for Favre from new Green Bay GM Ron Wolf. A ridiculous ask for a second-round pick who finished the year as Atlanta's third-stringer, with much wrath incurred from coach Jerry Glanville. But then Herock knew Glanville would never like or play Favre, so he rekindled the deal with Wolf.
"[Herock] demanded a first-round selection or no deal," writes Pearlman. "Herock told Wolf he'd have to check back with the Falcons. A day later he met with Glanville and June Jones, the offensive coordinator, and told them of the offer. 'Oh my gosh,' Glanville said. 'You'd be a genius. A first for that guy? Herock was raised in Pittsburgh. He lived and died with the Steelers and could never grasp the organization releasing Johnny Unitas in 1955. 'I used to think Pittsburgh was so freaking dumb. How do you dump Johnny Unitas?' he said. Following the session with Glanville and Jones, Herock debated whether he was now the one about to commit a similar blunder. 'But then I calmed down,' he said. 'I mean, there was no way he would be another Johnny Unitas.' On February 11, 1992, Green Bay and Atlanta reached an agreement: Brett Favre became a member of the Packers, and the Falcons owned the 19th slot in the first round."
The rest is the kind of unique chapter of NFL history you can learn more about in "Gunslinger." You can purchase it here.
* * *
An update on Chris Mortensen
Here, in his own words, is ESPN information man Adam Schefter with a tale from Washington on Saturday night:
"When the NFL Players Association decided to honor our friend and colleague Chris Mortensen with its annual Georgetown Lombardi Award, our ESPN team decided to surprise him. Nine of Mortensen's ESPN's teammates flew Saturday to Washington for the 30th Annual Georgetown Lombardi Cancer Center Gala, to both support and surprise him. As it turned out, Mortensen surprised us. When he was presented the award—given to a person in sports who exhibits the highest integrity and has been touched by cancer—he spoke eloquently and extemporaneously. He had no prepared remarks. He launched into an incredible speech about his personal battle with Stage 4 throat cancer and the courage those around him gave him. He paid tribute to the doctors, nurses and support staff at Houston's MD Anderson Cancer Center, where he has been treated for much of the past year. He saluted another ESPN colleague, Merrill Hoge, for his own successful fight with cancer. He complimented former NFL commissioner Paul Tagliabue and wife Chan for chairing an event that now has raised more than $2.3 million to fight cancer. He thanked the event's co-chairs, NFLPA executive director De Smith and assistant executive director of external affairs George Atallah, for bringing him to Washington and bestowing this honor.
"He looked more like the pre-disease Mort. He sounded more like Mort. He was acting more like Mort. As we sat together at our dinner table, he knew I was waiting for a return phone call on a key piece of information I needed. The call finally came smack dab in the middle of dinner, so I excused myself from the table, only to be met by an annoying obstacle. As I was trying to have my telephone conversation, my call-waiting kept going off, again and again and again, significantly detracting from my conversation.
"When I finally yanked the phone away from my ear to see who it was, and what could be so important, it should have been obvious. It was Mort, being Mort."
Good to see Mortensen getting his due. My thanks to Adam Schefter for his update.
• THE LITTLE THINGS IN DENVER: Robert Klemko on how the Broncos' emphasis on studying the tendencies of opponents is paying off
* * *
Quotes of the Week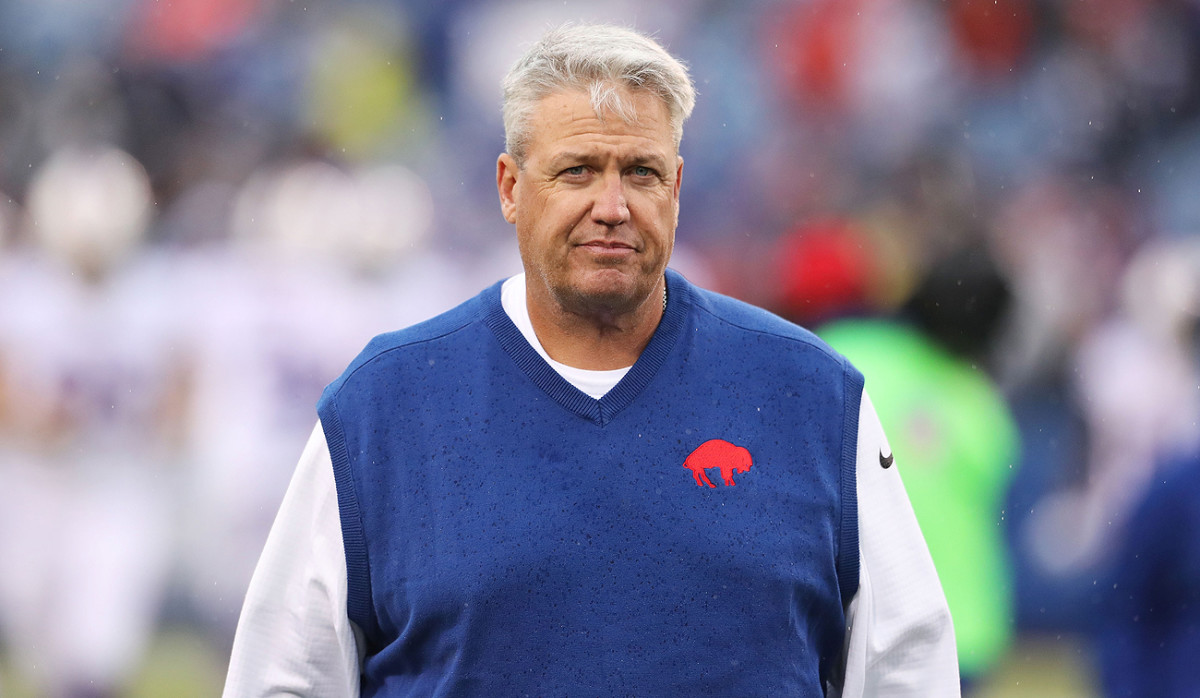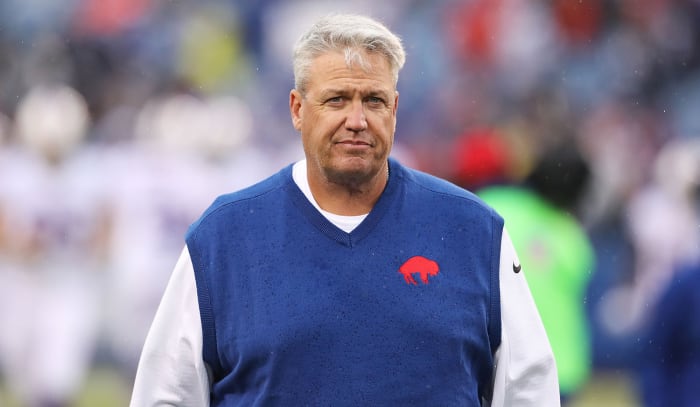 I
"I think it's unrealistic to think you're going to win your division … How many games are they up now? Three? That team is three games up on us and at the halfway point they've lost one game. And No. 12 is back. So yeah, I don't see that happening."
—Buffalo coach Rex Ryan, after the Patriots beat the Bills easily Sunday.
Must be nice. It's Halloween, nine weeks left in the regular season, and the second-place team in the division says, No mas.
II
"It's about as long as I feel that I can make a contribution and give it 110 percent and as long as they want me to continue on it. You always have to put the league first. I think people stay too long and I don't want to be one of them. I want to be able do what I can do to make the league better and go."
—Commissioner Roger Goodell, 57, to Gary Myers of the New York Daily News, on how much longer he'd like to be commissioner.
III
"Actions speak louder than words. Very little for me to say."
—Jacksonville owner Shad Khan, after the Jags fell behind 27-0 and lost 36-22 to Tennessee on Thursday night in the worst performance by any NFL team in 2016.
Not looking good for Gus Bradley, 14-41 in three-and-a-half years as Jag head coach.
IV
"They want so much. So I told my people, 'Tell them I could live with the deal, I could live without the deal. Here's the way it's gonna go down. If they don't want it, bye-bye."
—Billionaire Sheldon Adelson, on the prospect of the Raiders driving too hard a bargain on a prospective move to Las Vegas, via Reuters.
V
"I just farted and it doesn't even smell."
—New England tight end Rob Gronkowski, in an undercover video promoting the ride service company Lyft. It's a tad hilarious.
VI
"There's a lot of things I'd like to do. I'd like to drive a race car on the Indianapolis track. I'd like to kick a field goal in an NFL football game. I'd like to be able to hit a hundred-mile-an-hour baseball. But you have to know your place. There might be some things that are beyond your talents. Everything worth doing takes time. You have to write a hundred bad songs before you write one good one. And you have to sacrifice a lot of things that you might not be prepared for. Like it or not, you are in this alone and have to follow your own star."
—Bob Dylan, 75, the 2016 Nobel Prize winner for Literature, to Edna Gundersen of The Telegraph, in his first interview since winning the award.
Now come on, Jim Irsay! Make it happen! Bring him to Lucas Oil! Put him out there with Vinatieri! Let him boot one through the uprights! You must!
And then take him over to the Speedway and put him in a car!
• WHY FANS ARE TUNING OUT: Readers of The MMQB give their reasons for the ratings drop. The NFL better be listening
* * *
The Award Section
OFFENSIVE PLAYERS OF THE WEEK
Tom Brady, quarterback, New England. If there were ever a time that the Patriots may have been vulnerable, this seemed like the season, and this team seemed like the one to capitalize. Buffalo was playing at home, with recent success running the ball and playing solid defense. But in the first 14 minutes, Brady took the air out of the manic crowd, completing eight of 11 for 107 yards and two touchdowns as the Pats took a 14-3 lead. The second touchdown pass was a classic. Rex Ryan sent the house at Brady from the New England 47, and just before the rush got home, Brady hit Chris "Not A Bad Homecoming" Hogan with a perfectly placed 53-yard touchdown throw that looked like it just dropped from the sky. So the streak remains intact: No AFC East foe in 16 seasons has swept Brady and the Patriots in the season series. That's one amazing stat.
Ezekiel Elliott, running back, Dallas. He didn't have his best game of the season, and he didn't score a point. But for the fifth straight game he contributed at least 145 total yards to a Dallas offense that's been reborn behind him and Dak Prescott. Elliot's 96 rushing yards and 52 receiving yards against the best defensive front the Cowboys have faced were vital in Dallas' sixth straight win.
Derek Carr, quarterback, Oakland.See earlier in this column. The greatest day by a quarterback in Raiders history—40 of 59, 513 yards, four touchdowns, no interceptions—deserves to share top billing with Brady this weekend.
DEFENSIVE PLAYER OF THE WEEK
Sean Lee, linebacker, Dallas.A dominant performance in the 29-23 win over the Eagles, with two of the prettiest tackles you'll ever see. Among his 11 tackles were two behind the line, both on the elusive Darren Sproles. Before the season, everyone was concerned about who would rush the passer for Dallas, and rightfully so. But what we all forgot is how much the oft-injured and remarkably instinctive Lee would mean as a consistent force in the middle.
Star Lotulelei, defensive tackle, Carolina.With the first three-sack game of a starry career, Lotulelei keyed an eight-sack uprising for Carolina against Carson Palmer. The Panthers, more than any other team in football, needed a win this weekend, and the Lotulelei-led D took the lead role.
SPECIAL TEAMS PLAYER OF THE WEEK
Caleb Sturgis, kicker, Philadelphia. Most impressive thing in the kicking game I saw Sunday? Sturgis' performance at the end of the first half in Texas. In 51 NFL games before this one, Sturgis' longest field goal was from 54 yards. Here, he lined up with one second left in the second quarter of a 10-10 game for a 55-yarder. Snap, kick, wait … timeout, Dallas … and the kick was drilled inside the left upright. Would have been good from 63. So he had to kick again, and this time the kick was right down the middle, and would have been good from 65.
COACH OF THE WEEK
Bill Musgrave, offensive coordinator, Oakland. The well-traveled Musgrave—he's coached for seven NFL teams—has formed the kind of bond with Derek Carr that produces greats results, such as Sunday's 626-yard offensive explosion in Tampa Bay. Musgrave, with an aggressive brand of play-calling Sunday, fits just what Carr and this offense does best—take chances down the field with a talented group of receivers.
HERO OF THE WEEK
Keith Washington, side judge, New England-Buffalo game. At first, during the Pats-Bills game when Tom Brady threw a pass intended for Chris Hogan near the Buffalo goal line, it looked like a flag came from the end zone. That was no flag. The object bounced, and the more you looked at it, the more you said, It can't be. Oh, it be. After the play, a couple of Bills looked at it, and I do believe if they weren't wearing their helmets, we would have seen them laughing. Then Washington walked toward the rubber object, stared at it, seemed to say, Well, I'm certainly not picking that up, and kicked it toward the sideline, where it finally disappeared into the crowd.
GOAT OF THE WEEK
Roberto Aguayo, kicker, Tampa Bay.This is turning into a debacle. The man for whom the Bucs traded up in the draft to select in the second round missed a fourth-quarter extra point, hooking it wide left against the Raiders. The score was 17-16, Oakland, when he lined up for the PAT. The score remained 17-16.
Washington. A team award. Fifteen penalties. A shanked 34-yard field goal in overtime by Dustin Hopkins. Instead of using a timeout with 24 seconds left to try to convert a fourth down near midfield and try a last-gasp game-winning field goal, coach Jay Gruden let the clock run down to try a poorly executed Hail Mary. Bad day for old D.C.
• MY PROBLEM WITH THE NO FUN LEAGUE: The Browns' Andrew Hawkins throws a flag at the NFL for being a killjoy
* * *
Right Combination of the Week
Atlanta quarterback Matt Ryan and his group of new receivers. Ryan has meshed tremendously with a cadre of new pass-catchers. On Sunday, in the 33-32 win over Green Bay, Ryan was 17 of 18—right, one incompletion all day—to new wideouts Mohamed Sanu and Taylor Gabriel and new tight end Austin Hooper. In the transient world of pro football, making the right combination, and making it fast, is vital to success, and Ryan has made it work smoothly with three newbies, On Sunday, it led to the Falcons' biggest win of the year.
* * *
Stat of the Week
It's not your imagination that officials are throwing more flags. Compared to seven years ago, it's a significant increase.
| | | |
| --- | --- | --- |
| Year | Accepted Penalties Per Gm | Total Penalties Per Gm |
| 2009 (267 gms) | 11.86 | 13.85 |
| 2016 (107 gms) | 13.96 | 16.55 |
| Increase | +17.7% | +19.5% |
* * *
Photo Op
On Friday, NFL Network ran an episode in its "A Football Life" series on Pat Tillman, the former Cardinal safety who eschewed a rich free-agent contract to enlist in the Army after 9/11 and was killed by friendly fire in 2004. I was in the Cardinals' training facility 12 days ago and saw this locker. It's been set up in a spot near the cafeteria, weight room and locker room, so players see it every day. The locker actually was used by a slew of players after Tillman left the team to join the Army in 2002, and was set to be demolished two years ago when the Cards were reconstructing the locker room. Luckily, longtime club employee Jim Omohundro realized Tillman's old locker was about to be demolished by electric saw and intervened … and the Cardinals, wisely, refurbished it and put it in a spot where players for years to come will be able to see what a hero's locker looks like.
* * *
Factoids That May Interest Only Me
I
Matthew Berry's mother, Nancy Berry, is the mayor of College Station, Texas.
II
The Cleveland Browns are 1-18 in the 55 weeks since Columbus Day 2015.
Cleveland's baseball and basketball franchises are 180-100 since then, with one world championship and on the verge of another.
III
In his 16 seasons as quarterback of the Patriots, Tom Brady has played division teams twice in one season 42 times.
Times he has gone 2-0 against division foes: 25.
Times he has gone 1-1 against division foes: 17.
Times he has gone 0-2 against division foes: 0.
• WHAT'S RIGHT WITH THE BROWNS: From Hue Jackson's play designs to Terrelle Pryor's ascent and young corners stepping up.
* * *
Dr. Z Unsung Guys of the Week
Each week, in conjunction with Pro Football Focus, I'll point out three players who played well but were under the radar. Paul Zimmerman would have loved this section. This week's trio:
1. Tight End Anthony Fasano, Tennessee. The unheralded part of a tight end's work is always his run-blocking. Fasano didn't see one pass thrown his way against the Jaguars, but he did a tremendous job on the edges of the Titans' run game. Fasano helped the Titans rushers gain 116 of their 221 yards before contact, and his run grade was PFF's highest in Week 8.
2. Tackle Duane Brown, Houston. Brown was the best player on the Texans offense Sunday. He allowed no sacks and one hurry of Brock Osweiler on 35 pass-blocking snaps, and his run-blocking grade ranked No. 1 among all tackles in Week 8.
3.Linebacker Dont'a Hightower, New England. Hightower turned in one of the most well-rounded defensive performances of the week as he graded positively as a pass-rusher, run-defender and in coverage. Hightower had one sack, one quarterback hit and three hurries on only 10 pass-rush snaps, and he was strong against the run and in coverage as well.
Go to PFF to access grades on every NFL player.
* * *
Mr. Starwood Preferred Member Travel Note
Last week I asked for travel stories and jet-lag experiences, after telling you that jet lag doesn't affect me. It's a topic scores of you had opinions on. Thanks for all of your contributions. A few of them:
From John S.: "Just like you. I have flown to Italy, Ireland, Hawaii from New York and never had jet lag. When it's 11 p.m. in Italy, Ireland or Hawaii and I'm there, I just go to sleep like normal. Sounds unusual, but it's awesome."
From Bill, in Zhuhai, China: "I have been in Asia for the past 17 years and traveling to customers in Europe and North America the whole time. Long flights, 15 hours in some cases, coupled with some long layovers. After several years I realized when I worked out hard, either cardio or lifting, prior to the flight by 12 hours or less and then tried some basic yoga poses on the plane and maybe a workout in the connecting airport, not only did I get through the jet lag much quicker but had more energy the whole trip."
From Bob D.: "It's all about the oxygen. The closer to the front of the plane is your seat, the better the air. The cockpit gets the best air with the first class and business class seats realizing the benefit of the higher level of oxygen. Which minimizes the effects of travel."
From Jason, of Kowloon, Hong Kong: "I usually do transcontinental with very short turnaround (in part because of work, but also to get back to spend time with my 2-year-old daughter). Example: Last week to the Czech Republic for a speech at an event. Hong Kong to London-Heathrow (13 hours) to Vienna (2.5 hours). I arrived in Vienna late so I grabbed a hotel near the railway station and slept for five hours. Next morning I was early on the train to my destination (1.5 hours), took a taxi to the event, delivered the speech, shook some hands, exchanged some cards, taxied back to the train station, then to Vienna on the train, light rail to the airport, then flew Vienna to Heathrow (2.5 hours) and back to Hong Kong (12 hours). Asia to Europe and back in 32 hours—in economy. The key, as you say, is to take a shower and get to work. Later in the day maybe a nap comes in handy, and always some sunshine, exercise, and eat some fruit."
From Matt W., in Taipei, Taiwan: "Not that impressed with your jet-lag immunity superpower. Pretty sure you're flying biz class. Anyone can sleep in biz class. Try New York to Taipei 16 hours direct in economy and then tell me how your jet lag is."
(Matt, in recent years on long trips, I'm often in first or business. But I would say for 30 of my 36 years in this business, traveling coast to coast—but not much international—I never flew business except on an occasional fortuitous upgrade. I'm sure economy for 16 hours would floor me, but I've never experienced it.)
From Scott A.: "I've been an airline pilot for the last 10-plus years (I don't fly overseas), and I know one thing for sure: The older I get (I'm 46), the more difficult it is to recover from red-eyes. Even just one. Put two or three in a row, and I can almost feel myself aging. We're not allowed to nap in the cockpit, a rule that the FAA should change, in my opinion, but coffee works as well as it ever did, and I'd say we all get good at flying a little fatigued. Exercising on layovers helps too, especially after a 12-hour day."
From Art, in Minneapolis: "Seventy-five trips to Asia in the last 15 years (and plenty to Europe) have allowed me to perfect my formula. Sweat-inducing exercise three hours before wheels up, snack and two beers in the first third of the flight, short nap, plenty of water, and off the plane ready to roll. Finding spots to catch a nap, like you mention, helps keep me going. A three-hour car ride between factories in China? Perfect."
Really interesting stories and tips. Thanks a lot, and I hope the frequent flyers out there got something out of these 700 words.
* * *
Pod People
From "The MMQB Podcast With Peter King," available where you download podcasts.
This week's conversations: ESPN fantasy-football maestro Matthew Berry, and rising-star running back Davis Johnson, a triplet, of the Cardinals.
• Johnson, on how often strangers approach him about fantasy football: "All. The. Time. All I hear about is fantasy football. No matter who it is, no matter which team that person likes. If they like the Eagles, if they like Tampa Bay, they are more happy that I won them their fantasy game than their favorite team [winning], and that is all I hear."
• Berry, on how he became the most influential fantasy-football authority in America: "I will give the very short version of how I got to here. I have been playing fantasy sports since I was 14 years old. I'm 46. So obviously, a long, long time, back in the days when you did it by hand and there was no such thing as personal computers, let alone tablets or anything like that. I went to Syracuse and I wanted to be a sitcom or movie writer, and I moved out to Hollywood to pursue that. In 1999, there was a website called Rotoworld, which now is very popular, but at that time it was the days of dial up and AOL and You've got mail! I was on [Rotoworld] all the time, and they were looking for fantasy writers. I sent them a note and said, I am a professional writer living out here in Hollywood, but fantasy sports are my passion. I just love it so much. So could I write a column on the side? Could I send you a sample? Can I try out? Interview? Anything. And they wrote me back the next day and said, 'We looked you up on IMDB. Married With Children is our favorite show of all time. You're hired.' So because I had written on Married With Children, I got a shot to write a free column for Rotoworld, this internet site that no one had ever heard of. But I was thrilled. After a while they started having me do multiple sports and multiple columns, and I started doing a lot more. In 2004, I developed a pretty good following of the column and I was making a princely sum of $50 per column, after four-and-a-half years." 
* * *
On Your Night Table
The Road To Character, by David Brooks.
Nominated by Seahawks coach Pete Carroll
This book, by New York Timescolumnist Brooks, is centered on the premise that people should focus more on their eulogy virtues (standing for the right things, being generous with time and resources, and basic kindness) than résumé virtues (striving for status, and for great careers and wealth).
"After a career of always trying to figure out better ways to teach the guy everything they need to know to help them have prospering career, I am always looking for stuff to help them," Carroll said. "[Brooks] spoke at the league meetings a couple years ago. His explanation in the early part of the book about character and how it fits and connects with the development of a lifetime, I thought was right on the mark. It really made sense to me when he talked about a whole other side to life that he referred to as the eulogy virtues.
"Who did you impact? Who are you helping? How are you servicing others during the course of your lifetime?
"I thought it was an extraordinary understanding that he had that he could communicate really clearly in the book. I couldn't wait to communicate it with our players because I saw our team, and the bulk of our guys, going through a young life in football, being challenged to develop a role on a winning football team, make it to the championship and win it and come back and do it again, with new contracts and Pro Bowls, and it was very much in line with the résumé side in his explanation. The reason that it made such an impact on me is that all our guys were looking for more … more understanding on how they connect with their game and their career and their team, which really took me to the other side of his explanation. It just all made sense, and so I have just utilized his explanations to make it more clear to our guys what to expect and where they could go and how they can direct their life in a way to be productive. It has been a big deal to me and I think most people can learn from his writings. I really appreciate it. I contacted him and we've talked a couple times."
You can purchase The Road to Character here.
* * *
Tweets of the Week
I
II
III
IV
* * *
Ten Things I Think I Think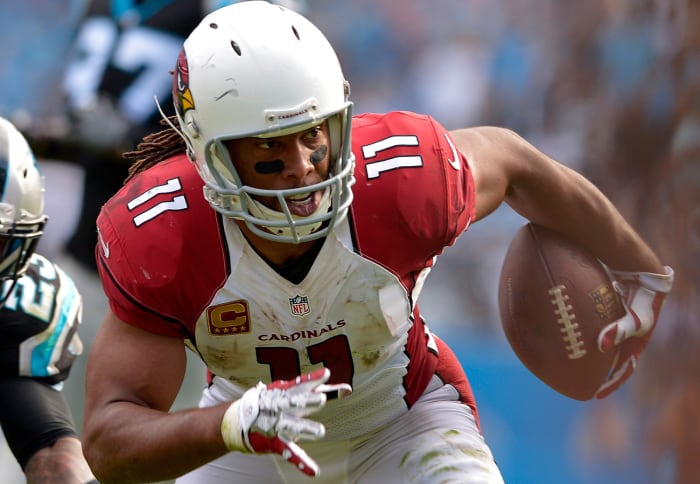 1. I think these are my quick notes of analysis from Week 8:
a. Rob Gronkowski scored his franchise-record 69th career touchdown Sunday in Buffalo—congrats to him—and at 27, what really stands in the way of him eclipsing 100? Tony Gonzalez owns the record for tight ends with 111, by the way. 
b. But the milestone of the day has to be Larry Fitzgerald passing Cris Carter for 12th on the all-time receiving list with 13,920 career yards. Fitzgerald was a ball boy at Vikings camp when Carter was a very big star, and Fitzgerald always wanted to grow up to be a receiver like Carter. 
c. There's a gap between New England and every other team at the season's midpoint, and it seems to be growing.
d. The looming 2017 free agent who has made the most money in the first half of this season: Houston cornerback A.J. Bouye, a former undrafted longshot who, at 6'0" and 198 pounds, has the length and physicality to match his confidence. He should make $8 million a year on the open market—unless the Texans pay him to stay off it.
e. If I'm Jets GM Mike Maccagnan, and I get offered a third-round pick for Brandon Marshall on Tuesday, I'd take it.
f. Biggest individual winner of the day: Nick Foles.
g. The more I watch Bobby Wagner, the more I think he'll be a serious contender for Canton one day.
h. On Labor Day weekend, I'd never have guessed the Week 9 game of the week would be in the Black Hole (Denver at Oakland).
i. Just look at the Wisconsin undrafted free-agents playing big roles—Cincinnati kick returner Alex Erickson (65-yard return Sunday), Seattle receiver Tanner McEvoy (vital blocked punt at Arizona last week)—as well as five other undrafted ex-Badgers on NFL rosters, and you see why NFL scouts value their trips to Madison so much.
j. Speaking of undrafted free-agents, Washington running back Rob Kelley (Tulane, 2016), who has pistons that never stop moving for legs, is a great example of why teams can always find good running backs late in the draft or in post-draft free agency.
• THE JIMMY GRAHAM TRADE FINALLY MAKES SENSE: Andy Benoit on the Seahawks' most dangerous weapon on offense
2. I think if you watched four games on Sunday, starting at 9:30 a.m. on the East Coast, you had your best day of football-watching this year—and maybe in several years. Cincinnati-Washington overtime tie, followed by another great game in the Tom Brady masterpiece series, followed by a duel between Matt Ryan and the undermanned Packers with some guys you've never heard of, and then Chapter 1 of the Dak Prescott-Carson Wentz book, which we all hope will be about 28 chapters. Now I'm not saying football's problems are fixed because of one day; far from it. But Sunday showed what a great day of football is like—though, again, the league has to do something about the spate of endless minor infractions getting flagged.
3. I think the Houston Super Bowl Committee would sign right now for New England versus Dallas on Feb. 7, 2017.
4. I think I'd never say never on this, but I will be extremely surprised if the Browns trade All-Pro tackle Joe Thomas by Tuesday's trade deadline. Who knows if some team offers two high picks for the 31-year-old Thomas, or some big bounty … but I get the sense inside the Browns that to deal Thomas or Joe Haden would be to denude an already barren-at-the-top franchise. Cleveland's got extra first-round and second-round picks next April, and an extra two in 2018. No team is in as good a drafting shape as Cleveland. I totally agree with the thinking that you don't trade Thomas. I'd rather have a cornerstone, sure-thing player for the next four seasons than the 30th pick (or whatever it would turn out to be) in one of the next two drafts, seeing that I'm already so filthy rich in draft picks in the next couple of years.
5. I think for as much as we get on the officials in a very difficult game to officiate, we should praise them for something done right. On Sunday in London, DeSean Jackson caught a short pass to the right and was down on the ground, making no effort to get up. After maybe half a second on the ground, Cincinnati safety Shawn Williams came in and speared Jackson in the back. All Williams had to do was touch Jackson, but he leapt and speared him, and Jackson struggled to get to the sideline, in obvious pain. Such over-the-top hits have been points of emphasis for the league, and a flag immediately was thrown. Fifteen yards, unnecessary roughness—as it should be.
6. I think I'm not sure which was worse Thursday night:
a. The uniforms of the Jacksonville Jaguars, caramel and putrid and nearly diarrhea-shaded.
b. The play of the Jacksonville Jaguars, uninspired and not at all befitting their skill.
c. The effort of the Jacksonville Jaguars, lackluster and inconsistent.
7. I think Gus Bradley, obviously, is going to pay for the 14-41 record and the current state of the team with his job. But it was stunning to see so many good players come up so small Thursday night in Nashville. I though it was the worst performance by any NFL team in a game this year. And that's not something a very patient owner, Shad Khan, will take for long. He told the Florida Times Unionafter the game in which the Jags fell behind 27-0 at the half and lost 36-23 (deceiving; very deceiving): "Actions speak louder than words. Very little for me to say." By the way, if I were Khan and son Tony Khan, the team's senior VP, I'd probably hire the best offensive mind and teacher out there—but one who would have a specific and dynamic defensive boss in mind. No way I'd hire a head coach on the offensive side of the ball unless he had the ability to bring in a strong defensive guy alongside him. When Doug Pederson convinced Jim Schwartz to be his defensive coordinator in Philadelphia, it was a huge part of his staff equation. Points allowed were down from 27 last year to 15 entering Sunday night's game, yards allowed down from 402 per game to 307. So whether the Jags take a liking to Josh McDaniels or Todd Haley or Kyle Shanahan or whomever, I'd want to know whether my defensive leader can settle down Jalen Ramsey and make sure Dante Fowler morphs into the player he was drafted to be—though in fairness to Fowler, he has had some shining moments a year after ACL surgery. Last Jag point: The mantra around the organization last year, one of them anyway, was about improving a horrible third-down conversion rate on defense. Jacksonville's defense allowed opponents to convert 46.3 percent of third-down attempts last year. It's 46.7 percent this year.
8. I think I still cannot believe Ray Rice never got another chance.
• THE COLLEGE COLUMN: Emily Kaplan on Ole Miss QB Chad Kelly, the nephew of Hall-of-Famer Jim Kelly
9. I think Alex Rodriguez has a future as baseball's Jon Gruden, an explainer of the game from deep inside it with a passionate love of it. It's interesting because both men, to a degree, were hated by a good portion of those who watched them for so long on the biggest stage of their games. Rodriguez is very good at simplifying the game on that quirky FOX baseball studio show.
10. I think these are my non-football thoughts of the week:
a. Story of the Week: From Deadspin'sDave McKenna, on the death of talented sportswriter Jennifer Frey. "Alcohol killed her as surely as a bullet killed Lincoln."
b. Odd Football Story of the Week: From Mark Schultz of Football Zebras, on the problems facing the league and its officials if the Raiders move to Las Vegas. Really interesting.
c. Just vote already.
d. What made the World Series so much fun—at least on Friday and Saturday night, when I saw every pitch—was the fact that for seven hours, every batter mattered in such a big and dramatic way. Postseason baseball is fun, as is postseason hockey, when everything is on the line on every pitch, or every shift.
e. Lay off Joe Buck. He's not rooting for anyone. He calls it the way he sees it. I watch a lot of baseball and football that he does, and this thing about rooting for [pick a team, any team]is absurd. I would ask anyone who says that about Buck to find me a few example of Buck clearly rooting. I don't hear it.
f. Is FOX going overboard on the Cubs? Of course. Who wouldn't? It's one of the great baseball stories in years, and FOX is after mega-ratings and will celebrate this Cubs phenomenon while it lasts.
g. I am confused, with John Smoltz continually using the nobody-gave-the-Indians-a-chance line. Huh? Chicago was favored, to be sure, at the start of the series. And all the karma was in the Cubs' column. But there's not a soul who thought Cleveland would be a pushover, not after sweeping Boston and beating Toronto 4-1. And Cleveland had home-field. Bad analysis by Smoltz.
h. Joe "Look At Me" West behind the dish for Game 6. Not a fan.
i. The Matthew McConaughey Lincoln commercials must go. They must. Lincoln, I am begging you. Six thousand viewings is enough.
j. Coffeenerdness: Lucky to be able to sample a latte from Cartel Coffee Lab, a local shop in Tempe, when I was there last week. Delicious. Really strong and good espresso.
k. Beernerdness: A gem from Four Peaks Brewing Company in Tempe, Ariz.: The White Ale, with local citrus and local wheat. Not sure if that's why it's really good, and a real rival to Allagash White. But this is a ridiculously good and tasty beer.
l. Look at this photo of a country highway in Oklahoma. It appeared in Jenny Vrentas' excellent story about the painful late life of Dennis Byrd, which ended in a car wreck earlier this month. For a moment, look at the photo of this road. When I saw it, I said, There but for the grace of God go all of us. Think of how many times you've been driving along at 60 mph on a road like that, with a car coming toward you. We have this contract with the other drivers of the world, that they'll stay on their side and we'll stay on ours. But once in a great while, as happened with Byrd, a kid might get distracted, or however this accident happened, and cross the center line and smash into your car head-on, and death will result. It's pretty hard to come to grips with, obviously, and I feel so much for the Byrd family. But the fact is, that same thing could have happened to me or you 60,000 times in life, and just never has.
m. From Carolina Framke and Alex Abad-Santos, of Vox, on their favorite Halloween candy: "Kit Kats on Halloween. Kit Kats tomorrow. Kit Kats forever …  Show us a person who doesn't like chocolate-covered wafers, and we will show you a monster."
n. My top three Halloween treats: 100 Grand Bar, Kit Kat, Candy Corn. In that order.
* * *
Who I Like Tonight
Minnesota 30, Chicago 13. Very bad matchup, the pressure of Linval Joseph, Everson Griffen and Danielle Hunter (averaging nine sacks/significant pressures as a group this year, per Pro Football Focus) versus the Bears' edge protectors, Charles Leno Jr., and Bobby Massie. I can't see the Bears' line holding up against the pressure packages Mike Zimmer is going to bring tonight. I also see a redeeming night for Sam Bradford.
* * *
The Adieu Haiku
Terry Francona
is taking some giant steps
toward Cooperstown
• Question or comment? Email us at talkback@themmqb.com.