Jets' Sheldon Richardson wasn't sweating trade rumors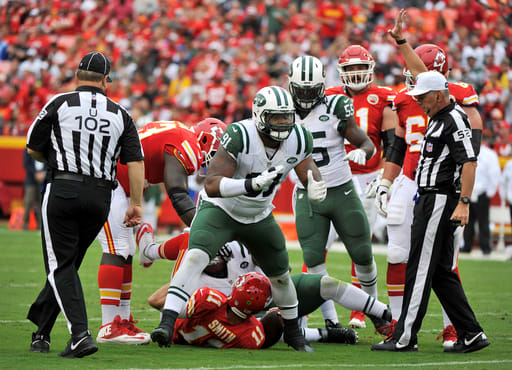 FLORHAM PARK, N.J. (AP) Sheldon Richardson heard the rumors, and he refused to stress over them.
Whether the star defensive lineman remained a member of the New York Jets after the NFL's trade deadline Tuesday, Richardson insisted he would simply roll with it.
''It's a business, bro,'' he said Wednesday. ''It's just the way it goes. Good guys get traded all the time.''
With the Jets struggling to a 3-5 start, Richardson and wide receiver Brandon Marshall were mentioned as possibilities to be dealt. Instead, New York kept both, and the chatter ended up being just that, although one media report mentioned the Dallas Cowboys as a possible suitor.
''I'm a good football player, bro,'' Richardson said. ''Whether you believe it or not, other teams do want me if I'm traded.''
While Marshall said he nearly cried when he received a phone call before the deadline, thinking he had been traded, Richardson wasn't about to shed any tears, either way.
''Nowhere near that serious,'' he said.
Richardson waited for a phone call from his agent to tell him whether he needed to stay put - or pack his bags. When he heard was staying with the Jets, it was business as usual for the defensive lineman.
''I've got to get ready for Miami,'' Richardson said, referring to New York's next game Sunday. ''It's just that simple.''
It's not that he doesn't want to play his entire career with the Jets, who drafted him 13th overall in 2013.
''It's not my choice,'' he said.
Richardson knows the reality of the situation, much of which he has very little control over.
''Big business, bro,'' he said. ''It happens. That's it. We've got three guys that play the same position. We're all effective. It's a surplus, so I'm the odd man out.''
The Jets' defensive line, which has helped New York rank first in the league against the run, is perhaps the team's biggest strength with Richardson, Muhammad Wilkerson and Leonard Williams all highly regarded.
Wilkerson received a five-year, $86 million contract in the offseason, while Williams isn't going anywhere anytime soon after being the Jets' first-round pick last year.
That leaves Richardson, who would be entering the final year of his rookie deal next season. He could still be traded during the offseason, or the Jets could consider using the franchise tag on him after next season.
''I just want to play, and, yeah, get paid my fair share,'' Richardson said. ''You can't do this forever. You want to win Super Bowls and win games and stuff like that. But you also want to make sure you can take care of your family when it's all said and done and it's over with.''
Richardson, who has 1 1/2 sacks this season, mentioned last week that he thought his versatility - he has played on the line and at outside linebacker this season - could eventually help him when it comes time to talk contract.
He refused, however, to speculate whether he'll be with the Jets next year.
''I don't predict the future,'' he said. ''So, you never know. Anything can happen in the offseason.''
NOTES: Nine players didn't participate in practice: LB Bruce Carter (quadriceps), LT Ryan Clady (shoulder), TE Kellen Davis (elbow), LB Darron Lee (ankle), C Nick Mangold (ankle), WR Charone Peake (ankle), OT Brent Qvale (neck), CB Buster Skrine (knee) and DE Muhammad Wilkerson (ankle). ... RB Matt Forte (knee) and RT Breno Giacomini (shoulder) were limited. ... TE Austin Seferian-Jenkins, who has missed three games with an ankle injury, was a full participant.
---
AP NFL website: http://pro32.ap.org and http://twitter.com/AP-NFL