Dallas Draft: Looking Back
The back story of how the Cowboys nailed two picks in the spring, with conviction on Ezekiel Elliott and, uh, backing into Dak Prescott. Plus answering reader mail on Mike Tomlin, Luke Kuechly and much more
The Cowboys being the most interesting story in football right now, I thought I'd go back to draft weekend—I was in Dallas for the draft—and revisit exactly what happened with Ezekiel Elliott and Dak Prescott, and how those picks have transformed the team for the short- and long-term.
First, remember why the Cowboys picked Elliott. They loved the running back from Ohio State, and they didn't love a single defensive player in the draft. They didn't think their needy front seven could get refurbished with any single player in this draft. Owner Jerry Jones told me two hours before the draft that the reason Elliott made sense is that he would be able to take pressure off the defense by making sure it stayed on the field for less time in 2016.
Let's see if Jones was right, as it looks today.
• INSIDE THE DALLAS DRAFT ROOM: Back in early May, Peter King chronicled his time with the Cowboys during the selection process
Dallas, last season, held the ball for 30:59, on average, in games. That was 11th in the league in time of possession. This season, with Elliott, the Cowboys are first in time of possession, at 33:27 per game … a full two-and-a-half minutes more than last year. Foes averaged 10.9 possessions per game last year. They are averaging 9.9 possessions this year.
So Elliott has helped keep Dallas's defense off the field for a full possession per game and for 2.5 per game. We don't say this often in the football media business about the football decisions of Jerral Wayne Jones, but it should be said now: Through 10 games of the 2016 season, Jerry Jones made a smart move by picking Ezekiel Elliott—who leads the NFL with an average of 139.4 scrimmage yards per game—over any defensive player on the board.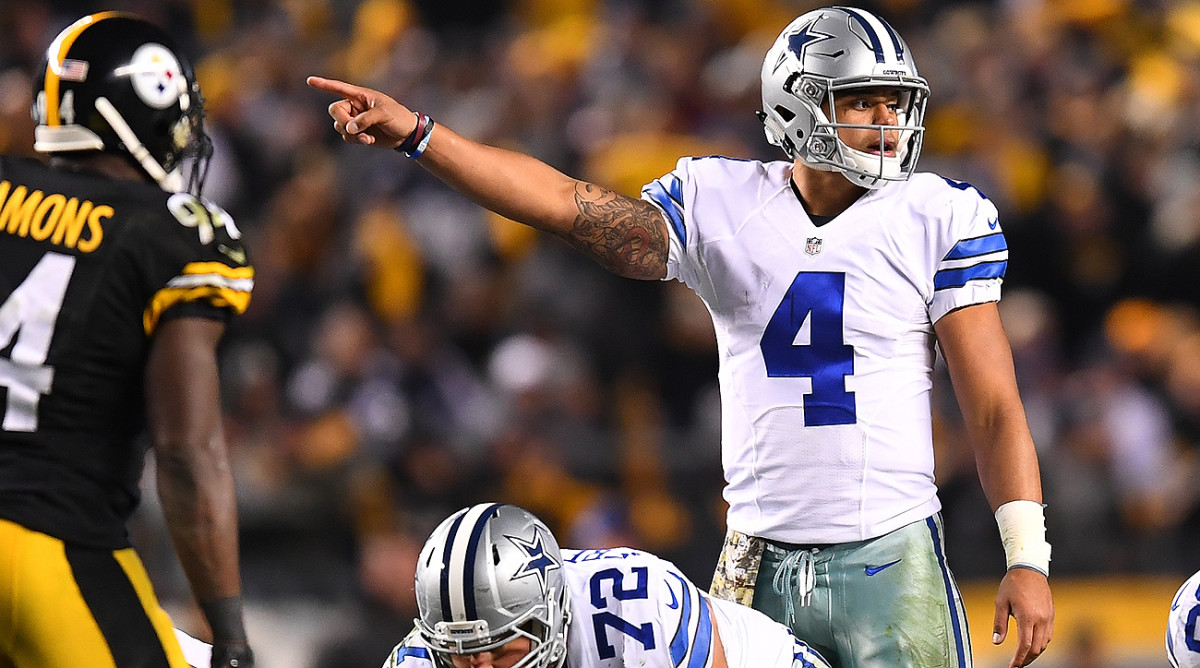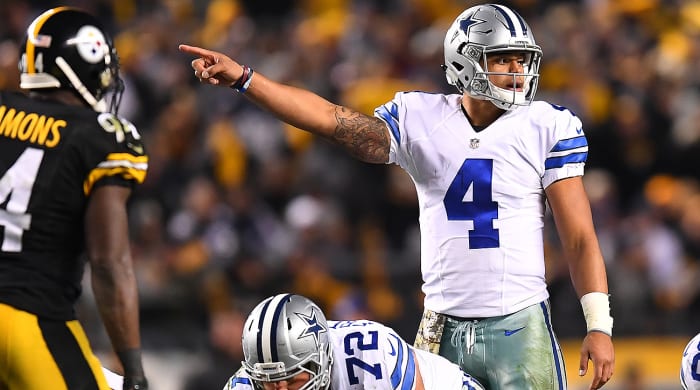 Looking back on each pick:
Ezekiel Elliott, No. 4, Round 1
In his office before the draft, Jones ruminated about picking Elliott, which he was pretty sure the Cowboys were going to do. "I've had my finest hours in business going against the grain," he said. "In the oil business, I'm drilling between dry holes trying to make a strike, and everybody around us is laying off geologists. Business is bad. I jump in. Why? The opportunity's good. Buying the Cowboys when I did? Bad business—they were down. Again, opportunity. This decision, this draft, is a little bit contrary, but it's in step with how I think."
That's what it came down to: a belief in a sure thing versus a player who was not a sure thing at a needier position. Around the country, Jones knew the pick would be panned. It would panned in his home market too. He cares very much about perception, but he also was sure, after his scouting staff and his head coach and his trusted son all were fervently pro-Elliott. When the pick was finally made an hour into the draft, Jerry Jones got Elliott on the phone and practically yelled to him: "Let's go win the Super Bowl!"
Sort of prescient now.
Dak Prescott, No. 135, Round 4
For 69 minutes and at least 19 phone calls, COO Stephen Jones, who'd been all-in on the Elliott pick, worked to try to move from high in the second round to somewhere in the first round. He wanted to enable Dallas to choose the quarterback they loved in this draft: Paxton Lynch of Memphis. At one point around pick No. 20 in the first round, Jerry Jones debated with Garrett the wisdom of trading second- and third-round picks instead of the current second- and fourth-rounders they currently had on the table with several teams to try to trade up in order to get a choice to use for Lynch. "The question is, can we really afford to lose two good players—good players—and take a guy as a hedge for the future? I think I'd rather give this two and three and have Lynch … or have [Mississippi State quarterback] Dak [Prescott] in the fourth."
That was classic Jones hedging his bets. But they decided as a group to not give the three, and they lost Lynch to Denver. There was a pall over the room when the Denver trade-up to get Lynch was announced. But here's what lots of people don't know: On day three of the draft, at the start of the fourth round, Cleveland had the first two—99 and 100 overall. Dallas had 101. The Cowboys favored Michigan State quarterback Connor Cook marginally over Prescott. Cleveland wasn't going to take a quarterback, having just picked USC passer Cody Kessler near the end of round three. So the Cowboys offered Cleveland next year's sixth-round pick to move up from 101 to 100. The Browns said no. Then the Cowboys offered this year's sixth-round pick. The Browns said no. Cleveland took picks 114 and 154 from Oakland, and the Raiders jumped Dallas and picked Cook. Dallas people were shocked. Why Oakland? Oakland had a star quarterback of the future, Derek Carr; this made no sense. But there was nothing they could do.
• INSIDE THE ROMO/PRESCOTT DECISION: Albert Breer spoke with Cowboys exec Stephen Jones on the difficulties dealing with Tony Romo's return to health
About a month before the draft, Roger Staubach told Jones and Garrett something: Leadership, belief in self, and a grinding work ethic were paramount in a starting quarterback. Well, Dallas people in the draft room thought to themselves, how can we do better right now than Prescott? He's only an insurance policy for this year anyway, and he's got those things Staubach described.
Talk about hitting two home runs. We knew Elliott had immediate star power in him. But Prescott? Even if the Cowboys backed into him, history is written by the winners. And the winning team of this draft—it's not even close—is the Dallas Cowboys. Which you'll see for the 11th time this season on Thanksgiving afternoon against Washington.
Now for your email...
• THE BUCS START HERE: Albert Breer on Tampa's emergence, Kirk Cousins, Jimmy Garoppolo and five names to watch in Week 12
* * *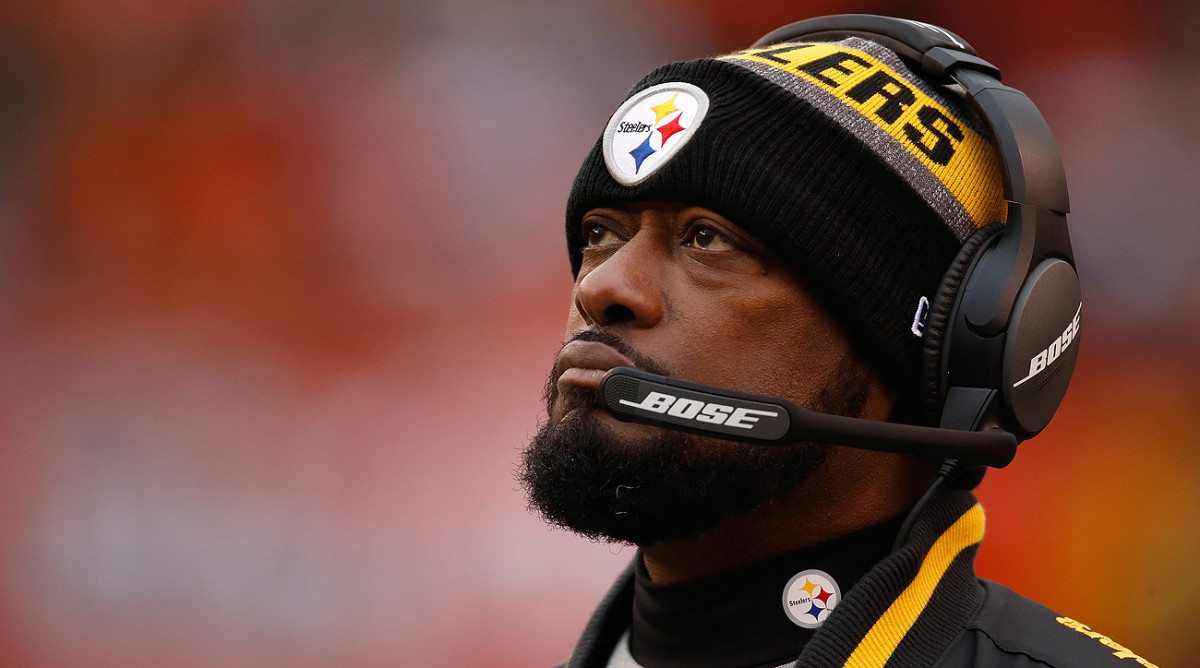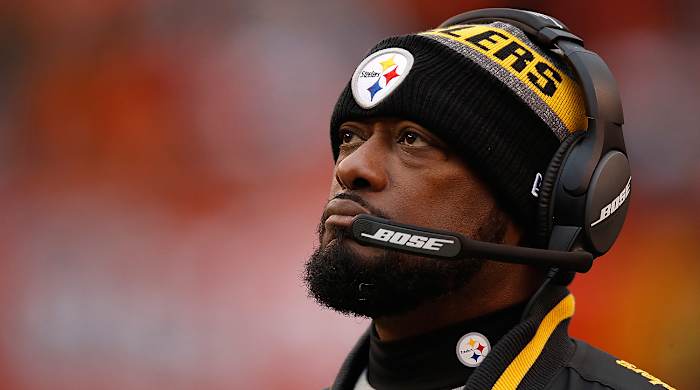 TOMLIN'S TENURE WILL GO ON
One more stat supporting the Steelers' patience regarding head coaches, and the reward for being such a model of consistency: In my lifetime (born 1970), the Steelers have twice as many Super Bowl titles as coaches. Had to double check, because it doesn't seem possible in the Not For Long league, but it's true. Not many other fan bases that wouldn't accept that trade-off on a long-term basis. Nobody, not the Patriots, Cowboys, Packers, 49ers or any other team that aspires to be a model of consistent excellence even comes close. Not saying Tomlin won't wear out his welcome, but any Steelers fan who feels they know better than the Rooneys when it's time to replace the coach should try rooting for Cleveland for a couple years. They may not win any championships, but at least they'll get the regular coaching changes they're longing for. I'm not even remotely a Steelers' fan, just a fan of credit where credit is due.
—James W.
I just feel like a coach who averages about 10.4 wins a year for 10 seasons shouldn't be subject to the barrage of fire-the-bum bombast Tomlin is subject to.
CODY KESSLER HEALTH
I was just talking to my buddy about Cody Kessler getting the Tim Couch treatment by the Browns (no line to protect him) and I had a question regarding how to build a team. Why are teams so intent on finding a QB of the future before they have a foundation? The Browns O line (and D line) are horrendous outside of Joe Thomas. Why throw a young QB back there to get pummeled to "see what he can do?" I've been hearing all over there is no reason anyone but Kessler should take a snap the rest of the season (barring injury ... and that happened) but how do you see what a young quarterback can do when he has zero time to do anything?
—Jeremy G.
Good point. But it's not like the Browns picked Kessler in the top 10. They picked him 93rd. As if to say: We don't see him as our long-term guy necessarily, but he might be a prospect who will be in the mix, and we think he's got a really good shot to be a long-term backup quarterback. Now, if he was the second overall pick, and the Browns put him in there to take all this abuse, I'd have a problem with that. But someone's got to play back there.
• FANTASY FOOTBALL: Gary Gramling has info on Thomas Rawls, Sammy Watkins, Jared Cook and everything you need to know heading into Week 12
COUSINS > BRADY
I see you will be collecting your weekly check from the Patriots. Tom Brady over Kirk Cousins as offensive player of the week. Meh! Let me state I am not a Redskin fan and I have Tom Terrific as my fantasy QB, but to raise his exploits on offense over Cousins is even too far for you. Cousins over Aaron Rodgers in the wind tunnel better known as FedEx Field, throwing frozen ropes into the teeth of the wind… 375 yards, three touchdowns and the highest QB rating of the weekend deserves to be above your man-crush Tom.
—Shawn C., lifetime Broncos Fan living in Maryland
All good points. Cousins should have been one of the offensive players, in retrospect. Regarding Brady, I picked him for making two ridiculous touchdown throws under pressure in his first "home" game ever—playing at his hometown team, the Niners, at age 39. But Cousins certainly deserves accolades as much or more. And thanks for pointing out the check thing. Don't tell anyone, though. I'll never last in this business if people catch on to that.
PAT COMMENTS
Factoid that might interest only a few of us: Because a friend was curious yesterday, I looked it up. Three kickers have hit 100% of their PAT attempts since the distance was changed last season: Dan Bailey, Justin Tucker, and Cody Parkey.
—Tim S., Mountain View, Calif.
Great factoid! Crazy, isn't it, that Adam Vinatieri has missed three?
MCCARTHY'S JOB SECURITY
You think Packers head coach Mike McCarthy is secure because "Green Bay . . . [i]s not a panicky franchise." Check out Mike Sherman's record—the head coach who preceded McCarthy. In his six seasons with the Pack, Sherman went:  9-7, 12-4, 12-4, 10-6, 10-6, and 4-12 ... then, BOOM, he was fired. By the same Ted Thompson who still runs things in Green Bay. Not panicky, you say?
—Marc G.
Interesting point, but the story, as I recall, included something else. Sherman had been the team's GM and coach before Ted Thompson was hired as GM in January 2005 and Sherman was stripped of those duties. Thompson and Sherman were naturally going to have a bit of an awkward relationship there, and when Sherman went 4-12 and the offense was suspect (Brett Favre threw a career-high 29 picks that year), Thompson wanted to start fresh. Doesn't seem unreasonable to me. And I'm not saying Thompson couldn't do the same thing this year if he feels like McCarthy's gotten too lax with Aaron Rodgers, for instance. I just think the Packers are likely to be patient.
ROMO IS DONE
I am so sick to death about hearing about poor Tony Romo. As a Cowboys fan, I can appreciate the impact he has brought to the team, but let's face it—he can't stay healthy. If he weren't so frail the last two seasons (360 days since he last started a game) nobody would be talking about Dak Prescott. This isn't the story about a guy who unfairly lost his job; this is a story of a really good player who is too old and injury prone to compete in the league anymore. It reminds me of when Herschel Walker came to Dallas, took the job from Tony Dorsett who went to Denver for one season and then retired. Youth rules this sport; that's football. He may be gone from Dallas next year, but buyer beware, anyone who decides to take a flyer on this guy next season might want to consider this; he's had three back surgeries in four years.  
—Michael D., Dallas
I get it, Michael. But no one's saying Romo should be starting. We're just saying it's a shame he didn't at least have a chance to take the most talented team in his Dallas career to the starting line, and he handled himself in a classy manner when he finally spoke about it.
FOOTBALL IN AMERICA CONTRADICTIONS
I need to read the Football in America issue you discussed. The idea of Americans being uncomfortable with the contradictions of football you mentioned describes me perfectly. I've been a red-blooded American football addict since I was little, but I almost feel guilty watching big hits on the NFL field these days, knowing what the long-term outcome can be. Watching Luke Kuechly the other day made me say to myself, "Dude, just retire. Not worth it."
—Steve, Osan AB, Korea
Let me start, Steve, by saying thanks for your service to the country, and I hope you have a good Thanksgiving wherever you spend it. I think the same thing a lot of times watching football too. It's why if I were a parent of a young person who wanted to play football, I'd mandate it be flag football until at least high school. And I don't know if I'd ever allow a child even in high school to play. It'd be a tough call. Regarding Kuechly: There will be so much focus on him that his doctors would be vilified if they ever put him on the field without passing tests with flying colors. What's worrisome about Kuechly, I think, is the fact that you never saw that big hit. That's often indicative of a player who has has a lot of big hits, and it doesn't take a huge one to get that next concussion.
• THE GRUESOME PART OF FOOTBALL: Jenny Vrentas on Luke Kuechly and the effects of his latest concussion
QUARTERBACKS IN THE WILDCAT
In the Vikings' game yesterday against the Cardinals, they lined up in the Wildcat formation a few times, with Bradford split out as a wide receiver. On one of these plays, the opposing cornerback, Patrick Peterson, shoved Bradford as soon as the ball was snapped, knocking him to the ground.  He was whistled for an unnecessary roughness penalty, which I think was undeserved. On this play, Bradford isn't a quarterback, he's a wide receiver. The Vikings put him in that position, and according to the rules of football, the defender is allowed to chuck the receiver as long as he's within five yards of the line of scrimmage. There was no rule broken here. It wasn't a particularly violent hit, and it wasn't a hit to the head. Bradford simply wasn't expecting it, and was shoved to the ground. I'd like to hear your thoughts on this one. I don't think it's getting the attention it deserves.
—Tosh T.
On the surface, you are absolutely right—Bradford was a receiver and not a quarterback. But if in an official's judgment a player is unduly roughed up, he can call unnecessary roughness. Judgment call.
• Question or comment? Email us at talkback@themmqb.com.