The Unfair Catch: How NFL Return Men Became an Endangered Species
Precision punting and rule changes designed to make kickoffs safer have had unintended consequences on the game. Front offices are no longer on a quest to find momentum-shifting returners, and special-teams play has become, well, rather predictable and boring
In late October, Dante Hall took in a Chiefs game from a luxury box at Arrowhead Stadium, where he had electrified the crowd on so many occasions at the turn of the century. Hall loves watching punt returns, and he gets especially jazzed to watch Tyreek Hill, the Chiefs' phenom out of West Alabama. Late in the second quarter, Hill sprinted to field a Thomas Morstead bomb down the left sideline, stretching out to catch the punt in stride before being tossed down by the Saints gunner, Brian Dixon.
"That was a Dante Hall move right there," Hall said, invoking the third person as only a playmaker can do to bestow praise on the rookie down below. "That's a mindset. I'm catching this no matter what. I don't care how they're bearing down on me."
The play, Hill's only punt return opportunity of the day, went for zero yards in the Chiefs' win over the Saints. Now, with three games left in the regular season, Kansas City's primary punt and kick returner—the league leader in combined return yards—is on pace to field 52 special teams balls this year. It's a stat that puzzles the 38-year-old Hall, who retired in 2008 before the NFL altered kickoff rules and before directional punting became in vogue. He routinely fielded 90 balls per season despite a league-wide reluctance to kick him the ball. Hall is on everybody's all-time list of top-five returners, but he's not sure how successful he'd be in today's NFL.
"No way my career lasts as long as it did," he says. "First of all, you don't get as many opportunities. With these rules, returners can't impact the game as much or as often, so there's no value in drafting them. With the kickoff rules, they're weeding us out."
In 2011, the kickoff was moved up to the 35-yard line from the 30, with the design of creating more touchbacks and fewer high-speed collisions to reduce injury opportunities. And it worked. The year before the rule change, only 16.4% of kickoffs resulted in a touchback. In the first year of the rule change, that number jumped to 43.5%.
It's only trended higher:
44.1% in 2012
48.8% in 2013
50.2% in 2014
55.9% in 2015
To reduce high-speed collisions even more, the NFL moved the starting position after a touchback out to the 25-yard line this season, hoping the added five yards would further incentivize returners to take a knee. Entering Week 15, the rate of touchbacks is at an all-time high of 58.8%. And the incentive to take a knee is even clearer. Every season from 2011 through 2015, the average kick return was no shorter than 23.4 yards and no longer than 23.8—but always more than three yards beyond the 20-yard starting position after a touchback. The average return this season is 22 yards, three yards shy of the touchback starting position.
The punting game has undergone a more organic transition. Darren Bennett introduced the rugby-style kick in the early 2000s; Mike Scifres and Shane Lechler then perfected the art of the backward-bouncing punt; most recently, Sam Koch pinpointed ways to deceive returners on directional kicks and introduced a number of different ball-striking styles, as chronicled by Mike Sando of ESPN.com. With recent rules changes benefiting offensive production, teams are finding themselves with better field position when they do have to punt, which means more balls are being angled toward the sidelines and pinned inside the opposition's 20-yard line. This season, the league is on pace to set an all-time high for fair catches and set the second-highest mark for punts downed inside the 20.
We're in an era of unprecedented specialization for the men kicking the ball and a competitive drought for the other 21 players on the field (and their coaches). The job of special teams coach was once a rare but viable steppingstone to a head-coaching job (Koch's own head coach in Baltimore, John Harbaugh, cut his teeth coaching the third phase of the game).
But now?
"Special teams has been put on the back burner," says Mike Westhoff, the special teams coach of the Jets from 2001-12. "The job that I had for so many years no longer exists anymore."
Westhoff says he gets calls every year from general managers asking him to give up his consultant roles with numerous FBS teams and come back to the NFL as a special teams coach. He explains to each suitor that he just doesn't think the job is worth doing any longer.
"It used to be that we had 22 actual special teams plays per game, not counting field goals and non-plays," Westhoff says. "When I was with the Jets, we were a big part of the success. Now we wouldn't be. You want me to coach five or six plays? I don't need it."
Perhaps no other aspect of pro football has changed as quickly, with the possible exception of the fullback. In 2007, the year before the league started tinkering with kickoff rules, the NFL saw an alltime high of 42 combined kicks and punts returned for touchdowns. This year we are on pace for a combined 21.
Twenty-eight punters are averaging more than 40 yards net per punt this season. In 2007, that number was nine. Minnesota punter Jeff Locke, one of several punters to cross over the 40 net yardage threshold from 2015 to 2016, describes a network of special teamers who lean on industry leaders for advice and emerging trade secrets.
Locke studied Koch closely last offseason after his third season in the NFL, but he wanted more information on Koch's thinking. Vikings long snapper Kevin McDermott, who played in Baltimore in 2014, connected the two punters on the phone during 2016 OTAs.
"I don't feel comfortable doing some of the stuff he does with his hips," Locke says, "but I did take some tips from his plus-50 punts and I think that really helped this year.
"The job that I had for so many years no longer exists anymore," says Mike Westhoff, the former Jets' special teams coach.
"I think you've seen punters get better because of how dangerous punt returners became. Hang times go up every year, just because we know what these guys can do. Guys used to hit 60-yard balls down the field. You don't do that anymore. I would much rather hit a ball 40 yards for a fair catch than hit it 60, 4.2 second hang time, and put my guys in a sh---- situation."
The once-common special-teams phrase "flip the field"—the aspiration for a deep punt to sail beyond the returner's range—has been phased out of the game's lexicon.
"I don't hear that a lot," says Chiefs punter Dustin Colquitt, a 12-year veteran. "There's definitely more emphasis to not outkick the coverage. Instead of flipping the field, punters have gotten better at hitting balls directionally out of bounds. Now it's a dead play and [the returners] don't have a chance to build momentum."
Beyond mitigating big plays, precision punting has also changed the strategy for punt returners. Not so long ago, Colquitt says, it was conventional wisdom that a punt returner would put his heels on his own 10-yard line and not field any kick that sailed over his head. They'd let it go, because it was most likely going to end up in the end zone for a touchback. But in the late 2000s, more and more punters started dropping rugby-style kicks at the 5-yard line that would bounce straight up in the air and be downed by the coverage team.  "It's a punt you could hit up in the air 4.5 seconds and you've got a 50-50 shot of it coming back," Colquitt says. "You see guys fair catch at the 7 now. When you have a punt like that, a punt that changes a fundamental rule in football, that's a big change. That's been the case for five or six years."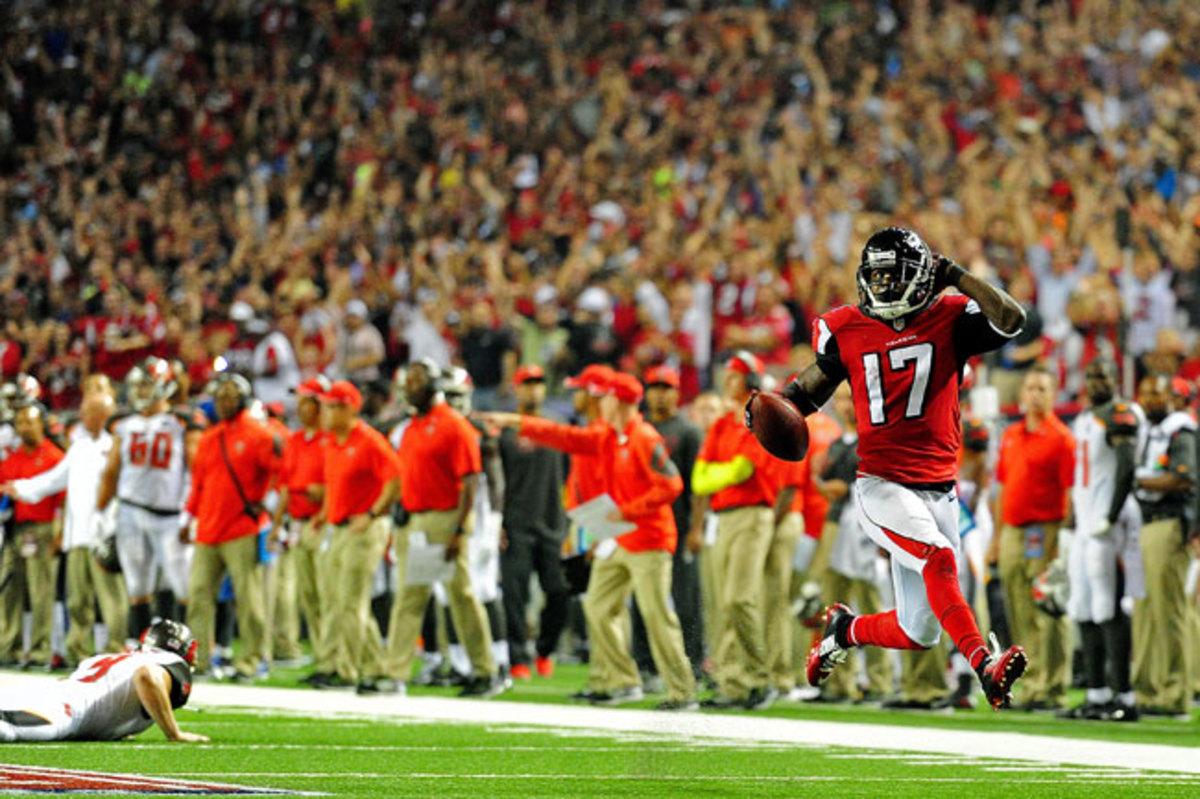 In essence, punt and kick returners went from being game-changers to game managers in the span of a decade—and it has been reflected in their compensation and career longevity. Westhoff often fields calls from flustered special teams coaches who are at odds with their general managers; the front office sees little value in re-signing a top-10 punt returner who doesn't contribute at his regular position, be it wide receiver or running back or cornerback. Assistant coaches are sometimes told in training camp to "make it work" with the second- or third-best returner. Those same GMs are even less inclined to hold on to a linebacker who is adept at kickoff and punt coverage but isn't making an impact on defense.
"I'm 69 years old and I could run down the field on a damn kickoff in the NFL, because it doesn't matter," Westhoff says. "Special teams coaches just know now that the guy they want is not the guy they always keep."
Nevertheless, there will always be romantics. Tyreek Hill, like Hall, is an aficionado of the return game. When asked to name his favorite returner of all time, the typically quiet rookie gives a 300-word answer full of caveats and qualifiers before naming his top three: Devin Hester, Deion Sanders, and Dante Hall. After declaring himself eligible for the draft, Hill spent his offseason working out with West Alabama punter Jordan Ikner, who was charged with showing Hill the directional kicks and various ball rotations he'd encounter in the NFL.
When Hill met Dante Hall this year, they delved deep into punt returner nerd-dom, discussing the difference between the freestyle return mentality Hall often practiced ("Catch it and get busy," Hall says) and the more disciplined process of setting up blocks and choosing the right moment to "disrupt the wave," as Hall puts it.
After his single punt return for zero yards against the Saints—the only time he's been goose-egged all year in the return game—Hill acknowledged the dwindling opportunities for returners and the sudden decline of a unique brand of excitement in the NFL.
"Yea," Hill admitted, "The game has changed. But you can still make plays."
• Question? Comment? Story idea? Let us know at talkback@themmqb.com