As the Coach Carousel Spins
With six head-coach vacancies, and maybe more to come, the rumor mill is abuzz with names and scenarios, including the hottest prospect and toughest sell. Plus mail on Jimmy Garoppolo, Larry Fitzgerald and more
What I know, and what I'm hearing, on the coach derbies as we reach the oddest of modern football oddities: zero firings on Black Monday, and no increase in the six vacancies that we knew about Sunday:
• Mike Smith is a hot name. The Jags want someone with head-coaching experience; thus the interest in Tom Coughlin, Josh McDaniels and Smith, the former Atlanta coach (lifetime record: 67-50) now working as a defensive coordinator in Tampa Bay. Interesting. There are six openings, and a couple have zero interest in Smith. But as GMs say when an agent throws out a silly asking price in unrestricted free agency: It only takes one. In this case, it only takes one team to fall in love with a candidate to make him a head coach. Remember when Bruce Arians was bypassed by seven teams in 2013, and the eighth and last one, Arizona, fell for him? Let that be a lesson to everyone. Don't hurry.
• FILLING THE COACHING VACANCIES: Andy Benoit ranks the NFL's six open coaching jobs and fills them with the best-fitting candidates
• David Shaw and Chris Petersen are not coming out now. No idea if Nick Saban would. Stanford and Washington needn't be worried about the head coaches they love. But I keep wondering how many national titles it will take for Saban to think it might be time to look around, particularly at age 65. What happens if Jim Irsay does more than wonder why his team just won eight games with Andrew Luck at quarterback, and why so many of those eight were fights to the death against the Jacksonvilles of the league? Indy is not Tuscaloosa, but it might be small enough to appeal to Saban and his wife. The Colts' quarterback certainly would. I'll always think that's the thing Saban looks back on with regret—not stretching to sign Drew Brees, coming off shoulder surgery, in Miami in 2006.
• The stars are not coming out this year. Wrote it Monday. Still true today. "I'm not sold on anybody. This could be a long process," one coach-search man said Tuesday night.
• Hot names: Smith, defensive coordinators Vance Joseph (Miami), Teryl Austin (Detroit), Matt Patricia (New England), Sean McDermott (Carolina); offensive coordinators Sean McVay (Washington), Josh McDaniels (New England), Kyle Shanahan (Atlanta); special teams coordinator Dave Toub (Kansas City), and interim coach Anthony Lynn of the Bills.
• Buffalo is going to be a tough sell. Around the league, the performance of GM Doug Whaley at his Monday press conference was not well-received, particularly the part about how he was informed by ownership that Rex Ryan was being whacked and he (Whaley) had no say in it. The reaction was, if I may translate, Who wants to work for that guy? That plus the fact that no one really knows a thing about the Howard Hughes-like Pegulas, and there's no sure quarterback of the future, and it sometimes seems like the land of mercenaries. Just know that Buffalo's not going to have an easy time find a coach it loves. If I were Whaley and Pegula, I'd target Tom Coughlin, and tell him he'd better have a very logical successor on his staff.
• NFL PLAYOFFS: Eli Manning Is Tougher Than You—Tim Rohan on the NFL's unexpected Iron Man
• I still think there might be an opening or two to come. Obviously, watch for change in New Orleans, but only if there's a team out there willing to pay Sean Payton $9 million a year and willing to give a second-day draft choice to the Saints. I found it interesting that Payton told WWL radio that "absolutely" the Saints were the only team he's interested in coaching next year. That is not what I have heard, but it takes two to dance. … Houston and Bill O'Brien—you wouldn't think there was a chance that would change. And it probably will not. But I keep hearing things are not great between O'Brien and GM Rick Smith, so stay tuned to the first post-playoff-loss day in Houston. … Strange to hear nothing from Indianapolis, which could mean that all's well but also could mean owner Jim Irsay is asking himself, How'd we go 8-8 last year with Josh Freeman and Ryan Lindley and Charlie Whitehurst playing quarterback, and no better this year?
Too early, really, to be near the end of the line on any of these jobs. I think the rumor mill will work overtime this month, because so many teams are looking at so many coaches. So settle in.
• THE BAD VIBES IN BUFFALO: Jenny Vrentas details how rotten things have gotten in Bills-land in the wake of Rex Ryan's firing
Now for your email:
* * *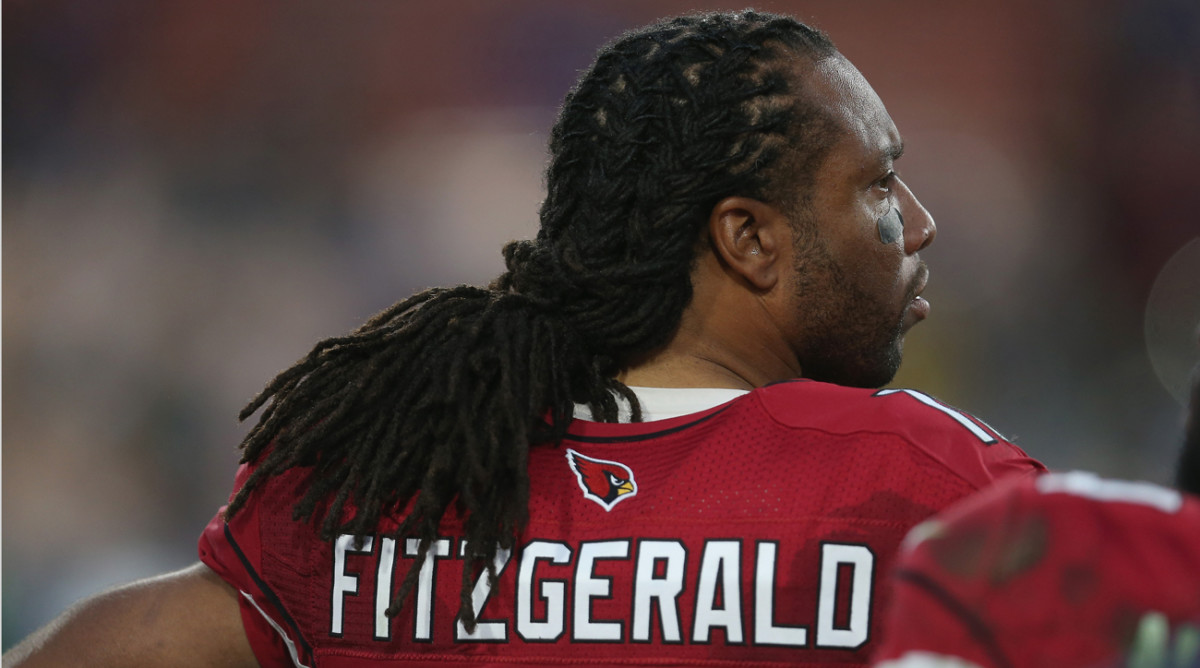 ON FITZ AND THE CARDINALS
Another prime example for not playing 18 games in a season was David Johnson's injury yesterday. That was a terrible sight in a tremendously disappointing season for us Cards fan. Also surprised you didn't mention Larry Fitzgerald as possibly retiring. Also, did you know the Cards were the only team to finish in the top 10 this season in total offense and defense that did not make the playoffs? In your history of covering the NFL, have you ever seen a team completely derailed by their special teams like the Cards were this year?
—Dusty T.
 I did owe Larry Fitzgerald some notice this week and that was bad on me. I plan to make amends Monday on a few end-of-regular-season notes that I missed. I feel for Johnson. What a year, and to have him end it on the sidelines was a bummer. Agreed on the kicking game—an unmitigated disaster. Cost them three wins, easily. That's why I think Bruce Arians opens up the kicking competition.
• VON MILLER'S SENDOFF TO GARY KUBIAK: The Broncos linebacker pens his own farewell to the outgoing Broncos coach
KICK RETURNER IGNORING THE BALL
I am a diehard Steelers fan and I remember one game back when Barry Foster was a rookie (or his second year) against the Niners. The ball was kicked to him and he walked away from it. The announcers said he probably was thinking it was like a punt and that it was a dead ball, but the Niners grabbed it and ran it in for a TD, which didn't count because you could not advance it.
—Andrew
Thanks, Andrew. Phil McConkey, the old Giants' returner, texted on Monday to remind me it happened in a Rams-Giants game in 1984. Happy to hear from Phil, one of my favorite Giants from that era.
CHIP KELLY
I'm curious about your unflinching support of Chip Kelly. He had a winning lineup, and became a victim of his own arrogance in Philly with the losses of LeSean McCoy, DeSean Jackson and Jeremy Maclin, and nothing to show for them. And he took the job in San Fran, knowing full well there was nothing there. Sometimes great coaches can perform alchemy. But mildly above expectation isn't beyond reason for a worthy coach. He did not. I understand there was a quick trigger, but that probably had more to do with his connection to the ineptitude of Trent Baalke. It may be a mess in San Francisco but I'll be surprised if Kelly gets a head coaching job this year amid a sea of openings. Would you not agree?  
—Steve D., Toronto
Good points, Steve. I heard similar from other readers too. Allow me to retort:
1. My points about Kelly are largely two—that calling his tenure with two 10-win seasons out of three in Philadelphia a total failure is laughable, and that the 49ers acted precipitously in firing him after one year when they knew what they were getting when they hired him last January. I stand by both.
2. Kelly probably should have taken a gap year before taking the Niners job. The one thing he needs to do—and certainly must do now—is take a long hard look at himself and ask, "Why I have left people in two NFL team offices so fed up with me, and so anxious to be rid of me? What can I do to learn about myself as a coach and a people manager?" He has some weaknesses, and he needs to learn about them and learn how to get an organization on the same page. When you're Bill Belichick, and you have the pelts on the wall from world titles, you don't have to be concerned about that so much. When you're Chip Kelly, you do.
3. It is often repeated that the Eagles, and Kelly, gave away and got nothing for Jackson, Maclin and McCoy. Not altogether fair. Jackson, okay. (Though he was a disruptive player.) Maclin's not worth $11 million a year and the Eagles were wise to not pay what Kansas City did in free agency. That actually was an excellent non-signing. And though the McCoy trade was a bad one, the acquisition of Kiko Alonso in that trade was the key in the Eagles moving up seven spots in the first round last year to be in position to move up again and draft Carson Wentz. So I'd agree that his personnel acumen was lacking, but I would also say others in the organization had a role in those moves too. You can make the personnel point without making the point unreasonably and saying all those moves were dumb and netted nothing. Two might have been dumb, and one of the dumb ones helped you net Wentz.
GAROPPOLO'S FUTURE
Why would Jimmy Garoppolo take $10M/year to be a backup if he believes he can turn a one-year 'prove it' opportunity into Osweiler money? Would Aaron Rodgers have taken that deal with Favre in Green Bay? I just can't imagine a scenario where Belichick looks at an offer of a first-rounder and then some (conditional 2018 pick ranging from 2nd to 4th perhaps?), and turns that away in favor of convincing a starting NFL quarterback to stay on as backup, potentially losing that asset for no return. What, is he going to franchise the backup QB? He may need to turn around and use a first-rounder on a QB, but at least he'll have that guy under control for four years at much more manageable dollars, by which time we can all agree Brady surely will have to retire.
—Reuben, Boston
Garoppolo might not take $10 million a year; you don't know, I don't know. And Belichick might do exactly as you say. If Garoppolo says he definitely wants to start somewhere else in 2018 and will not take a so-called bridge deal as Tom Brady's eventual replacement, it makes sense for the Pats to deal him this off-season. I just know I would exhaust every possibility to make Garoppolo happy until Brady is gone because I think he's going to be a good quarterback in the league, and the Patriots think he's good enough to be Brady's successor. There are no guarantees that any of the college passers this year are that good. Draft picks on quarterbacks are crap shoots.
STEELERS ALSO RAN THE TABLE
Has anyone noticed that Pittsburgh ran the table with a 7-0 finish? Pretty good for being led by a cheerleader.
—Bill S.
Terry Bradshaw had that coming.
• Question or comment? Email us at talkback@themmqb.com.