Steve Tasker on Bruce DeHaven, One of the Best Coaches You Never Knew
The seven-time All-Pro pays tribute to his late coach, a special-teams genius who changed the game and changed lives
Bruce DeHaven, one of the best special-teams coaches ever in the NFL, died of prostate cancer last week, and his funeral is Saturday in Orchard Park, N.Y. DeHaven, a studious but effervescently amiable sort, coached for five teams, most notably the Bills during their AFC championship glory years. With the support of special-teams-loving head coach Marv Levy, DeHaven elevated the kicking game to a level of importance never before seen in the NFL. The MMQB asked seven-time All-Pro special-teamer Steve Tasker to write about why DeHaven mattered then, and matters now.
This should tell you what Bruce DeHaven meant to the Buffalo Bills:
Exactly a week before he died, I was going to visit Bruce at his home in Orchard Park. I knew it was near the end.
Word got out that I was going to go see him. Bruce Smith texted me and asked when I was going to see Bruce; he decided to fly in to see him. Then Jim Kelly found out we were going. He said, "I'm going too." Then Thurman Thomas found out, and he said he had to come too.
We had this bond as a team you don't see on many teams—maybe any other team. There's maybe the three best players on the team, all Hall of Famers, and they knew this coach on their team was hurting, and they just had to be there for him. Bruce was so important to them, even though he wasn't their position coach or head coach. I will always remember that.
We stayed with Bruce for about two hours. We were just laughing our asses off. He was in his bed, but was energetic and holding conversations with us, cracking jokes. At one point, he sat up and he said: "I have absolutely zero, not one, regret in my entire life. I coached hundreds of great guys and made a difference for a lot of young players in their lives. That's a good life. And that is why I have no regrets." That was an incredible moment.
He was so right about making a difference. He made a difference in so many lives—a huge one in mine; I owe so much of my career to him—and in the importance of special teams as a phase of the game that wins and loses games every week in the National Football League.
* * *
I got to the Bills in 1986, the same week Marv Levy was hired as head coach. I was picked up on waivers from Houston, and Marv was hired in-season to replace Hank Bullough. The next off-season Marv got to pick his coaching staff, and there was no question that his special-teams coach was a crucial hire. Marv was a huge believer that the kicking game could win games, and hardly any other team in the league believed that. In fact, until the mid-'80s not every team had a dedicated special-teams coach; coaches would divide the kicking and punting teams—maybe the receivers coach would have the kickoff team, the linebackers coach would have the punt-return team.
He made a difference in so many lives—a huge one in mine. I owe so much of my career to him.
Right away you could see the importance we placed on the kicking game. Bruce DeHaven was Marv's hand-picked assistant to coach our kicking teams, and it was amazing how much Marv valued special teams. Marv sat in our special-teams meetings every day. Every day. In all my years in football, even now seeing every team in the league in my work as a CBS color analyst, I can tell you no head coach does this … and Marv was doing it 30 years ago. So Bruce had to be good. And boy, he was.
We started blocking punts and field goals, and returning kicks, and covering onside kicks at the strangest times. We weren't the most talented team in the league, but Bruce's designs and schemes, and his homework, began to frustrate the rest of the league. The Bills were 4-12 in 1986, and we started 3-4 in 1987, and no one thought much of our chances when the defending AFC champs, John Elway and Broncos, came to Buffalo midway through that season. But that was the day our special-teams started to take the league by surprise. Robb Riddick blocked a punt for a safety midway through the second quarter to put us up 9-0, and then, on the last play of the first half, I blocked another one, and it rolled through the end zone for another safety. Our crowd went nuts. We went up 18-0 at the half, and the game was over.
That was just the beginning. We blocked two punts against Pittsburgh in 1988, one for a touchdown. We drove Don Shula crazy. One year Bruce told us to study Reggie Roby, their great punter. He was getting slower in his get-off times. Sure enough, I studied every Roby punt that season, got the exact point where his foot would hit the ball, and I got a Roby punt that week. Bruce could just see things, week after week.
• THE PANTHERS' SPECIAL COACH: Jenny Vrentas's interview with Bruce DeHaven before Super Bowl 50.
He was always thinking, playing the game of wondering when he could surprise the other team. So much of what he believed was, Do your homework, and at one point, you'll be able to use what you've studied so hard to accomplish.
I'll give you an example. Remember that wild wild-card comeback against Houston? We're down 35-3 early in the third quarter, but we go the length of the field, and bang-bang-bang, we score and it's 35-10. By that time we'd been to two Super Bowls so we had a lot of pride and a lot of confidence, and we just were not going to take this. Bruce had studied everything about Houston's return team, and he didn't think there's any way they'd be expecting an onside kick at this point. I mean, nobody would. You're down 25 points and you're risking giving Warren Moon another short field for him to kill you?
So we come to the sideline to get ready to kick off, and Bruce is like, "Surprise onside middle. But don't huddle up guys, don't huddle. Just act like it is another kickoff. Surprise onside middle." It's Bruce's call. Bruce goes and tells Marv the call, and Marv goes, "Okay, go with it." We went out, didn't huddle, just lined up, and I'm on the edge, and I've got to sell this by sprinting downfield, so the Oilers think it's a regular kick. We've worked on this so much everyone knows they've got to play their role.
So our kicker, Steve Christie, approaches the football and then just taps it, and it goes 10 yards. Their guy starts to fall on it, and Mark Pike, who was truly a great special teams player for us because he was so frickin' big and athletic, he blows the guy up. The ball pops out. Steve Christie falls on it. I will never forget our crowd in the stands then. They started to cheer. Not because they thought we'd win. But because they appreciated the effort of not giving up. We end up winning that amazing game, and I'll always think that onside kick was the huge play.
But if you asked me what was the essence of Bruce the teacher and Bruce the coach, I'll take you to a play from our third Super Bowl, from Dallas' first possession of the day. It was classic Bruce.
Before every game, he'd find a weakness in the opponent and teach us about it. Most of what he told us would work ended up working.
When I say Bruce was a good teacher, understand what he had to do every year: He had to take big college football stars every year and convince them that their pathway to the NFL was by being great special-teams players. I remember so many times seeing him talking to these rookies, asking about their families, asking about their wives and girlfriends, and gaining their confidence, and convincing them if they just did what he said and what he coached them to do, they'd have a good chance to have good NFL careers. Good teachers make their students believe they can learn anything.
So before that Super Bowl, we really studied the Cowboys. What a great team. We knew we'd have to make plays in the kicking game in order to win. And Bruce had a great play.
Before that game, like he did before almost every game, he'd find a weakness in the opponent and teach us about it. He'd say, "This will work." Or he'd say, "We got a chance. We got a chance." He said those things to us that week as we prepared for the Super Bowl.
The Cowboys' long-snapper in that Super Bowl, Dale Hellestrae, had been with us in Buffalo for three years, 1986 through 1988. Dale snapped the ball really well, but he had the same habit every time. He looked at the defensive front, looked down at the punter, looked back up, and then back down, waited for a second … and then snapped it. The week before the game, Bruce explained that to us. He said: "After Dale's head goes down, we're going to shift and they're blocking man-to-man. We got a chance at it." Why? Because when Dale dropped his head, his assignment didn't change. But everybody else's, when we shifted, would change. I lined up just outside the tackle, so I was wide, and when they snapped the ball I would step down into my gap. When Dale's head went down, I stepped into the gap and the guy next to me, Mark Pike, went around the center to the other side. His guard had to cross over Dale to go get him, so that guard slot was vacant.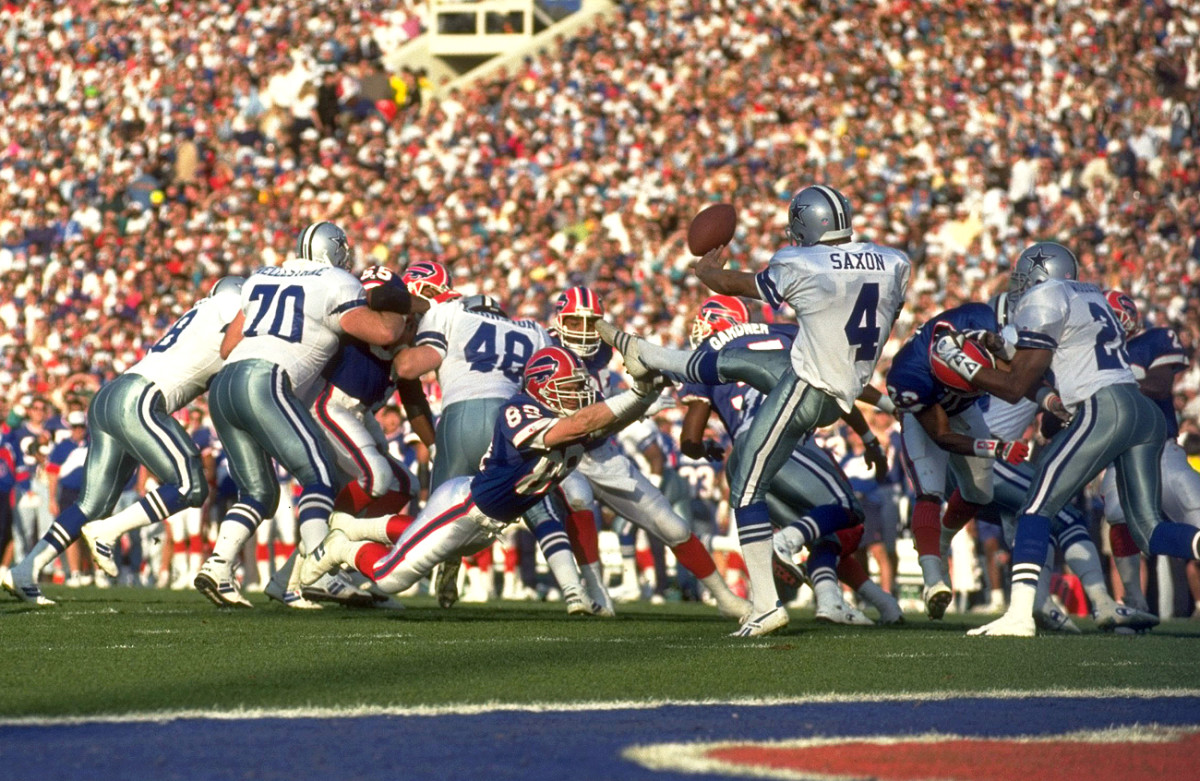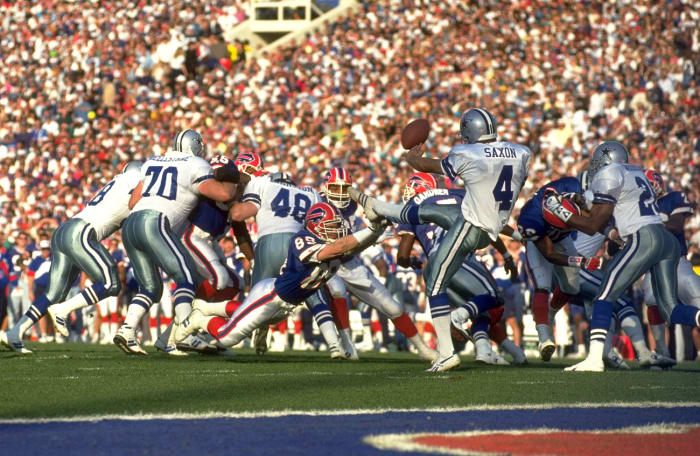 We figured that Pike would bust through the left side and I would get through the gap on my side, and the personal protector in front of the punter—Bill Bates, a great player—would take one of us. We figured it'd probably be Pike, and that's exactly what happened. Dallas goes three-and-out on the first series, Pike flips to the left side of the line when Hellestrae drops his head, the gap opens up, and I slip through the line to block the punt. We take over at the Dallas 16 and score to go up 7-0. Of course, we ended up getting killed 52-17, but that's the kind of impact Bruce had on games and on the sport of football: He'd look for the smallest things, and we'd study tape and work for hours on it.
That's what was great about Bruce, and why he was such a great teacher and coach: Most of what he told us would work ended up working. Year after year, he orchestrated our special teams to win games. So many teams learned from us—and Bruce was the guy who set the standard.
* * *
We were both from Kansas, and we talked about home all the time. Bruce loved music. For my 30th birthday, he gave me a cassette tape with country western, Southern rock. Vince Gill, Willie Nelson, Allman Brothers … but he was eclectic too. He put a U2 song on there. He loved it all.
I'm still reaping benefits of having him in my life. The work ethic, the looking for little clues to get an edge—he was an expert. He was so sad when a season was over. No one to teach, no one to coach, the next day. He was just a country guy with simple tastes. It didn't take much to make him happy. He loved the St. Louis Cardinals. He grew up listening to Jack Buck call Cardinals baseball games, sitting in his bed in a farmhouse in Kansas. He'd tell me that if you just held the radio in the right spot and put the dial in the right spot, you could hear Stan Musial and all his heroes at the plate, real faint.
So one night we're in Cleveland for a game, and Jack Buck was there to do the Monday night game on the radio. Bruce was fired up to meet him. Jack was great, talking to Bruce and swapping stories. And then sure enough, we had another Monday night game again, and Bruce goes up and says hi again. They became friends. And that night Jack goes: "Hey, I brought something for you." He opens his briefcase and gives Bruce a baseball autographed by Stan Musial. Jack Buck is not going to do that for some schmoe. Bruce made an impact on Jack, just as he made an impact on his players, and on this game.
When you endure the immense highs and lows of the NFL with a group of guys, a bond forms that never goes away. And as we sat there on that Tuesday saying goodbye to one of us, we didn't cry. We laughed at the good fortune we've had of being friends with one another. We still feel lucky, all of us, to be a part of a team that was known as a bunch of losers because we got to four Super Bowls and didn't win any of them.
What a gift it is to be in that family that has never forgotten that it is all a gift. It makes me wonder what in the world I would ever have to regret in this life. I know my friend Bruce DeHaven had zero—not one single regret. Maybe that was his last coaching tip to me. It's good if it was, because those last words are what I'll remember forever.
Question or comment? Email us at talkback@themmqb.com.