You Can't Take the Air Out of Tom Brady
The Patriots quarterback was gracious and elated as he received his fourth Super Bowl MVP trophy from Roger Goodell
HOUSTON — Less than 12 hours after winning Super Bowl 51, Tom Brady and Bill Belichick attended another press conference in a ballroom at the convention center downtown. They sat to the right of the stage, Belichick dressed in a dark suit and a purple tie, Brady in a gray sweater and jeans, as Roger Goodell stood at a podium and lauded them.
"The two gentleman that we have here have set new bars across the league," Goodell said. "Five Super Bowl championships, and four MVPs for Tom Brady. Cementing his legacy as not just a great Super Bowl performer but maybe one of the greatest players of all time."
At one point, Brady whispered something to Belichick that made him grin.
Oh, to be a fly on his shoulder.
• FOR THE BRADY FAMILY, 'REDEMPTION': Tom Sr. on why this win meant more than just a fifth ring
This moment was 750 days in the making, going back to the 2015 AFC Championship Game, when Colts linebacker D'Qwell Jackson intercepted Brady and tossed the football to the team equipment manager as a souvenir. The Colts accused Brady and the Patriots of playing with underinflated footballs, and Deflategate was born. For the next two years, sports fans and amateur physicists debated Brady vs. Goodell—and the ideal gas law—seemingly everywhere. People called Brady a cheater, and Goodell issued a four game suspension that a judge rescinded and then was upheld by appeal. Brady sat out the first four games this season, and Patriots fans walked around Boston in "Free Brady" T-shirts. When he returned, the media termed this season Brady's Revenge Tour. Brady's father told a local TV station that he believed Goodell had gone on a "witch hunt" targeting his son. Some said Brady was on a mission to win the Super Bowl this season, to make Goodell personally hand him the Lombardi Trophy.
And then the moment was entirely … anticlimactic. Goodell diffused the situation after the game, finding Brady in the crowd. Goodell tapped Brady, extended his hand and congratulated him. Brady shook his hand and nodded in appreciation. That was their only interaction, because Goodell presented the trophy to Robert Kraft, the team owner.
• PETER KING ON SUPER BOWL 51: The Patriots' legacy-cementing win, Tom Brady's place in history, plus the Hall of Fame vote and more
On Monday morning, though, Goodell was ceremonially presenting Brady with his Super Bowl MVP trophy, a silver football. "Tom, come on up, take the trophy," Goodell said, drawing a few nervous laughs from the media. Brady smiled and joined Goodell onstage and they posed for a few seconds for a photo-op as cameraman rushed the stage.
Brady spoke for about 15 minutes after that, and didn't mention Goodell once. One reporter asked a two-part question, the second of which was whether this was the first step in improving his relationship with Goodell, but Brady answered only the first part, about what had happened to his Super Bowl game jersey, which apparently had been stolen.
• FALCONS SUPER BOWL COLLAPSE: Andy Benoit on why Atlanta couldn't finish off the Patriots
"I put it in my bag," Brady said, "and when I came out it wasn't there anymore. It's unfortunate, because that's a nice piece of memorabilia. If it shows up on eBay somewhere, someone let me know. Will try to track that down."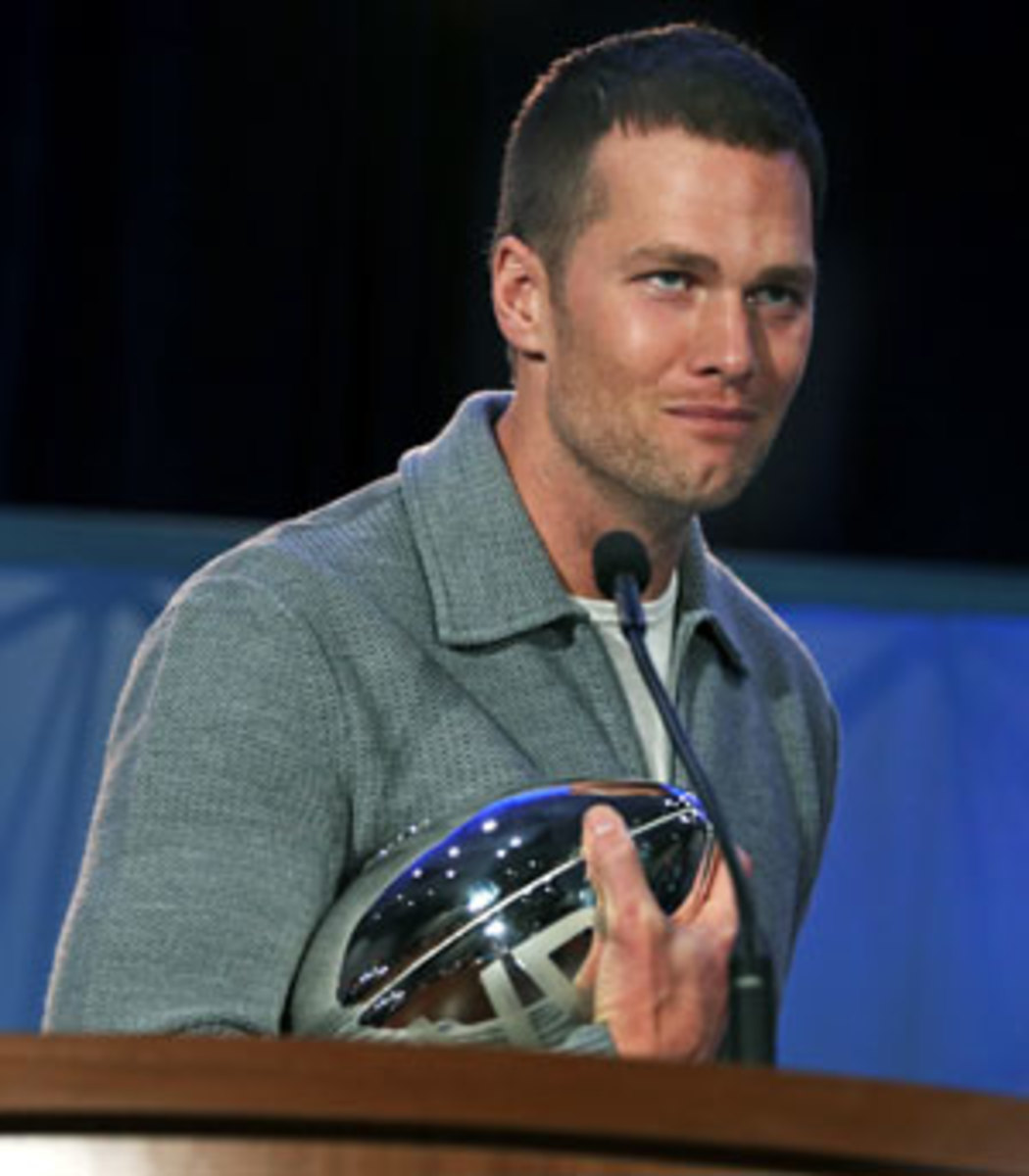 With that, Deflategate was lost in the cycle of more recent news. Brady was asked what he would do with his Super Bowl MVP truck (he might give it to running back James White.) He was asked about Julian Edelman's catch ("He's one of my best friends," Brady said) And he was asked about his mother, who, it was revealed after the game, attended the game despite battling cancer.
• SB 51: The Greatest Comeback Ever
Before the game, Brady had posted a picture to social media of him and his father kissing his mom on the cheek. Kraft had found Brady and told him, "We gotta win this one for your mom." Then afterward, Brady found his mother and embraced her. Then he posted another picture, of his family on the field, his mother in the middle, smiling. "She's been through a lot," Brady said on Monday. "Way harder than what I went through last night, way harder than what our team went through last night. … I was just happy last night to be able to celebrate with her. She hadn't been to a game all year. What a hell of a game for her to be at."
After he finished answering questions, Brady posed for pictures with the silver football once more. Then he tucked it under his arm. "I'm taking it home," he said, walking off stage.
• Question or comment? Email us at talkback@themmqb.com