Talking Football with David Baker, Who Delivers the Hardest Knock in the NFL
The president of the Pro Football Hall of Fame talks about last year's canceled game and what it's like to deliver the good news to finalists who've made the cut
David Baker is the NFL's closest thing to a fairy godmother. As president of the Pro Football Hall of Fame, it's his job on the eve of the Super Bowl to knock on the hotel room doors of the finalists who made the cut. If Baker pays you a visit, you're in. If he doesn't, well, better luck next year. The most common response to the sight of Baker at the door? Tears of joy. In advance of next week's enshrinement ceremony, Baker spoke to The MMQB about what's it's like to deliver the good news, how the Hall of Fame has moved on since last year's field conditions caused them to cancel the game, and whether he's ever found himself talking to all the busts when he leaves his office at night.
• ALL-TIME DRAFT: The MMQB'S Ultimate Football Fantasy
KAHLER: What is it like to deliver the good news?
BAKER: When I knocked on the door for Brett Favre . . . he opened the door, and I made a joke, like, Provided that you don't come out of retirement again, because then you'll have a five-year waiting period. And he laughed, and I said, You're going to go to Canton as one of the best players, coaches and contributors of all time. And you could tell by his body language. He put his hands in his pockets, and he kind of hung his head like a little kid in humility. And this is Brett Favre. We then take him over to the NFL Honors show, and we introduce the Hall of Fame class to the nation right in the middle of it. Our guys go up on stage and shake hands and we do this press conference afterwards. I stood next to Brett at the press conference and said, "How are you doing?" And he says, "Are you kidding? I just shook the hand of Roger Staubach!" You would have thought they would have known each other from somewhere, but he says, "You don't understand. All my life I dreamed of being Roger Staubach." And he paused for a second and said, "Now I guess I'm on his team." The reverence for it has been enormous.
KAHLER: What were the reactions from this year's class when you knocked on their door?
BAKER: Terrell Davis was crying, Jerry Jones was crying, Morten Andersen cried, I don't think Kurt [Warner] cried, but they were screaming and yelling. The knock on the door is very emotional. There is another emotional moment the day after the Super Bowl when we do our orientation. After about an hour and a half of talking about what the best four days in football are going to look like at the most inspiring place on earth, we then ask them to share something about their life that you wouldn't know from their statistics or their bio. And of all my favorite things I get to do, from giving the rings in the fall at their stadium, giving the gold jackets at the dinner, to knocking on the door, that is the coolest day because invariably, guys share things that are incredibly profound. I think in this class every one of them cried on that Monday. Sometimes it is about somebody who helped them make it when they thought they couldn't go on. I think of last year's six speeches (we had two posthumous) the word love was used 148 times. There are some deep emotions in this. Each guy has a unique story.
You've got Morten Andersen's story. Morten Andersen gets cut at 38 years old and he was close to the record for scoring. So he tells his wife, I'm going to stay in shape and I am going to get that record. He goes down to the park every day and kicks in his cleats and helmets and shoulder pads. Pretty soon, Pop Warner kids are playing, so he is kicking around those kids. Two years go by and he is still kicking down there and he's the old 40-year-old guy dreaming of playing between Pop Warner games. And all of a sudden the Falcons call him and he tries out against three young kids and he makes it and plays for another five years and obliterates the record. When he tells his story on that enshrinement stage, there are going to be all kinds of people, guys waiting for a job, sitting on a couch waiting for their call, that will be encouraged by that.
KAHLER: Were you surprised by any of the selections in the Hall of Fame class of 2017?
BAKER: What I've learned in my four years of doing it, is the process is hard. It's hard, and I'm genuinely surprised every year. I don't think there was any one year where I knew who was going to be selected. I get the envelope, I'm the first one to get it and it's always amazing. There are so many differences and different things. And really it is up to each voter—there are 48 selectors and then you have to get 80% of those guys. But each one of those selectors has to take into their account, what was important? I think what I have learned is that the process works really well and what I really respect is how it is revered, not only by the guys who make the selections, but also by those who are selected.
KAHLER: Do you have a favorite enshrinement speech from the four years you have been in this job?
BAKER: I am always thinking about television and timing and all that stuff, so any 12-minute speech is my favorite one. I would say, for me, here's another thing, when I come out of my office, my office is right next to the bust room. Last year, despite the things we do to keep the line moving, the line to go through the bust room a year ago was three-and-half hours long. People stand in line to do that, which is incredible! Right behind that we have a large screen that just constantly plays enshrinement speeches. Many times I have gone by there and it will be 11 o'clock at night and it will be just those busts and me. Did you ever hear John Madden's story that he is convinced that when the last man has left and the janitor has swept the floor and he turns out the light, that those busts talk to each other? And Derrick Brooks line was, I hope not, because I'm looking at Warren Sapp for the next fifty years.
I remember John Elway talking about his dad and his sister. Cris Carter talking about his mom and his grandmother, I certainly think a guy like Tony Dungy, talking about being the first African American coach, a guy like Fritz Pollard, an African American head coach in 1922, that's 26 years before Jackie Robinson stepped on the field for the Dodgers. There is just so much history and everyone gets to be a part of the story.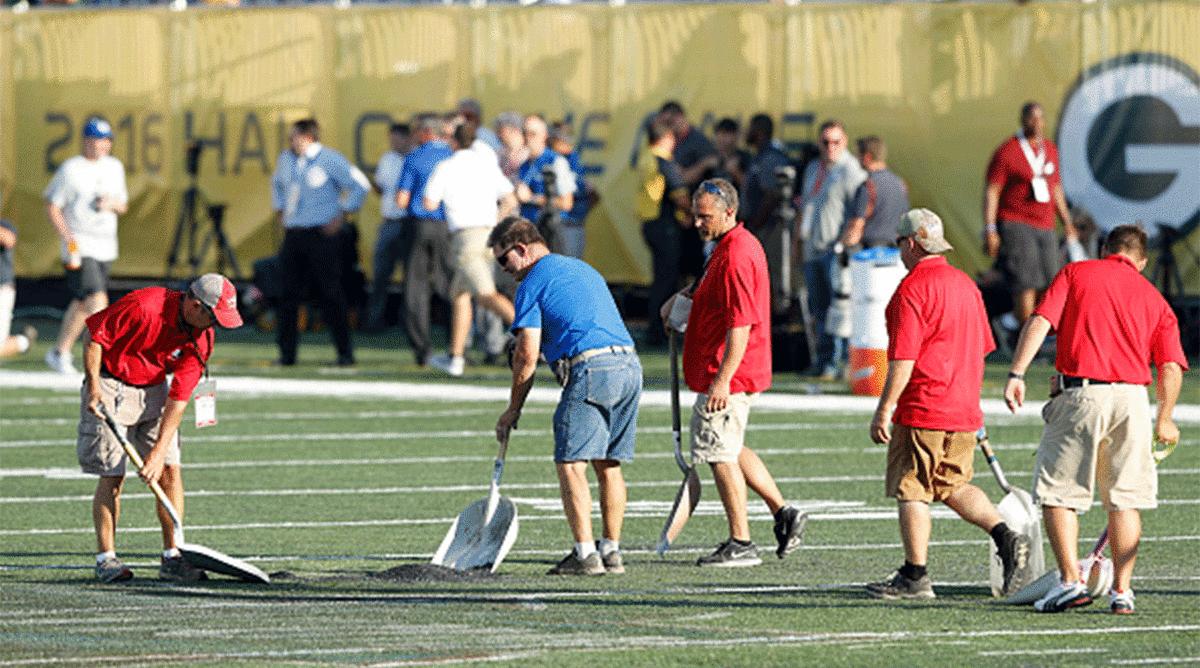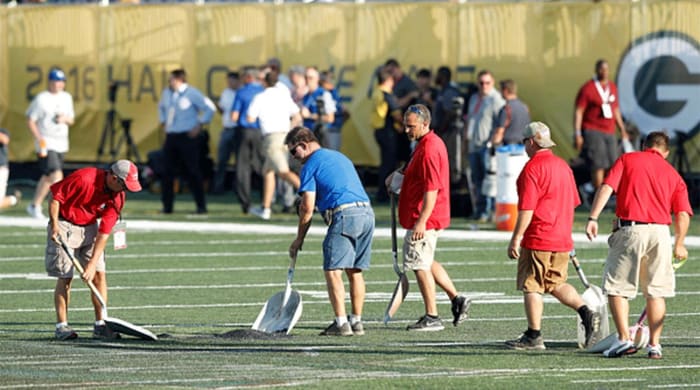 KAHLER: What did you guys learn from last year's canceled game to make sure that something like that won't happen again?
BAKER: First of all, I don't paint the field, but it is my responsibility to make sure it is painted right. So we take full responsibility for that. Second of all, we went to great lengths to make sure that we could take care of those fans that were at that ballgame. With a few exceptions, we think we've done that. Thirdly, to make sure that it never happens again, everything that is on that field this year is sewn in—it's not painted. Our mission is to honor the heroes of the game. Preserve its history, promote its values and celebrate excellence everywhere. When we say honor the heroes of the game, that's a preseason game. Andrew Luck and Aaron Rodgers aren't going to play in that game. My son, Sam, who played for the Atlanta Falcons for seven-and-a-half years, was a first-round draft choice in 2008 and ended his career during a preseason game at NRG Stadium against Jadeveon Clowney. Whether you are the 90th guy or the first guy, if the Hall of Fame doesn't protect that player, Good Lord, who would? That was a very difficult night.
KAHLER: What did your son think of your decision to cancel the game for player safety?
BAKER: I don't think I've said this publicly yet. My son Sam had been at the enshrinement, but he left at like 4 o'clock that day before the game. When I got home it was about 2 a.m. and I put my phone down on the nightstand and I sat down on my bed and loosened my tie, and I'm ripped. I get this text from him and he said, Hey dad, just landed. Heard what happened. My phone is blowing up with NFL players who respect the heck out of what happened. And that meant a lot to me. We went into the locker rooms, and I know it was disappointing to parents who wanted to see their kids play, or those guys 45-90, who are trying to make that squad. But in both locker rooms, guys clapped, so we take it real seriously. We have a beautiful new stadium. It is no longer a high school stadium in which an NFL game is played, it is now a small venue NFL stadium.
Question? Comment? Story idea? Let us know at talkback@themmqb.com