Indianapolis Colts Reset Mode: Leadership Builds Trust With Eye on Contending Again
Albert Breer's notebook begins with how new general manager Chris Ballard is working with head coach Chuck Pagano to get the organization re-aligned after back-to-back 8-8 seasons
INDIANAPOLIS — Chris Ballard never formally met head coach Chuck Pagano before Ballard interviewed for the Colts' vacant general manager post in January. The only interaction between the two through that process was a quick phone call.
So once Ballard decided to take Indy's offer, he knew exactly where to go next.
"I just remember accepting the job from Mr. Irsay and saying to him, 'I gotta go visit with Chuck,'" Ballard said, after a steamy morning practice at the team's facility. "I needed to make him feel comfortable about what we had in front of us, make sure that he knew I was going to give him and the staff every chance to succeed."
Ballard, like the rest of us, knew the history in the building. And that reinforced what the newly-minted personnel boss already believed—that a GM's relationship with the head coach is as important as any within an NFL franchise.
This, of course, is where Pagano's five-year partnership with ex-GM Ryan Grigson crumbled. There was squabbling and finger-pointing, and then an early 2016 reconciliation just when things seemed darkest. But an 8-8 season followed and led to Grigson's ouster, which left Pagano in the precarious spot of being the coach a new GM inherited.
There most certainly was baggage here. But Ballard didn't feel the need to address it with Pagano. Instead, he went to the head coach's office looking to get off on the right foot. Two hours later, Ballard left having felt that was accomplished.
"I said, 'Listen, we can say all the things we want to say, but the only thing that builds trust is time,'" Ballard continued. "We've just both have to work, and respect each other's jobs. He has to respect what personnel does and I'm gonna respect what coaching does, and make sure we have a bunch of honest conversations along the way to make sure we build the relationship the right way."
In this week's Game Plan, we'll have more on the NFL's important move to full-time officials; an explanation from Packers tight end/personality Martellus Bennett; a look at the offseason's offensive line crisis bleeding into camp; why Chicago burnt out Jay Cutler and Miami could rejuvenate him; and how Matthew Stafford is just the latest looking to prove that nearing 30 is almost irrelevant for quarterbacks.
But we start in Indy, where the Colts are in reset mode. It's been 30 months since they were blown out by New England in the AFC title game. The pair of 8-8 seasons that followed completely changed the paradigm for Irsay's franchise.
They aren't necessarily rebuilding. But what's happening here seems closer to that than it does the doorstep of the Super Bowl. And that could certainly make people uncomfortable—with some new, and some old mixed together on the football side—in a place that's dealt with its share of awkwardness over the past few years. Which is why both Ballard and Pagano knew what had to happen.
So far, so good.
"There wasn't one of those a-ha moments like, 'This is gonna be phenomenal,'" Pagano told me. "I can tell you six, seven months down the road from when he was hired that he's brought this building together, he's brought personnel and coaching together, he's unified everybody and the culture. It's us. We're all here working for one reason and one reason only and that's to win, and get ourselves back in a position to get in the playoffs and do what they've done here forever. 
"It takes time to build that relationship. It takes time to build trust."
Both guys know it's the wins and losses that will test it. There's no fast-forwarding that part. But the differences in the team's makeup are certainly visible to the head coach, and a sign of how the two are working together:
• Pagano himself says it: "We had to get younger and bigger and faster." The size difference is most notable in the front seven. Free agents Johnathan Hankins and Al Woods and rookie Grover Stewart make three additions on the D-line topping 325 pounds. Jabaal Sheard and John Simon are stout on the edges. The Colts won't be as easily bullied.
• To that end, Pagano took note of how Ballard has been stringent in sticking to prescribed physical parameters, something that can be seen in the Kansas City teams he helped build. "When we met, we (as coaches) said, 'Here's the measureables, here's the job description for the 3-technique, the nose, whatever, so they can go out and find out those guys," Pagano said. It's shown up in the athleticism of the draft class, with safety Malik Hooker, corner Quincy Wilson, running back Marlon Mack and Stewart all looking ready to play.
• In the aftermath of the player-acquisition phase of the process, Pagano could see the vision come to life: "Tough. Smart. Competitive. They're going to have the tangible things that you can see on tape—height, weight, speed. Football character. Guys that love to compete. Guys that love the game."
It helped that Ballard had background in Pagano's defense, since Pagano and Chiefs defensive coordinator Bob Sutton both coached for Rex Ryan. Learning offensive coordinator Rob Chudzinski's scheme, and what he wanted in each player, was a little tougher. But mostly, it just took time, as Ballard explains, "In draft meetings, we sat together for a whole week and just went through players. Tell me how this player fits. Can he play in our scheme? Do you have a role with him?"
It wasn't always perfect, but Ballard learned from watching John Dorsey and Andy Reid work together in Kansas City (despite how that ended), and Pagano had his ideal in having seen how John Harbaugh and Ozzie Newsome put it together in Baltimore, which Pagano calls "the blueprint." And it all came back to a pretty simple concept—the evaluators are picking players for the coaches.
"Making sure that I understood what they wanted in a player, that's always the most difficult thing," Ballard says. "You're not bringing players in for your ego. You're bringing them in so the coaches can be successful. You match what they want. … You can't just shove players down coaches' throats. There has to be a level of agreement from both sides. And then when there's a disagreement, we put the tape on."
"It was about us," Pagano adds. "It was about the organization. It wasn't about two sides—coaching and personnel. We're one. It was easy."
Now, getting the team back to where it was during the Bill Polian years won't be easy, and you don't have to look far to see recognition of that.
As I understand it, Andrew Luck's been dealing with pain in his throwing shoulder for more than two years, and his surgery was about getting that right for the next decade. So the Colts are going to take their time with Luck. He might be ready for Week 1. He might not. But they're going to be cautious as can be in getting him back.
There's confidence the organizational arrow is again pointing up, but also acknowledgement it'll take some time, which means it makes no sense to rush the QB. And that makes the approach here similar to one Ballard told Pagano they should take in relationship-building—allowing time to forge the partnership. 
Pro Football Hall of Fame: Your Arguments, Ideas and Complaints About Voting Process
"You're not going to always agree on everything. You have to be willing to listen, you have to be willing to grow," Pagano said. "It's not 'this for that.' It's communication, and it's talking, talking, talking. It's face-to-face. It's nothing else. You spend time, you develop those relationships, and they just get stronger. I'm not the man I want to be, but I'm sure glad I'm not the man I used to be. That's my mantra.
"Sometimes it works, sometimes it doesn't. Even through the midst of all of it, Ryan did a phenomenal job. We won a lot of games. We shared a ton of great moments together. Forty-nine wins, three playoff wins, some great comebacks, what he did in my absence when I was gone in 2012. Lot of great moments. So I've got no regrets. All you can do is look back and say, 'OK, how can I get better?'"
By the looks of it, he and Ballard have spent the past few months figuring that out.
FIRST AND 10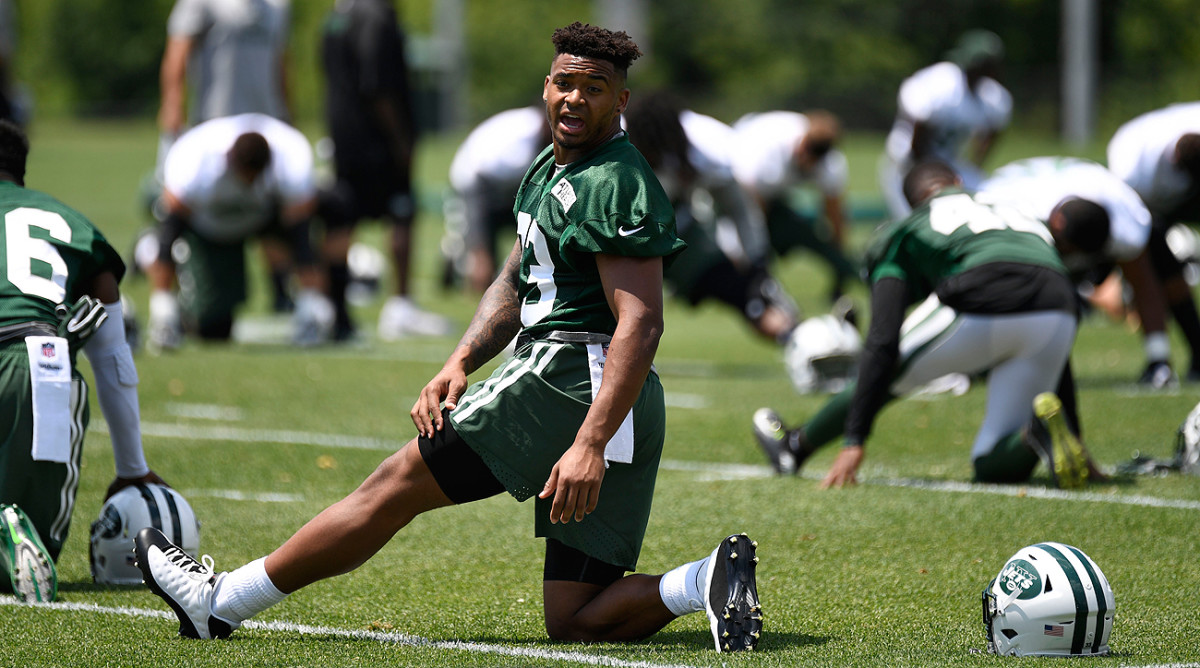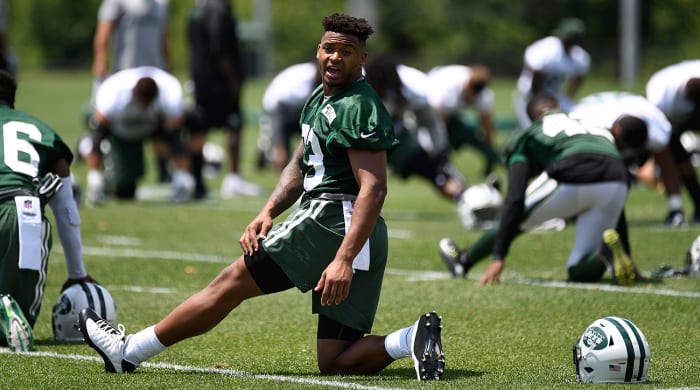 1. Forget the wins and losses, and forget the quarterbacks. The Jets just needed to add young talent to the roster after taking it down to the studs in February and March. So good news then. Early returns indicate that's just what they did in drafting safeties Jamal Adams and Marcus Maye inside the Top 40 picks.
2. The Jaguars' chances to improve, as it would be with a Tom Coughlin/Doug Marrone operation, are going to run right through the lines of scrimmage. The offensive line is, of course, dependent on Cam Robinson coming through at left tackle. The defensive line, on the other hand, has shown plenty of progress, particularly with Yannick Ngakoue and Michael Bennett flashing early in camp.
3. Carolina's coaches insisted that Kelvin Benjamin would be just fine when rumblings about the fourth-year star's weight were boiling over. It's easier to believe them after Benjamin spent the first quarter Thursday night boxing out the Texans' secondary.
4. A list of running backs who had a higher APY (average per year) than Devonta Freeman will on his new five-year, $41.25 million deal: Adrian Peterson, Chris Johnson, Steven Jackson, DeAngelo Williams, Arian Foster, Marshawn Lynch. Freeman is the highest paid back right now. But he's not closest to highest paid ever at his position. And that's sort of weird, but indicative of the running back market.
5. There will be a lot of attention on offensive rookies John Ross and Joe Mixon when the Bengals open their season in a month. Here's another name to watch: Tyler Boyd. Early in camp, the second-year receiver – who was close a lot last year – looks like he's ready to break through after a respectable 54-catch rookie year.
6. Speaking of the Bengals, I'd be surprised if they move AJ McCarron for anything short of a blow-em-away deal. Cincinnati could have had a second-round pick for him this offseason, and chose to keep him, with the logic being if they deal him, they'll have to spend a pick to replace him. And if they just keep him and let him walk in 2018, they'll get a comp pick back anyway.
7. Steelers GM Kevin Colbert said this week that Le'Veon Bell isn't helping himself holding out, and maybe that's true. But other people I know in that building, based on how Bell handled last year's suspension, aren't too worried. They've seen him be away and come back ready to go. They trust he can do it again.
8. Keep tabs on Titans' second-year Clydesdale Derrick Henry. Along with DeMarco Murray, the team now feels it has two legitimate starting running backs on roster, given the camp that the former Heisman Trophy winner Henry is having.
Monday Morning QB: Aaron Rodgers Never Wants to Retire (While Jay Cutler Changes His Mind)
9. Vince Wilfork probably doesn't have a real shot at the Hall of Fame, and maybe he shouldn't. But that he's in the conversation shows that sometimes stats shouldn't mean much. He had a total (!) of 16.0 sacks over his 13 years in the NFL. And he had a better career than a lot of players who have posted that many sacks in a single season.
10. Speaking of the Hall of Fame, now that Cowboys owner Jerry Jones is in, it's worth wondering if Jimmy Johnson will get into the team's ring of honor. I'd bet it happens before too long.
FOUR DOWNS
1. Will full-time officials make a difference? On Wednesday, the NFLRA ratified the implementation of full-time officials that the league had sought for quite some time. And the referee's union did it thanks to two pretty significant concessions that should at least help the NFL avoid the pool of qualified officials thinning out: 1) An official can't be compelled to go full-time; and 2) Full-time officials can maintain outside employment, provided the NFL remains that official's primary employer.
The concern from the jump with going to full-time officials was that many of the most qualified guys were also the most accomplished off the field, and, as such, the most likely to leave officiating if they were forced to focus completely on football. As it was negotiated, those officials can now either say "no" if they're recruited to go full-time or keep their toe in another pool if they want to do it. To me, that's a sensible solution to give the NFL the dedicated group it wanted while making sure the larger group is as strong as possible.
Some more details from the agreement? The set-up—ensuring that each field position is represented among the 21-24 full-timers and no more than five come from any one spot—should give the league a wide range of perspectives from game action. And to be sure of it, those employed will have to engage at the league level. The full-timers will be at meetings for the competition committee, general managers advisory committee, coaches' subcommittee and player safety advisory panel. They'll also be at the league office once a month, work OTAs and minicamps, help mentor new officials, participate in college and high school officiating clinics, scout lower-level officials, work at least one game day with Alberto Riveron and Co. on Park Ave., do video review work, and keep a constant dialogue with the league office. That's just in case you were wondering how they'll fill all the time.
"In-season, there isn't a whole more that guys can do other than what they're required to do to get ready for the next—studying video, looking at tendencies and all that," said NFLRA executive director Scott Green. "The big difference for them will be during the dark period (designated time off for all part-timers that runs from the end of the season until May 15)."
So what difference will you be able to see? As I wrote Wednesday, the league hopes that, through improved communication, the immediate affect will be more consistency from crew to crew. We'll see if that much is visible.
Full-Time Officials: The NFL Finally Makes the Move
2. The NFL's offensive line crisis. What have I noticed in a week-and-a-half at training camps with nine teams? How the offensive line storyline of this offseason (a bad draft class leading to the overpayment of a mediocre free-agent group) has carried right over into the dog days of summer. To refresh, eight free-agent linemen (none of them was Anthony Munoz) got $9 million or more per year in free agency, which was in anticipation of the aforementioned lackluster college crop. How lackluster? Well, for the first time in 12 years, no offensive linemen went in the first 10 picks of the draft; and for the first time ever (yes, I went all the way back to 1936, through 82 drafts), no offensive linemen went in the top 15. The first one off the board was 25-year-old Utah tackle Garrett Bolles, to Denver at 20.
So two Sundays ago, I was in Minnesota. And while the focus has been in their offensive backfield, the Vikings believe their hopes hinge on a line rebuilt around newcomers Riley Reiff and Mike Remmers. (Reiff was on the shelf that afternoon). Last Thursday, I was in Indianapolis, where Ballard decided to stand pat up front, and hope for development with the young players Grigson brought in, knowing that it'll need to be better whenever Luck, and his surgically repaired throwing shoulder, are fully functional again. On Thursday afternoon, I shot down to Cincy, where the Bengals are optimistic they can bounce back—so long as young tackles Cedric Ogbuehi and Jake Fisher grow into their roles. And I swung through Detroit on Monday, where the Lions were trying to figure out how to replace injured sophomore left tackle Taylor Decker.
And they aren't the only ones with a lot of uncertainty up front. Seattle. Houston. The Rams. The Jets. The Chargers. Denver. Carolina. And so on. The winter and spring seemed to signal a crisis in developing young offensive linemen in the era of the college spread. From what I've seen so far, this fall might well confirm it.
3. The sense in signing Jay Cutler.So what makes the Dolphins think that 2016 wasn't an aberration for Cutler? Well, for one, the then-Bears quarterback was never right last year, and Miami knows it. While his thumb injury first made news after Chicago's Week 2 loss to the Eagles, he actually initially hurt it in the team's Week 1 loss to the Texans, and he was still dealing with when he tried to come back in midseason.
After that, there was another factor—how the Bears' instability started to wear him down. Cutler was smart enough to see a bad situation when he was in one, and he had a string of those over eight seasons as a Bear. In that time, the franchise cycled through three head coaches, three general managers, six offensive coordinators, five different leading receivers and countless offensive line combinations. That's not making an excuse for Cutler, who certainly could have fought through all of it better. It's just an explanation of why Miami might be a better fit.
Those close to Cutler say he believes the Dolphins offense is the most talented group he's had since his early years in Denver. If you take that, and combine it with Cutler's affection for Miami coach Adam Gase—he had his best Chicago season in Gase's scheme and there's a relationship there going back a decade—you can see where there's at least guarded optimism that this one will be a little different for the 34-year-old veteran going into Year 12.
Jay Cutler Is Miami's Present, and the Future Just Got Interesting
4. Martellus Bennett explains. Last week, Packers tight end Martellus Bennett sub-tweeted this at Jets rookie Jamal Adams, after Adams said he "would die on the field" if it was his choice: 
So I figured I'd ask Bennett about it, and my first question was whether his feelings on Adams' comments related back to the Boston University CTE study, which is what Adams was referencing. He said it wasn't.
"The study was skewed," Bennett said. "There were variables in the study that weren't 100 percent either." What was it about then? "Find a higher purpose in life," he continued. "For them, they're young. But I mean, look, football's gonna end. It's inevitable. If you're lucky, it's three-and-a-half years, that's the average. Football's gonna end. One day, everyone has to retire. You're gonna have to stop playing, stop coaching, it's going to end. But life is going to continue after football. …
"For me, it just messes up the message for the younger kids growing up, to think that it's on the level where you have to die to perform on a high level, to be good at something. It's not true. It's not true at all. It's misinformation – us being on the platform we're on, we can't say s--- like that. Only one percent of kids from college go to the NFL. There are so many great opportunities. No longer do you have to dribble a ball or catch a ball to be great, those days are gone. There are multiple options for you to be successful. If you want to be a football player, great, you can be a good football player, you can be a great football player, you can still have a life. Football's not the end-all, be-all. This isn't a career, it's a job. A career is something you can do for a lifetime. You can't do this for a lifetime. … Think the owner would die for the team? No, they're gonna sell the team and continue with their life. I just think, I don't know, for me the logic and thinking is very immature. There's just room for growth."
Bennett is nothing if not interesting. It's good to see here he's taking an interest in where younger players are headed.
TRAINING CAMP LESSON FOR THIS WEEK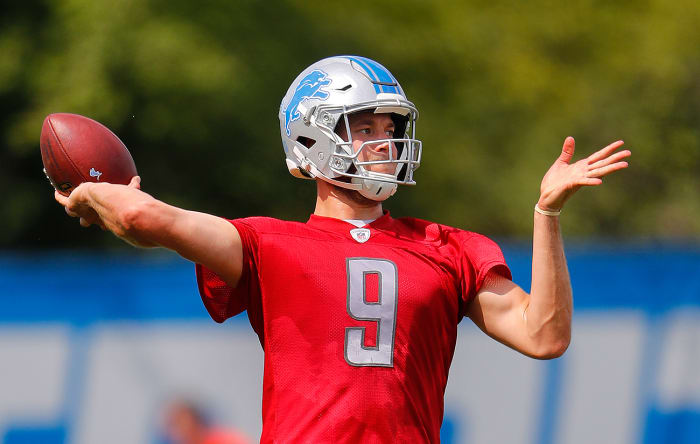 These days, it seems like every quarterback has had his own version of a swing coach from the time he could grip a football.
Matthew Stafford had one when he was a kid, too. The guy's name was John Stafford. And after those first few lessons from dad, Matt would just rely on the coaches for whatever team he was on, eschewing the outside help that so many guys seek out now.
"I was 8, and my dad was teaching me in the front yard," Stafford said. "I felt like I threw the ball pretty well. My dad understood the mechanics of throwing and got me into a pretty good spot."
It's hard to argue much with the results. Stafford won a state title in high school, started three seasons in the SEC, became the No. 1 overall pick in the 2009 draft, and has made two Pro Bowls.
And yet, 20 years later at 28 years old, he headed back to the well that his dad dug for him when he was in elementary school. Over the last few months, Stafford made trips to Orange County to visit with Adam Dedeaux and Tom House—who work with nearly half the starting quarterbacks in the NFL—and try to take his game to the next level.
Which is where we find our training camp lesson: Closing in on 30 years old used to matter for a quarterback, and it still does, but in a much better way. In today's NFL, players at that position are actually getting better after 30. Four of the league's top five in passer rating last year were in their 30s, and four of the last six Super Bowls were won by quarterbacks in their 30s.
Lions coach Jim Caldwell doesn't think that's a coincidence, either. In fact, as he sees it, his quarterback's growth last year is proof that he gets it the same way that Tom Brady and Peyton Manning did when they were around his age.
"It's a natural progression," Caldwell said. "I always talk about that window between the fifth year and the eighth year. What kind of climb are they making? Are they climbing? If they're climbing, you can tell you have somebody special and that's what he's doing at this point in time. He's always been a fine leader, he's just started to get a little more vocal, he takes a little more ownership of things, runs the show.
"He's always done all the little things to get better. That's the thing about him now, he's looking at the fine details of every single little thing that we do, and trying to find a way to improve it."
And if he needed motivation to take it to the next level, last year gave it to him. Stafford got off to a red-hot start, and his passer rating was 100.5 through three quarters of the season. A dislocated middle finger on his throwing hand caused his play to plummet in December, but having the taste of how far he could push his game (coordinator Jim Bob Cooter has helped) pushed Stafford to find new solutions.
Detroit Lions: 10 Things You Need to Know
One of those happened to come in the form of Dedeaux and House, who came at the recommendation of, among others, Falcons quarterback Matt Ryan.
"At a certain point of your career, you think you're playing a high level and you're just trying to find every little thing you can that could possibly make you better," Stafford said. "I wasn't going out there 100 percent dead set on, Hey, this is what I'm gonna do. I was going there on a see-what-they're-about basis. And I liked what I heard and saw, some of that stuff comes really naturally for me, and some of it I have to work extremely hard to get to.
"But it's nothing the average fan is going to be able to see. It's a lot of little, tiny tweaks, and then there's a whole off-the-field side of it that's a positive too."
Stafford didn't want to get into too much detail—he did say the off-field part focuses on self-evaluation—but he affirmed he's seen a difference.
Whether it works, in the end, remains to be seen. But just the act of making the effort to fine-tune everything is something that bodes well for Stafford's longevity, if for no other reason than it's how it's worked for a number of other quarterbacks of this generation.
"As you gain experience in this league, you keep finding ways to challenge yourself mentally," Stafford said. "That's one of the ways, just to be as detail oriented as you can possibly be. … I'm always looking for ways to get better, and this was an opportunity."
The Lions believe a healthy Stafford could easily pick up where the injury knocked him off last year, and show all that progress he made was sustainable. Which is to say they're pretty sure that monster contract they're about to give him will be worth it. Recent history could bring some comfort there too.
• Question or comment? Email us at talkback@themmqb.com.