Watson, Wilson, Wow: Seahawks Edge Texans to Top Wild Weekend of NFL Action On and Off Field
Richard Sherman on Deshaun Watson, after 41-38 Seattle win: 'The best game any quarterback has ever played against us, and we've played all the legends'
Pretty eventful weekend. ESPN reported 17 owners held a conference call to discuss blocking commissioner Roger Goodell's five-year contract extension. Two Texans players, in open rebellion against owner Bob McNair for what they felt was equating them to inmates, went on a wildcat strike for a day. The Browns lost in London, falling to 1-23 since passing on Carson Wentz, 0-8 since passing on Deshaun Watson. Defending rushing champ Ezekiel Elliott ran roughshod over Washington, then awaited word in New York this week whether he'd be suspended for six games.
A weekend in the life of the NFL, circa 2017.
Every one of those stories could lead this column, and until about 6:55 on the East Coast Sunday night, the sudden mortality of Goodell was my choice. But not up here. Instead: Seattle 41, Houston 38.
I'm not sure if it was the Arena-Football-like 952 passing-rushing yards between Russell Wilson and Deshaun Watson … or the cumulative effect in the second half of this game of tie, Texans lead, tie, Seahawks lead, Texans lead, Seahawks lead, Texans lead, Seahawks lead, Seahawks win … or Jimmy Graham and Wilson meeting on the sidelines after the game-winning pass and the boom mike catching them making this collective sound at their top of their lungs: "AHHHHHHHHHHOHHHHHHHHHHHHHHHHHHHH!!!" … or maybe the seven or eight heartfelt seconds Richard Sherman embraced Watson, the new great lion among NFL quarterbacks after only six starts, a sign of true respect by a cornerback who does not give respect easily.
"What'd you say to Watson?" I asked Sherman two hours after the game.
"I'll tell you," Sherman said. "'You played the best game any quarterback has ever played against us, and we've played all the legends. I respect how you hung in there and kept battling and battling.'"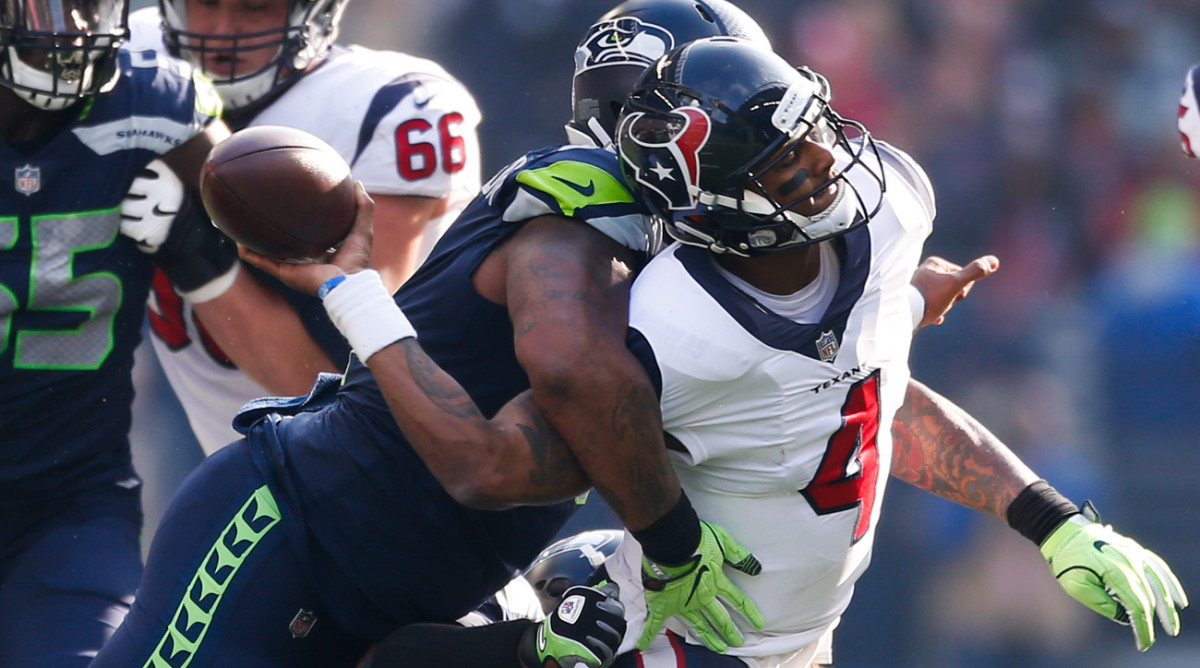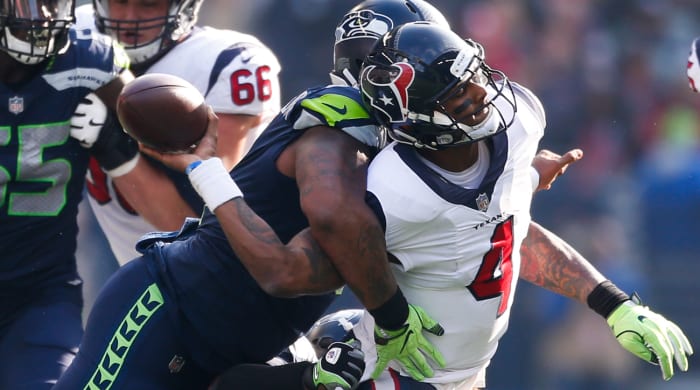 Think of that: The nucleus of this defense (Sherman/Thomas/Chancellor/Wagner) has been together since 2012, and it has played Tom Brady three times and Aaron Rodgers five times in those six seasons. Richard Sherman told Watson his game Sunday was better than any of those eight games Brady and Rodgers have played against Seattle since then.
And Watson lost Sunday. The winner played the game of his professional life. This was Wilson's 99th NFL game, regular-season and playoffs, and it was his first 400-yard passing game. He threw for 453, which is 68 yards more than his previous best.
Russell Wilson and Deshaun Watson Are Kings as Seahawks-Texans Is Game of the Year, Falcons Finally Catch a Break
Numbers … meh. The drama of the game, the sheer drama, in such a loud place. Watching Watson, 22, duel Wilson, 28, you wanted it to never end. Couldn't there be overtime? Quintuple overtime? The college overtime? The Buffalo Wild Wings never-ending overtime? In the last 11 minutes, Watson drove Houston 71 yards to go up 31-27, and Wilson drove Seattle 75 yards to go up 34-31, and Watson drove Houston 75 yards to go up 38-34, and Wilson threw an interception ("Just trusting it, and lettin' it rip—one bad play," he said), and it looked over. Houston ball, 2:49 to play. Two first downs, and they could run out the clock. They got one. Houston punted.
"No doubt we'd get it back," Wilson told me. "I had no doubt. In fact, I went to the bench to prepare for the two-minute drive. I went over to the receivers. I said, 'Hey, we're probably gonna get the ball back with maybe a minute-thirty left, probably no timeouts left. Maybe one timeout. Be ready for these calls. Be ready for this, be ready for that."
Seahawks ball, their 20-yard line, 1:39 left. No timeouts. "That was cool," Wilson said. "It actually happened that way."
On first down, Wilson, who throws one of the prettiest deep balls in football, lofted a tight spiral 52 yards in the air, straight down the middle, to Paul Richardson, running a skinny post. "My second read there," Wilson said. But Richardson was single-covered, and Wilson knew, jumper that Richardson is, he'd have a good chance at a 50-50 ball against safety Marcus Gilchrist. Two plays later, no one covered Graham, trolling the middle alone, and Wilson hit him for the easiest touchdown of the day.
"This game's one of the best for sure, one of my favorites," Wilson said. "All I know is it was THIS game, the only game today that mattered. The only one. If you have that mentality, hopefully all the good games will add up."
With Questions About Owner Bob McNair Swirling, Texans Put On Offensive Show Against Seahawks
This was an emotional game for Wilson. Graham is his best friend on the team, and before the game, NFL Network's Ian Rapoport reported the Seahawks have had discussions with Houston concerning left tackle Duane Brown; Rapoport hinted that Jimmy Graham might be on the trading block for Seattle. Seattle GM John Schneider said Sunday that Graham would not be traded. In any case, Wilson's very aware of the world and the business around him, and he certainly knew of the report, and certainly reveled in the fact that Graham, who has underachieved in Seattle, was the receiving hero of the game, with two touchdown catches in the fourth quarter, in the game right before Tuesday's trading deadline. 
Knowing Wilson, there's no way, even for a good left tackle, he'd want Graham out. Graham was in Wilson's 2016 wedding. Wilson went to the funeral of Graham's manager and mentor in 2015.
Knowing Seattle GM John Schneider, if he thinks he can get a tackle like Brown, just coming off a long holdout in Houston, and the most vocal of the Houston veterans against owner Bob McNair after McNair's "inmates running the prison" remark in ESPN The Magazine last week, he'll find another way. The Seahawks are snug up against the salary cap, and if they want Brown, they may have to redo Brown's deal and redo some of their own contracts. That's, of course, if Schneider can find a deal to satisfy the Texans by the 4 p.m. ET trade deadline Tuesday. My money's on Schneider.
It may be moot. But I don't think so. Schneider is one of the most aggressive GMs in recent NFL history. He knows his offensive line is the major Achilles heel on the team, the one thing standing in the way of what could be the last deep playoff run for an aging defense. To beat Philadelphia's outstanding front seven, Schneider knows he might have to go get a tackle by Tuesday's deadline. Joe Staley's overpriced in San Francisco (and suffered a reported suborbital fracture under his right eye on Sunday), and Cordy Glenn not likely to be freed up in Buffalo. It might be Brown or Colt Anthony Castonzo … and Brown's better. We shall see.
Wilson made sure he found Watson on the field after the game. "He's a special, special player, and I'm going to love watching him play in the next few years," Wilson said. "He was so good today, so special. I told him on the field, 'God is good. Keep putting the hard work in. It'll keep showing.'"
Saints, Seahawks, Eagles: Undefeated in October
Wilson is special too. In a crowded field led by Philadelphia quarterback Carson Wentz, Wilson's an MVP candidate for getting Seattle to 5-2 while playing several Sundays in survival mode for getting hit so much. In this game, he put up 41 points … while his running backs rushed 16 times for five yards. That is not a misprint.
Maybe Watson studied Wilson playing hurt. He was doing it too. Sherman was impressed that, late in the third quarter, Watson seemed to hurt his ankle or calf, and it didn't affect how he played the rest of the game. During a TV timeout, Sherman went to Watson and told him, "Hang in there! Ain't no time to come out of the game!'"
Said Sherman: "My God, Houston's so lucky. By next year he's going to be a top-five quarterback in this league, and that includes the two big dogs [Brady and Rodgers]. He makes you dig to the deepest part of your competitive juices to beat him."
You know the biggest shame of this day? Because the NFL schedules cross-conference games once every four years, barring a Super Bowl meeting, Wilson and Watson won't face each other again until they play in Houston … in 2021. So keep this game on the DVR. Cue it up on some ugly February or March day. Maybe you'll yell at the TV the same way you did Sunday.
Andy Benoit and Gary Gramling wrap up the Sunday action each Monday morning on "The MMQB: 10 Things Podcast." Subscribe on iTunes.
• We have a newsletter, and you can subscribe, and it's free. Get "The Morning Huddle" delivered to your inbox first thing each weekday, by going here and checking The MMQB newsletter box. Start your day with the best of the NFL, from The MMQB.
• Question or comment? Story idea? Email us at talkback@themmqb.com.