Jimmy Garoppolo Trade: Questions and Answers on Most Shocking Deal of NFL Season
The fallout, from why Bill Belichick and the Patriots made the move to when the 49ers will start their new franchise quarterback
On Monday night at around 9 in Massachusetts, Jimmy Garoppolo took a call on his cell from a California area code. The news of his trade from New England to San Francisco broke earlier in the evening. On the phone was 49ers GM John Lynch, who welcomed him to the team. Lynch wasn't sure exactly how Garoppolo would react, moving from a two-time Super Bowl winner in his four NFL seasons in New England to the 0-8 Niners. Garoppolo took it okay. Better than okay, actually.
"You have no idea how excited I am," Garoppolo told Lynch. "When can I come out?"
In just a few hours, in fact. The Niners sent a plane to fetch him Tuesday morning, and he was meeting the press and his new organization late Tuesday afternoon, beaming in his red 49ers polo.
Lynch recalled the opening conversation Tuesday night over the phone from the Niners' Santa Clara offices. He didn't have much time to reflect on the shock of the previous 24 hours; he was busy restocking an injury-ravaged roster. But make no mistake about it: The Niners were shocked this happened. New England coach Bill Belichick hinted broadly Tuesday that the Patriots traded Garoppolo because they weren't able to sign him to a contract beyond this, the final year of his four-year rookie deal. That still leaves questions and answers regarding the most stunning trade of the season:
Why the Niners and not the Browns, the team many around the league felt would give more for Garoppolo? This deal apparently came together very fast, and without any leaks over the weekend or through the day Monday. Cleveland coach Hue Jackson loves Garoppolo. It's uncertain if there was any contact between New England and Cleveland Monday before New England made the trade with San Francisco. The Browns were led to believe in the off-season that the Patriots would not deal Garoppolo under any circumstances. Could Belichick have been doing Garoppolo a solid in not sending him to this quicksand franchise, a team where dreams go to die, a team with a 1-23 record in the last 14 months? Does Belichick still have hard feelings deep down against that franchise that fired him in 1995? Could Belichick have been thinking ahead, not wanting to send Garoppolo to Cleveland, then watch Garoppolo mentor Josh McDaniels get the Browns head-coaching job in the next year or two and possibly eventually become a formidable rival? (That last one's far-fetched.) Whatever the reason, the Niners were the beneficiaries of the offer. Lynch said it took him and coach Kyle Shanahan about 10 minutes to decide to pull the trigger.
The Most Significant Trade Deadline in NFL History
Why did the Niners do this now instead of waiting for the off-season to try to pry Shanahan favorite Kirk Cousins from Washington? "This was the proverbial bird in the hand,'' said Lynch, who wouldn't refer to any other options specifically. The Niners had no idea what Washington would do with Cousins because no one knows what Washington will do with Cousins, due to be a free-agent for the third straight offseason in 2018. Plus, Shanahan likes Garoppolo a lot too. He has an excellent release of the ball, and he's accurate downfield, and he's tough. In a growing offense, those attributes are vital.
When will he play? Garoppolo was meeting separately Tuesday night with quarterbacks coach Rich Scangarello and then Shanahan to take a crash-course in the Niner playbook. Complicating his transition will be the difference in verbiage; in many cases, traded players could go from old team to new and recognize some play calls. Not here. San Francisco's offensive line is missing both tackles and is totally beat up, which doesn't help. The 49rs play Arizona and the Giants, then have their bye, and then play Seattle. Smart money is on Garoppolo having three weeks in this lost 49er season to learn, and then he'd play Seattle after the bye.
Why'd the Patriots go counter to their organizational philosophy at quarterback? I simply can't understand why New England coach Bill Belichick did this now, trading a highly trusted backup and leaving the team with no credible backup plan when the only other quarterback on the roster is 40. Tom Brady's an incredibly healthy and fit 40, but he's 40. Belichick dealt Garoppolo for a high second-round pick. If the Pats kept him for the next three months as Brady insurance, they'd have gotten a third-round compensatory draft pick in 2019. That is worth denuding you depth at quarterback behind Brady? Granted, Brady's incredibly durable, and not likely to be hurt. But if he does go down, New England's season is done. With Garoppolo, they'd still be afloat. Odd decision, too, considering this Belichick quote ESPN Boston's Mike Reiss unearthed Tuesday, from May 2014, just after New England draft Garoppolo late in the second round. "I think organizationally … I don't think we would put together a team the way Indianapolis did it when they lost [Peyton] Manning and they go 0-16, 1-15 or whatever it was [actually 2-14],'' Belichick said. "I don't think that's really what we're looking for ... We want to be competitive even if something happens to a player at any position. I think depth is always important. You never know when you're going to need it. I don't think we'd be happy going 1-15 if we had an injury at one position. But other people have different philosophies." This move is a total about-face to that philosophy.
Lynch was philosophical about this nightmare season. "I think we got better today," he said. "One of my first conversations with Kyle before taking the job was about the quarterback. We both agreed you have to be great at the quarterback position. This gives us added confidence in our plan going forward. Tonight I'll lay my head down and go to sleep, and we'll still be 0-8 when I wake up. I know we've still got so much work to do. But this is a big piece."
NFL Trade Deadline 2017: Grading the Big Moves
Earlier, Garoppolo was finishing his media duties at the stadium—which is adjacent to the Niners' office and practice facility—and asked the team's VP of communications, Bob Lange, "Is there somewhere I can go so I can see the field?" Lange took him to a good vantage point, and Garoppolo stared out at the field for a full 20 seconds or so. This was his field now, and, barring an upset, the Niners would be his team. Finally, after sitting behind an all-time great, Garoppolo knows this is his time. He took time to soak it in. He's a mature kid. He knows this team is miles away from being good. But he's been an heir for four seasons. Now he'll get to be the man … and oddly, he'll be the man on the team Tom Brady worshiped as a kid. Heck of a story.
And now for your email...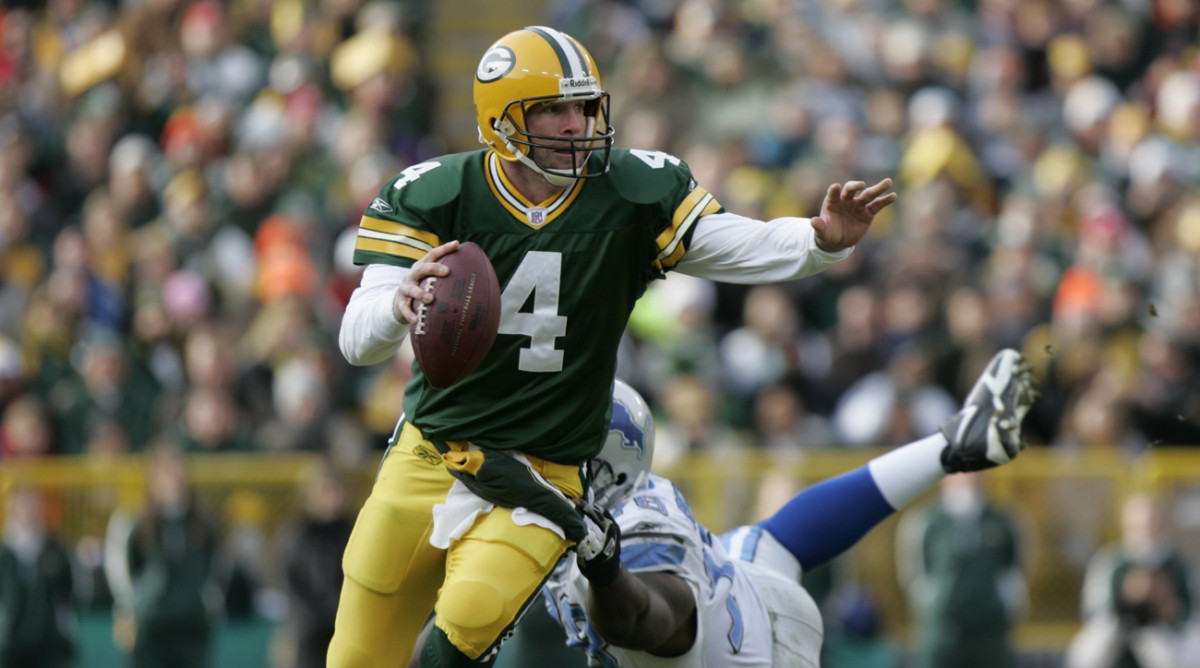 Much discussion about Sports Illustrated's "Football's Greatest" book I referenced Monday, including the debate on the top quarterbacks list, which including Brett Favre (eight) and Bart Starr (10), but not the current Packers quarterback Aaron Rodgers. Your feedback on the topic:
GET FAVRE OUT OF THE TOP 10
Much as I love Brett Favre for what he did for the Packers, I have a hard time putting a guy in the top 10 who holds the record for most interceptions. Yes, he was also up there on touchdowns, but yeah... not a top 10 QB. Rodgers' body of work isn't complete yet, but I feel like he will be Top 10 when it is over. To a certain extent, the modern pass happy era is playing a role as well, so the question I often ask myself when looking at this is how would these QBs have done in the earlier eras where passing wasn't so heavy a focus.  I think, truthfully, most modern QBs would have eaten some of that alive. ertainly Rodgers running ability would have worked in the wishbone and other old systems.​
—Gir
Well, okay. That's who Favre was. He won a boatload of games, and one Super Bowl, playing that way. He was there every Sunday for 17 years in a row, a claim no quarterback in NFL history can come close to matching. And there's this: Career touchdown-to-interception differential: Favre plus-172, John Elway plus-74. In my opinion, somewhere, Favre is absolutely, categorically, a top-10 quarterback of all time.
Watson, Wilson, Wow: Seahawks Edge Texans to Top Wild Weekend of NFL Action On and Off Field
​
BRADY'S COOL AT NUMBER ONE
Tom Brady leapfrogs John Unitas and Joe Montana. Good with me. Arguably, it could have happened last year. The five rings say a lot, the fifth as loud as the rest of them put together, and the future may hold more. I saw Unitas and Montana play (on television). True, as a child, I knew less about football than I know now, which is not much. But I well remember the excitement of Unitas; a godlike being dropping back to pass. Admiring him while growing up in the heart of Wisconsin defines alienation. He made Bart Starr look like the guy behind the hardware counter at F. W. Woolworths. Montana? Simply otherworldly. Brady doesn't quite have their sparkle, but he's got the rings, and he fought for them.​
—Duke, San Diego
A superb summary, Duke. Very smart. So much about the top quarterbacks of all time, or the top anything of anything, is subjective; I wouldn't expect a 49er lover to agree that anyone is better than Joltin' Joe. But you seem to be a good gauge, with no prejudice here. I think you're spot on.
WHY IS MANNING BEHIND BRADY?
I saw the top 10 list that had Brady as the best quarterback of all time and Peyton Manning as number three, and I asked the same question I've always asked, and have never gotten a satisfactory answer for: how can anyone say Tom Brady is better than Peyton Manning? Tom Brady was injured, and out for the year, and the Patriots still managed to go 11-5 with Matt Cassel, who did nothing after he left New England. Peyton Manning went out for the year and his team went from playoff caliber to worst team in the league overnight. He should have been the MVP that season. He came back, went to a different team, and made Denver a Super Bowl contender (even ignoring the final Super Bowl, where he was a shell of himself). I can't imagine what he would have done if he had an owner, a coach, and support around him. I think we overvalue Super Bowls, and not just because I'm an Eagles fan who is bitter about Donovan McNabb not getting the credit or recognition he deserves for how good he was when he was throwing to Todd Pinkston and James Thrash. If you take away the Super Bowls, I can't see a reason for Tom Brady being better than Peyton. He certainly isn't more valuable to his team.​
—Jeremiah
My gosh, Jeremiah.If you take away the Super Bowls. That's like saying, "I'd be an incredible sports writer if I actually worked in sports media." You write like Brady was along for the ride for the past 17 seasons as the Patriots somehow managed to win five Super Bowls. Brady, in his fourth Super Bowl victory, drove New England the length of the field twice in the fourth quarter against the No. 1 defense in football. In his fifth Super Bowl victory, trailing by 25 points, he led the Patriots on scoring drives of 75, 72, 25, 91 and 75 yards in the last 25 minutes of the game to score on every series and win. I have great regard for Manning. But I would not put him above Brady on an all-time quarterback list.
JAKE! THANKS FOR READING!
My son, who just turned 9, bought Football's Greatest with a gift card he received for his birthday. It's his favorite book and he reads it constantly. He loves it so much, and has learned so much from it, that he has used it to create his own all time greatest offense (with a depth chart), and is working on his own all time greatest defense.  His name is Jacob, he goes by Jake, and, while it's a longer story, he is named after Jake Delhomme. Keep up the good work.​
—Brian B.
Brian, please thank Jake for me. And I will pass along the praise to the producers of this book.
GOODELL'S EXTENSION
Peter, I completely disagree with with your statement regarding Goodell's extension: "...it's going to be hard in an era of huge NFL wealth to slash his compensation … particularly when the contract extension is going to cover the next labor negotiations, which could be hugely rancorous." He is worth only what the owners choose to pay him. Goodell could not make one-tenth of his current salary in any other job. He has grown revenue, but how much of that growth is attributable to him directly? Goodell is like a running back who leads the league in rushing, but is paid $20 million per year. You can get near that production for far less. To further the analogy, he is a RB who can't catch (discipline issues) and can't pass-protect (players/anthem). If he played for Belichick, he would be an easy cut. I can't believe I'm saying this, but I agree with Jerry Jones!​
—Joe. M
You're not alone, Joe. And I am on record as saying Goodell's compensation is way over-the-top. Having said that, if Goodell has been paid at that level for much of the past 11 years (and certainly in excess of $30-million annually at least over the past five), with the crucial CBA talks on the way, I would ask how you could slash his salary, say, in half right now. I do believe it would not be unfair to offer Goodell a certain number, with a huge incentive payment if the league misses no games between the end of this CBA and the beginning of the next one.
Ezekiel Elliott Suspended: A Win for the NFL, But Not So Much for Roger Goodell
​
JERRY JONES IS HUGELY SELFISH
Jones is the ultimate self-interest owner. He doesn't give a damn about Goodell's contract or the NFL except that Goodell has dared to suspend his guy. If that hadn't occurred, none of this would be taking place. As for Goodell, he has done the owners' bidding and now they are turning on him. Hey, I don't like some of the NFL investigative stuff and this "Protect the shield" nonsense, and certainly the player safety issue is huge although Goodell is the least likely commissioner who should be hung out to dry on this. What about Paul Tagliabue? He knew far more and did nothing. 
—Michael N.
All politics are local. Jones gets irate when his own team is involved. That's the way of the world, Michael.
ON ZACH MILLER'S NON-TD CALL
I think you're going to have to add "Worst Replay Call" to your weekly awards section. In the Bears-Saints game, Zach Miller caught what was called a TD on the field but was overturned in the booth. The announcers and FOX analyst Dean Blandino were surprised. No official explanation was given. If they are saying he didn't complete the catch I want to know how long he has to hold it. He went to the ground, rolled over, then INTENTIONALLY released the ball because of the pain from his knee exploding! This new officiating guy in New York, Al Riveron, needs to go. I'd love your thoughts.​
—Dave K., Albuequerque, N.M.
I watched that play several times—link here, with warning: it's gruesome—and I agree that there was not overwhelming evidence to change it. I thought it should have stayed a touchdown.
NFL OWNERS ANTHEM HYPOCRISY
When the owners—like Jerry Jones, Dan Snyder, and Bob McNair—require that all concession stands in their stadiums be closed during for five minutes before kick off when the anthem's played, then I'll take them seriously.  Especially Jones, who thought so much of the anthem that he sat it out with Liz Taylor . . . and never apologized. P.S.: You've been on fire this season. Keep it up.​
—Marc G.
Thanks a lot, Marc. Nice of you to say. What a great idea about the anthem and the concession stands. I support it unwaveringly, and with my hand over my heart. Great idea.
JIMMY G. TRADE
The analytic driven front office of the Cleveland Browns is quickly burning through any remaining patience or goodwill from the Browns faithful. It is almost impossible to wrap your head around their failure to acquire Jimmy Garoppolo. The fact he was available for a second-round pick simply shows Sashi Brown and company didn't do their homework.  They absolutely could have offered a better package of picks. Of course the more terrifying proposition is they did their due diligence and balked at that price. Since you were keeping track in your column this week, here is the full quarterback scorecard for this regime:​
2016
Sign Robert Griffin III. Pass on Carson Wentz, Dak Prescott. Draft Cody Kessler. Pick up Kevin Hogan after he is cut by the Chiefs.​
2017
Cut RGIII. Cut Josh McCown. Acquire Brock Osweiler. Pass on Deshaun Watson. Take Deshone Kizer. Fail to trade for Jimmy Garoppolo, or Jacoby Brissett for that matter.​
So what do the Browns have now? A bunch of draft capital in the hands of a regime that has shown zero skill in evaluating college quarterbacks, rumors that Sam Darnold will return to school, and Josh Rosen getting hurt again.
—Kovacs, Santa Barbara, Calif.
I feel your pain. I feel the pain of every Browns fan out there.
Jimmy Garoppolo Trade: Why Now, and Why the Niners?
​
JOE THOMAS AS COLUMNIST
I have never before responded to any published article but I loved the Joe Thomas article. His words carried me along for the ride of the various emotions he felt over this past week and provoked my own emotions as if I were experiencing them with him. In addition, he made me feel like I was sitting in the room with him as he told his story, a mark of an accomplished writer. This Panthers fan wishes him a speedy recovery. He represents why us fans became so passionate about the game.​
—Scott C., Charlotte 
I will pass this along to Joe. I agree: His first column for us was tremendous. Looking forward to more.
PERSPECTIVE OF THE WEEK
Joe Thomas is correct. The Browns will go on without him. Football will go on without him. Life will go on without him.  He is not important. You are not important. I am not important. The Earth is a speck in the universe, and is unimportant. But when I get home from my unimportant job tonight, my daughter will look up at me and ask for a hug. Maybe I am important after all. And so are you. And so is Joe.​
—Guy, Tucson, Ariz.
Guy, you are the best. Thanks.
• We have a newsletter, and you can subscribe, and it's free. Get "The Morning Huddle" delivered to your inbox first thing each weekday, by going here and checking The MMQB newsletter box. Start your day with the best of the NFL, from The MMQB.
• Question or comment? Story idea? Email us at talkback@themmqb.com.