Deshaun Watson's ACL Tear Coincides With Notable Spike in NFL Injury Designations
The Texans rookie is the latest in a string of franchise-level players to get hurt this season, and a deeper look into the numbers reveals a problematic trend
The NFL does not need another "crisis" on its hands at the moment, but Thursday's news that Deshaun Watson (torn ACL) and Andrew Luck (shoulder) would be sidelined for the remainder of the season added to an injury problem that already was a little outside the norm for modern league standards.
By my count, Watson and Luck make eight total "face of the franchise" players who have been lost to season-ending injuries this year. They join Giants wide receiver Odell Beckham, Packers quarterback Aaron Rodgers, Browns left tackle Joe Thomas, Chiefs safety Eric Berry, Texans defensive end J.J. Watt and Cardinals running back David Johnson as headliner names who have not made it through a complete season. One could make an argument that Patriots wideout Julian Edelman merits consideration at that level, as does Eagles left tackle Jason Peters.
But the concern doesn't extend to just stars: The MMQB looked at the total number of players placed on injured reserve at the Nov. 1 benchmark each season for the past five years. As of 7 p.m. ET Thursday, we found the following data from the past five seasons regarding players on either injured reserve, injured reserve-designated for return, the PUP list or the non-football injury list:
| | |
| --- | --- |
| Year | Players on IR, IR-DFR, PUP, NFI |
| 2017 | 295 |
| 2016 | 277 |
| 2015 | 233 |
| 2014 | 263 |
| 2013 | 252 |
This also seems to be the worst year for injuries to premier players in this window, with the next closest being 2015 when Cowboys quarterback Tony Romo, Chiefs running back Jamaal Charles and Ravens defensive end Terrell Suggs were out at the same time. (Note: Our data was compiled by looking at every team on Nov. 1, so some of those players may have come off IR or been added to IR following that date. Also, the "face of the franchise" designation is entirely subjective.)   
In my breakdown, I also tried to quantify how many of those sidelined players each year were borderline starters/solid contributors to quality starters. In my view, 2017 has not been as bad as recent years for sub-Pro Bowl talent.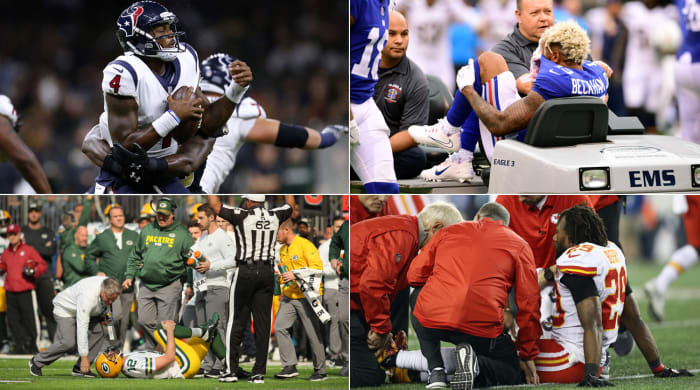 ​
I asked former NFL offensive lineman Geoff Schwartz, who now analyzes the game for SB Nation, ESPN radio and SiriusXM, why he thought the number was now bordering 300. Over his eight-year career, Schwartz suffered hip impingements, a broken ankle and a broken leg.
"I think it's bad luck," Schwartz said. "Some of these injuries have been horrific. Can't predict legs breaking, knees dislocating, etc."
Eric Winston, a 10-year veteran and NFL Players Association president, added that there's a growing awareness among younger players, especially when it comes to concussions. Winston, 33, is one of the dwindling members of the "smelling salts" generation, where head injuries were simply viewed as "dingers."
"The guys that come in, they've now played with [this awareness] their whole careers," Winston said.
Winston said, from his perspective, it also seems more prevalent for teams to draft injured college players and place them on the "non football injury" list, essentially using their rookie seasons as redshirt years.
Deshaun Watson Injury: A Painful Blow for Football
A survey of two player agents, who represent dozens of current and former NFL players, produced the following theories:
• General managers may have a few more opportunities through injured reserve to bring back players (for example, teams now have two Designated For Return slots instead of one) which means a handful of players who may have been released otherwise are still hanging onto the roster.
• Teams scout more players every year, which means there are more mid-level, or developmental players they feel are worth keeping around. So, a three- or four-week "injury" becomes a season-ending one to keep the player on your team.
• According to the 2011 collective bargaining agreement, "a player will have the opportunity to obtain a second medical opinion," which limits the sole authority of a team doctor, leading to a potential rise in diagnoses, or at least provides the player with more peace of mind in seeking a second or third opinion before a consensus among doctors is reached.    
In Peter King's Thursday column, he spoke with Houston Chronicle football sage John McClain, who said "everyone's sick" about the news that Watson will miss the remainder of his rookie season—and McClain certainly is speaking for more than just Texans fans. King noted that Watson "might be the most exciting rookie in recent NFL history." Less than a week removed from his epic shootout with Russell Wilson in Seattle, Watson will now have to let the recovery process work itself out.
Andrew Luck's shoulder: How Did We Get Here, and Will the QB Ever Be the Same?
Watson's presence—along with the rise of Carson Wentz in Philadelphia, and the development of Jared Goff in Los Angeles—helped negate the idea that the league was going to have a void of young quarterbacks to replace Tom Brady, Eli Manning, Drew Brees, Philip Rivers and Ben Roethlisberger when they're gone. This still might be true, but Watson checked multiple boxes: He was unflappable on the field, he was fun to watch and he was great for fantasy football. All of this matters.
If this is simply bad luck or, in the case of the larger IR total, a rise in administrative loopholes for general managers, it's striking the NFL at a time where it feels vulnerable. Watson's play was a shift in focus back to the field, a reminder of what made football such a popular game in the first place. The same can be said with all the other elite talent waiting with him for next season.
• We have a newsletter, and you can subscribe, and it's free. Get "The Morning Huddle" delivered to your inbox first thing each weekday, by going here and checking The MMQB newsletter box. Start your day with the best of the NFL, from The MMQB.
• Question or comment? Story idea? Email us at talkback@themmqb.com.