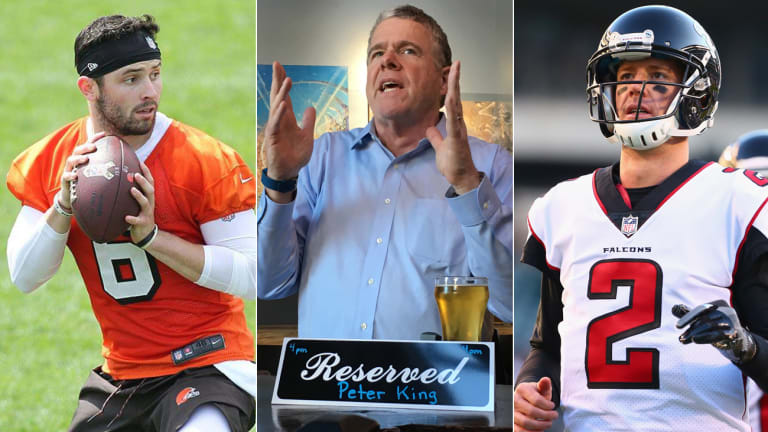 On Draft Fallout, Matt Ryan and MMQB Turning the Page
Peter King explains his recent decision to leave Sports Illustrated and his future plans for the Monday morning column at NBC Sports. Other sections include: answers to leftover questions from the draft; a Matt Ryan contract breakdown; why Mayfield-Pats buzz seems off; more
An emotional week for me: I told my staff at The MMQB and my bosses at Sports Illustratedthat I'll be leaving June 1—my 29-year anniversary of being hired by SI—and beginning a new job with NBC Sports in July.
This is an NFL column, and I'll get to the news of the moment in a few paragraphs. But for the past 21 years, this has been a personal column too. You've gotten to know way too much about the softball and field hockey exploits of Laura and Mary Beth King. You've been with me through the deaths of one mother, two brothers and two dogs. You've been with me through the joy of Laura's wedding to her wife, Kim, and now through ridiculously cute photos of their son, Freddy. You've been with me through some opinions you hate, through over-Favring and excessive Bradying, through some bad poetry, through a Westin-lobby-near-fistfight, and even through a little bit of football thrown in there. I'll have some career thoughts in my last column here in the coming weeks. But I did want to take a moment to explain to you how I came to this decision, and what my future is, and about the exceedingly bright future of The MMQB.
First: I am not retiring. My column will continue in the digital space at NBC Sports, very likely with a new name, beginning in July. So I'll continue to write a Monday column; it's my first love. In addition, I'll be doing what I've done for NBC the past couple of years: four to six feature stories for the "Football Night in America" pregame show. I'll be appearing with Mike Florio one morning per week on his "Pro Football Talk Live" radio show. I may be doing a few other things at NBC in the Olympic sphere or other places. My plan is for the Monday column to still be long and filled with football plus the strange detours of this strange brain. I'm not going to be writing a lot more than that. Some, but not a lot.
Second: This is not about any dissatisfaction with SI, or any worry about the future of a great franchise. I love the place. Always will. Sometimes it's just time. I am 60. My dad died at 64. I had one brother die at 55, the other die at 64 just months into his retirement. I don't want to continue the family trend. A few weeks ago my wife, Ann, and I were on the train from New York to have dinner with friends in New Jersey. A few minutes from Montclair, I saw on my phone that Saints owner Tom Benson died. I was the only one on our staff who knew Benson even a little, so I knew it was up to me to write the deadline obit. I sat outside the restaurant thumb-typing the obit on my phone. No complaints. That's the life. The 24/7-ness of the job, though, has worn on me, as has some of the silly and invented stuff that populates the football media (e.g., 2019 mock drafts 360 days before the 2019 draft). The monster must be fed daily. Enough.
Now, SIboss Chris Stone offered me a chance to stay and just write "Monday Morning Quarterback" with no other responsibilities. It was a great offer. I was tempted. But there was something else at play.
At The MMQB,we've got a group of writers who are blossoming and ready to do more—Jenny Vrentas, Robert Klemko, Andy Benoit (three originals from when we started the site in 2013), Albert Breer, Tim Rohan, Jonathan Jones, Conor Orr, Jacob Feldman, Kalyn Kahler. Average age: 30. I got hired at the magazine a week shy of my 32nd birthday. I think of the good things they've done already, the imaginative things, the smart things, and I know they're so far ahead of where I was when I started. If I stay, their development gets stunted because I'm the 225-pound gorilla. It's time for them too, and for a new generation of football writers. They deserve the spotlight I've been hogging. They're ready. I'm really excited for them.
I've been an NBC part-timer since 2006. The network has treated me very well, and I like the football team (led by Sam Flood) and the digital team (led by Rick Cordella) there. I think it's going to be a great fit. Look for me there—with a new Twitter handle I'll figure out; I'll miss @SI_PeterKing—in a couple of months.
There's a lot of emotion coursing through me as I write this, early Sunday morning. I almost made it all the way through my talk to the staff Thursday afternoon without breaking, but when I got to our youngest staffer, 24-year-old Kalyn Kahler, it got tough. She came on staff three years ago, straight out of Northwestern, as my editorial assistant/office manager/fledgling writer, and she's grown into a promising young multimedia presence. She oversaw our Football in America series last fall, handles much of our social media, and has written some strongpieces for us. She never has a bad day. She never says, I'm too busy. When I got to Kalyn, it sort of all hit me. All these young people, all of these young women too, so many of these young people different from my generation, all ready. It's just cool to see. So I choked up a bit.
I'll have time to reflect on this wonderful life in my final column, but for now, I wanted you to know why I did what I did. I wanted you know what great hands you'll be in, with such imaginative and vibrant young writers and an editing group led by Mark Mravic. This plunge into the unknown, while entirely different, is going to be energizing.
For now: Thanks for letting me be a part of your lives for so long. Onward.
Draft tributaries
When I made my round of calls Friday and Saturday, I wanted to get a few questions answered on what actually happened on some of the mystery picks, trades, action and inaction that still hung out there. Quick answers to a few draft issues:
• The Dolphins do not have quarterback buyer's remorse. Miami guaranteed $16.7 milion of quarterback Ryan Tannehill's team-friendly deal in March, which meant the Dolphins were locked into him for 2018. That didn't mean if somehow Baker Mayfield fell down the board that they wouldn't have tried to nab him. But I can tell you they're happy with the most versatile player in the draft—safety/corner/nickel/box linebacker Minkah Fitzpatrick of Alabama. This is Tannehill's prove-it year. After missing 19 straight games due to injury, he's got to play well and be sturdy to have a future in Miami, which is the way it should be.
• The Saints need Marcus Davenport to produce close to Bradley Chubb. The second-best pass-rusher in the draft cost New Orleans the 27th pick this year and a first-rounder next year. But say the Saints are a playoff team again, and pick in the 20s next year. I would ask: If you think a pass-rush prospect in a weak class for them is legit, wouldn't he be worth two ones in the bottom third of the round? After Davenport, the next guy for the Saints might have been Boston College's Harold Landry, and there wasn't much excitement for him at 27.
Why Are the Giants Still Building Around 37-Year-Old Eli Manning?
• The Bills moved from 12 to seven in the first round to get Josh Allen, and they tried to move from 12 to 6. The Colts, at six, did a great job disguising their intentions, because the league thought GM Chris Ballard wanted Roquan Smith there. But the Colts' research showed their quarterbacks being hit more than any other quarterbacks in football since 2012. So sure-fire guard starter Quenton Nelson had been locked in for a while at six, and Ballard got the last prospective early interior-line starter on their board at 37, Auburn guard Braden Smith. Interesting that in his pre-draft press conference Ballard said the offensive and defensive lines are how they'll build this team, and in the first two rounds, he took two guards and two defensive ends. Maybe those useless press conferences are worth something after all. Anyway, when the Bills called Ballard, he didn't have much interest, because he wanted Nelson so bad as a shield for beaten Andrew Luck.
• Joe Flacco's gotten the message. That's what I hear. And he's too smart not to have gotten it. Flacco, 33, understands the trade-up pick of Louisville quarterback Lamar Jackson means the Ravens have noticed his sub-.500 record and 82.4 passer rating in the past three years, regardless how much is his fault. The quarterback always takes major blame when an offense is lousy, and Baltimore's has been bad—29th, 12th and 29th in passing yards in the past three seasons. What's more, the Ravens are a boring offense. They excite no one. They're inefficient—and you can't blame only Flacco, because the receiving group has been consistently disappointing too. When I saw this pick, I said I bet this is about more than dissatisfaction with Flacco. It's about making the team exciting again in a market that has grown blasé, and throwing some change-ups with an electric quarterback. Flacco will get the first shot, and he may well play well enough to beat back Jackson. We'll see.
• You know what amazed some teams in the league? Where the tackles were picked. Notre Dame's Mike McGlinchey at nine to San Francisco, UCLA's Kolton Miller at 15 to the Raiders. Said one GM: "The biggest gap of our grades between any two picks in the first round was Roquan Smith at eight and Mike McGlinchey at nine. That's a premier player followed by a need pick of a good player." Interesting. Those two tackles, in another year, could have gone 29 and 35 instead of nine and 15. But it's a vital position, and there weren't many tackles in the draft this year—and maybe none who can plug-and-play.