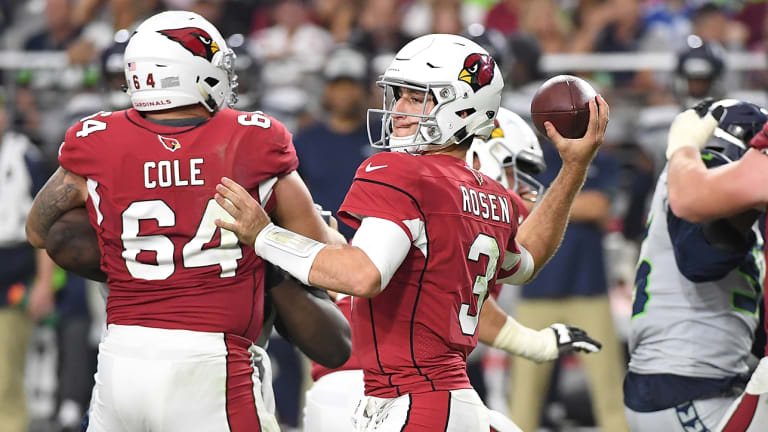 Josh Rosen's First Start Wasn't Good—It Was Great
His supporting cast struggled on Sunday, but the Cardinals seem to have found a good one in their rookie QB
On the Monday Morning NFL Podcast, Andy Benoit and Gary Gramling analyzed the first game of the Josh Rosen era…
GARY: Let's go Seattle-Arizona. This one was not beautiful, but it was interesting. Let's start with Josh Rosen. J.J. Nelson dropped a pass and he had another one where the receiver didn't get his feet down in the end zone. I feel like his receivers let him down on a couple of plays that would've made this one look a lot more impressive than it actually does. What was your overall impression of Rosen?
ANDY: I was highly impressed. I think that's the story of this game. I know they lost the game, they're 0-4 and it's probably going to be a lost season for Arizona. That was a great debut by the rookie quarterback. Chad Williams was the guy who didn't quite get his feet inbounds on the touchdown, Larry Fitzgerald had two drops over the middle early on absolute dime throws from Rosen, Rickey Seals-Jones had a drop as well. Rosen was phenomenal throwing firm touch passes outside the field numbers and he was equally as good throwing lasers between the field numbers. I was highly impressed. He knew where to go with the ball. He looked like that at the end of the Chicago game for the most part. He looked much better today than he did against the Bears. We thought Rosen would be the most pro-ready of the rookies and so far, he looks like he is.
If you want the latest episode of The Monday Morning NFL Podcast in your feed when you wake up Monday morning, then subscribe to The MMQB Podcasts. For non-subscribers, there is typically a soul-crushing lag.
Also on this week's edition of The Monday Morning Podcast:
1:26—Ravens handle Steelers with relative ease in Pittsburgh, Andy hates that Ravens trick formation
10:37—Rosen sharp in first start, Seattle's ground game wins out, Earl Thomas tells Seattle sideline they're No. 1 and what his absence will mean
17:22—Bortles seals one against struggling Jets
21:26—Mariota catches fire as Titans come back on the champs
29:18—Baker Mayfield's first start spoiled in weird, wild shootout
34:38—Ezekiel Elliott dominates and a sharper Dak does enough for Dallas
39:03—Bears make Tampa's defense look like they belong in the Big 12
44:14—Patriots' D finds its form in blowout of Miami
48:48—Falcons defense hopeless to stop Andy Dalton in another high-scoring loss
53:32— LIGHNING(ish) ROUND!
• Giants regress on offense, Saints feature Alvin Kamara with a touch of Taysom Hill
• Frank Reich's fourth-down call as Colts drop one in OT
• Packers do what Vikings were supposed to do to Buffalo
• Chargers hang on against game C.J. Beathard
1:00:50— Andy and Gary each pick their "Thing of the Week"
• Question or comment? Email us at talkback@themmqb.com.