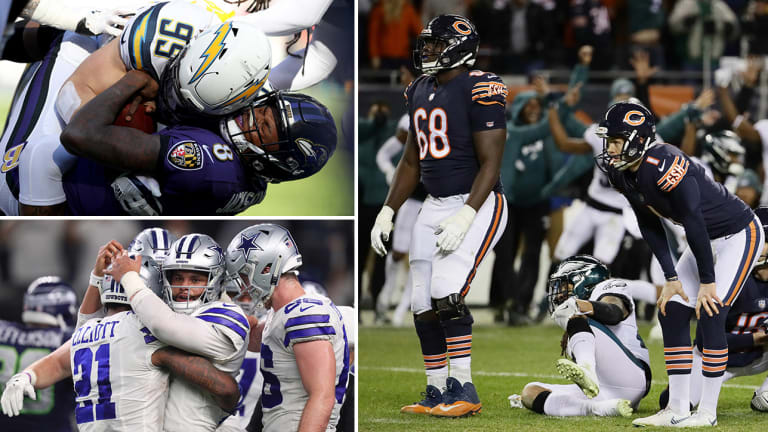 Wild-Card Playoffs Takeaways: The Cruelest End for the Bears, Ravens Offense Solved, Dak Gets It Done
Plus, Nick Foles proves he is made of magic, Trubisky delivers in the season's biggest moments, the Texans continue with their bafflingly poor play in the secondary, a star rises in Indy's defensive backfield, Ezekiel Elliott runs wild, Frank Reich's tremendous facial hair and more from the Wild-Card games.
Reacting and overreacting to everything that happened on Sunday afternoon. Get the full Sunday breakdown from Andy Benoit and Gary Gramling on The Monday Morning NFL Podcast. Subscribe to The MMQB Podcasts now and it will be in your feed first thing Monday morning
Things That Made Me Giddy
Nick Foles Can Do No Wrong: He had a couple of atrocious plays in the first half, and missed a couple throws in the second half. Yet, there he was again in the fourth quarter, making absurd throws while absorbing crushing hit after crushing hit. There's nothing left to say about it except that he is magic. He is made of magic. There is no other explanation. The Saints should be terrified, because it is now clear that Nick Foles will never lose another football game ever.
Trubisky's Big-Time Throw: That was a Nick Foles moment right there, staring down the gun barrel and connecting with Allen Robinson on a perfectly placed throw against a Cover-2 look. That was the throw of not only his life, but would be the throw of a lot of quarterback's lives. Absolutely magnificent—I had my doubts about Trubisky's play this season, but there's no doubt he delivered in the season's biggest moment.
Gus Bradley and the Chargers' Coaching Staff: Bradley and his unit got their second shot at the Lamar Jackson Ravens and took full advantage. They had three safeties on the field for most of the day on Sunday rather than using traditional linebackers, putting an emphasis on speed. The Ravens never had a chance in this game. I've always thought Bradley deserves another shot as a head coach, and maybe this will put some momentum behind that idea.
The Bears Offensive Line Won the Second Half: With the Eagles' pass-rush erased, the Bears started going to double moves to get big plays, and had layups against zone coverages that weren't built to cover for five seconds. (And yes, it did help that the officials, uh… "let them play," but that's football. Or something).
Dak and Jason Garrett Deliver: It was supposed the be the playoff-tested Seahawks rising to the occasion in a close game late. Instead, Dallas thoroughly dominated the fourth quarter of this game (well, until Byron Jones lost his mind on the Seahawks' final drive).
That Cowboys Answer: After Russell Wilson got Seattle into the end zone for the first time, it seemed momentous in a game with so little offense. But man, the Cowboys answered with stunning ease, a nine-play, 67-yard drive (the last two plays were on the goal line), including a well-designed route combination that opened Amari Cooper up for a 34-yard catch.
Melvin Ingram: It was a mildly disappointing regular season for Ingram (he was good, just not great). He made up for it on Sunday, when he was unblockable in a playoff game.
Pierre Desir: I could be wrong, but I feel Saturday was the first time I really heard a broadcast booth talk about him for more than a sentence. Desir isn't Revis 2.0—he has plenty of help built into that defense—but he absolutely deserved to in the Comeback Player of the Year discussion. He is a legitimate No. 1 corner in that Colts defense, and he won his battle with DeAndre Hopkins thoroughly on Saturday.
Allen Robinson Catches a Cheater: In Avonte Maddox's defense, he's probably not used to having to cover as long as he had to, but the Eagles' pass-rush was non-existent. The Bears got him on three double moves in the second half—one for a 45-yard play, another for a TD—as Maddox channeled his inner Jalen Mills.
Ezekiel Elliott Running and Blocking: He had 169 yards on 30 touches, and he threw a pretty good block on a Dak Prescott draw in the fourth quarter.
Michael Badgley: The (approximately) 74th kicker the Chargers have used over the pasts two seasons, the rookie delivered some crucial early points in what was shaping up to be a day for defense. His 53-yarder late in the first quarter pushed the lead to 6-0 rather than creating easy field position that the Ravens desperately needed. Badgley finished 5-for-6 on the day (the miss was a bad hold that was blocked), making him possibly the first Chargers kicker to ever make a postseason field goal. Though our researchers will have to check on that.
K.J. Wright's Ball Skills: Get out of here with your appeals for pass interference—the contact only happens because of the terribly thrown ball.
Neiko Thorpe Putting the 'Special' in Special Teams: And his name is an anagram of "hoke pointer." He batted a punt back into play to be downed at the 2, an 18-yard save and then some considering the Cowboys went nowhere and Dallas punter Chris Jones had a rush a short kick. The Seahawks got the ball on the Dallas 44 and scored nine plays later.
Tarik Cohen in the Return Game: His last kickoff return was a game-changing special teams player making a (shoulda-been) season-saving kick return.
Patrick Onwuasor: His two performances against the Chargers were off the charts good. Philip Rivers is going to see him in his nightmares. Philip Rivers has weird dreams.
Jaylon Smith Is Spectacular: Leighton Vander Esch is pretty good too, but Smith's versatility—spying, blitzing, dropping into coverage—was on full display Saturday night.
The Cowboys Defense Wrecked Seattle Up Front: The Seahawks stuck with the run for too long, but it's also been a while since they've been manhandled like that in the run game.
That Matt Eberflus Defense Playing With a Lead: A three-touchdown lead against a quarterback who couldn't make plays from the pocket was a layup for this unit.
Cris Collinsworth Grunts: Upon viewing replays of close calls. I don't care what anyone says, those noises are wonderful.
Frank Reich's Beard: For some reason it remains a polarizing subject in The MMQB offices. It is legitimately utterly tremendous.
Regrets
Cody Parkey Off an Upright and the Crossbar: That was unfair. The kick wasn't really that mishit—I've never seen one bounce quote like that. Trubisky and the offense made the exact plays they had to make on that final drive, also set up by Tarik Cohen making a play on the kick return. No disrespect to the Eagles, who certainly deserved to win on Sunday, but that ending was too much for the impartial football person to stomach. (Update that won't make Bears fans feel better but will get everyone off Cody Parkey's case: Treyvon Hester says Treyvon Hester tipped the kick, and no one would know about the physical and emotional sensations of the kick brushing off Treyvon Hester's fingers better than Treyvon Hester.)
Matt Nagy, You Gotta Use Your Timeouts: With the Eagles lining up for a first-and-goal in a one-possession game in the final two minutes, Nagy let them run 40 seconds off the clock. With that clock management, people on Twitter are gonna start calling you the new Andy Reid (and that guy sure can't coach.)
The Alternate Universe in Which Joe Flacco Came in on Sunday: It's not like the Chargers are an exotic, multiple defense that customizes their game plan every week. If Flacco came off the bench, the Chargers would go back to the straightforward defense they ran in 15 of their 16 regular-season games, going against a pretty mediocre passing attack that hasn't practiced together in a couple months. So, let's say the final score probably would have been around 23-17 Chargers if Flacco had played the second half.
A Disappointing Playoff Debut for Deshaun Watson: The hope was that Watson's national title game experience would lead to something a little bit better than what we saw Saturday. Instead, it was a lowlight reel with his biggest flaw coming out of Clemson—the inability to consistently throw with zip from the pocket—on full display, and it didn't help that he repeatedly broke himself down when he didn't have to. Fortunately, Watson has another 12-15 years in Houston to erase this memory.
Dak Prescott's Red-Zone Interception: You can argue it was wide receiver slipping out against a linebacker, but K.J. Wright is one of the best coverage linebackers in football and Noah Brown is basically a tight end. The play design didn't fool anyone. It's Noah Brown. Don't throw it.
Mitchell Trubisky Is Living Right: I'm sure the guys at Football Outsiders or PFF or someone who is simply less lazy than I am have this, but anecdotally, I can't think of a quarterback who threw so many dropped interceptions this season. I mean, uncontested interceptions that hit a defender in the hands and/or chest. In the first half on Sunday, Eagles corner Avonte Maddox somehow managed to double-catch one on the sideline, losing a gimme INT. Tre Sullivan had an even easier one in the end zone at the end of the first half.
Really, Eagles Defensive Backs Have to Catch the Easy Ones: There's not a whole lot else to say about it. This is a game that saw Bears rookie linebacker Roquan Smith make a great catch on a 50/50 ball. The Eagles dropped two interceptions that were catches NFL DBs should make 100 out of 100 times. One would have set up the Eagles in scoring position. The other would have taken the ball away from the Bears before they kicked a field goal.
The Texans Can't Cover Dontrelle Inman: Dontrelle Inman is a really good route-runner, but come on. He lit Shareece Wright and Karrem Jackson ablaze in the first half on Saturday.
And Aaron Colvin Was a Healthy Scratch?: Did he run over Romeo Crennel's dog? What is going on here? On his worst days, Colvin is Houston's second- or third-best corner. I believe in the Sasquatch, but I can not wrap my head around the concept of Aaron Colvin sitting behind the cornerbacking group the Texans keep running out.
Has Anyone Ever Tweeted a GIF of Steve Carell in The Office?: Or how about that Netflix movie Bird Box? Because sometimes I think about doing it, but I feel like it might be too original and creative. (Just kidding, I never think about tweeting.)
The Not Very Big Role of Doug Baldwin: I'm not sure how healthy he was—and I know Seattle's identity isn't to throw the ball around—but I'm astounded Brian Schottenheimer wasn't drooling over Baldwin working against Anthony Brown. It's 2018, you gotta score some points.
Michael Bennett Gives Up Three Points: I don't want to sound like a crotchety old man even though all three of those words would probably accurately describe me, but for Bennett, after a third down stop, to throw not one but two open-handed slaps at Kyle Long after the whistle in a January game, daring an official to throw a flag, is unforgivable. The Bears, trailing 3-0 at the time, kept their drive alive and got the tying points.
Lions GM Bob Quinn Got Rid of Some of the Weekend's Biggest Playermakers: Matthew Stafford is thrilled to be watching Eric Ebron and Golden Tate scoring key touchdowns in the playoffs. Better find someone good with that third-round pick, BQ!
Kenneth Dixon's Ball Security: The guy is an underrated talent who's been held back by injuries, but yeesh, three fumbles (two lost) on 75 touches this season.
Akeem King Losing Contain: The last we saw him, he was shutting down Travis Kelce on Sunday Night Football. He was part of what would kindly be described a mix-up (less charitably, a blown assignment), failing to provide outside contain on Ezekiel Elliott's 44-yard run at the end of the first half, setting up a Cowboys touchdown. It was an enormous mistake in a game where yards and points were at a premium.
Dalton Schultz Trying to Block Frank Clark: I know he's just a rookie and all, but Clark almost used Shultz to tackle Ezekiel Elliott for a safety.
The Seahawks' Gray Pants with Blue Jerseys: I'm not sure why it bothered me so much, but it did. It was the look of a team that was going to wear blue pants to match the shirts, but then maybe pre-game someone BMed before they could make it to the lavatory, so in a show of unity the entire team agreed to change pants. Because they're close like that.
Sebastian Janikowski's Hamstring: [Audible sigh] They're running out of NFL players who are older than me.
Moments We'll Tell Our Grandkids About
This Throw by Andrew Luck: Splitting the safeties, this was a dagger. Luck rarely leaves throws on the field, and the fact that he can deliver a ball like this is what makes him special.
The Dak QB Draw: It's disappointing for Seattle to give up that play on a third-and-14. But sometimes a team just blocks in up perfectly, the ballcarrier makes a play, and there's not a lot you can do about it.
This Foles Interception Is as Bad as it Gets: His first interception was a combination of bad ball placement and a great play by Roquan Smith. But the second one… unless Foles was trying to throw this ball into the stands and lost zip when his arm got scraped, this is an atrocious decision. The best-case scenario is a jump-ball on the back line to Nelson Agholor, which isn't a very good scenario. The more likely scenario was this:
That Doug Baldwin Catch: On fourth down which, in case you didn't know, is the last down.
That Deshaun Watson Fourth-Down Throw: The ESPN crew was critical of the call, but the call was fine (and, surely, if an opening for a QB draw had presented itself Watson would have changed the call at the line). Watson had to work around the enormous Margus Hunt with a look-away, but the best receiver on the planet was open for an easy pass-and-catch. That's just a bad throw.
Catch and Fumble, Replay, All That: I don't have anything to add about the review of the Anthony Miller catch-and-fumble. Well, except for: (1) That probably is a common-sense rule (if it's a clear catch and clear fumble without a recovery, play stands as incomplete), and we should all be for common-sense rules even if it's some creative logic to get there; (2) Amazing announcement from Tony Corrente, which was approximately, "After review. Catch. Play stands because. Uh. Third down"; and (3) Suddenly, the past two weeks, officials are wetting themselves in their eagerness to blow these borderline plays dead. Can you please say something to them, Al Riveron?
What We'll Be Talking About This Week
It Can Be Good to Get Your Heart Broken: Russell Wilson's rookie year, when the Seahawks lost on a last-second field goal in the conference semifinals in Atlanta, I distinctly remember Wilson at the podium after the game talking about how excited he was about next season (spoiler alert: they won the Super Bowl). The Bears have an elite defense that's coming back whole, and an offense that's a work-in-progress but shows promise. Once the mourning period is over, there would seem to be very bright days ahead for the Bears. (Update: Here's the old Wilson presser, and I do realize I'm a goober for liking this.)
The Next Evolution of the Lamar Jackson Ravens: That was as ugly as it gets, but something along these lines was bound to happen eventually. An option-heavy scheme is inherently built to out-execute opponents through misdirection, whereas a passing attack designed with the pocket as the launching point stresses defenses to cover an amount of space that they sometimes just can't cover. Considering this was supposed to be a redshirt year for Jackson, this run to the playoffs was gravy. And now the Ravens have a full offseason to evolve this offense (not scrap the whole thing) by beginning to expand the passing game.
Joe Flacco: Have you heard about Joe Flacco? All the kids are talking about him. He's most likely going to be elsewhere next fall as a bridge guy (Jacksonville? Denver? Washington? Miami?). It was a good run in Baltimore.
Time to Scrap the Onside Kick: It's a dangerous play, and now purely a desperation play. It's been in dire need of change for a decade, which means the competition committee should get to it in another eight years or so. The far-too-obvious solution they'll eventually come to realize: The "kicking" team should get a scrimmage play from their own 35-yard line. If they cross midfield, they retain possession. If they don't, it's essentially a turnover on downs.
Anthony Lynn: He won a playoff game in his second season as Chargers head coach. Which is weird, because he's not a 30-something handsome former quarterbacks coach.
Colts Are a Fascinating Matchup With Kansas City: The Chiefs will rightfully be favored, but Andrew Luck against that atrocious Chiefs defense, and the NFL's premiere bend-don't-break defensive unit against Patrick Mahomes, is a tough matchup for the top seed.
Where Does the Bears Offense Go From Here?: It was such an up-and-down year for their young quarterback, and it certainly ended on a high note with that final drive. Matt Nagy has to get together with Trubisky and figure out what he's going to be comfortable with, because for 70% of this season—including 60% of Sunday's game—he just seemed uncomfortable with what he was looking at.
Texans Need to Address the O-Line, but They Really Need to Address the Secondary: Sure, you wish the pass rush had done a little bit more on Saturday, but that Houston secondary can't cover anyone. And if they're not going to play Aaron Colvin—did I tell you, I can not believe they don't play Aaron Colvin—it's time to rebuild that back end from scratch.
• Question or comment? Email us at talkback@themmqb.com.