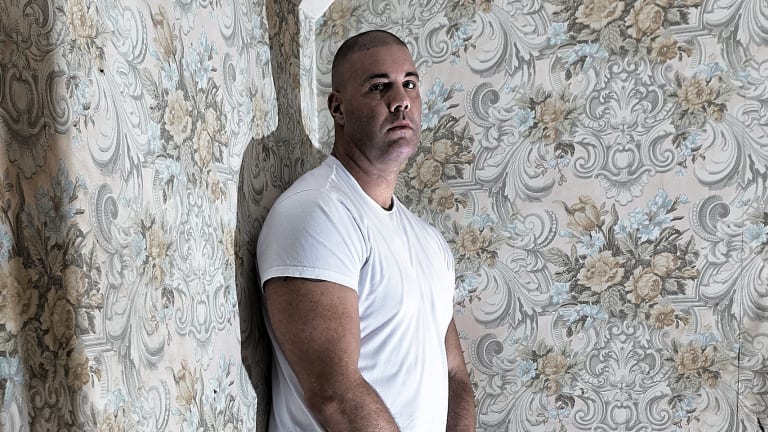 Jeff Hatch Was Dealing Fentanyl. And Helping Addicts. Then a Planned Visit from the VP Blew It All Up
Ex-Ivy Leaguer and NFL-er Jeff Hatch spent years telling audiences of his triumph over opioid addiction, to great acclaim. Then as the rehab center he worked at drew national attention, a tortuous backstory of cops, dealers and deception came to light. Now, for the first time, Hatch, the people who know him and the people who thought they did speak out at length
This story appears in the Oct. 7, 2019, issue of Sports Illustrated. For more great storytelling and in-depth analysis, subscribe to the magazine and get up to 94% off the cover price. Click here for more.
I. THE VP
On the morning of July 2, Eric Spofford awoke early, pulled on the gray suit he had bought the day before and left for work by six. He wanted to be on site when the Secret Service arrived.
At 34, with a buzz cut and thick, tattooed arms, Spofford is sometimes mistaken for a client of Granite Recovery Centers, the addiction treatment facilities he runs throughout New Hampshire. Growing up blue-collar in Salem, a town of nearly 30,000 just over the border from Massachusetts, Spofford started using Oxy at 14. By 16 he was dealing heroin. By 18 he'd have been dead if not for Narcan, the overdose-reversal drug. After getting clean in 2006, he started a sober living house, and in the decade that followed, as fentanyl poured onto the streets of New Hampshire, claiming close to 500 Granite Staters' lives annually, Spofford became an authority on the opioid crisis. He once testified before a U.S. Senate committee.
Even so, he was initially confused when a woman called in June, saying she was from the Vice President's office. "Vice president of what?" Spofford asked. She explained that it was that Vice President, and Mr. Pence wanted to highlight the opioid issue and was interested in doing that at one of Granite's facilities.
Now, 10 days later, it was the morning of Pence's visit. Air Force Two was scheduled to land around noon, carrying the Vice President and the Surgeon General. Pence would meet at the facility with former patients, deliver remarks on opioids and then head back to the plane. An advance team had spent the better part of a week securing the facility. A perimeter of dump trucks encircled the empty parking lot as a barricade. An enormous white tent sat atop Granite's rear loading dock, providing cover for Pence's fleet. Employees working the event had submitted their dates of birth, addresses, social security numbers and driver's license numbers for background checks.
Spofford had worked 16-hour days to prepare. Now, he had his best people on site, including his mentor, Piers Kaniuka, and his good friend and Granite's chief business development officer, Jeff Hatch, who sat out front in slacks and a 3XL polo shirt, checking in visitors. At 66 and 300 pounds, Hatch stood out in any crowd. The 39-year-old, who was a third-round pick of the Giants' in 2002, had his own comeback story: a first-team Division I-AA All-American Ivy League offensive tackle and a four-year NFL vet, he got hooked on painkillers, got clean in treatment and joined the staff of a recovery center in Louisiana. Brawny and charismatic, he appeared in documentaries—even acted in Hollywood for a few years—then became an advocate, writing articles, speaking to students and appearing with U.S. Senator Jeanne Shaheen (D-N.H.) to promote a bill to fund awareness of opioids' danger to athletes. If you were looking to put someone in front of cameras, Hatch was a natural choice.
By 11, the conference room had filled with 250 business figures, media members, past clients and politicians. Spofford waited, anxious and excited. Then, a little before noon, a White House staffer motioned him to the back. "There's been a situation," the man said. Pence's plane never took off. It wasn't going to. "We're going to walk out on stage," Spofford recalls the man telling him, "you're going to thank everybody for coming, introduce me, and I'm going to shut this thing down." And so he did.
Guests and staff speculated. A security threat? Russia? North Korea? A day later, the mystery deepened. "There was a very interesting problem that they had in New Hampshire," President Trump told reporters. "I won't go into what the problem was, but you'll see in about a week or two."
Spofford alternated between concern—was it something they'd done?—and disappointment. Eventually, though, he moved on. Until, that is, three weeks later, when, on the morning of July 22, a distraught Hatch motioned him into his office.
At this point the two men had known each other for a decade. They had vacationed together, celebrated each other's sobriety at AA meetings and spent long nights playing Ping-Pong and drinking Diet Coke. Spofford felt that he knew Hatch, or at least as well as anyone did.
"We have to talk some real s---," Hatch said. And then he began telling a crazy story—about drugs and cops and federal agents and a secret he'd kept for two years. When Hatch finished, Spofford hugged him and told him to go home. A couple of hours later, Spofford called his friend and fired him.
II. THE LINEMAN
Hope Hatch's son stood out from the start. Jeff came into the world big in 1979, at eight pounds, six ounces, and 24 inches. By kindergarten he towered over his classmates, and a youth basketball coach was recruiting him.
The height came from Hope. She was 6 feet; she had played center for a small women's college. Jeff's brawn came from his dad Paul, a one-time linebacker at Rennselaer Polytechnic Institute. High-school sweethearts in North Scituate, R.I., each had served during Vietnam—Paul in the Army, Hope as a nurse at Walter Reed. They settled in the upper-middle-class suburbs north of Annapolis, Md., where Paul got a good job in computer science.
As the Hatches tell it, theirs was a 1980s idyll of American life: Saturday-night pizza parties, church and Redskins games on Sundays. Jen, their elder child, rode horses. Jeff was a Boy Scout, artist and athlete, though not in that order. His friends included Mark Teixeira, the future Yankees first baseman, and Gavin Floyd, who would pitch for the White Sox. Every sport Jeff tried came easy. Tall, springy and long-limbed, he excelled at tennis and swimming. Basketball was his first love, though. By his sophomore year, he was 6'4" and dunking.
That summer he transferred to Severn, a nearby private school with a strong sports program. The football coach, John Beckman, soon sought him out. Jeff said he'd consider playing, but only if his mom signed off.
Hope had a no-football policy. She knew the dangers of the game all too well. Paul had hurt his back at RPI, ending his playing days. The injury lingered and, by his late 30s he suffered numbness in his feet, requiring spinal-fusion surgery. He never fully recovered. (By 42 he could no longer work. A lifetime of disability, prescription painkillers, and bouts of depression followed, but Paul remained active in family life. "He will always be my hero," Jeff would later say.)
Beckman proved persistent, though, and Hope relented. Jeff took to the game immediately. Few defensive linemen are big, strong and fast, but Hatch was all three, and he played with fire and joy. He was a sharp student too, with A's and B's, and a spot on the debate team. Colleges called. Good ones: Army, Navy, Brown. He chose Penn.
Doors opened, and not just in football. Jeff had started drinking as a high school freshman, invited to varsity parties. The alcohol filled a hole inside him, he'd later say in speeches. He'd been sensitive and awkward at times as a boy, despite his gregarious nature, and downing beers cured his feeling of not belonging. Now, away from home at Penn, he let loose: booze, weed, blackouts, moments of violence. Soon enough, he was selling a one-pound brick of weed out of his refrigerator.
Not that it affected his play. After switching to offensive tackle before his junior year, Hatch became a starter and an immediate force. In 2001, his senior year, Penn made the Top 25 and Hatch received an invite to the Blue-Gray Game, a predraft showcase, where he caught the eye of scouts. The Baltimore Sun described him as "a fist-pumping, headline-craving, limelight-loving offensive tackle from the usually staid Ivy League." Hatch signed with an agent, Alan Herman.
Life spread out before him. He was a soon-to-be Penn grad with a degree in political science, philosophy and economics. He was, he later told audiences, dating a former Miss Maryland. If his back ached at times, he assumed that was just par for the course. Besides, the media loved him. On draft night in 2002, an ESPN camera crew descended on the Hatch home, filming him for a special called "Hey Rookie, Welcome to the NFL." With the 78th pick, two rounds after taking tight end Jeremy Shockey, New York selected Hatch. He joined a team of big personalities: Shockey, Michael Strahan, David Diehl, Tiki Barber. "The one thing I like about him is he's mean," Marv Sunderland, the Giants' director of player personnel, told the New York Post.
On Herman's advice, Hatch refused to sign an injury waiver and sat out the first day of rookie minicamp. Only after general manager Ernie Accorsi guaranteed Hatch financial protection in the event of injury did he return, eventually signing a three-year, $1.4 million deal that included a $500,000 signing bonus.
Two weeks later on the second day of training camp, Hatch left the field with what the team called back spasms. Two weeks later, the Giants announced he had a herniated disc and needed surgery. He would miss the entire season.
And that, he'd later say, is when the addiction began, at least in earnest. During recovery, his doctors gave him Percocet, or maybe Vicodin; Hatch couldn't later recall which. The pills took away the pain, quieted both his body and his mind. Soon enough, Hatch found a guy in a strip mall in New Jersey who could get him more. Other times, he doctor-shopped, trading Giants tickets for pills.
Returning in 2003, Hatch struggled to regain his form. The athleticism that had always defined him—"the big guy who moved like a small guy," as New York offensive line coach Jim McNally recalls—no longer existed. He spent much of the season inactive or on the bench. Finally, with the team ravaged by injuries, he started the final four games at right tackle.
They would be the only games of his NFL career. In March 2004, the Giants released him, "admitting to an embarrassing mistake," as the Post put it, calling him "the player yelled at more often than any other" by former coach Jim Fassel. Hatch latched on briefly with the Rams, then the Buccaneers.