Winning Every Way Imaginable: 49ers Are Sitting Pretty in NFC Playoff Race After Outgunning the Saints
After winning with defense and a punishing ground game early in the season, the 49ers got a virtuoso performance from Jimmy Garoppolo on a day when they needed it. Plus, the Ravens' defense is back and looking great—but sadly, we can't say the same for the NFL's officiating, as some head-scratching calls blemished the AFC title game rematch.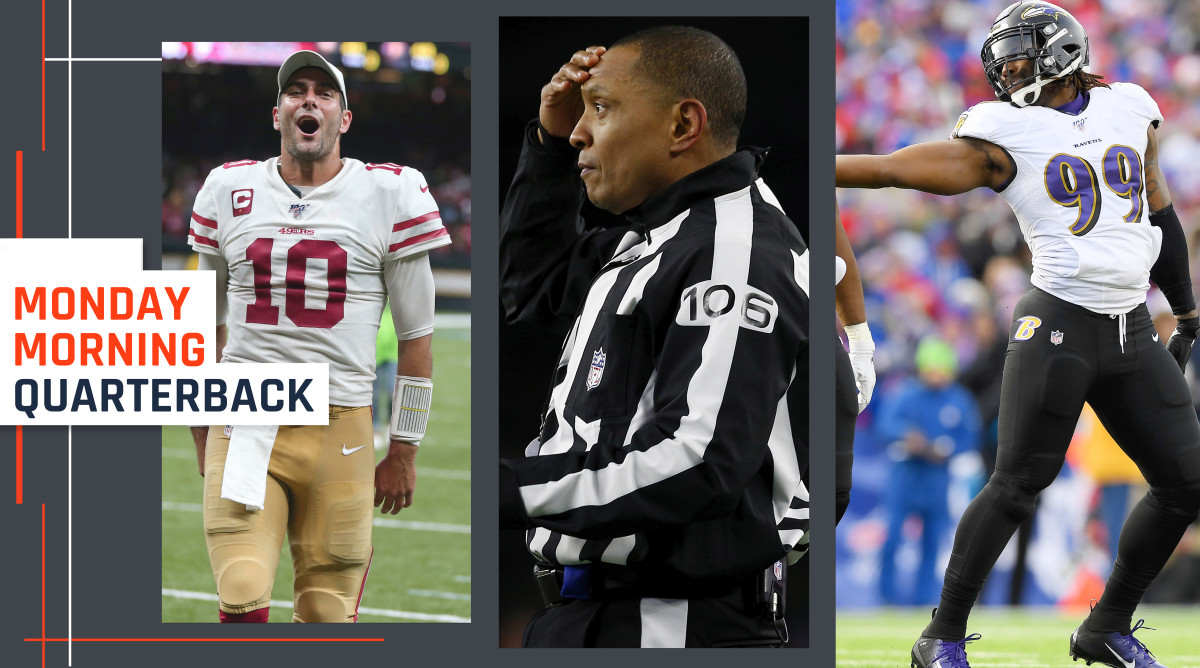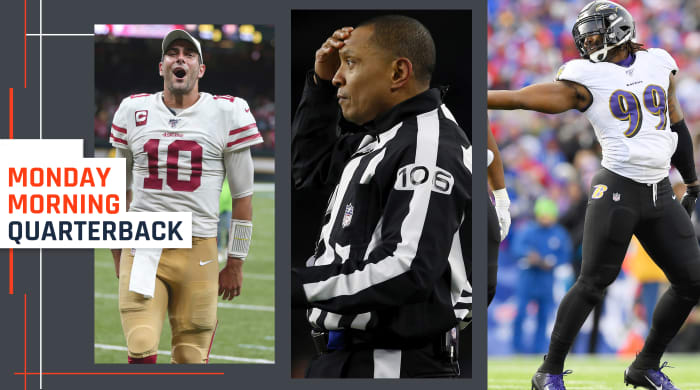 The 49ers, who came into Sunday's big NFC showdown against the Saints with double-digits in the win column, have had their share of signature moments through this renaissance of a 2019 season. And with many of those wins credited to the defense, it was about time they got one on offense.
It was no surprise, either, that this game would come down to offense. The two teams had combined for 24 possessions, 91 points scored and just four punts. Each was over 450 yards in yards from scrimmage. Neither of the very proud defenses on the Superdome turf could do much to stop anything.
San Francisco was looking at fourth-and-two at its own 33-yard line with just 39 seconds showing, New Orleans leading 46–45. Head coach Kyle Shanahan called his second timeout and sent Jimmy Garoppolo in with a concept to beat man coverage that would have tight end George Kittle motioning across the bottom of a bunch formation, behind Kendrick Bourne and Emmanuel Sanders, with the idea to create space for Kittle to get the two yards needed.
"I had a pretty good feeling on it," QB Jimmy Garoppolo told me from the winning locker room, about half an hour after the game. "But you still have to win the route. And George did a great job of that, kind of using the other guys as a natural pick.
Garoppolo then paused and added, "I mean, it really worked out great. He did the rest with the ball in his hands."
Did he ever.
At the snap, Bourne broke upfield, and Sanders executed an in-breaking route that created traffic in front of Saints rookie safety Chauncey Gardner-Johnson, assigned to Kittle. That cleared the space Kittle needed to get to the left flat, where Garoppolo put the ball. Gardner-Johnson dove at him as he caught it, missed and Kittle burst up the field, eventually burying what looked like a 20-yard stiff arm into Saints safety Marcus Williams's grill.
By the time Kittle was done dragging Williams down the field, he'd picked up 39 yards, with 15 more tacked on after Williams grabbed his face mask, since that was all he could do to get Kittle down.
"The play call from Kyle I thought was awesome, it had a couple different options on it—George obviously being one of them," Garoppolo continued. "He just burned his guy on the out route and made it pretty easy for me just to get him the ball. And once you get that guy the ball in space, who knows what's gonna happen?"
In this case, Kittle took the visitors from their own 33 in a last-ditch situation to the Saints 14. Two plays later, Robbie Gould easily delivered the game-winning kick, putting a 30-yarder right down main street to lock up a 48–46 win.
And by midnight, after the Seahawks' loss to the Rams, the 49ers were comfortably sitting with the NFC's No. 1 seed with three weeks left in the season. But winning this wild one was about more than just that.
* * *
Week 14 is in the books (almost... Giants at Eagles on MNF tonight)! And as always, we've got a lot to cover, including…
• The rebirth of the Ravens defense.
• How the officials marred an AFC title game rematch.
• A preview of HBO's Saban/Belichick documentary.
• A visit with recently fired Panthers coach Ron Rivera.
But we're starting with the craziest, most fun game of the week.
* * *
Before pledging five game balls to the York family—mourning the death of Tony York, son of owner Dr. John York, one year ago—and reiterating the importance of the game from a human perspective, Shanahan addressed his team in the locker room after the game, stressing why the win was meaningful football-wise.
"I'm so proud of you guys, and so pumped to be a part of this team," he told the players. "Every game's been different. It feels like we've been through every type of game this year that's possible. We haven't. We got a different type of game today. Guys, whatever happens, you guys rise to the challenge and get it done. I don't care how you do it, you guys find a way."
Earlier in the year, this way may not have been possible. The 49ers were playing without their tackles for more than a month. They didn't trade for wideout Emmanuel Sanders until late October. They hadn't gotten as much from rookie receiver Deebo Samuel yet. And Garoppolo was coming back from ACL surgery.
So they leaned on their defense. In fact, Shanahan explained to me after the Niners beat the Rams in October that his 41 run calls, coming despite averaging less than three yards per carry, were designed to shorten the game and play into that unit's hands. The offense would come, he promised. It'd just take some time for the vision to come to life because of all those circumstances.
"Our team is built to win different ways and we talk about it all the time," Garoppolo said. "It's complementary football. When they cause the turnover, we go score. When we [turn the ball over], we hold them to a field goal. How the offense and defense play together, it's a good combination we got right now."
The difference is pretty noticeable. Sanders (seven catches, 157, TD) has been an awesome fit. Samuel (five catches, 76 yards; two carries, 33 yards) is coming of age. Bookend tackles Joe Staley and Mike McGlinchey are back in the lineup. And Garoppolo is just now hitting his stride.
The truth? By the end of September, his knee felt O.K., but it took a little longer to regain the rhythm and timing it takes to really play quarterback at a high level in the NFL.
"I think it's just more confidence, and you build confidence through playing well and, obviously, getting wins," he said. "With the whole knee thing, it really hasn't been an issue since probably the first couple weeks. But I think just getting back into the rhythm, and obviously having a tremendous team around me, makes my job a lot easier."
It also bought him plenty of time to build himself up to where he is now. He only went over 30 attempts twice in San Francisco's first seven games, mostly because the Niners could run the ball and play great defense and, as such, didn't need him to do much more than that. So without the weight of the world of his shoulders, he could find himself again.
"No doubt, especially early on with the struggles, and whatever we were dealing with offensively," he said. "Now that we've started to catch our stride, when you're playing complementary football like that, it really turns it into a team game. You're not relying on one guy or one side of the ball, and I think that's what makes a good football team."
Just as the defense carried a lot of games early on, the offense took this one over, fighting back from deficits of 20–7 and 27–14, and going blow-for-blow on the road with a Hall-of-Fame quarterback (Drew Brees) and generational offensive play-caller (Sean Payton).
And as the Niners saw a 42–33 lead turn into a 46–45 deficit, their offense had one more punch to throw. Even better, based on their demeanor on the sideline, the offensive players knew it'd be a haymaker. "It was very calm," Garoppolo said.
In delivering the final blow, Kittle showed how much confidence he and his teammates are playing with, matching the bravado that the guys on the other side of the ball have had all year.
"Oh yeah," Garoppolo said, laughing. "Can you tell?"
You sure didn't have to look too hard to see it.
* * *
NFL OFFICIATING IS NOT GOOD ENOUGH, PLAIN AND SIMPLE
It'd be nice to have a week without an officiating controversy, but that is not this week. Let's go through exactly how the refs took points off the board in Foxboro on Sunday.
• With 15 seconds left in the third quarter, Patriots S Devin McCourty jarred the ball loose from Chiefs TE Travis Kelce. Stephon Gilmore picked the ball up and had a reasonable shot at scoring—or so it seemed. As that unfolded, whistles blew and Kelce was called down. The Patriots burned their final challenge. They got the ball on their own 43, due to Gilmore's clear recovery (the ball was dead where he picked it up, per the rules).
• Six plays later, Tom Brady popped a swing pass to N'Keal Harry in the left flat, and Harry tightroped down the sideline. The officials called Harry out at the three-yard line. The replay showed Harry keeping his feet inbounds and clearly getting inside the pylon for what should've been a touchdown. But without any challenges left, the Patriots had no recourse but to accept the call.
• The Chiefs get a stop from there, forcing a short field goal from Nick Folk.
This isn't to say the Patriots would've won the game, if not for the officials. The team had four chances to get in the end zone after the missed call, starting at the Chiefs three-yard line, and couldn't do it. That's on their struggling offense. That said, the officials took four points off the board in a fairly direct way there. 
This would affect the game later on too—had Harry's touchdown counted, the Patriots, who would've been down 23-20 and not 23-16, could've played for a field goal in the final two minutes. Instead, Brady failed to convert a fourth-and-three from the Chiefs five-yard line, when Bashaud Breeland batted away a bid to get the ball to Julian Edelman to tie it with 1:11 left. Then, there's the fact that Gilmore might've scored had the officials gotten the Kelce fumble right.
We could go into other missed calls from that game, but you probably don't want to hear about that. You probably just want it fixed.
Head referee Jerome Boger explained the missed call to pool reporter Mike Reiss like this: "What led to it was the covering official on the wing was blocked out by defenders. The downfield official who was on the goal line and looking back toward the goal line toward the field of play had that he stepped out at the three-yard line. So they got together and conferred on that. The final ruling was that he was out of bounds at the three-yard line."
I'm sorry, but that's not good enough. On this same field a few weeks ago, the Cowboys got hosed on a couple of crucial tripping calls. These sorts of things seem to be coming on an every-week basis now.
Back in March, before the owners meetings, I texted 25 coaches and asked them, simply, if they wanted a sky judge. Nineteen responded. Fifteen said yes. Two said they didn't know. Another two said no, though both would be open to changing their mind for the right proposal. Days later, the 32 head coaches organized to try and get the idea in front of owners, and making pass interference reviewable wound up being the compromise.
The time for compromises is now over. A sky judge, done the right away, would backstop officials who simply have too much to pay attention to in a lightning-fast, complex, and busy guys. It could take the challenge system away from the coaches. It could utilize technology in a way that won't make the NFL look like it's stuck in 1995 anymore. And you have owners, like Philly's Jeffrey Lurie, who are already onboard.
This shouldn't be so difficult. This morning, we should be talking about a struggling Patriots offense that, if you eliminate a flea-flicker and a halfback pass, mustered just 206 yards of total offense. We should be talking about Patrick Mahomes gutting out a right hand injury, and becoming the first quarterback under 25 years old to beat Brady and Belichick in Foxboro. We should be talking about two defenses that stood tall in a big spot.
Instead, we're talking about the officiating, which happens way too often.
* * *
THE RAVENS DEFENSE IS BACK IN THE DISCUSSION
The Bills had just drawn a 26-yard pass interference call—Marlon Humphrey slightly bumped Cole Beasley downfield. That created a first-and-10 at the Ravens 18-yard line as the teams went to the sideline for the two-minute warning, with Baltimore clinging to a 24-17 lead. And veteran Brandon Carr made it simple for his teammates.
"We gotta play with our hair on fire," Carr said.
That's not exactly how the Ravens were playing defense earlier in the year, but it is now.
First-and-10: Devin Singletary stuffed after a two-yard gain.
Second-and-eight: Ravens bring pressure, force Josh Allen to throw it away.
Third-and-eight: Ravens bring pressure, force Allen to throw it away.
Fourth-and-eight was more interesting. The Bills picked up Baltimore's blitz. Allen had a clean look, and he put the ball in the right place for receiver John Brown. And Baltimore's Marcus Peters—traded for a little over a month ago—got there first, reaching around Brown to knock the ball harmlessly to the turf.
"You know I'm not telling you the call," linebacker Matt Judon said, laughing, over the phone. "But we was in coverage and Marcus made just made a play, Marcus made a heck of a play. He's a big-time player and he was out there one-on-one, man, and he made the play."
That's significant, too—the Ravens needed a play on defense to win a game. And got it.
Because of the pyrotechnics of the Baltimore offense, moments like that have been few and far between in 2019. But give credit to coach John Harbaugh and defensive coordinator Wink Martindale for being honest with themselves even as the offense carried the team early in the year.
They knew what they were seeing wasn't a real Raven defense. So they started making moves. They cut Timmy Williams to send a jolt to the group, emphasizing that, as a whole, they needed to get tougher. They signed veteran linebacker Josh Bynes, and he came in and had a settling affect on the front seven right away.
And just as they were getting Jimmy Smith back at corner, they traded for Peters. All of this, in the year they said bye to Eric Weddle, C.J. Mosley and Terrell Suggs, aimed at restoring the standard that had been upheld by those guys and others like them for two decades.
"That's who we are," Judon said. "We had to get back to that, man. It was too many holes and too many leaks in our defense. And don't underestimate what the front office did, bringing in players and switching some things up. Kudos to them, they saw a chink in the armour and they got it fixed, and then we made some trades, got Pete (Peters) and then we brought on a couple other people and we're playing Raven defense right now.
"We're doing that and that's what we're accustomed to and used to."
And after 14 weeks, you add it to what Lamar Jackson and the offensive guys have done, and you get the best team in football.
* * *
RIVERA BIDES HIS TIME
Ex-Panthers coach Ron Rivera was wrapping up a day with some Navy SEALs on Friday when I got hold of him—he set the trip up through the Navy SEAL Family Foundation—and this particular excursion was just a piece of what he hopes is a four-week reset.
There are other things on his list too. He's got books he wants to read, family he wants to spend time with. The commonality? All of it is pointed towards having his mind right by the end of the season, when the 2020 hiring cycle heats up and his focus will move back to the NFL. And on this day, it was easy for him to explain the value he was taking.
"It put in perspective what happened to me," said Rivera, the son of an Army officer himself. "These are men and women that are serving our nation. They're putting their lives on the line for us. So what happened to me is miniscule compared to what these folks go through."
Of course, that doesn't mean it was easy. On Tuesday, Rivera's eight-plus seasons in Carolina came to an end. He finished up 76-63-1 with three NFC South titles, four trips to the playoffs and that 15–1 season in 2015 that ended in a trip to Super Bowl 50.
And yet, to say his run in Charlotte ended abruptly probably isn't quite accurate. Yes, that it came down on a Tuesday in early December was a little unusual. But from the time the franchise was sold about 18 months ago, Rivera was aware, as was everyone else in the organization, that it was certainly possible new owner David Tepper would want to bring in his own people.
So it was when Tepper called Rivera into his office two days after a loss to the sad-sack Redskins and said something along the lines of, I'm just thinking about going forward, and this is what I'd like to do. The level-headed coach understood. "The more we talked about it, the more sense it made," he says. It hurt, to be sure, but only in that he couldn't finish what he'd started.
"Just the realization that I'm not gonna have the chance to finish the year out, that's really the only thing," Rivera said. "Mr. Tepper was terrific, he really was. He was really up front, he was very forthright, and I truly appreciated it. I thought it was very sincere."
There's been upside too. In the days since, he's heard from dozens of players and coaches he worked with over the years, getting the rare chance to find out how highly so many people thought of him.
"You never really know how you impact people," Rivera said. "And all of the sudden, this happens and all those people you've had a chance to impact and touch, now they're calling and saying, 'Hey, thank you.' That's been really cool. Guys that have played for me, not just when here with the Panthers, but in San Diego and Chicago and Philadelphia, that was really gratifying to have those guys reach out and thank me."
My feeling here is that the 57-year-old Rivera does, indeed, have a pretty good profile to sell to seven or eight teams likely to have openings. He's been through a full rebuild before, having taken over a gutted 2–14 roster. He's overseen the development of a young quarterback. He can reach this generation of players—shown in how guys like Cam Newton and Josh Norman have said the last few days how they appreciated him letting them be themselves. His crisis management skills (see: Hardy, Greg) are unassailable.
That said, there are no sure things. A lot of people thought Mike McCarthy would get another shot last year after he was fired around the same time, and it didn't happen. So for now, Rivera just trying to make the most of his time away. And if you don't believe he'd be getting away, consider this: He took this Sunday off from watching football.
"I'm not gonna pay attention to it," Rivera said. "As much as I'm cheering for them to do well—and I really, truly am cheering for them to do well—I'm not gonna watch it. I'm gonna go play golf."
I'll try and get an update on how he hit 'em for the afternoon column.
* * *
LEGEND ON LEGEND
I got a chance to screen HBO's Art of Coaching documentary on Patriots coach Bill Belichick and Alabama's Nick Saban. It's well worth the watch, even if does cover a lot of ground that's well-worn. And the end was pretty interesting, with the two talking about one another.
"There's nobody I respect more in football than Nick Saban and I don't think there's anybody that's a better coach than Nick Saban," Belichick said. "What he's accomplished as a football coach, I think, is unparalleled. I look up to him, I admire what he's done, I've learned a ton from Nick."
"I think that sometimes people have a real, true love and respect for someone, you really love to see them have the success and continue to have the success," Saban said. "I don't know how many people can really understand that kind of relationship. And that's kind of how I feel about Bill."
What else stuck out? Here are a few fun nuggets.
An indictment of NFL scouting. The doc was framed around Belichick's trip to Tuscaloosa for Bama's pro day in March. And the two were at Saban's kitchen island afterwards when the Tide coach launched into a diatribe about what Belichick's done that others haven't.
"One thing that you do that a lot of the NFL guys don't do—I don't know that you've ever picked one of our players where you never talked to me before you picked them," Saban said. "And there are a few other guys in the league that do that. But then there's another 30 teams that I never hear from, and they pick someone, and I'm saying, 'How could they pick that guy?' And then they come back and say, 'Well, we didn't know this.'
"Well, all you had to do was call, I would've told you all the good stuff and I would've told you of any issues. I'm an 'and' and 'but' guy. So whatever comes behind 'and' is usually good, and if I give this great recommendation. Then you get 'but'.… It's never, ever not been correct. Whatever comes behind 'but' usually isn't good and always turns out that it's there."
To me, that was a little bit of a 'yikes' moment. Especially because Alabama is known in NFL circles as one of the most pro-friendly places on the scouting trail.
Saban's favorites. At one point, with workouts going on, Belichick asked Saban who the best prospects at Pro Day were. "Best player here?" Saban responded. "Jonah and the defensive lineman (Quinnen Williams) are the best players." Belichick then shot back: "Is Jonah a tackle or anywhere?" Saban replied: "I think he can play anywhere."
Don't touch my assistants. This was fascinating to me, so I'll let the coaches take it away.
Saban: "We've always had sort of a mutual respect for how we take each other's people. And it's always one thing I try to emphasize to the guys. What I have a tough time with, we've had however many guys that have worked here that are at Georgia, Tennessee, whoever, wherever—it's when they get those jobs, in most cases, you helped them, then they have a hard time understanding why they can't take your people. I'm gonna help you get a job, so that you can take what I've tried to build here and destroy the continuity of what I have. And it's amazing how some of the assistants don't understand why that's not a good thing."
Belichick: "Yeah, look, I'm happy for the people who have worked hard for me to get opportunities. And I want to see them build their own program. When they try to tear down our program, that's kind where the line I feel like gets crossed. Without really talking about it, we've always kind of had that kind of respectful relationship."
Saban: "I know you don't do this, and I don't do this. But some people hire coaches to do what they do. I've always hired coaches to do what we do. We have a new guy come in, I'm saying, we're not changing what we call stuff, there's already 100 guys in this building that already know all this, you're the only guy that doesn't, so you learn it. They have to be willing to be part of the team."
Belichick, by the way, ran a zero blitz at the Dolphins on the last play of the Patriots' September win in Miami with the score 43–0. That was Brian Flores' second game in charge. Flores took assistants Chad O'Shea, Jerry Schuplinski and Josh Boyer with him when he left Foxboro in February.
Looking back at 2007. When the Patriots were reeling off wins en route to a 16–0 regular season, this question was floated: Would the team be better off losing one somewhere along the way? It was largely dismissed as kind of ridiculous. Would you believe then, 12 years later, Belichick has asked the question himself?
"You've had the one undefeated championship team, and all the rest of them, you lost a game, right?" Belichick said to Saban. "We had that in '07, at 18–0. And in retrospect, it might've been better for us had we lost one somewhere along the way, to win at the end. Because really, it's so much about how you play at the end of the season, more than it is at the beginning of the season.
"So as much as you hate to lose that game when you're 10–0 or 8–0 or 13–0, whatever it is, sometimes in retrospect that's not a bad thing because it can refocus a team, to where it's, OK, we're mortal, and we have to do things right, as opposed to just thinking we're gonna get a good bounce in the end somehow. It doesn't always work out that way."
Belichick and Saban also talked about their family lives, their vacation escapes, and social media ("Yeah, you know, I hate social media," Belichick said) as well as the history of their relationship. Check it out at 8 p.m. ET on Tuesday on HBO. Great job by NFL Films on this one.
* * *
ALL-32
Sunday was an emotional day for members of the 49ers ownership, who were remembering the death of Tony York, younger brother to Niners CEO Jed York, and son of team owner Dr. John York, a year earlier. After the game, Jed explained that it was significant to win in New Orleans because Tony went to school at Tulane. Also, coach Kyle Shanahan and GM John Lynch reached out to the league asking if the players could wear "TY" decals on their helmets (the league agreed). Just a good story all the way around of the team rallying around a family that was hurting quite a bit.
Give Bears coach Matt Nagy credit: He called a hell of a game on Thursday against Dallas, helping Mitchell Trubisky get going in a big way with screens and quick game throws that built momentum for the offense. As a result—really over the last two weeks—Trubisky has given the Bears a glimmer of what they hope his future holds.
Player that is going underappreciated: Bengals RB Joe Mixon. Watch him. Talent-wise, he looks like he's in the very small Saquon Barkley/Ezekiel Elliott tier. It hasn't always showed up in the numbers, because of the state of his team. But it sure did Sunday, with 146 yards and a touchdown coming on 23 carries against Cleveland.
Love the Bills' fight: down 24–9, coming all the way back against the best team in the league, and getting to the doorstep of tying the game. (Obviously, the aforementioned fourth-and-eight from the Baltimore 16 didn't work for them.) But they were right there, and their persistence and awareness were illustrated greatly on the play before that fourth down, a third-and-8 on which a Ravens blitz caused a jailbreak. Josh Allen broke two tackles and threw the ball away. In that one fell swoop, Allen showed not only toughness and kept his head about him by avoiding a fourth-and-20 or so by getting rid of the ball. I continue to think Buffalo's a year away from something really good. And they're pretty good as is.
Broncos rookie Drew Lock called Peyton Manning this week for advice on handling his first road start. And suffice to say, whatever Manning told Lock sure did work. He threw for 309 yards and three touchdowns (136.0 rating) in Houston. Lock actually worked as a counselor at the Manning Passing Academy with a kid who's now a star freshman quarterback at Isidore Newman in New Orleans. That kid? Arch Manning, Peyton's nephew.
The Browns escaped Sunday's visit from the Bengals with a win, and based on their schedule (they get the Cardinals and Bengals again, with the Ravens in between), Freddie Kitchens' crew should make it to 8–8. But the Odell Beckham drama of the last three days—which included reports on his feelings on the team's offense, his sports hernia, and his desire to leave Cleveland—aren't a great look for a team very much invested in the star receiver. Nor were Baker Mayfield's comments on the training staff, which he later walked back. I've said a few times I think Kitchens has a good shot to make it to 2020, barring a catastrophe. I'd hope this doesn't come down to how you'd define catastrophe. But it might.
That Buccaneers' backup QB Ryan Griffin entering the game in the third quarter against the Colts elicited questions about whether Tampa was moving on from Jameis Winston says much about how up-and-down the former top pick has been. He was erratic in the first half Sunday but would re-enter the game on the second series of the second half and go 13 of 17 for 179 yards and two touchdown the rest of the way, leading the Bucs back from 14 down to beat the Colts at home. And finish with a perfectly Winstonian final line: 33 of 45 for 456 yards, four touchdowns and three picks. What Tampa does with Winston (who Bruce Arians loves) this offseason should be fascinating.
The Cardinals are playing out the string now, and that makes Kyler Murray's development Priority 1 for the team. That he threw three picks—and a couple of them were unsightly—isn't great in that regard. But he's still making wow plays, too.
The Chargers' season may be lost at this point, but there still are reminders of how talented they are. And it feels like we're getting one from Mike Williams every single week.
I'm not sure yet what to make of the Chiefs. What I do know is that they just held a third straight opponent under 20 points, the offense is finally getting all its guys back, and Patrick Mahomes won in New England—becoming the first quarterback under 25 to do so against Brady and Belichick—even though he was clearly finding off the effects of an injury to his throwing hand that necessitated postgame x-rays.
The Colts have run headlong into a wall, and there is a common thread running through the 1–5 stretch: the team's ability to both generate and defend big plays. On Sunday, the Bucs had 11 plays of 15 yards are more, and the Colts had just five. It speaks to the need for more speed in the secondary, and the injury/depth issues at the skill positions (receiver in particular) on offense.
The Cowboys' problems can't be pinned on one thing, which must be pretty frustrating. The offense has looked impressive on its opening drives the last two weeks and vanished afterward. The defense has had issues with missed tackles, and the line has been a little all over the place (which is where they miss Tyrone Crawford, a vet who'd keep everyone in line). All this doesn't bode well for Jason Garrett, because so much of it comes back to coaching.
Someone send Dolphins coach Brian Flores the memo: Getting that upset over losing a game on a shaky call is no way to show your support for a franchise's effort to tank. Nor is being competitive in every game since a Week 5 bye, as Miami has been (save for the loss to the Browns on Nov. 24). And losing to the Jets in a field goal fest is one they'll all get to enjoy in April, knowing the team played hard but came out of it with better draft position.
The two areas on the Eagles' roster you want to watch tonight are the offensive line and the secondary. Philly's gotten old with the former area, and has struck out some with draft picks in the latter. If the issues persist against New York tonight, based on where the Giants are in their ability to attack those weaknesses, it wouldn't be a great sign for a Philly team hoping to catch the same sort of momentum it has at the end of the last two regular seasons.
Say what you will, and this all might wind up being an audition for the Falcons' next coach and/or GM, but the Atlanta players have swung their swords for coach Dan Quinn. They're 3–2 since their bye, and they beat the Panthers by every measure on Sunday. If the job/jobs there does/do open, Quinn and GM Thomas Dimitroff have made Atlanta an attractive place where someone can come in and win quickly.
Tonight is an interesting opportunity for Giants QB Eli Manning. He's a free agent after the season, turns 39 in January and has said publicly he wants to keep playing. We've got a pretty crowded group of veteran quarterbacks coming available in March (Tom Brady, Philip Rivers, Teddy Bridgewater, Drew Brees, Marcus Mariota, Jameis Winston and maybe Andy Dalton and Cam Newton via trade). So this is a shot for New York's old two-time champ to show he's got some bullets left in the gun.
The numbers from the Jaguars' loss to the Chargers aren't pretty. Outscored 45–10. Outgained 525–252. Outclassed completely. A struggling L.A. team came cross-country and averaged nearly a first down (9.1 yards) per play. So now the heat turns up on the Jacksonville brass, and it's fair to surmise that EVP Tom Coughlin, GM Dave Caldwell and coach Doug Marrone are under evaluation.
In the grand scheme of things, the Jets' ugly win Sunday doesn't mean much—that is, unless you just beat the guy who fired you 11 months ago. In that case, you can guess it would. And bet Adam Gase really wanted this one after losing to the Dolphins in November.
The fines the Lions incurred this week ($75,000 to the team, $25,000 to coach Matt Patricia and $10,000 to GM Bob Quinn) for sidestepping injury reporting on QB Matt Stafford won't get the current regime shown the door. But it sure doesn't help with the team having lost nine of 10, with few truly knowing what new(ish) controlling owner Martha Ford is going to do.
Not the best win for the Packers, but Aaron Jones stuck out again with 134 yards and a touchdown on 16 carries, and a team-high six catches for 58 yards against Washington. Because of the competition (Giants last week, Redskins this week), it's tough to get a real read on where Green Bay has been since getting blown out by the Niners two weeks ago. But that's 10 wins, nonetheless.