Five NFL Coaches Share What They Learned From the Virtual Offseason Program
Checking in with the coaches of the Bengals, Giants, Washington, Falcons and Lions on the highs and lows of a strange offseason. Plus, five reasons some owners want to delay Week 1, Donald Trump's comments on the NFL and much more.
The unusual nature of 2020 NFL offseason led to this scene: The first overall pick barking signals into a computer screen in his parents' basement in southeast Ohio, more than 100 miles away from the closest pro football team, the team this particular quarterback happens to play for now.
For this part of the virtual offseason, over the last few weeks, Bengals coach Zac Taylor wanted to make it feel real for Joe Burrow, even if it couldn't really be.
"We made the quarterbacks stand up," Taylor said, laughing. "So Joe's probably in his parents' basement, standing up, yelling, while his mom's upstairs making lunch. It was good. They took ownership of it. And I told them, we're not trying to act like we're in church here, we need to replicate these reps we're missing on the field, so speak up and be loud and let everybody hear you. And our guys did a good job of that."
The 2020 offseason also meant team officials studying the attention spans and screen habits of millennials and Generation Z. And teams having offseason speaker series taking up time that would normally be swallowed up by learning line splits and route combinations. And coaches taking on new roles in family relocations.
And before anyone could get started on any of that, for the NFL's 32 teams, the 2020 offseason was about making sure your Wi-Fi connection was solid.
This has been a strange year for everyone in America and, truth be told, of all the major U.S. sports leagues, the NFL has probably been least effected by its events. When its 2019 season wrapped up, COVID-19 was still seen by many as another country's problem, and we still have close to three months left before the 2020 season starts. In that regard, the NFL has been pretty lucky.
But that doesn't mean the first half of this calendar year hasn't tested NFL coaches and teams in some pretty unique ways. It most certainly has.
So it was that Burrow, rolling fast toward being the Bengals' Week 1 starter (we'll get to that), was in the house he grew up in, full-throated and trying to simulate being in a 70,000-seat stadium, running an offense that he hasn't taken a single physical rep in yet, thanks to these weird circumstances.
Those reps will come in the summer, of course. For now, this had to do.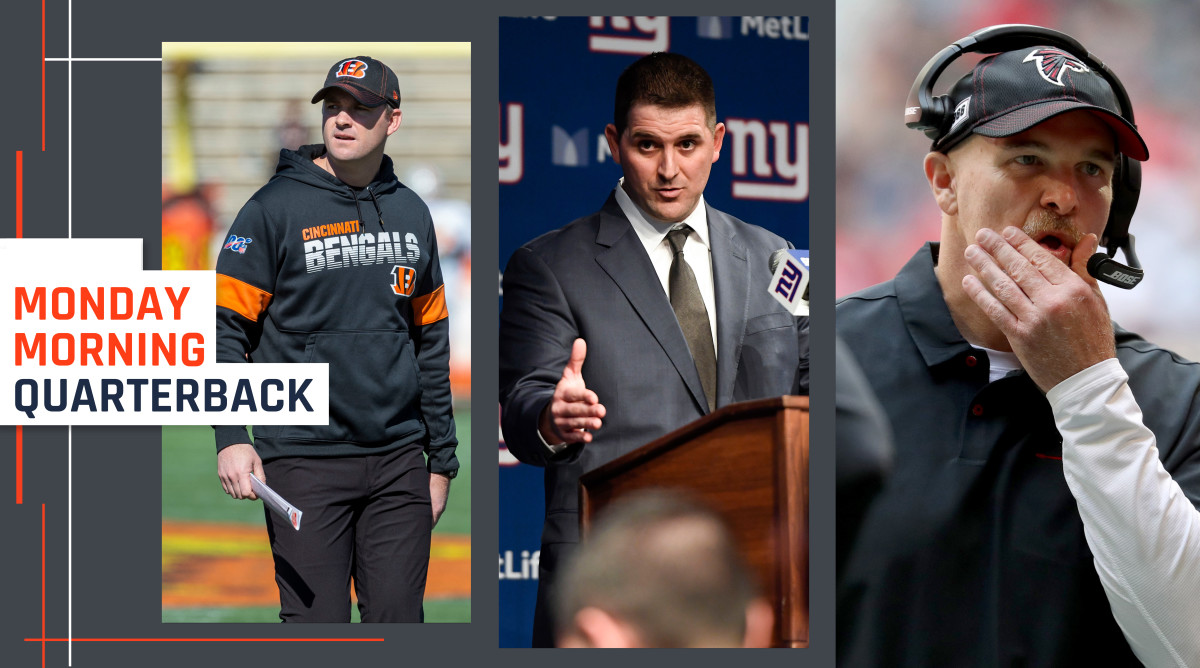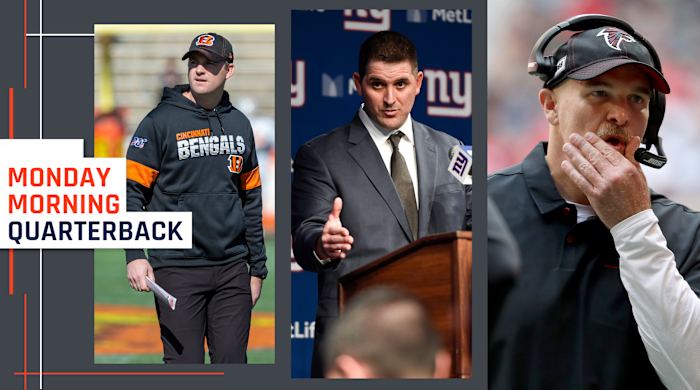 ***
We've reached the final week of the 2020 offseason program, and we've got a fun MMQB for you. Further down in the column, you'll find…
• A look at the COVID-19 affected summer, and where we're headed.
• Why some teams want the season pushed back.
• How to digest Donald Trump's NFL-related comments from Saturday night.
• Why the NFL is rooting for Colin Kaepernick to get a job.
But we're starting with stories of the 2020 offseason, as it wraps up, from the head coaches who lived it.
***
Taylor knew he'd have to do things differently this offseason, and not just in the way everyone would have to do things differently. Having a rookie quarterback that he had to prepare to play from Day 1, without all the spring on-field work, meant needing to be creative to give him the best chance to get ahead. So came the idea of doing the work on Joe's cadence in the basement of Jimmy and Robin Burrow.
And it was actually significantly more detailed than just that. These were full-on walkthroughs, sans the actual walking-through of plays.
"We'd make a 20-play cutup, create a script off that cutup, and initially I'd just call a play out loud, so everybody could hear me, the quarterback could repeat, and call the cadence," Taylor said. "And we'd just go through, 'O.K., center, Trey Hopkins, make the initial call here.' And we'd be showing a clip from the end zone view, and he'd make his call, the appropriate linebacker. Then, 'O.K., right tackle, who do you got? O.K., quarterback, any checks? No? O.K., call the cadence'
"Set, hut, blue 80, blue 80, set, hut.
"And then we'd go on to the next play."
Then, Taylor, offensive coordinator Brian Callahan and quarterbacks coach Dan Pitcher evolved it. Once Burrow got a handle on things, during walkthroughs, Taylor would mute his computer on Zoom, and FaceTime Burrow. He'd then relay the play call to Burrow, who'd have to call it for his teammates.
"If you have Philip Rivers, I don't know that you'd have to do that," Taylor said. "But for the guys, our center had never heard Joe Burrow call a cadence before. He needed to hear his voice, and I needed to hear it, so you could make the corrections that he can work on all summer. We were able to get a lot accomplished that way. I feel really good coming out of it that we used every second they allotted us and got a lot of work done."
And the underlying truth here—Burrow's almost certainly going to be the Bengals' starter.
When we talked, Taylor didn't want to anoint the Heisman Trophy winner as the guy yet. But then I asked if Burrow is going to take the first snap in training camp. There was zero hesitation on that one.
"Absolutely," Taylor said. "Yes."
With that, the Bengals coach also acknowledged that, because of the relative scarcity of physical reps between now and Week 1, he and his staff will have to give the team clarity on its starting quarterback early in camp. "You have to. There's no doubt, it is a unique year. That's just the approach we gotta take. We can't beat around the bush. We gotta get him ready."
So it wouldn't shock me at all if Taylor comes out and says it on Day 1 of camp, mostly because Burrow's been everything they bought into at the end of April.
"He's been great," Taylor said. "As advertised is the best way to put it. You can tell he spends a lot of time on his own being prepared with questions and he's doing a great job taking ownership, which is important for a quarterback to do, and he's doing everything he can to own this offense. Been really impressed with him, but not surprised."
Of course, the Bengals have 82 other guys on their roster heading into July, which means the spring wasn't just about getting Burrow ready to face the Chargers on Sept. 13.
And so before we get to more stories from a few other teams, I thought this was a really interesting and creative thing that Taylor and his staff did with the team as a group—and a way of tapping into the ethos of that generation. The coaches split the roster into nine teams—seven groups of nine and two groups of 10.
To get there, they had a draft. So they made two veteran holdovers captains for each team, and assigned a group for each round, to assure each team would represent a cross-section of the roster. In the first round, the captains had to take a rookie. In the second round, they had to take a defensive veteran. In the third round, they had to take an offensive veteran. In the fourth round, it was a new free agent. And so on.
Once the teams were assembled, for each week, the coaches would assign a video project. One week, the teams had to put together a rap video, another it was a TikTok video. This last week, the final week of the competition, it was Best Cameo Video. One team went through the app to book Snoop Dogg to record one, another got Cedric The Entertainer, another the Shark Tank crew.
"It was pretty good," Taylor said. "I had Flavor Flav yelling at me to set the guys free—We've been working all offseason, please, coach Taylor, set the guys free! So it was pretty good. It was entertaining."
That was just one of the team-building measures that Taylor and his staff took (rookies were assigned a sort of Big Brother, as well) to try and make up for the lack of face-to-face interaction. Making a big effort in that area, as you'll see, wound up being pretty common throughout the league.
***
GIANTS MEET THE WIVES AND KIDS
So much of Joe Judge's first few months as Giants head coach centered on his own family—as he went back and forth between Massachusetts and New Jersey—that one measure he took to try to build relationships on his new team came pretty naturally.
See, once the nation went into lockdown, he made the call to move back from the corporate apartment complex he'd been staying in with his new staff, to North Attleboro, Mass., just around the corner from his old office in Foxboro. That meant he, like so many others on staff calls ahead of the players rejoining for the offseason program, was very visibly juggling family life and work life in a way he hadn't had to before.
And as that was happening, he and his coaches were assessing the challenges ahead.
"Really, we saw that the biggest challenge wasn't the football part of the learning, it was breaking down those barriers, and forming relationships with the players, whether it was player-to-player or coach-to-player," Judge said. "That was the biggest thing we wanted to make sure we overcame."
The answer on how to do it, as it turned out, was right in front of everyone's face, on those Zoom calls. Instead of trying to sidestep what everyone was going through at home, why not incorporate it?
And on top of normal player turnover, Judge and his staff being new made it even more important that those barriers came down. "We had to learn the players," he said, "and they had to learn us." So regularly, players or coaches would actually be asked to bring their wife or kids into the Zoom meetings, to introduce them, and allow for everyone to have a conversation with them.
It helped to loosen the mood, of course, and also to build relationships on another level.
"It really kind of opened it, when everybody's going through different things, different challenges, and that brought a little insight into what everybody's situation is," Judge said. "Like, 'Hey, man, tomorrow, you're up—bring your wife and kids, everybody wants to meet them.' That was it, and it worked out great, it really did. It was fun watching everyone interact, and it was important, we thought, to bridge those gaps, to get to know everyone."
As for Judge's own situation, it wasn't without mishaps. In fact, on the Monday before the draft a pretty relatable problem arose, and he had to adjust his plans.
To that point, through four weeks, things had gone fairly smoothly for the family. He and his wife picked a house in suburban New Jersey and had their offer accepted just days before the quarantine began. ("Had we not gotten the house then, I don't know what we would've done," Judge said.) And he was able to fairly seamlessly move back to Massachusetts when the Giants offices closed. But over the weekend before the draft, the Wi-Fi started acting funky.
"With the Wi-Fi connections, we had to kind of boost it up afterwards," Judge said. "I think it had to do with my kids being on every possible Xbox and PlayStation device you could name, draining the rest of the house. That's when we ended up getting all these extenders and all that stuff. But it basically came down to that.… Once I had a couple hiccups, I was like, 'Nope, I'm not risking this.'"
So he called the Giants' IT people, and told them he was coming down Wednesday, the day before the draft, and asked if they could have his corporate apartment setup in time. "They flipped it around and did a great job," he said.
And as it turned out, the guy the team wound up taking first that weekend had a pretty good link to Judge through the offseason, too. Because of his connections at the college level, and because college football was a little ahead of the NFL in its offseason, Judge leaned on some old colleagues to work ahead this offseason.
In that regard, Alabama's football operations people helped as Judge worked through the logistics of doing things virtually, and how to be most effective over video. In another way, the advice of Georgia's Kirby Smart—who happened to coach new Giants OT Andrew Thomas, the fourth overall pick in April—was invaluable.
Smart told the Giants to be careful about letting meetings drag on for too long, because the message could lose its strength over Zoom.
"We used a lot of stuff that he brought us from the time base for the meetings, some of the competition stuff, some of the apps they were using to incorporate the players' cooperation in the meetings," Judge said. "That was good, because they'd done some troubleshooting through their own program, so we were able to talk to them about what they were doing.…
"I think the biggest thing we had to keep being mindful of was how much time you're spending in each meeting, and how you can change it up and keep them really stimulated without burning them out and making them feel like they were in a webinar."
As such, Judge has tried to keep his finger on the pulse of not just the players, but the whole operation. Over time, to accomplish that, they built from position group meetings at first, to unit meetings and then finally squad meetings with more team-building worked in. And with a lot accomplished, and a weird offseason winding down, Judge saw fit to break his vets for the summer on June 12.
"We felt like we were in a really good place, and the players really worked hard, so we wanted to give them a little bit of a break, to mentally just get refreshed heading into training camp," Judge said. "Along with that, to be honest with you, the coaches have been grinding so long too, I really was trying to look out for the staff as well. I really was kind of sitting there looking at the coaches thinking, I don't wanna burn these guys out before we get started. It's a fine line and they were close to it."
So they're back off now, with the idea it'll give them a better shot to go full-throttle in July (or whenever camp starts). And yes, Judge, his wife and four kids are, finally, in Jersey now.
***
RIVERA FAM MOVES TO VIRGINIA
New Washington coach Ron Rivera wasn't as lucky as Judge, as far as timing a move. He and his wife were putting their house in Charlotte on the market just as the lockdown hit, and they'd scheduled their move up to Virginia for the week of the owners meetings, a week Rivera would typically give his staff off.
So instead of traveling to Palm Beach for the annual league summit, the new Washington coach was with his wife Stephanie on the ground in North Carolina as moving trucks arrived on the last Saturday in March. And he was going back and forth between final competition committee meetings over the computer and what was happening on the homestead.
"Thank goodness for us the movers were still essential," Rivera said. "But we had to do the move during my week off, and at the same time sell the house. So after we finished packing, and getting the house ready to be sold, we moved up to Virginia. And the movers had to come. And think about this too, we had to do the whole move with the protocol—they were wearing masks, they were wearing gloves, they unpacked the boxes and had to wash everything. It was interesting to say the least."
The movers finished boxing the Riveras' stuff late that Saturday, and Ron and Stephanie started the six-and-a-half-hour drive up to Ashburn, Va. first thing Sunday morning. They got to their new place early afternoon; two hours later the moving trucks arrived, and the movers went in the house and put down floor coverings. Monday morning, they unloaded the trucks, and that's when the real work started.
In past years when Ron would switch jobs, as is the case in many football families, he'd go to the family's new city early to start working, and Stephanie would captain the move.
This time? No such luck.
"For a few weeks, I'd get up in the morning, go right into my tape, my prep for the draft, then meetings. We'd finish our meetings, we did that right around 2:30, 3:00, and then I'd go right into unpacking boxes," Rivera said. "I can remember Mr. [Dan] Snyder calling me one day, asking, 'How you guys doing?' I said, 'We're doing OK, don't tell anybody but you gotta get me back to work now. I've never opened more boxes in my life.'
"He said, 'What are you talking about?' I said, 'My wife's killing me.'"
Rivera did confirm for me that he got a few eye-rolls from Stephanie over those few weeks.
But in a lot of ways, Rivera took positives from the process. In fact, as he saw it, he became more productive than he had been previously in certain ways.
And he did have an example of how. In a normal year, in Carolina, Rivera would work through film of the top 100 on his team's board, and it'd always prove a challenging task to make it through all of it. This year, he had no such issue.
His home setup, as arranged by the Washington IT folks, proved pretty efficient.
"I'd get up in the morning, here in Virginia, and after breakfast, I'd just start working," he said. "Then grab something to eat, and start working a little bit later in the afternoon. And then I'd work till dinner. I mean, I got a lot accomplished. It's crazy, because now you almost wonder, 'God, is it good to be away from people so you don't have people constantly pulling on you, tugging on you, interrupting you?
"In all honesty, all the drafts I've got through, having to watch players, I'd get a long list, you never really get a chance to finish that list. Well, having as much time as I did to focus in on the draft, I finished my list and then some."
So he wound up watching a few extra guys that he hadn't planned to, and popped into a few extra Zoom meetings.
Of course, everything wasn't perfect from behind that desk at home—he had two laptops hard-wired, one for video and the other to draw up plays with, in the office—and he knows there'll be extra work to do as a result of all the field work the team lost. And in the end, that's what he's most excited about, when he thinks ahead to July.
He believes his players have done what they can, and now he wants to see that come to life.
"When I've popped in and out of the Zoom meetings, I've always felt pretty good about our guys," said Rivera, who was actually in a similar-but-different situation in Carolina in 2011, as a first-year coach getting a late start to the season, then because of the lockout. "OK, they're getting it, they're learning, they're understanding.' But does it translate on to the field? That's the thing you're always excited about seeing."
Soon enough, we all hope, he'll get to do that.
***
FALCONS LEARN FROM 'SNL'
There's been plenty of information trading between football people on how to handle the pandemic and, to be sure, Falcons coach Dan Quinn's been a part of that. But he also wanted to seek advice from those outside his own corner of the world—and that's how Saturday Night Live's Kenan Thompson wound up presenting to the Atlanta staff.
And at the start of all this, it was Thompson who actually gave the coaches one of the best pieces of advice they'd wind up getting over the course of the spring.
"Trying to do comedy online is hard," Quinn said, laughing. "They'd done a Saturday Night Live from home. And so we'd asked, 'What's hard about it?' He goes, 'You don't know if the joke is funny, because you don't hear anybody laughing, because their mics aren't on.' So learning some of the technology was fun, and sometimes before meetings we'd just have open mics so you could talk s--t and have fun like a locker room does. And then I'd have to hold up the sign: OK, mics off, cameras on, let's go.
"But yeah, there were plenty of failures, brother. I'd say with technology, we found out, we could do a lot of things."
And as Quinn figured that out, he decided … We're going to do more. Thompson was one example of that. Four-star general Paul Funk of the U.S. Army, whom Quinn befriended years ago on a USO Tour, was another. Quinn wanted Funk on because Funk so often has to coordinate remotely with people overseas and thought his experience would be relatable, in some way, for his staff.
Quinn's first question on that Zoom: How many people are under your command? "When he said 800,000," Quinn said, "the 150 didn't seem so daunting anymore." Then, Funk relayed advice that would resonate for the coaches in the weeks to come.
"You're the keeper of the standard," Quinn said. "If you let the standard slip, then there's a new standard. So when you're starting with somebody new, we were talking about it because so much of his job is recruitment and bringing soldiers in, them knowing that you care about them, that you'll love them up, the personal things about them, that's a big deal. He wanted to spend the time on the relationships with soldiers. In our case, it's the players, knowing how much you care about them. Once you do that, the standard can never drop."
In an effort to cement that, Quinn tried to keep things intimate, and make discussions meaningful in the meeting rooms—and that extended to what became a speaker series.
The list is star-studded, but the key is in the format. Each guest came in to speak to a specific group, which allowed for actual conversation, separate from the larger group. Tony Gonzalez talked to the tight ends. Charles Woodson and Kam Chancellor met with the defensive backs. Mike Singletary and Lofa Tatupu came in to talk to the linebackers. Osi Umenyiora, DeMarcus Ware and Kevin Greene got with the pass rushers. And Joe Thomas, an old teammate of Atlanta center Alex Mack, visited with the offensive linemen.
"He was phenomenal," Quinn said. "I was blown away by how good he was. I knew Joe Thomas was fantastic player, but the detail, the ability to express it in such a fashion, you couldn't have asked for something better from somebody in that position. Those moments were fantastic for us."
The overarching thing, as Quinn saw it, tied into ESPN's documentary The Last Dance in a timely fashion, and how Michael Jordan built a gym at the studio where he shot Space Jam—it took a certain amount of obsessive nature to get to that level as a player.
The coaches got these lessons too, with Miami Heat coach Erik Spolestra joining Funk and Thompson among those who spent time with the Atlanta staff.
And that narrow focus carried over to the football side—where Quinn wanted every player to work on "one main thing," in an effort to absolutely crush it in that area. We detailed Matt Ryan's (keeping his hips and shoulders in front of his chest on crossing routes from right to left) last week. For young linebacker Foyesade Oluokun, it was focusing on man-to-man coverage by studying different players doing it. Then, there was Calvin Ridley's detail work.
"The footwork in the routes, that was one, for sure, that stood out to me," Quinn said. "Because I hadn't gotten to see it, I watched and said, 'Damn, that is some s--t.' I was pretty excited to see that coming to fruition, because he spent a lot of time and effort with Matt, in Atlanta, in California, back in Atlanta, you could tell the work was put in on his part."