MMQB: Inside the Lions' Offseason Overhaul Plan and Authentic Draft Room Reaction
How Brad Holmes and Dan Campbell have worked together in Detroit, and why they were so excited about Penei Sewell. Plus, analyzing the Patriots' draft, highlights of the upcoming schedule, Aaron Rodgers's timeline and much more.
You saw the tsunami of bro hugs and high fives—some landed, some missed—as the "pick is in" graphic flashed across the NFL Network and ESPN screens two Thursdays ago, with footage coming in from Allen Park, Mich. The new Lions brass, to be sure, wasn't treating the draft like it was some sort of covert mission overseas.
Throughout an event that's often covered like one, it seemed like the guys in this particular war room were, for lack of a more eloquent way to describe it, just having fun.
And if you talk to Brad Holmes and Dan Campbell about it, that was very real. They had a blast turning the card in to make Oregon tackle Penei Sewell their first draft pick. And if you liked that, you should've seen what the place looked like a couple of minutes beforehand.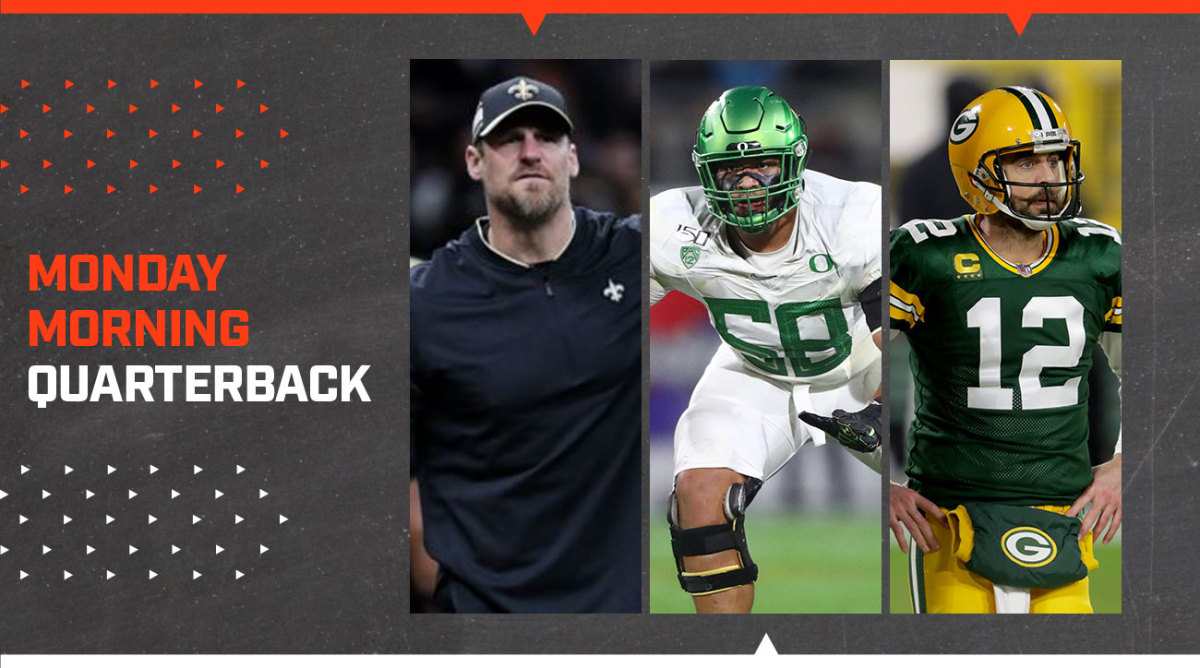 "Right when that came across the league wire that Miami had selected [Jaylen] Waddle, I'm telling you it was like the opponent we're playing just missed a field goal and we won," Campbell said on a call with me and Holmes on Friday. "Man, look, the scouts have a hand in it and we want them to have a say. And these scouts, and Brad in particular, have spent three seasons on some of these guys. …
"And Brad always said, 'Let's identify the players we love across the board,' that collectively, the whole group, there are guys we can really sign off on. And when we turn in that slip, we write that name down, we are going to all be excited. There is not going to be, 'Well, we were split, half and half down the room.' We wanted to make sure we had true buy-in on these guys, and certainly it started with Sewell. And yeah, [the reaction] was authentic."
Which then brought the Lions' coach to another element that made it real.
"There's this whole thing, Act like you've been there before," Campbell continued. "Well, guess what. We haven't been there before. This is our first time together, man. This is our first time collectively. And if you're Brad, this is Brad's game, man. If you're a GM, this is your first shot. This would be like a head coach getting his first win. It's a big deal."
Now, it'd be easy here to fall into the old cliché, if you want to do that, and say how different this all looked from the last Detroit regime. Sure, it did. But the truth is, what we saw on that screen on the first night of the draft really felt differently from what you'd expect in any NFL building, especially with two first-timers running the show.
And while that doesn't guarantee anything, it was indicative of what's been going on in Detroit for a few months now, and something even the owner could spot a while ago.
"Sheila [Ford] Hamp came in one day and she was like, 'Wow, it feels good in here. Everybody's having fun,' " Holmes said. "And this may have been in early February. And that's just been an ongoing thing. It's not something Dan and I have to force, have to write it down and look at it: Let's make sure we're having fun. Football should be fun. And we're all passionate about it."
So on that Thursday night in April, they let the world see that passion, and the fun they were all having. And the best part of the story, really, is in how naturally all this came together.
---
The draft is in the rearview mirror, and we're getting closer to OTAs, minicamps, the summer break, and, yup, training camps. So there'll be some looking forward and some looking back in this week's MMQB column. Inside, you'll find …
• A look at the changes made in the way the Patriots handle scouting.
• A preview of Wednesday's schedule release.
• A rundown of important checkpoints looming in the Aaron Rodgers saga.
• A lot more cleanup from the draft, with some whys, whats and hows.
But we're starting with an inside look at how the new guys in Motor City came together on the draft, and how that process has, they hope, set the whole building up for success.
---
When Holmes interviewed with Hamp and Lions president Rod Wood back in January, the then Rams college scouting director laid out three elements he felt would be crucial to his success, should he land the job.
1) "We've got to find a way to win the draft."
2) "We've got to have a collaborative and confident team-building process."
3) "We need a strong culture."
At the time, Holmes didn't know he'd be the GM, and he didn't really know Campbell, who was interviewing for the head coaching job, at all. He was like any of the other candidates, trying to, through a computer screen, make an impression and bring insight into who he was. Campbell, all the same, knew of Holmes through word of mouth, but didn't know him personally. So as things progressed, they started to do research on each other.
To that end, they had a few strong connections to lean on (Bengals coach Zac Taylor was one, since Taylor worked with Campbell with the Dolphins and Holmes with the Rams in L.A.) and not one was stronger than Terrell Williams, a Miami colleague of Campbell's who was Holmes's position coach when the then Lions GM candidate was a player at North Carolina A&T. "He's your type of guy," Williams told Campbell. "You guys are going to knock it out of the park."
Still, with someone you don't know, there aren't any sure things. And then, after they got hired and were trying to learn one another, there was a pretty big piece of business to attend to right away.
Congrats, fellas! Now, go trade our franchise quarterback.
---
Having to handle the Matthew Stafford situation in January, just days after they'd gotten their respective jobs, wasn't trial by fire. It was trial by inferno. But both guys can say now that, in a lot of ways, it kicked the speed dating element that any arranged GM/coach marriage like this one requires going into overdrive. And through it all, the two could take a number of things.
First, they saw that Hamp and Wood were genuinely giving them the keys. "Sheila and Rod were saying, 'Hey, look, we trust you guys; you guys are going to make the right decision for the franchise,' " Holmes said. "And they just made sure that we had the right resources we needed that allowed us to make that decision."
Second, they immediately got to see how the other handled a high-leverage situation.
"You just dive in and you try to make the most of it," Campbell said. "I thought Brad did a great job. I don't know how you would've done any better than he did. That's a credit to him and [VP Mike Disner], working through all that. And I thought Stafford was a class act on all regards with it. There was no ill will or animosity, anything. Both parties won."
"You could've never told me in a million years that the third week on the job I would've been tasked with doing that, making that move, with my former boss [Rams GM Les Snead]," Holmes added. "I was still trying to recover from the text messages, congratulatory of getting the job. Hundreds and hundreds, I'm trying to get back to everybody. But then the trade's made and then hundreds of more texts, now I'm going through hundreds of texts that were made from congratulations on getting the GM job to congrats on the trade.
"It was just how quickly it happened."
In the process, a rapport was building that would be important through February, with the coaches learning the scouts and vice versa, Campbell learning Holmes and vice versa, and the draft and free-agent processes getting rolling. And the first piece of all that was to align scouting and coaching as much as possible with what it will all look like on the field still more of an on-paper concept than an on-field reality.
"One thing we were both 100% in agreement on, saw eye-to-eye without even speaking on it until it came up, was that everything we do, every move we make, is together," Campbell said. "We will not have any perception, any talk from the coaches, 'Well, you're our guy, we really like you, but you know what, the GM doesn't like you. Personnel doesn't like you.' Or, 'You know what, personnel really likes you, but the coaches don't.' That will not exist in our organization. Because that is one of the first ways that you create a loser in my opinion."
So they listened to each other and learned in the month following the Stafford trade. Campbell actually entrusted elements of the coaching side to his coordinators (Anthony Lynn, Aaron Glenn, Dave Fipp) and his assistant head coach (Duce Staley), so he could grind through personnel meetings with Holmes and the scouts, and that was after he had his coaches present position profiles for the personnel staff to work off.
Holmes figured out how Campbell and his new staff valued explosiveness across the board, and saw size and length as key in certain positions, and particularly on defense, as a key to maintaining a certain level of play and making it through an entire season. And both got a chance to learn how the other wanted to go about finding players to fit the new program.
"He wants to know, Tell me what the tape is telling us," Campbell said. "Make sure that when you watch the player, what you are bringing back and what you're evaluating is what's on tape. That is the most important thing. And then let's go back and look at the numbers. Let's look at the pro day, but let's not make this judgment, total judgment on a player by, 'Yeah, the tape's O.K., but my God, look at the pro day,' and get swayed one way or another.
"Now, Brad'll say it all the time, that doesn't mean, man, you may love a cornerback that's at a small school and then he goes out and runs a 4.8. Well, that's probably a problem. That's going to be a little tough in this league. I think that's really unique and it's a little different than [how] a lot of guys do it from a scouting perspective. … Man, what is the tape telling you?"
"Dan really started talking about grit for a football player," Holmes said. "Guys having grit and having a certain style of play, how they really play the game and not just on the film, not just on the tape, but the way that he loves to dig deep in their background—What is the adversity that this player has overcome? Did he just have it easy his whole life? Or how did he really have to overcome something and get out of the mud? It just piled onto the whole factor of a player having true grit and sheer toughness for the game."
And when they blended the two together, "passion for football," seen on tape and verified in a player's backstory, became a non-negotiable. Which helped lead them to Sewell.
---
Holmes knew of Sewell, of course, going into the 2020 season. But it wasn't until the Rams' West Coast area scout kept raving about the Oregon opt-out—"This is the best guy," Vito Gonella told Holmes—that the then L.A. scouting director really sat down and studied him intently. What Holmes saw, he says now, took his breath away.
"In terms of feet, I haven't seen feet like that," Holmes said. "I remember when I first got to the Rams and Orlando Pace was kind of getting on kind of the tail end of his career, that's the kind of feet—I'm not comparing them player for player, but I'm talking about feet—he has. I haven't seen feet like that, and just the fire that he had, the ability to maneuver and change directions, and his kick slide is rare, on top of the physicality; it was all there."
And Campbell's experience when he first studied Sewell—which didn't happen until February—was similar.
Yes, Sewell, amid a messy situation with the Pac-12 canceling its season before doubling back and scheduling a new truncated slate, had decided to skip '20 and declare for the draft, and it's not like there weren't other questions attached to his report. But as for that non-negotiable passion for the game? That, as Campbell saw it, was all over the tape.
"We were talking about grit. This dude's got grit," Campbell said. "He plays dirty, he's nasty, he gets after people. And I would say this: When he makes a mistake, it's because he's trying to kill people. I would rather have a guy you coach backwards from there than a guy you're constantly having to pry, Man, finish your blocks; would you finish your blocks? You go the other way with this guy, like, Hey, would you settle everything down a little bit? You don't have to kill everybody you hit."
Working through it with their staff, it checked out. Holmes's top lieutenants trusted guys he wasn't sure he'd be able to land before the draft—like assistant GM Ray Agnew and senior personnel executive John Dorsey—signed off on Sewell. And so did Campbell's coaches, one of whom, new OC Lynn, made the trip to Eugene for Sewell's pro day.
That landed the 6' 4" 331-pounder in a cluster of players that Holmes and Campbell were good with going into draft week. But the over-the-top celebrations after getting him (both the one you saw, and the one you didn't)? Those were actually borne of a Zoom call that the head coach and GM did alone with Sewell a few days before the draft, when the Ducks' star lineman started to separate from that cluster.
"The kind of swagger the kid has about himself, the confidence, but he's also got humility," Holmes said. "It was really cool. He was so smart. I was like, 'Damn, if we get this kid ...' "
The GM mentioned to the coach that, for him, Sewell was making a move from the pack and Campbell concurred. They kept that to themselves.
---
So then came draft day, and there is a simple question lingering, if you put what we've told you so far together: How were there two organic explosions of emotion?
The first, after Miami took Waddle, is easy to figure out. The second, the one you saw on TV, needs some more explanation, if Sewell was so clearly the pick after Waddle came off the board. And any possible disconnect there is cleaned up with Holmes's then having had to consider a very solid offer that had come in for the pick, and was standing as the Lions' 10 minutes on the clock started to tick down.
"We had to make a choice," Holmes said. "It was tempting. … Credit to everybody else in that draft room to stay patient and say, Hey, look, let's trust it, and let's just see what happens and resist doing anything. We could've been too cute and it actually could've affected the rest of the picks and how it fell down."
Holmes now describes the offer like this: "We could've made the move and possibly still been in position to land [Sewell]." And the "raw emotion," in Campbell's words, that came after deciding to turn it down? To both guys, it signified the sort of across-the-board buy-in in Sewell that the two idealized in how they wanted to approach their draft.
The room, quite simply, was passionate about Sewell, in large part because the guys in there knew that they'd reached that level of agreement in who he was as a player.
"I thought it was pretty impressive the way Brad handled everything," Campbell said. "The fact that he's got confidence and he's very secure in himself—there is no insecurity—and there is a collaboration? … It's everything that we wanted to build the foundation of this team off of."
He was right not to trade the pick, too. Because moving down likely would've led to the Panthers' taking Sewell, and the Lions' losing him altogether.
Instead, they've got him, and a few other players there were that same level of agreement on. And the next one came, as you'd expect, with Detroit's next pick. After a long first day of the draft, and with Sewell in the fold, Holmes and Campbell went home with Washington DT Levi Onwuzurike still there as a prime target.
But as the two met privately to start day two, on that Friday morning, there was another player they never expected to fall out of the first round who was still on the board, and one more they regarded highly, right there with Onwuzurike, also available. So they went through the three and tried to rank them, and asked of the other two, "Should we really go with this player over Levi?" Ultimately, they figured they probably should.