MMQB: Lamar Jackson on the Work He's Doing to Prevent the NFL From Catching Up to Him
The Ravens' QB knows what people say about him. He and his coach give us a look at the areas he's trying to improve. Plus, Matt Nagy talks Justin Fields's progress, scouting college football and much more before Week 1.
SPARTANBURG, S.C. — The Thursday I was here, the big story coming out was Matt Rhule's Panthers taking a step forward in their final hours of camp against the Ravens, who'd "won" the joint practice between the teams the day before. And punctuating that effort was a headline play—coming when Donte Jackson undercut a route, picked off Lamar Jackson and touched off a raucous celebration that ended with Carolina linebacker Shaq Thompson's punting the intercepted ball into the sky and drawing a flag for taunting.
About 20 minutes later, I was standing with Ravens coach John Harbaugh, maybe 150 yards from where all that happened. He relayed a different view of his quarterback's day, and of Jackson's offseason in general.
"He's always been a mature person. He's never gonna change who he is or his personality, which is what you love about him. He's always gonna be genuine," Harbaugh said. "But he's learning how to play the position, he's learning what it takes to take it to that really elite level on a consistent basis, and you see it in the way he's playing."
Harbaugh then pointed back out to the practice fields.
"Like today, he didn't run out of the pocket once," he continued. "And he would've in a game five, six, seven times, and those would've been big plays. But that's not what he's trying to do. He's staying in the pocket, he's trying to make throws—and he's making throws. He's been super accurate all through camp, ball's coming out quick, he's throwing ropes all over the place. I think that's probably through hard work in the offseason, he took the time."
Whether it happens now, six days from now, or six months from now, Jackson will soon have generational wealth, further affirmation he never should've had to watch 31 players get drafted before he did three years ago. And while his production last year didn't quite match his MVP year of 2019, he did manage to maintain a 99.3 passer rating, complete 64% of his throws, rush for 1,005 yards and win his first playoff game.
Yet, doubts still linger: Has the NFL caught up to Jackson?
The interesting thing is that the question doesn't get asked of many other quarterbacks like it does of Jackson, as if Jackson's success is rooted in some sort of schematic shell game that'll be up once defensive coaches figure out which walnut the pea is under. And as if Jackson can't work, like other quarterbacks famously do, to stay ahead of all that.
"You know I don't let anything like that bother me," Jackson said, laughing, over the phone late last week. "They've been saying stuff like that, I've been hearing stuff like that for a long time. Everything we have going on here, I'm just trying to win games."
The best way to do that, he knows, is getting better individually. And the blip in practice that ended in Jackson's pick masked two days of work that had the Panthers people here walking away impressed, the same way the Ravens are, with Jackson's progress.
So if you want to say the league's figuring Jackson out, just know that he's figuring out a few things, too, and the guys in Baltimore are quietly excited. About where it might take him and about where it might take them.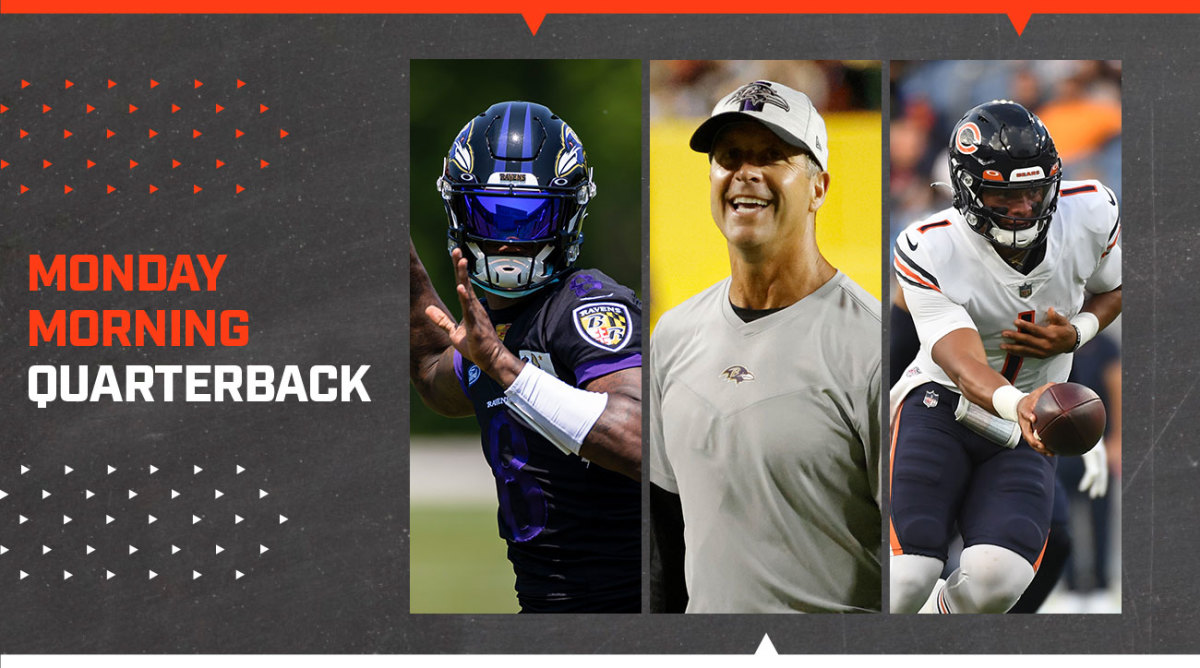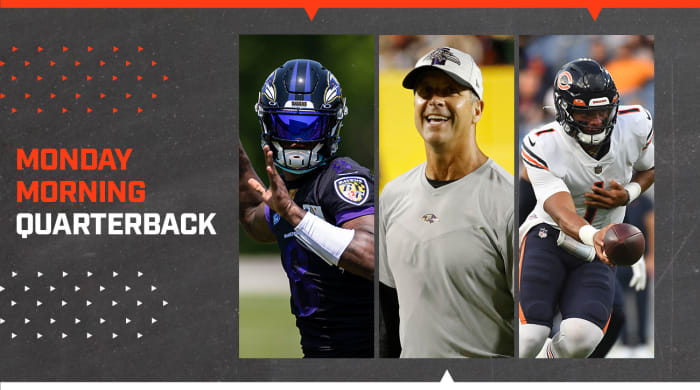 ---
The season's here! Kickoff is just THREE days away, and we're six days from the first full Sunday of the 2021 season, which (fingers crossed) should look a whole lot more like it usually does than it did last year. To get you ready, in this week's column, we've got …
• A good look at the Bears' quarterback situation with Matt Nagy.
• A look back at the first Saturday of the college season with the Senior Bowl's scouts.
• Why Mac Jones is starting and Cam Newton's looking for work.
• A whole lot more.
But we're starting in Baltimore, and with Jackson, whose career arc from here will be fascinating to track, as he gets set to come off his rookie contract and move into the next phase of his career.
---
Eventually, it did come out—Jackson's true feelings on how he's been looked at differently than so many of his peers. And what brought it out was a simple question on what he thinks the casual fan will notice over the next few weeks, and what the more obvious results of the work he's put in, and adjustments he's made to his game, will be.
"Man, to be honest, I don't know," he said. "It's always something with me. My name always gets brought up, so I don't know. Hopefully it'll be a good sign for me if they're not saying anything crazy or asking me when I'm gonna get figured out or anything like that. Hopefully, there's some good talk!"
So, then, is he sick of his game becoming debate-show fodder?
"I mean, if it's positive, no," he joked. "But if it's b.s., then yeah—it's like, Where do they get this stuff from? But it is what it is. I've got a job to do at the end of the day."
It's worth examining the question, though, because Jackson sure has. And to get answers, I went to a number of coaches who've worked against a unique-to-the-NFL Ravens offense that's built to highlight its quarterback's unique skill set.
Watch NFL games online all season long with fuboTV: Start with a 7-day free trial!
What I found is the challenge in defending the scheme that Greg Roman has built is how a combination of factors make it, in essence, the sort of issue playing Navy or Army is for a college team. Three factors meld together that you don't see often at once—a gap-run scheme (complete with double-team blocks and pulling guards) tied to a quarterback-driven run game tied to a play-action passing game that the Ravens can run out of a variety of personnel groupings—with tight ends or receivers or backs the same.
In essence, having to deal with all of that at once shortens schematically what a defense can do, because defenses in today's NFL aren't built to deal with this sort of offense. One coach I talked to boiled it down to this: "You have to play a lot of Cover 4, so your safeties can activate in the run game, but then you're putting a lot on your corners." And then, on third down, the Ravens run from longer yardage more than others, and Jackson can run off the dropback game at the drop of a hat to ruin your best laid plans.
Have NFL teams figured out how to stop that? Yes and no. As is the case with college teams and the service academies' triple-option attacks, NFL coaches have had to do work in the spring and summer to get ready for the Ravens. "You can't just do that week of," said another defensive coach.
And as would be the case with any young quarterback, defensive coaches have found holes in Jackson's game—he's not nearly as consistent throwing outside the numbers as he is inside. So, for example, what one team has done is take the defender responsible for the "curl-to-flat" area in zone and tell him, against Baltimore, to defend the curl and only go to the flat if the ball takes him there, which dares Jackson to throw outside and crowds the middle of the field, where he's most effective throwing it.
That's worked, too, in cases where Jackson's been off throwing outside. And that's really the thing about it. There are cases where he's O.K. beyond the numbers. It's just not consistent.
"He's streaky," said one defensive coordinator. "But if they run and he's hot? Look out. You gotta outscore them then."
Now, the real question: Why do people assume that Jackson can't get better and more consistent in those areas? Especially when those were areas where Tom Brady once struggled? (Rex Ryan's defenses famously used to pack the middle of the field against the Patriots.) And especially when Jackson himself acknowledges the criticism isn't off base?
"I agree with it," Jackson said of this particular criticism of his game.
And that brings us to the work that Jackson's done to fix it the last eight months.
---
When I asked Harbaugh where he's seen Jackson focus his hours, those he gets to work on what he wants to individually, the Ravens' coach chose a broad-strokes answer.

"Bottom line was throwing, aspects of throwing he felt like he needed to improve on—being repetitive, consistently making those throws," Harbaugh responded. "Repeating the mechanics over and over again on all different throws, different platforms. I wasn't with him, I can't be with these guys. But based on what I see out here, he did it. He followed through on it, and it's showing up."
It's showing up, Harbaugh continued, in a quarterback who's "just more consistent. It's more throw after throw after throw. He's on the money."
Of course, there were details to this, and a process that Jackson undertook that got way more granular than just "throwing."
Two years ago, Ravens quarterbacks coach James Urban asked Adam Dedeaux—a mechanics coach at 3DQB for a significant chunk of the NFL's starters—to come out for OTAs ahead of Jackson's MVP season. Dedeaux and Jackson did some surface-level work. The interaction was positive, but it was tough to do individual stuff in a team environment, and if things were going to go further, Dedeaux needed to earn Jackson's trust.
"One thing about Lamar, we talk to him a lot, and you talk to him about what he needs to do, Lamar thinks every day about what he needs to do to get better, and he's always got a plan for himself," Harbaugh said. "And he's open to your ideas, but he's gotta believe it for himself. He's gonna do what he believes he needs to do to get better."
Dedeaux, for his part, says that's not unusual with the high-level quarterbacks he works with, and so he was patient with Jackson. For a variety of reasons, they didn't connect in 2020 after the interaction in '19, and even when Dedeaux made plans to see Jackson earlier this year, it was on a show-me sort of basis—as in, show me what you can do for me.
So in the spring, the two started meeting, this time off-site at a high school field local to Baltimore, and it happened with the collaboration from Urban, who has already earned Jackson's trust. Urban saw the work Dedeaux did with Andy Dalton in Cincinnati, when Urban was Bengals receivers coach, so there was testimony more than just theory there.
Dedeaux said that the work he and Jackson did in 2019 was akin to a golfer trying to adjust his swing the week of a tournament—if a quarterback is focused on team stuff, it's always tough for any sort of mechanical changes to take root. Conversely, in getting Jackson away from the facility, he could create what he refers to as a failsafe environment where Jackson could try things out without worrying about being judged or losing a rep for his teammates.
And once they got out there, the focus narrowed not on how he throws, but what inconsistency in his lower half was doing to his throws.
"What I think he appreciated is I recognized where he's special, and how his arm angles change, and I wasn't going to take any of that away from him, because I come from the baseball world and realize how that's valuable," Dedeaux said. "I just established when it's appropriate and when it's not, and how your body supports those angles. So then it was, OK, I can get behind this, and now I understand the why."
"If I see it's helping, if I see it's working, I'm going to be all-in," Jackson said. "But if it's just someone telling me, Oh, I think this'll work, and it's not really helping me, I'm not gonna go along with it. That's pretty much it. And I saw it, once we started working with him, the little things he was telling me to fix, I'd fix, and it was working. It was helping me throw a tighter spiral. And I was like, Yeah, I'm all-in with this guy, let's work with him."
That's because the results came quick. Dedeaux worked to get Jackson to "establish a consistent position to throw from within the offense. That starts with footwork." With his feet in a better place, then, he made sure he was opening his hips to the target on every throw. Quickly, his throws got more consistent, and his arm was less sore after throwing.
"It was right away," Jackson said. "It was instant. I ain't gonna lie to you, it was instant. It was being open towards my target, bringing my hip through, bringing my leg through. That's all it was. And then just little fundamentals with my footwork."
And like Jackson said, his spiral's tighter, and he's more accurate to parts of the field that he's never been before—something one Panthers staffer told me he noticed in saying Jackson's ball, that day, "looked like it was coming out of a JUGS machine."
The truth, though, is that this is all a natural evolution for a quarterback committed to taking his game to another level. It's just that, for one reason or another, the outside focus on Jackson has been on some imaginary wall he's bound to hit, maybe because other mobile quarterbacks have hit one in the past, while he's focused on climbing over it.
"It is just working on and continuing to develop his game," Dedeaux said. "His arm strength, his takeaway, his release, timing, all that, a lot of it is good. It's just that he's relied on his arm, and we're just trying to get the body to contribute more. And that's different for everybody, how they understand it, what it looks like, it doesn't have to be what certain people think it should be. It's just different for everybody."
What matters is that they got where they intended to, even if the path there was different (Jackson's has been). And Jackson, Dedeaux, Urban, Roman and Harbaugh clearly feel like they have. Which means, like one of our defensive coaches said, the Ravens might be tough to keep up with.
---
Harbaugh's noticed other areas of growth from Jackson, too. And leadership is a big one—something that will be important as he, eventually, becomes the highest-paid player on the team.
But the key to it, as Harbaugh sees it, is that the change isn't wholesale. It's happened naturally and is a result more of what Jackson can do for his teammates, then trying to get them to do anything for him.
"You couldn't ask for a better leader," Harbaugh said. "We always tell him, Be yourself, everybody else is taken. He's who he is. That's what I love about him. That's what makes him such a good leader, he's so genuine, he doesn't try to be what people say a quarterback is supposed to be. You walk in and try to tell him, Hey, this is how a quarterback is supposed to act, he'll respect you. He'll say, O.K. But he's going to be himself."
That, in this case, means being positive and demanding simultaneously, "in a way that's not threatening, it's not downgrading a guy at all, it's always an uplifting thing," per Harbaugh.
"He's more outspoken on what he expects from the receivers, offensive line, cadence, all the things that go into playing the position," the coach continued. "I'd say he's more outspoken with the guys than he's ever been, because he knows more, so he's got clearer vision on what he expects."
And therein, lies another area where Jackson's more than O.K. being critical of himself.
"I still need to do a better job of that, of being a vocal leader," he affirmed. "But like you said, I'm always myself, and I don't want guys to think I'm stepping on their toes or telling them how to play their position. Sometimes, you can say something, and help guys a lot, and sometimes they don't want that help. And I don't like to step on my guys' toes—they're great players, and nine times out of 10 they know what they're doing anyway.

"I just can help more now with the little things."
Those little things are what Jackson was trying to take care of at that practice, and in a certain way they explain the interception, too. As Harbaugh said, Jackson didn't leave the pocket to run once during that two-hour practice, only to buy time to throw. And that was never to be taken as a signal that Jackson is trying to erase that part of his game.
All it was, really, was Jackson's getting the reps he needs. So rather than tucking and running when trouble brewed, he'd sit in the pocket, look at the defense and try to win a different way. And growing his ability to do that, as he sees it, will make he and the Ravens that much tougher to defend.
"I don't want to be too early [running]. I want to see things develop, see if I can hit my guy early in his route, or coming out of his route—first window, second window," Jackson said. "I wanted to be able to take it and see what works versus certain coverages, that's all it was. It wasn't me trying not to run or win from the pocket. I'm trying to win regardless, whether it's from the pocket or doing what I do."
So, sure, maybe the NFL's caught up to some things he and the Ravens are doing.
But Jackson's spent the whole offseason trying to catch up on what he hasn't been able to do yet. And while he's diplomatic in answering if he's been misperceived in the process—"With the people that keep doubting me, I guess I am"—it's pretty clear he's heard things this offseason that he's gotten used to hearing his whole life.
His response to it, over the next four months, and based on all the work he's done, should be interesting, with a little more to it than most people realize.
---
THE TESTS JUSTIN FIELDS HAS PASSED
I told Bears coach Matt Nagy on Sunday that I'm probably second only to him on Justin Fields questions taken—maybe because of where I went to school. And if you've read my mailbag over the last couple of months, you know it's the truth.
So as a close observer of the Chicago quarterbacking situation, coming out of what must've felt like a millionth reaffirmation by Nagy of Andy Dalton as the starter, I thought I could find the answer to a key question pertaining to an opener against the Rams in Los Angeles that's now a week away. It's a simple one too. Is Fields the Bears' No. 2?
"Yup," Nagy answered during a quick break from work over the weekend. "He is."
Maybe it seems like a small detail to most. But here's why, to me, it really isn't: The Bears have an experienced, battle-tested veteran on the roster in Nick Foles. And so going with Fields as Dalton's primary backup means the coaching staff has confidence in putting Fields in a game at the drop of a hat, because it might have to, and that Foles is on the roster as a guy who's proven he can play that role means that Fields had to earn that.
Also, for context, the Packers made Jordan Love their No. 3 last year, and didn't dress him for a single game. Most No. 3 QBs don't dress on game day. Accordingly, the Bears might not dress Foles this week, or at all this year, making Fields their only real safety net.
"And I think that's a very valid point," Nagy said. "If you go back and look at quarterbacks that have been drafted in the first round, there's a lot of history that suggests that players that have started as backups, and some for different reasons than others, got in early that first year. But yeah, sometimes people take that for granted—like he should be the starter or the backup. You gotta earn that.
"And we did put him in that spot early on to see if he could keep it. And he did. He did everything to hold on to that. And we tell all the quarterbacks, Do everything you can to be the starter; make it hard on us. If you do that, you'll make the Bears a better football team."
So for Bears fans yelling for Fields to play, here's the good news—through a lot of preseason snaps (92 in three games), he's earned the coaches' trust. And from here, if Fields doesn't play, it's because Dalton and the team are playing well. Otherwise? Well, we'll see. Here are a few more things from my talk with Nagy, as he comes out of a pretty newsworthy summer at Halas Hall, and dives into a big week for his team.
You should take Dalton's preseason results with a grain of salt. Yes, Dalton's numbers were middling (13-of-21, 164 yards, TD, INT) in the three games. And no, five three-and-outs and just one score in nine preseason possessions won't be good enough if that's what it translates to when the season starts.
But really, because of the way the Bears managed their roster, Dalton's play was always going to be graded more on how he ran the operation, with the acknowledgment hiccups were likely given who he was out there with at certain junctures.
"You see a lot of these teams where there's a lot of players that aren't playing at all, what we wanted to do was get him a few live reps, getting in there and understanding what it's like with this offense," Nagy said. "And we knew going into it that some of it was not going to be with some of the starters. The variable I keep talking about in the preseason, of not having your starters in there with you, it's hard. …
"We looked at decision-making, we looked at how he runs the huddle, the things he does at practice, does it transfer into the game? He didn't have a lot of reps, but the reps he was in there, he did a great job. Now is when we really get going with Week 1. This preseason was more about individual evaluation than it was about team production."
Fields passed the tests he needed to. Back in July, Nagy told me that it was Fields's job to make this hard on him. Did Fields do that? "For me, it was knowing when we get into a situation where Justin has to go in there as the starter, whenever that is, is he ready?" Nagy said. "And I'd say, for everything he's done, he's done a great job trying to be the best quarterback each day."
Which, in a roundabout way, is saying that, yes, Fields made it tough not to play him, and that should bode well for the future. For now, the most significant progress in getting there came with Fields's ability to command the Bears' offense. Early on in camp, Fields would walk into the huddle having memorized plays, doing all he could to spit the call out. Now, he's at the point where he can talk to, and direct, his teammates through calls.
"He's passed that test," Nagy said. "We went through that in OTAs, and once he got to training camp, he put in a lot of work into trying to understand the formations and understand the motions and shifts, understand the concepts. He got over the hurdle of just memorizing and now he speaks to people. That part, there's always a play or two where you might have a little difficulty, but he's done a great job with that. That's not a concern."
Fields's next challenge will be keeping his development going as he runs the scout team on a weekly basis. That, of course, can be tough for a rookie—learning the offense he's being groomed to run during the bulk of the day, then taking all his physical reps running someone else's offense to get the defense ready for game day.
But the coaches have emphasized to Fields that there's plenty to be taken from the work he'll get running an opposing scheme on the practice field week to week. And there'll be time after practice for Fields to get the work he needs in the Bears' scheme.
"In practice, he's working on his fundamentals, he's working on him," Nagy said. "And then in the building, he's working on the mental side of us, and how we're talking as a team, and things we're looking at schematically. But when we're out there on the practice field for those two hours, he's doing everything he can, whenever he's getting reps, and he's with the look team, he's trying to absolutely dominate our defense.
"It's doing everything he can to not only make himself better but make our defense better."
(For what it's worth, the stories of Patrick Mahomes's dominating on the Chiefs' scout team in 2017 are pretty legendary. And you may have heard Nagy was there for that.)
The relationship between Dalton and Fields isn't unlike Alex Smith's was with Mahomes in 2017. Nagy said he can see it on the practice tape, in moments when Fields's arms go up as he sees Dalton setting up to throw, when Fields knows the play is there for Dalton to make. And that sentiment is reciprocated too.
"Andy was one of the first guys down the field celebrating on Justin's first touchdown in the first preseason game," Nagy said. "That's what we see every day. These guys have an unbelievable relationship. Andy's a huge supporter of Justin. And Justin's a huge supporter of Andy. Nick's the same way. When you have that, and worry about what you can do to make us and you better, then we'll all be successful."
Now, we all know that whether it's later this month or next year, Fields's time is eventually coming—and his play over the last month has done nothing to make anyone question that. And it's understandable that Bears fans want that time to come sooner rather than later. History, too, suggests it will. Over the 13 draft cycles from 2008 to '20, 39 quarterbacks went in the first round, and just three (Jake Locker, Mahomes, Love) were truly redshirted.
---
So maybe we'll see Fields soon. Maybe we won't. Much, that same history will tell us, rides on the Bears' place in the playoff race—it's no mistake that those three redshirts played for teams that contended. So, again, the good news for Bears fans is either the team will be really good, or Fields will probably play.
And if they want more good news? Just know that when I asked Nagy if the Bears brass feels stronger about Fields, and having taken him 11th, now than in April, he didn't skip a beat.
"Oh, hell yeah," Nagy said, laughing. "Oh yeah."
---
SCOUTING NCAA WEEK 1
It was a great weekend in college football, and we're going to get to some of my thoughts on it in the first Six from Saturday of the 2021 season below. But first, I figured we could give you a little more on the action and how it relates to an NFL draft that's still about eight months away—and there really was no one better to help us with that than the good people at the Senior Bowl (which happens to be one of my favorite events on the NFL's calendar).
So the game's executive director, Jim Nagy, was nice enough to offer up some scouting notes that he and his people mined over the last few days. For those who don't know, the Senior Bowl has its own personnel department, which Nagy (a former Seahawks, Chiefs and Patriots scout himself) leads, and that group live-scouted 20 college games over the last few days. Here's what they had for us …