GamePlan: Our Annual List of Future NFL General Managers
Albert Breer's latest compilation of 29 scouts and personnel experts preparing to take over a changing job description. Plus, the Week 17 preview.
Here's a memorable story from the offseason, though the player and general manager involved will remain nameless.
The player was wrapping up his honeymoon on St. Lucia, and readying to head back to the States, when volcanic eruptions began on the island. Quickly, those there were warned that much bigger eruptions could come, and to take all precautions to stay safe. One problem: All outgoing flights were grounded, the island's airspace was closed and pretty much the only way to leave would be if you had your own boat.
Soon thereafter, the GM was apprised of the situation. So in an instant, he went from his predraft work into crisis mode. He worked to see if there was a way to get a boat to the player and his new wife and got the team's security force on the case.
There'd be no boat. But the team did find the player safe shelter to ride the situation out.
Suffice it to say, Kevin Costner definitely didn't deal with anything like that in Draft Day.
The job of general manager in the NFL is changing. It's growing. It's becoming more challenging. And thus, what a team is looking for in one has had to evolve, too.
In this week's column, we'll present to you our 13th annual future GMs list. It is, to be sure, a challenging exercise to pull off every year. Aspiring young GMs usually can't point to one thing or another, the way an offensive coordinator can cite a quarterback's development, or a defensive coordinator can send a team his unit's key metrics, as a reason why they should be the next guy to land one of 32 coveted spots running a team.
Scouting roles, and roles in personnel in general, are normally too vague for any facts or figures to be blindly reliable—a person who holds a title in one place might have a vastly different job than a person holding the same title in another place—so sorting through a mountain of names to be considered usually requires a whole lot more digging. And it's getting even harder as NFL organizations continue to add new departments and staff.
But one thing that's abundantly clear is that NFL hiring into these positions could soon be counterintuitive to the conventional idea of who GMs are and what they do. The eruption in St. Lucia's just one example of why Costner's caricature of the role might not hold up much longer.
---
It's Week 17, and we've got plenty to get to in the GamePlan column. This week, you'll get …
• A look at the biggest games of the weekend, starting with an intriguing QB showdown.
• Story lines to follow, with an assessment of the top pick's value in 2022 draft.
• My flawless (since Thanksgiving) gambling advice.
• A potential COVID-19 twist to what's left of the 2022 season.
But we're starting with the evolving role of the NFL general manager, and a couple lists of folks who could ascend into those roles.
---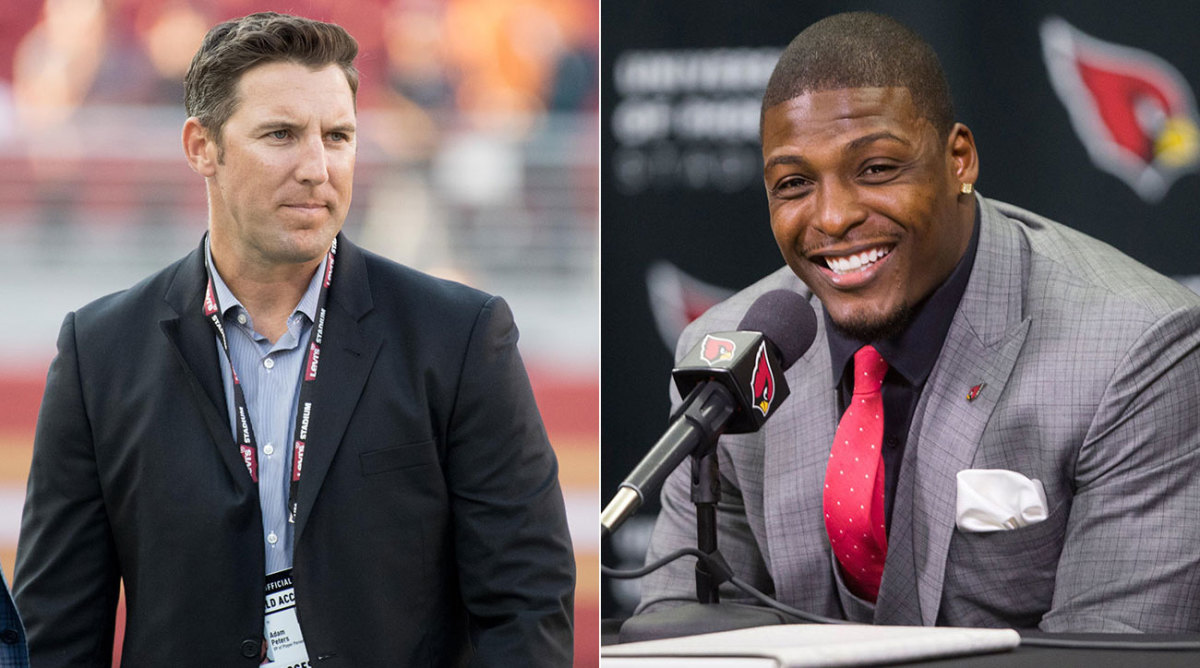 I was talking to a team executive on Thursday, one who's hired a GM, about the idea of finding a scout for that job, versus getting someone from the football operations side, and eventually we got to what specifically he'd look for in a candidate. His prerequisites might be a little different than you'd expect.
1) An ability to hire staff.
2) An ability to work productively with the head coach.
3) An ability to manage people.
You might notice there's nothing in there about finding a quarterback, maximizing a third-round pick or building out depth in your secondary. There also isn't anything about managing the cap or implementing analytics. Why? Well, you can find people to do all of those things. And it's great if the GM can check off a couple of those boxes themself. But ultimately, they're going to need help, and that takes finding and deploying good people effectively.
"To me, it's about how you build the best and most cohesive organization," said the exec. "Picking players is a huge part of it, but so is working with the coach, and managing trainers and equipment managers, all of that. The more complex that job gets, you get to the point where it might actually be easier to find people who are good at choosing talent but don't have the rest of the skill set to fill a director or VP type of role.
"You can go either way."
And while scouts used to rail against that idea, even guys rooted in that side of the business who have ascended to GM roles agree: The job isn't even close to being the same as the ones they held in climbing the ladder through personnel departments.
"You are the general manager—you can take that literally," said one such NFC GM. "The job is broad, and so you have to be able to hire people that offset your own weaknesses. It's not even necessarily a football job all the time. I deal with HR, I deal with contracts, I deal with things I've never had to deal with in my life. So no matter how well-trained you are, and obviously the more you've been exposed to, the better, you're going be learning on the run.

"That's why you need good people. You need good logistics people. You need a good cap guy. You're responsible for a lot. … The idea of the GM being a guy who shuts his door and watches tape, that's fading. Organizations are getting too big. There's too much information coming in."
It's at the point now where, this GM said, he has to carve out time into his days to make sure he does get some of what he was hired for (which actually was finding players) in amid everything else—so he'll try to get some pro tape done in the morning on Wednesdays, Thursdays and Fridays, and look at college guys in the afternoons.
Another NFC GM told me he shoots to study 12 to 15 players a week (mostly college guys) on tape, just so he can accumulate a working knowledge to be effective with his scouts when the offseason arrives. His initial goal was actually to get three guys in per day in-season (which works out to 18 per week, with game day obviously excluded from the equation), but the volume of nonscouting things that cross his desk made that impossible.
"The GM manages personnel, cap, training room, video, equipment, security, analytics and player engagement," the GM said. "And he has to hire those people [to run those departments] and then balance all those opinions."
And ultimately, as the job has grown, so has the importance of a GM's ability to synthesize what can seem like an endless well of information, then make decisions off it.
Those decisions can encompass everything from deciding how the weight room should be set up, to budgeting for sports science, to incorporating analytics into football decisions and, yes, ultimately to whom you might take with your first-round pick.
"The learning curve is tough because of the breadth of responsibilities that come across your plate, and how integrated everything has to be for an organization to have success," said one AFC GM. "You can take a player you're gonna acquire, it starts with college scouts, the area scouts' information, their strengths and weaknesses; then it goes to the coaching staff, with personnel group's input, in how they land in your scheme, then to your research group on how they should be valued; and your doctors, trainers on the medical.
"And then the GM executes the acquisition. And you get him, and now he's in the building, and you hand him off to your coaches, player development people and support staff, and now they're running the show."
The GM then explained how, after that, there's how a player's life skills play into how he winds up playing, and how coaching gets him to game day, and then years later, if things go well, it can swing back to the personnel department to make decisions on giving a guy a contract, or maybe eventually trading him, or letting him go with an eye on comp picks.
And that'd just be a decision on a single player. Such decisions need to be made away from the actual 53-man roster too (coaching contracts, allocating resources, etc., etc.).
If your head is spinning at all this, then you get the idea.
"I don't know how just scouting the Southeast would have you ready for the job," said the second NFC GM. "There's a lot that goes into it."
So with that in mind, we're going to give you our 13th annual future GMs list. And in the spirit of the column, we're breaking it up—with one category stocked with scouting folks, and then a handful of operations people to follow.
---
SCOUTING SIDE CANDIDATES
Mike Borgonzi, Chiefs assistant GM: Originally brought aboard by ex-Kansas City GM Scott Pioli, Borgonzi steadily rose through the organization, then was held over by Andy Reid and John Dorsey. Under Pioli, the Brown alum got experience on the ops side, served as the team's pro scouting director, and as Brett Veach's No. 2 has more recently been involved on the college side, too.
Brandon Brown, Eagles director of player personnel: Part of Howie Roseman's robust scouting department, Brown's primary experience is in pro scouting. But he's done more with the draft over the last year, and has a really interesting background, with a law degree and a job in college football compliance giving him a good ability to see the big picture organizationally.
Morocco Brown, Colts college scouting director: A decade ago, Brown was seen as riser in the field, having ascended to pro director in Washington, before Ray Farmer hired him in Cleveland to be Farmer's No. 2. Unfortunately for Brown, Farmer only lasted two years in that job, and Brown had to reset thereafter. Since, he's reemerged as a vital piece of Chris Ballard's staff in Indy—and as the lead guy on the college side, giving him experience having directed both a pro and college department.
Ran Carthon, 49ers director of player personnel: Carthon played in the NFL, came up under Thomas Dimitroff in Atlanta, and Les Snead with the Rams, and arrived in San Francisco as pro director, and has moved up a rung and added college scouting experience to his résumé. The son of ex-NFL player and coach Maurice Carthon, he's also well-connected in the Parcells coaching/scouting family.
Ryan Cowden, Titans VP of player personnel: Cowden worked under Marty Hurney and Dave Gettleman in Carolina, and now have five years of experience working in GM Jon Robinson's Patriot-centric scouting system. He's worked extensively on both the college and pro sides, and interviewed for the Washington GM job last year, with ex-Panthers coach Ron Rivera.
Glenn Cook, Browns VP of player personnel: A former Univ. of Miami linebacker and captain, Cook's young, but has accumulated a pretty interesting résumé, having coached before getting into scouting, and having worked in personnel departments for Ted Thompson and Bill Polian, before landing in Cleveland, and rising through the ranks under Sashi Brown, John Dorsey and now Andrew Berry.
Ian Cunningham, Eagles director of player personnel: A protégé of Ozzie Newsome's—one of his early jobs was as the Southeast area scout for the Ravens (Newsome's alma mater, Alabama, was one of his schools)—Cunningham drew interest for an assistant GM post in Carolina last year, and Joe Douglas tried to take him to the Jets with him in 2019, and again in '20. Cunningham's time is coming, even if may still be a few years away.