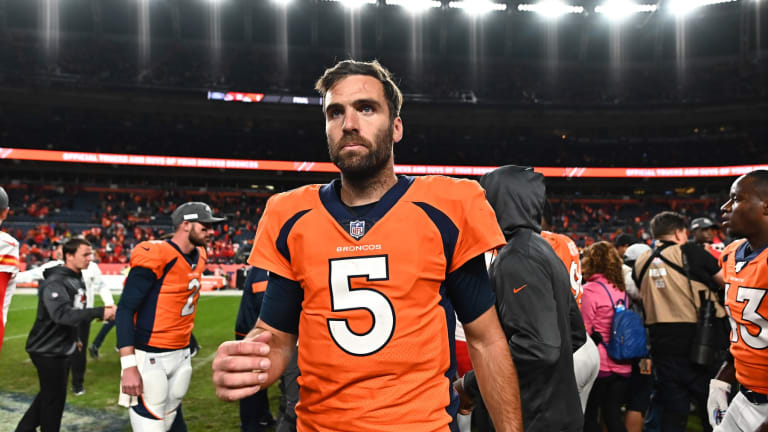 Report: Joe Flacco Expected to Miss 4-6 Weeks With Neck Injury
Joe Flacco won't require surgery but the odds of him returning in time to help the Broncos are slim.
Joe Flacco was told by the Denver Broncos team doctors on Monday that the herniated disc in his neck would cost him 5-6 weeks. He sought a second opinion with Dr. Jack Kelley and based on a new report from ESPN insider Adam Schefter, it sounds like the Broncos' original timetable was accurate. 
While it's good news that Flacco won't require surgery, it's cold comfort to a 2-6 Broncos team that has played itself out of postseason contention. The Broncos thought they could win with Flacco and it simply didn't work out that way. 
By the time Flacco is recovered enough to possibly be available to play, for all we know, the Broncos could be 2-10 or worse. Considering that this team doesn't currently have a quarterback with even a single regular-season snap under his belt, its prospects of fielding a competitive product in the ensuing weeks that Flacco will be sidelined are the epitome of slim. 
The smart decision, considering the complexion this season has taken on, would be to officially place Flacco on injured reserve and open up a roster spot for rookie second-round QB Drew Lock. 
What happens next for the Broncos? Don't miss out on any news and analysis! Take a second and sign up for our free newsletter and get breaking Broncos news delivered to your inbox daily!
The last we heard from Flacco following the Broncos 15-13 collapse to the Indianapolis Colts, he was publicly questioning the play-calling and decision-making of the coaching staff for its late-game maneuverings. On Wednesday, GM John Elway spoke with KOA radio's Logan and Lewis and addressed what he called Flacco's "frustrations". 
"He did everything he possibly could," Elway said. "As far Joe, believe me, I've been frustrated in situations, too, to where sometimes you say things that maybe you don't want to say — you never know. But you get frustrated. I know that Joe was frustrated because I think everybody was. When you lose another game the way that we lost it, there comes frustration with it. I don't have an issue with anybody that says what they feel. I think that that's what he felt at the time and that's where he was. Again, frustration has a lot to do with it. And everybody's a competitor and nobody likes losing, especially the way that we lost." 
The Broncos thought the short-term rental of a 34-year-old Flacco would allow the team to kill two birds with one stone — 1.) compete in the short-term and 2.) keep the seat warm and buy time for Lock to develop. 
The combination of Flacco's play and injury, however, has started the clock unofficially on the Lock era in Denver. Elway also intimated to Logan and Lewis that the Broncos have circled Week 11 as the window for activating Lock, who's been on IR himself with a sprained right thumb. 
Lock is fully healthy now and is "ready" when "they are" to take over starting QB duties. The Broncos want to wait until after the bye, though, before officially starting the clock on Lock in Denver. 
Next up on the schedule are the Cleveland Browns at home for Week 9. Third-year backup QB Brandon Allen will make the first NFL start of his career before the Broncos hit the bye in Week 10. 
Follow Chad on Twitter @ChadNJensen and @MileHighHuddle.