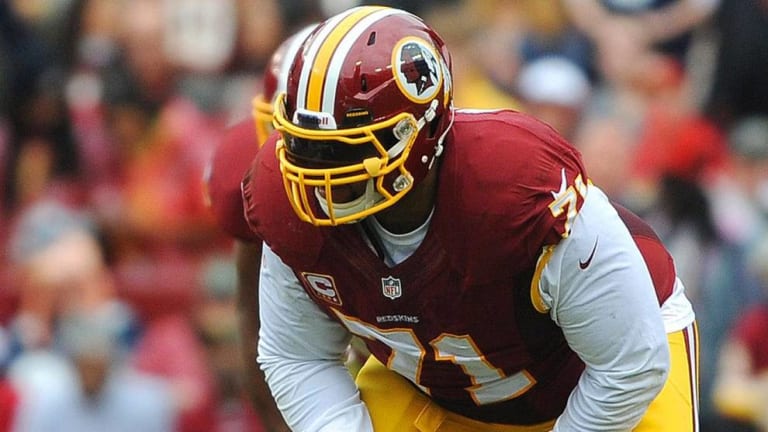 Charles Robinson: Browns "Furious" at Redskins Over Trent Williams
Charles Robinson of Yahoo Sports is reporting the Cleveland Browns are "furious" at the Washington Redskins over their handling of their left tackle Trent Williams. The Browns were apparently willing to part with a first round pick six weeks ago to which the Redskins said no, only to try to come back and get the same deal yesterday. The Browns said no, but the bigger takeaway is general manager John Dorsey's continued lack of a plan.
According to Charles Robinson of Yahoo Sports, the Cleveland Browns front office is "furious" at the Washington Redskins over the Trent William situation. Specifically, Robinson is reporting the Browns were willing to send a first round pick to Washington for Trent Williams six weeks ago, putting a deal in the middle of September. The Redskins were unwilling to make a deal then, but tried to call the Browns back before the trade deadline, hoping they could still get that first round pick. The Browns refused. essentially hanging up the phone on them.
The biggest part of the story is going to be the dumpster fire located in Ashburn, Virginia, but the takeaway should be the fact that Browns general manager John Dorsey was fully prepared to mortgage a significant asset in a horrible trade. Six weeks ago, the trade was still a horrible idea.
Redskins owner Daniel Snyder and Bruce Allen, the team's President, have been one of the most inept front offices in the league for years. It's understood. It's troubling that the Browns had such a poor plan of attack with the offensive line that they were prepared to mortgage one of the biggest assets the team had to try to fix a situation they knew was going to be bad this year.
Trent Williams for two years wasn't the answer. He's a phenomenal talent and an All-Pro at the position and none of this is a poor reflection of his ability, but the Browns need a longer term answer at a cheaper cost. That only happens in the NFL Draft. 
This signals desperation and a failure in planning by the Browns as if they were going to do this, it's not at the trade deadline or the middle of September, but July or maybe August when this gets done. That way, Williams has time to get acclimated to the Browns system, ready to play in general and the Browns know what they have on offense.
It raises substantial concerns with the front office, specifically John Dorsey, who should already be nervous with how Freddie Kitchens has this team performing halfway through the season. It's good this didn't happen at all, but it points out that the team needs to truly plan and not try to fix critical parts of this team on the fly, betting everything they have to get it done.