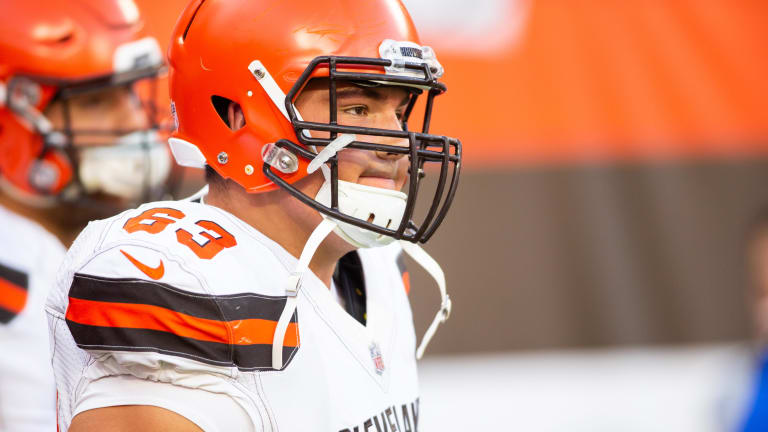 Browns Admit Defeat on Austin Corbett, but get Something in Trade to Rams
The Cleveland Browns have agreed to trade former second round pick and 33rd overall pick in the 2018 draft class Austin Corbett to the Los Angeles Rams for a yet undisclosed draft pick.
The first major misfire for John Dorsey as Cleveland Browns general manager, the team has come to terms on a trade to send former second round pick Austin Corbett to the Los Angeles Rams for an undisclosed draft pick. The 33rd overall pick, Corbett barely sniffed the field and was unplayable in his second season at any of the three offensive line positions.
The writing has been on the wall with Corbett for a while. It seemed like the Browns might hold onto him for another year just to see if he could amount to something. Some were expecting him to be cut when the Browns final roster came out, but the team opted to keep him and now they've been able to get something out of him.
Dorsey has come up with other options to account for the failure with Corbett. In addition to signing Eric Kush, the team's current starting right guard, he also made a pair of trades to acquire Wyatt Teller and Justin McCray. Teller was from the same class as Corbett, was arguably the better prospect and the Browns paid very little to get him.
The Browns are staying with Kush at the moment, but Teller seems likely to be the right guard of the future. Meanwhile at center, the other option for Corbett, the Browns have one of the better centers in the league in J.C. Tretter. The hope is that this means the team will now sign Tretter to an extension to maintain continuity up front with Baker Mayfield's center.
Update: The compensation is a 2021 5th round pick per Tom Pelossaro of NFL.com and NFL Network
All things considered, not a bad return for a draft debacle.