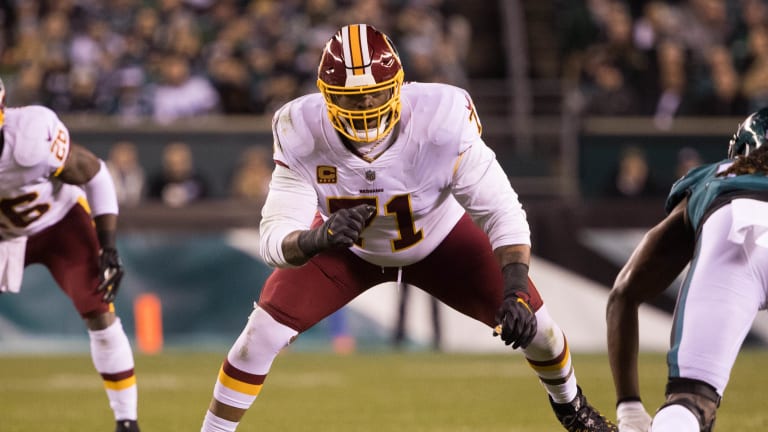 Redskins Seeking Stars, Might Settle for Moon if Teams Want Trent Williams
Per a report from Ian Rapoport of NFL Network, the Washington Redskins are willing to trade left tackle Trent Williams. Their demands are extremely high in terms of draft assets and talent. The Cleveland Brown have long been linked to him in a potential trade and this is what they'd have to give up to acquire him.
According to Ian Rapoport of NFL Network, the Washington Redskins are open to trading Trent Williams now, so long as the teams acquiring him is willing to give up an obscene amount of assets to get him. Consistent with their approach all long, the Redskins have never been interested in giving up Williams, who is still holding out over a dispute about the team's medical staff and how he was treated for a personal situation. The Redskins are content to let him rot so long as it makes a point that no one gets to force their way out from this team; a surefire sign of what Team President Bruce Allen refers to as "great culture".
In reality, this is good news for the Cleveland Browns as the longer this talk has gone on, the less reason they have to make a deal for him. Now sitting at 2-5, trading what would be premium draft assets or players, the Browns would be adding an excellent left tackle with a year and a half left on his contract, where the half would be desperately trying to turn around a team that needs to win at least seven of their remaining nine games.
The more prudent approach for the Browns has always been to wait for what is a talented 2020 NFL Draft class for the tackle position and find the right fit to be their left tackle. The contract would be for four years at least, younger and cost effective, fitting in with their young core up front that can be together for several years if they get it right.
The Redskins organization has nowhere to go up but at this point as it's not possible for anyone to think lower of their standing in the league, but falling into the trade of chasing after their players and giving up way too much would put the team making into the position of being more foolish then they are.
Currently, the Browns have three players that can operate at left tackle; Greg Robinson, Justin McCray and Kendall Lamm. They can get through the year with those three and make a real investment to address the issue as opposed to a desperate attempt to make up for what has been an ineffective plan, both in design and execution this season.