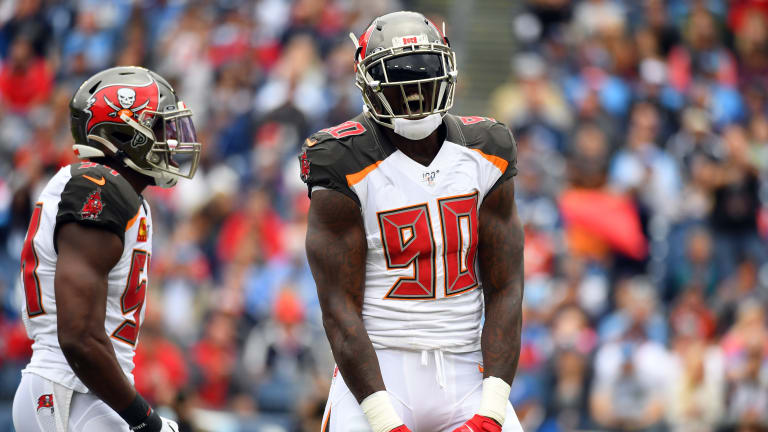 Jason Pierre-Paul Makes Emphatic Return for Bucs
Veteran pass rusher made multiple big plays in his first game of the season after suffering neck a neck injury.
We should have known better than to doubt Jason Pierre-Paul.
After a gruesome fireworks incident nearly left him without a hand, Pierre-Paul returned to play for the New York Giants, defying all odds and reasonable expectations. He was eventually traded to the Tampa Bay Buccaneers, where he led the team with 12.5 sacks in his first season.
But this offseason, the former first-round pick out of USF was faced with yet another mountain to climb. Pierre-Paul suffered a neck fracture in an offseason car accident, leaving many to wonder if his NFL career was over.
Instead, Pierre-Paul overcame adversity once again, returning to practice over Tampa Bay's bye week. He was added to the active roster just in time for Sunday's game against the Tennessee Titans, and he wasted little time making an impact.
Pierre-Paul sacked Titans quarterback Ryan Tannehill on his first snap of the game:
Pierre-Paul tallied two more tackles for loss in the game, making his presence felt throughout the game as he rotated with fellow outside linebackers Shaq Barrett and Carl Nassib. All three notched a sack Sunday, with Barrett now back in the league lead with 10 on the season.
Pierre-Paul's return is a huge boost for a Tampa Bay defense that is the league's best against the run, but worst against the past. He's also one of the team's most respected leaders, something they'll need after losing three straight games.