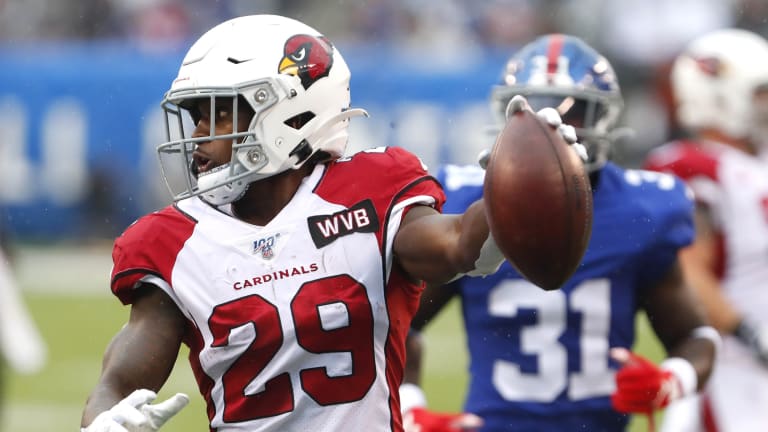 Giants Drop Third Straight in Ugly 27-21 Loss to Cardinals
Turnovers continue to hurt the Giants as they lose their third straight game.
EAST RUTHERFORD, N.J. — The Arizona Cardinals scored 14 points on two turnovers by Giants quarterback Daniel Jones, as New York was dominated 27-21 at a rain-soaked MetLife Stadium.
The Giants, who entered today's game with a chance to gain some ground in the NFC East on the loser of tonight's Cowboys-Eagles game, gave up eight sacks to Cardinals, four of which were recorded by Chandler Jones.
On two of those sacks, Arizona stripped Jones, who now has lost five balls in five games via strip-sacks.
The Cardinals jumped out to a 14-0 lead, scoring on their first two drives of the game. Running back Chase Edmonds, who finished the game with 126 rushing yards on 27 carries and three touchdowns, recorded back-to-back 20-yard touchdown runs to give his team the lead.
After the Cardinals added a 47-yard field goal by kicker Zane Gonzalez at the top of the second quarter, the Giants recorded 14 unanswered points.
On the first, Jones connected with tight end Rhett Ellison up the seam for a 28-yard touchdown reception. Then the Giants special teams, who in their last game had a punt blocked and returned for a touchdown, were on the other end this week when Michael Thomas blocked Cardinals punter Andy Lee's punt and Eli Penny recovered it to slash the Cardinals' lead to 17-14.
Despite their litany of mistakes, the Giants managed to pull within three points in the fourth quarter when running back Saquon Barkley scored on a 7-yard touchdown run with 8:13 left to cap an 8-play, 82-yard drive.
But the Giants, who with 4:23 left began a drive at their 28-yard line, couldn't move the ball, the drive ending on Peterson's strip-sack of Jones on 4-and-15 from the 33-yard line.
After Zane Gonzalez added a 35-yard field goal to increase the Cardinals lead 27-21 with 2:08 left to play, the Giants got one more chance, but again couldn't cash in when Jones was strip-sacked by Terrell Suggs
The Giants will visit the Detroit Lions next week.
Giants Maven Weekly Fan Friday Mailbag
Want to participate in our Friday Fan Day mailbag? Send your questions to us at nygiantsmaven@gmail.com.
Giants Maven Social Media
Follow Patricia on Twitter @Patricia_Traina and don't forget to check out and like our Facebook page.
Sign up for our free newsletter
Sign up for our free newsletter and get breaking Giants news, notes, and more delivered to your inbox!
Can't get enough Big Blue news and analysis?
Subscribe to the FREE LockedOn Giants podcast, your daily podcast featuring all things New York Giants, available on iTunes, Google Play, Stitcher, FM Player and wherever else podcasts are offered.