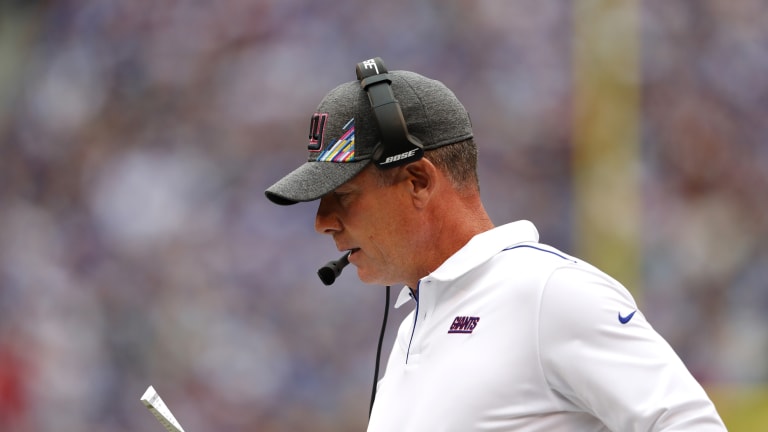 Despite Being in Division Race, Giants Are Focused on Cards
Thanks to losses by the Cowboys and Eagles Sunday, the Giants are in good shape in the NFC East if they can put an end to their current two-game losing streak. And head coach Pat Shurmur plans to remind his players to worry only about what they can control.
Things are heating up in the NFC East thanks to losses by the Cowboys and Eagles. 
And don't look now, but the Giants, who are at 2-4, are within striking distance of their division rivals. 
The division race, at this point, is more of the big picture and is something that head coach Pat Shurmur isn't too concerned with right now.
Instead, he is focused on the Giants' next opponent, the Arizona Cardinals, whose game he watched this weekend. And he plans to remind his players when they return from a day off Tuesday to worry only about what they can control, which is the next game.
"Our focus is on Arizona," Shurmur said. "You control all of that by winning games."
So far, that message seems to have been well-received in the Giants locker room.  
"We're trying to go 1-0 this week," tight end Evan Engram said. "If we stay focused on where our feet are, I think we'll be good."
Safety Jabrill Peppers agreed, saying that the Giants aren't worried about the division right now. 
"We're worried about what we have to take care of week by week, day today," Peppers said. 
"Right now, that's getting prepared for Arizona. We're only worried about what's going on in this building. We have a good team coming up that's coming off a good win. They have a lot of weapons that we have to prepare for, a lot of spread offense, so that's where our main concern is."
One of those concerns for the Giants defense is rookie quarterback Kyler Murray, whom Shurmur dubbed "dangerous" because of his mobility in the pocket.
"He can make great throws from the pocket, but when the field gets spread out, he can take off and run with it," Shurmur said. 
"Especially in situational football where it's third and short, or some of the third downs or you get down in the red zone where they take advantage of his legs and his ability to move around."
Shurmur and the Giants are hoping that the Giants are closer to full strength in time for Sunday when the Cardinals come to MetLife Stadium for a visit. 
Last week, Engram (knee), running back Saquon Barkley (ankle), running back Wayne Gallman (concussion) and wide receiver Sterling Shepard (concussion) were all sidelined.
Engram was limited in today's practice, and Gallman is still in the concussion protocol. 
Barkley, according to Shurmur, is on a path to return stronger than ever before. 
"He's a younger player still, so every time he comes out here, he has an opportunity to get better," Shurmur said. "But when you hear a player talking about trying to get better and get better by a large margin, I think that's great."
Injuries and division standings aside, Shurmur wants to make sure that his team doesn't forget that before they can worry about anything else, they better focus on how to defeat the Cardinals Sunday.
"You just do everything you can to win the next game," Shurmur said. "All of that other stuff outside, standings, where you're at, all that, none of that matters. You have to put all of your efforts into winning the game, and then the rest of it will take care of itself."