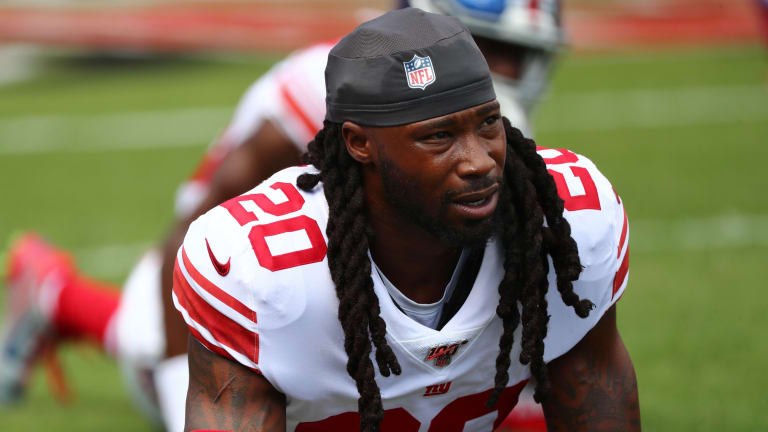 Janoris Jenkins silences critics with strong showing
The Giants veteran cornerback heard the whispers about him being done. Instead of firing back with words, he let his play do the talking for him.
Janoris Jenkins shrugged when the question came about his Week 4 performance.
"I just played football, man, like I told you last week," he said. "Ain't no pressure; you have games like that. I came out this week and worked in practice, critiqued what I did wrong last week, and I came out and played football."
Jenkins, who this year in addition to having to worry about his own game has taken on the additional responsibilities of mentoring the Giants young cornerbacks, had himself a stellar game which included four tackles, two interceptions and three passes defensed.
"That speaks to his resiliency," head coach Pat Shurmur said. "He had a great week of practice, and it showed up on the field. Having a great week of practice doesn't guarantee success on Sunday, but he went out there and did it. I am pleased and happy for him."
But Jenkins' stats don't even begin to scratch the surface of how he—and the rest of his teammates in the defensive backfield for that matter—played in the Giants 24-3 win over Washington.
Jenkins and company, taking advantage of some minor tweaks implemented by defensive coordinator James Bettcher which included more six defensive back looks which helped tighten up the Giants' problems in zone coverage, were mostly responsible for helping the defensive front rack up three sacks and eight quarterback hits against Case Keenum and Dwayne Haskins.
"Anytime that you see the quarterback have to hold the ball then look around, that means you were doing something good in the backend," Shurmur said. "I thought we played much better on defense all the way around. Certainly, the secondary had a lot of really good moments.
Tweaks aside, Jenkins opined that without his teammates coming together and committing to playing better football, they probably wouldn't have had the same success they had.
"We just believed in each other; like I said man, keep playing football, understand what is coming and what is not coming, and just continue to play football," he said.
As for his plight, Jenkins, who two weeks ago let some of his frustration spill over regarding the lack of cohesion between the front and back ends of the Giants defense, said he was aware of the chatter outside of the locker room relating to his role in the defense's struggles.
"All I read about is what's going on in the locker room. Outside noise, I hear it, but I don't think [about it] too much. Like I told you, there ain't no pressure, it's football. You're going to have a good week, you're going to have a bad week. It's just all about how you bounce back."
Giants Maven Weekly Fan Friday Mailbag
Want to participate in our Friday Fan Day mailbag? Send your questions to us at nygiantsmaven@gmail.com.
Giants Maven Social Media
Follow Patricia on Twitter @Patricia_Traina and don't forget to check out and like our Facebook page.
Sign up for our free newsletter
Sign up for our free newsletter and get breaking Giants news, notes, and more delivered to your inbox!
Can't get enough Big Blue news and analysis?
Subscribe to the FREE LockedOn Giants podcast, your daily podcast featuring all things New York Giants, available on iTunes, Google Play, Stitcher, FM Player and wherever else podcasts are offered.