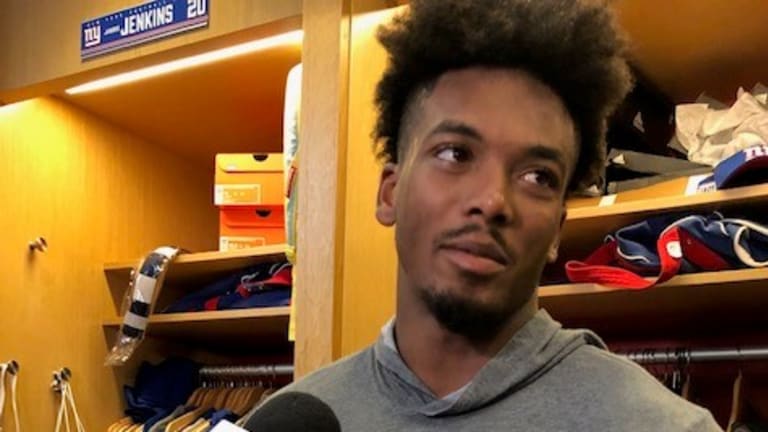 Sam Beal Eligible to Return from IR This Week
Cornerback Sam Beal is eligible to return from Injure Reserve Wednesday. Here's how the Giants plan to use the second-year player in their defense if he is activated.
Cornerback Sam Beal, who was placed on the injured reserve list at the start of the season with a hamstring strain, will be eligible to return from IR Wednesday if the coaches and medical staff give him the green light. 
Beal, the Giants third-round pick in the 2018 supplemental draft out of Western Michigan, hasn't had a chance to show the Giants coaching staff much of what he can do at this level. He lost his rookie season due to season-ending shoulder surgery. And despite practicing this spring, Beal would go on to suffer a hamstring strain early in training camp.
Both times while sidelined, Beal has made certain to stay involved with the defense by going through the meetings and studying with his teammates and position coach. That behind-the-scenes work is something that the Giants re hoping will benefit him when he does get the clearance to return.
"Sam hasn't practiced a ton, as we know, so every day is great for him, every meeting is invaluable for him," said defensive coordinator James Bettcher. "He's been able to watch tape but he hasn't been able to watch himself on tape so that's why the meetings are important. 
"It's a great self-evaluation, sit and watch every bit, watch individual, watch his scout team reps, watch his defensive team reps, watch his special team reps, all those things are key for him to try to build." 
"He had a good week," head coach Pat Shurmur said of Beal last Friday. "He pushed through it. He had a lot of work because he did some, really all, scout team work. But he did the special teams. He did probably as much as he's done since training camp, and it appears like he handled it pretty well."
Beal, who was eligible to return to practice last week as part of a 21-day window the team will have in which they'll need to either activate him or leave him on IR, has told reporters this week that he feels spry after the long period of inactivity.
Bettcher, who said that Beal will play as an outside cornerback if he's added back to the 53-man roster, has been keeping an eye on the6-foot-1, 192-pound Beal's technique in practice. 
While Bettcher would not specify whether or not Beal is getting any reps beyond the scout team, he did say that whatever reps the youngster is getting are valuable.
"Young players need as many reps as they can to get on tape so that you can coach the fundamentals and techniques," Bettcher said. "Obviously, beyond that is the scheme and the calls. He just needs as many reps of those as he can get."
Bettcher didn't' want to speculate as to whether Beal will be activated this week.
"It's just going to be a day to day how he progresses," Bettcher said.
Giants Maven Weekly Fan Friday Mailbag
Want to participate in our Friday Fan Day mailbag? Send your questions to us at nygiantsmaven@gmail.com.
Giants Maven Social Media
Follow Patricia on Twitter @Patricia_Traina and don't forget to check out and like our Facebook page.
Sign up for our free newsletter
Sign up for our free newsletter and get breaking Giants news, notes, and more delivered to your inbox!
Can't get enough Big Blue news and analysis?
Subscribe to the FREE LockedOn Giants podcast, your daily podcast featuring all things New York Giants, available on iTunes, Google Play, Stitcher, FM Player and wherever else podcasts are offered.