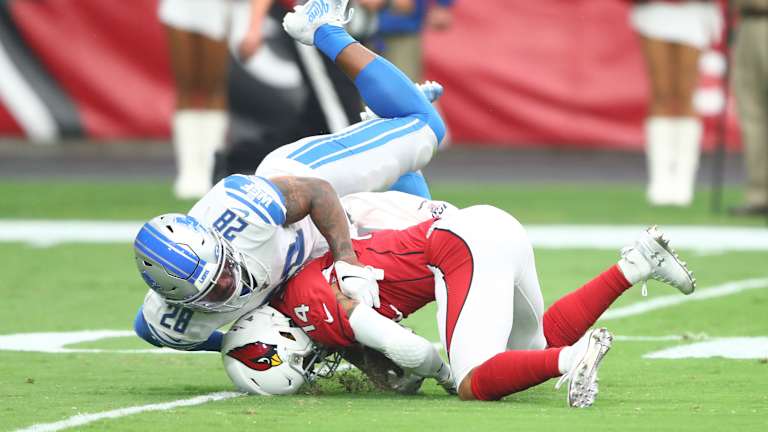 The Lions dropped a trade bombshell Tuesday, and it wasn't exactly what many were expecting. 
Instead of loading up on talent to make a playoff push, Detroit general manager Bob Quinn unloaded starting safety Quandre Diggs to the Seattle Seahawks. The deal included Detroit acquiring a 2020 fifth-round pick, while the Seahawks added Diggs plus a 2021 seventh-rounder. 
Diggs will fit in perfectly with the Seahawks' hard-hitting mentality.
Obviously, it was not the return that Lions fans -- many of whom did not even want Diggs to be dealt -- wanted for a burgeoning playmaker that is one year removed from being a Pro Bowl alternate.
When the deal was announced, I was as confused as everyone else with the Lions' logic for pulling the trigger. 
After giving it more thought, though, I figured there had to be a good reason or two as to why the Lions decided to move on from the fifth-year pro.
Normally, when a team trades a player and does not collect commensurate value in return, it indicates one of two things: Either the individual's contract is too exorbitant or the player's talent is overvalued.
In terms of the salary cap, trading Diggs cleared $1.6 million in cap space for this season, $3.4 million in 2020 and a sizable $7.34 million in 2021. 
Apparently, the GMs of the NFL's 31 other franchises did not believe that Diggs' price tag matched up with his quality of play. 

From an on-field standpoint, Diggs was statistically not having a great start to the 2019 season. 
He was tied with rookie linebacker Jahlani Tavai for most missed tackles on the team -- six -- and hadn't broken up a single pass. 
To add insult to injury, outside of special teamer C.J. Moore and his five defensive snaps, Pro Football Focus had Diggs as the worst-graded safety on the roster.
Objectively speaking, Diggs wasn't playing up to his pay grade this year. 
That's not to say he wouldn't have been able to find his prior form. However, maybe Quinn and Lions head man Matt Patricia just preferred other options already on the roster.
Remember, the Lions did draft safety Will Harris in the third round of the 2019 NFL Draft. 
Yes, he is only a rookie. But the Lions have put a lot on his plate due to injuries, and he has acquitted himself nicely. 
As Lions cornerback Darius Slay has struggled to stay on the field while fighting through a lingering hamstring ailment, it has often been Harris who has been the biggest beneficiary of Slay's snaps. 
Harris doesn't always line up out wide as a corner, but he has the ability to play all over the field, with more size and length than Diggs. 
Recommended Lions Articles
Based on size alone, Harris doesn't present the same matchup issues with larger tight ends and receivers as Diggs does.
Now to the part of the equation that is pure conjecture. 
The Lions have a history of moving on from players who don't buy in to the team's philosophies. 
I would be hesitant to even bring this point up a year after the Lions gave Diggs a three-year extension. However, a tweet sent out by Quentin Jammer, a former NFL CB and Diggs' brother, leads to some questions.
Interpret Diggs' above response however you would like. 
Needless to say, it's odd timing and would be quite the "coincidence," given the situation. 
If Diggs' personality on Twitter is any representation of how he is inside the locker room, he is very vocal with his opinions. 
Considering he was a team captain, you have to imagine that his boisterous demeanor was construed as his leadership style. 
Enough with all the hearsay, though. I'm not making any declarations, just presenting relevant information.
Finally, one aspect of the trade that would help justify Quinn's decision to send Diggs packing is if he has something bigger up his sleeve. 
Perhaps Quinn is dealing from a position of strength in order to set up a bigger move or two in the future. 
For now, there's nothing to verify that's the case, but it would definitely help justify Quinn's decision to make the move. 
Being "sellers" is unacceptable, as the expectations going into this year were playoffs-or-bust.
Unfortunately, we'll just have to wait and see what's in store for the Lions leading into the Oct. 29 NFL trade deadline.
At this point in time, I don't agree with the decision to part ways with Diggs. 
If this trade fails to set up another transaction, it's a clear-cut win for the Seahawks and just another loss for the Lions franchise.
More: Is Matt Patricia Concerned about Kerryon Johnson's Durability?