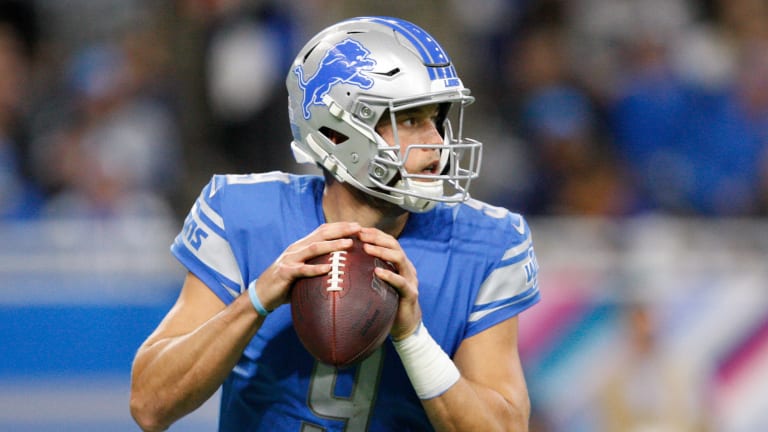 Matthew Stafford Is Enjoying an MVP-Caliber Season
Through seven games, the Lions' franchise quarterback is having an outstanding 2019 campaign
Stop me if you've heard this before, "Matthew Stafford is overpaid." 
It's been a phrase frequently uttered throughout Stafford's career with the Lions. 
It was definitely fair to say a season ago when Stafford had arguably his worst season as a pro. 
This year? Not so much.
In the second year of a $135 million extension, Stafford possesses the 10th-highest average annual salary among quarterbacks. 
At the time of his signing, Stafford had the largest contract in the NFL -- which has been the case for almost every quarterback that has recently signed a long-term deal. 
Now, Stafford's deal is starting to look like a steal, with another three years left on it after this season.
Here is the average annual salary for the top 10 highest-paid quarterbacks in the NFL today (per Over the Cap):
1.) Russell Wilson, Seahawks - $35,000,000 
2.) Ben Roethlisberger, Steelers - $34,000,000
3.) Aaron Rodgers, Packers - $33,500,000
4.) Jared Goff, Rams - $33,500,000
5.) Carson Wentz, Eagles - $32,000,000
6.) Matt Ryan, Falcons - $30,000,000
7.) Kirk Cousins, Vikings - $28,000,000
8.) Jacoby Brissett, Colts - $27,975,000
Recommended Lions Articles
9.) Jimmy Garoppolo, 49ers - $27,500,000
10.) Stafford - $27,000,000
While the Lions have the second-worst total defense and the 11th-worst rush offense in the NFL, they are still a .500 team. How is that possible?
One man: Matthew Stafford.
The Lions are averaging 282.7 yards per game through the air -- fifth-most in the NFL. 
Stafford, himself, has the fourth-most passing yards per game. 
On pass attempts of 20 or more yards, Stafford has averaged the second-most yards per game.
If that isn't impressive enough, the list goes on.
He is tied for second in passing touchdowns (16). 
However, of the quarterbacks who have thrown for more or the same amount of TDs, they have all played in one more game than Stafford. 
The Lions' signal-caller is also second in touchdown-per-throw percentage. That's what you call highly efficient.
In terms of both passer rating and QBR, Stafford lands at No. 6. Another major statistical category in which he is outperforming his annual salary.
All of the aforementioned stats indicate that Stafford is currently one of the best quarterbacks in the league.
Ultimately, the biggest knock against Stafford will always be his lack of wins. 
But, when it comes to his performance this season, you can't say he hasn't lived up to the bill or has been "overpaid."
More: Eagles Are Taking Shot to Acquire Darius Slay