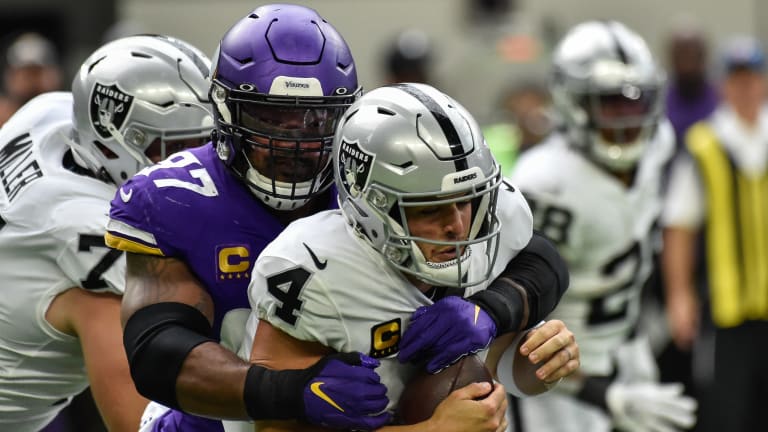 Scouting Report: Vikings Defensive End Everson Griffen
Check out our Vito Chirco's scouting report on the Vikings' elite pass-rushing defensive end
Minnesota Vikings defensive end Everson Griffen , a three-time Pro Bowler, is the subject of this week's Lions Maven scouting report.
The USC product has been a menace for opposing quarterbacks since his first full season of playing in games back in 2011. Since then, he's recorded at least four sacks each season, including at least eight sacks each year from 2014-17.
During that span, he totaled 43.5 sacks, good for an average of nearly 11 sacks a season (10.9).
His single-season high came in 2017 when he recorded 13 sacks. That also happened to be a season in which the Vikings went 13-3, finished in first place in the NFC North and made the NFC Championship Game (lost to the eventual Super Bowl champion Philadelphia Eagles, 38-7).
Fast forward to 2019, and the Vikings, standing at 4-2 and in second place in the NFC North, once again have aspirations of winning the division and of making a deep run in the playoffs. 
Griffen, a fourth-round pick (No. 100 overall) in the 2010 NFL Draft, is an integral element in the Vikings' pursuit of a memorable season that ends with a Super Bowl title. 
The 10th-year pro has three sacks, as well as 15 total tackles, nine quarterback hurries and even an interception through six games.
He recorded the INT -- his first since the 2012 campaign -- last week in Minnesota's 38-20 victory over the Eagles.
Griffen and his defensive end counterpart Danielle Hunter, who lines up on the left side of the line while Griffen lines up on the right, make it tough for opposing quarterbacks to stay clean on a week-to-week basis.
Much of the same can be expected against Matthew Stafford and the Lions on Sunday at Ford Field.
Recommended Lions Articles
Griffen has recorded a career-high 14 sacks, including 2.5 last season, and a career-high 15 tackles for loss in 17 games against the Lions.
Stafford, meanwhile, has been sacked just 10 times through five games, and the percentage of times he's been sacked per pass attempt stands at 5.5 percent. 
It's the lowest sack percentage for Stafford since he was sacked just 3.5 percent of the time in 2013. 
However, keeping Stafford upright will be a mighty tough task for the Lions' offensive line Sunday, especially on the right side of the line which features guard Graham Glasgow and tackle Rick Wagner.  
Glasgow has consistently been of the best right guards in the league this season. 
Meanwhile, Wagner, who was a limited participant in Wednesday's walk-through and Thursday's practice due to a knee injury, has experienced his fair share of struggles, with 18 pressures allowed. It's the ninth-most pressures allowed by an offensive tackle this season.   
The effectiveness of Glasgow and Wagner, or his replacement, in preventing Griffen from getting to Stafford will be a significant factor in whether the Lions pull off the victory Sunday.
More: Buy or Sell: The Lions Defeat the Vikings on Sunday