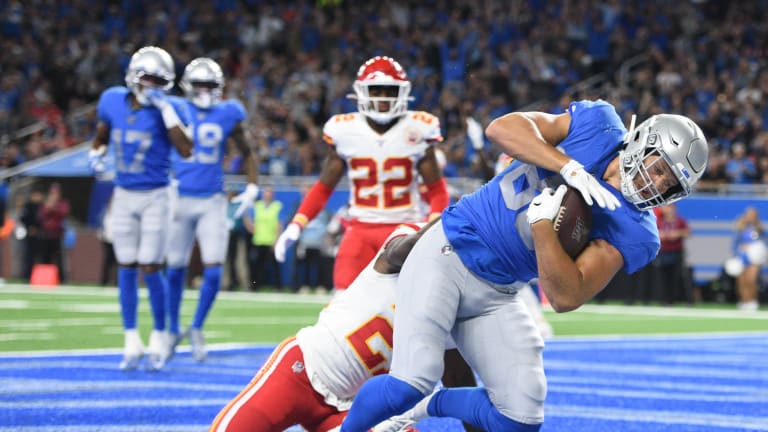 Should the Lions Move Away from Tight End-Heavy Sets?
The Lions were expected to heavily utilize their tight ends this year, but it hasn't been the case in recent weeks
The Detroit Lions had one of the worst tight end groups in the NFL a year ago. 
Given that the Lions were 31st in receptions and receiving yards from tight ends in 2018, Detroit general manager Bob Quinn made a concerted effort to make improvements at the position this offseason.
He completely overhauled the position by signing Jesse James and Logan Thomas in free agency while drafting T.J. Hockenson with the No. 8 overall pick in the 2019 NFL Draft.
With a different scheme and a new offensive coordinator in Darrell Bevell, the group was expected to be a major factor in the Lions' offense -- and not only in the receiving department but blocking as well. 
Outside of Week 1, there has been a very limited return on investment.

In recent games, the Lions have even started to move away from heavily featuring their two-tight end sets. 
Here is the percentage of how often the Lions have had two or more tight ends on the field each week: 
Week 1 - 37%
Week 2 - 31%
Week 3 - 36%
Week 4 - 28%
Week 6 - 42%
Week 7 - 17%
Week 8 - 21%
As you can see, the last two weeks have seen quite a dropoff for tight ends being used. 
Maybe you can attribute that to the game plan against a specific team or just finding a way to get productive veteran wideout Danny Amendola more snaps.
So which tight end has seen the biggest decrease in snaps? 
Easily the former Pittsburgh Steelers TE Jesse James. 
In the first six weeks of the season, James was seeing above 50 percent of the team's offensive snaps. 
In the last two weeks, James has seen his snap percentage drop to 36 percent.
TE snap percentages by week:
T.J. Hockenson
Week 1 - 73%
Week 2 - 79%
Week 3 - 66%
Week 4 - 55%
Week 6 - 56%
Week 7 - 67%
Week 8 - 67%
Jesse James

Week 1 - 58%
Week 2 - 49%
Recommended Lions Articles
Week 3 - 55%
Week 4 - 48%
Week 6 - 56%
Week 7 - 37%
Week 8 - 35%
Logan Thomas
Week 1 - 8%
Week 2 - 10%
Week 3 - 30%
Week 4 - 31%
Week 6 - 36%
Week 7 - 16%
Week 8 - 11%
Now that we have gone over how frequently the tight ends have been used, let's take a look at the performance of each tight end.
In the passing department, Hockenson leads the Lions' tight end group in every major statistical department. 
He has 28 targets, 19 catches, 240 yards and two touchdowns. 
Hockenson's 240 yards are 14th-most for all tight ends. 
Meanwhile, James and Thomas have a combined 13 catches, 125 yards and no touchdowns -- in so many words, nothing special.
One of the biggest advantages of using two-tight end sets typically is increased blocking ability. 
According to Pro Football Focus, Hockenson has the Lions' best run-blocking grade, and lands at No. 15 among 71 qualified tight ends when it comes to run blocking (TEs that have seen a min. of 20 percent of their team's offensive snaps). 
Unfortunately, James is way down the list at No. 64 in the category. 
Considering the limited impact James has had in the passing game, he has arguably been worse with blocking. 
Even more concerning is the fact that both Hockenson and James are in the bottom 10 for PFF grades when it comes to pass protection.
Maybe the Lions have been wise to move away from using so many tight ends the last couple games. 
Analytics agree with the sentiment.
Sharp Football has an excellent tool for grading the success rate by each personnel grouping. 
When the Lions are in 12-personnel (one running back and two tight ends), they have a run success rate of 30 percent, and average 2.7 yards per carry. 
Multiple tight ends also lead to loaded boxes; hence, the reason for Kerryon Johnson seeing eight-man or more stacked boxes. He saw the seventh-most eight-man-or-more boxes before he went down with a knee injury.
The Lions have had much better success running the ball when they open up the field and have three receivers with only one tight end. 
They have a run success rate of 48 percent and 4.3 yards per carry in their 11-personnel -- one running back and one tight end -- formations.
Bevell and Matt Patricia love to try to establish the run. 
However, it might be time to do what Stafford and the team does best -- pass the ball and decongest the box by spreading the offense out. In essence, use the pass in receiver-heavy formations more often to set up the run.
More: Matt Patricia Shares 'Cool Moments' with Matthew Stafford