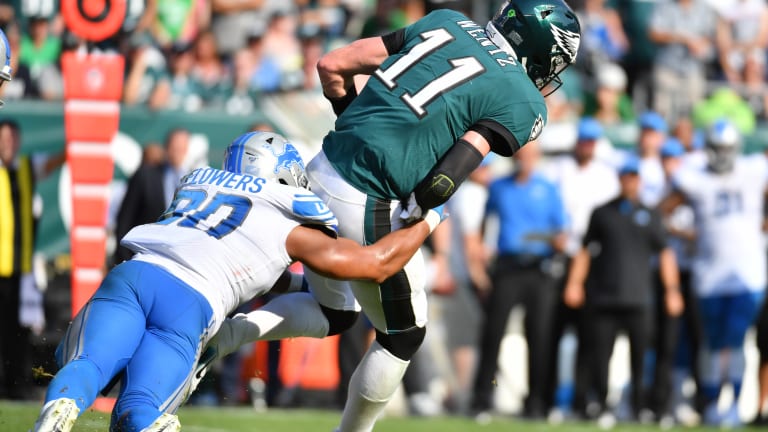 Publish date:
Trey Flowers Now Looking Like the Player the Lions Envisioned
The Lions' biggest offseason acquisition is looking like he will post the best sack total of his career
The Lions' biggest offseason acquisition is looking like he will post the best sack total of his career
The Lions signed pass rusher Trey Flowers in free agency this past offseason. 
In order to lure Flowers away from the New England Patriots, the Lions gave him a five-year deal worth $90 million with $56M in guaranteed money.
Flowers' contract nets the fifth-highest per year salary among edge rushers in the NFL: 

1. Khalil Mack - $23,500,000
2. DeMarcus Lawrence - $21,000,000 
3. Frank Clark - $20,800,000
4. Von Miller - $19,016,667

5. Flowers - $18,000,000

6. Cameron Jordan - $17,500,000
T7. Dee Ford - $17,100,000
T7. Olivier Vernon - $17,000,000
9. J.J. Watt - $16,667,571
T10. Chandler Jones - $16,500,000
T10. Za'Darius Smith - $16,500,000

As with most recent signings, the latest deal will usually be much higher in average annual value than older contracts.
With the big price tag comes high expectations. 
Recommended Lions Articles
Many assumed Flowers would be an instant difference-maker along the defensive line. 
However, his Lions tenure got off to a rocky start as an offseason shoulder surgery put the pass rusher behind schedule.
Although some feel that he has not lived up to his contract this year, Flowers is starting to look a lot like the Patriots version of himself.
As of Week 11, Flowers has the longest active sack streak among all NFC defensive ends. 
The fifth-year pro has tallied a sack in each of the past three games -- putting his season total at five.
In Flowers' previous four years in New England, the most sacks he ever accumulated in one season was 7.5 sacks. 
With seven games left in 2019, if you extrapolate Flowers' sack total this year, he is on pace for almost nine sacks.
Sacks are by far the most notable statistic for pass rushers. 
Knowing Flowers' modest career sack numbers, the Lions clearly did not give him all that money for just his sack production. 
What doesn't always show up on the stat sheet is how often Flowers disrupts the play.
In terms of pressures, Flowers averaged a pressure on 12.2 percent of his pass rush attempts before coming to Detroit. 
With the Lions, he has pressured the quarterback at a 12.4 percent clip.
Looking at Flowers' Pro Football Focus grades against the run, he is having the second-best year of his career in that department. 
His 18 run-stops lead the Lions, and his 12.7 run-stop percentage is the highest of all 72 edge defenders in the NFL that have played at least 100 run-defense snaps.
Whether or not you feel Flowers deserved the contract, he is playing at just about the same level he has in the past -- if not better.
More: What the Lions Need to Do to Stop Dallas' Offense