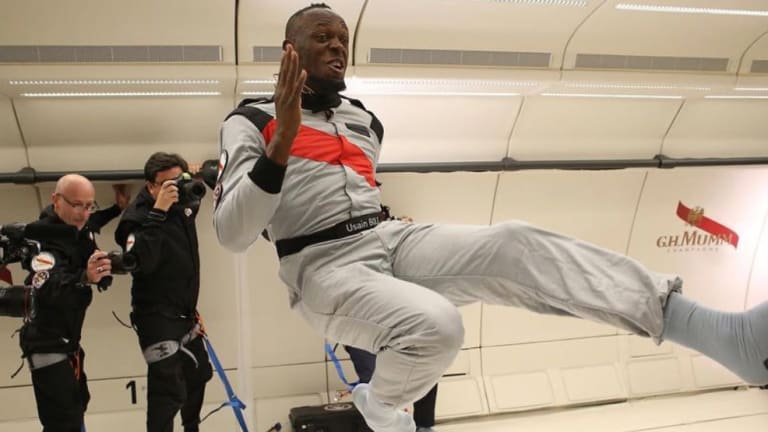 Watch: Usain Bolt Runs on Zero-Gravity Flight, Wins Race in Space
The eight-time Olympic gold medalist said he felt like a "kid in a candy store."
Usain Bolt is taking his speed where few have dared to race before: in space.
The eight-time Olympic gold medalist took a zero-gravity flight over France on Thursday aboard an Airbus A310 plane with a champagne sponsor.
Bolt was even challenged to a race while in the air, where he showed off his speed in low-gravity conditions. The Olympian floated in the air throughout the race, as his feet intermittently touched the ground. Bolt, racing in his socks, slipped a few times while trying to stay on the ground.
Of course the Olympian won the race, as he floated in the air to the finish line.
Bolt said that he felt like a "kid in a candy store" after floating around for about four minutes in near-weightless conditions, according to the Associated Press.
Bolt recently boosted his resume by making his professional soccer debut last month with the Central Coast Mariners FC. Now his resume can say he's the fastest man on land and in space.
The Associated Press contributed to this report.