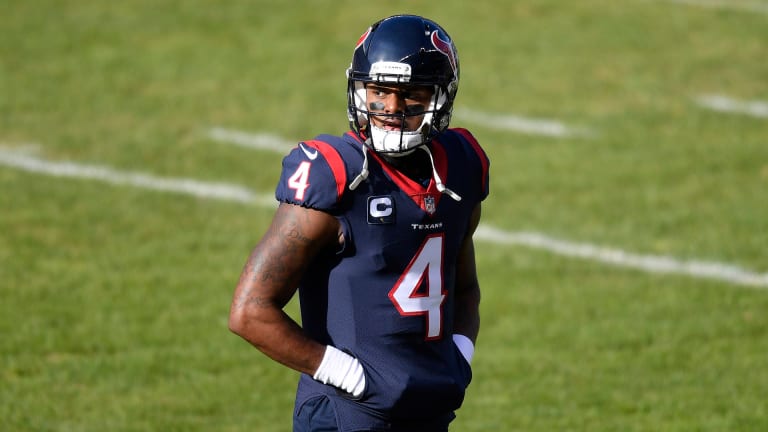 'We'll Do What We Feel Is Best': Texans GM Discusses Deshaun Watson | The Albert Breer Show
After months of insisting Deshaun Watson is Houston's QB, new Texans GM Nick Caserio comments on the recent lawsuits alleging sexual misconduct from Watson.
For three months, amid a trade request, and then a slew of lawsuits alleging sexual misconduct, the Texans' new brass declared that Deshaun Watson was and would remain Houston's quarterback.
Things are changing.
On a Monday taping on The Albert Breer Show, Texans GM Nick Caserio was our guest for a wide-ranging conversation, starting with the news that's engulfed the organization he's been charged with turning around since he took over in early January. After a couple months of sticking to his guns in saying that Watson is Houston's quarterback, I asked directly if he still feels that way.
"I think we'll take it one day at a time. And I think everything is pretty fluid here," Caserio responded. "And we'll adjust as we go. And ultimately, I think we'll do what we feel is best for the Houston Texans organizationally."
So, I then asked, you'd be open to trading Watson?
"Ultimately," he said, "we'll do what we feel is best for the organization."
On the pod, Caserio talked a little more on Watson; how he sees EVP Jack Easterby fitting into his reworked football operation; why David Culley was the right person to pair with in building it; and his own path to becoming a GM and how he plans to bring some, but not all, the things he learned in New England to Houston. Plus, in an interesting twist, he took us through how a Microsoft exec influenced his thinking on that.
Listen to The Albert Breer Show
Apple Podcasts | Spotify | Stitcher | Google Podcasts | iHeart
Find recent episodes on SI.com