Daytona 500 didn't produce thrilling racing promised with Gen-6 cars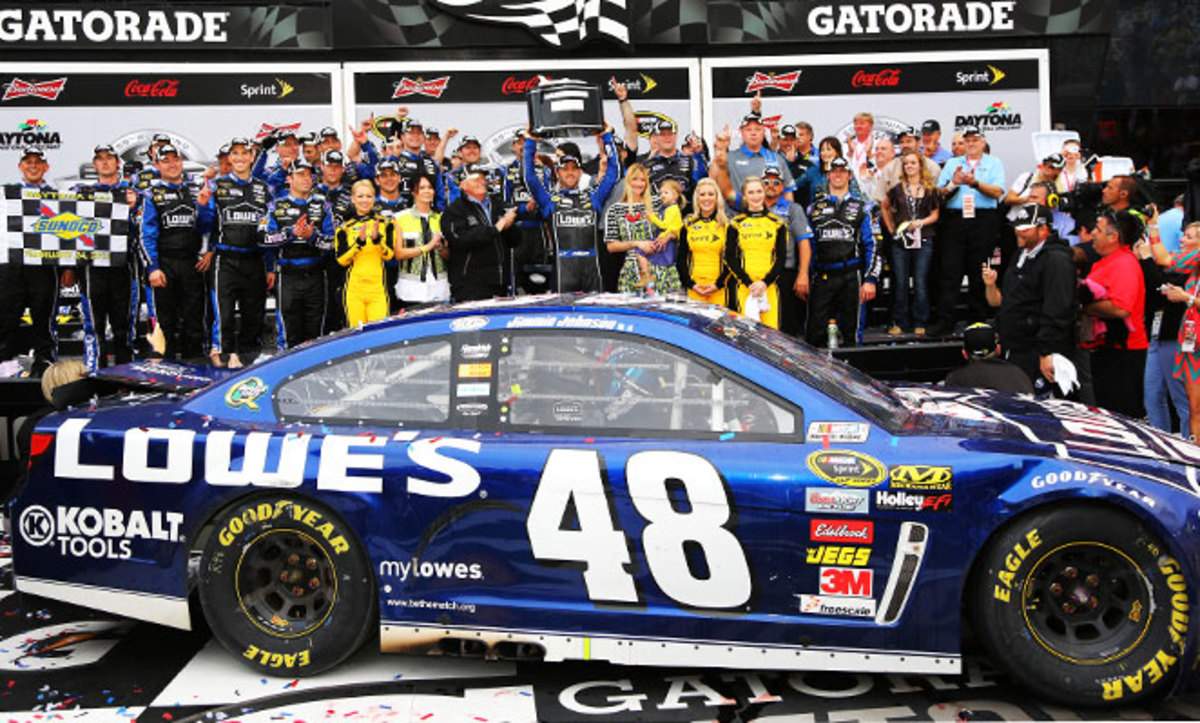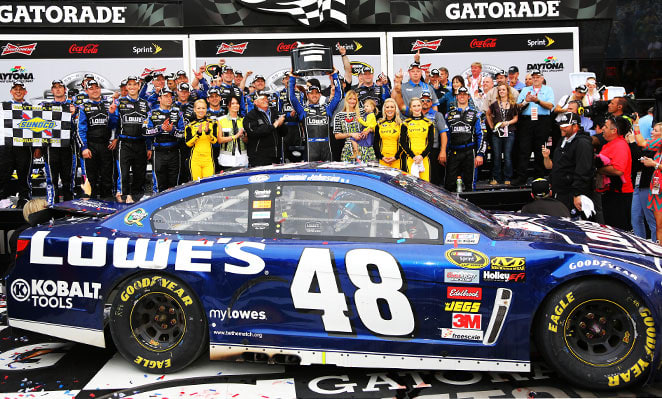 DAYTONA BEACH, Fla. -- After a week of brilliant sunshine, Sunday bought cloudy and grey skies at Daytona International Speedway. It was a gloomy day matching the gloomy mood that had engulfed the track Saturday following the horrific accident in the NASCAR Nationwide Series race that injured 28 spectators.
But the show must go on, as Daytona track president Joie Chitwood was quick to point out Saturday, and so the Daytona 500 began on schedule Sunday afternoon. Unfortunately, for most of the race, it wasn't much of a show.
Sure, there was plenty of excitement over the final 20 laps, complete with some old-fashioned two- and three-wide racing. Jimmie Johnson held off a pack of pursuers over the final six laps to win the Daytona 500 for the second time. Dale Earnhardt Jr. gave his legion of fans reason to cheer by finishing second. And Danica Patrick made history by becoming the first female driver to lead a lap in the Daytona 500, and the first to finish in the top 10 (she finished eighth) in the 55-year history of the event.
But while the ending might earn rave reviews, the first 450 miles consisted primarily of a long parade of monotonous single-file runs. Several drivers had warned after the drab qualifying races on Thursday that it looked like it was going to be extremely difficult to make passes in the new Gen-6 car -- at least on a restrictor-plate track such as Daytona, where the new design creates a side draft that can slow the car whenever a pass is attempted. That certainly turned out to be the case Sunday.
"You had such a small opportunity of time to get something done," Johnson said. "You had a restart, and that would shuffle around for three laps, and then we're all in line. ... Once you got in that single file, it would be foolish to pull out. You get back in line in 35th or something. So you just kind of hold your spot."
ANDERSON: Wreck proves that NASCAR cannot guarantee fans' safety
Defending Spring Cup Series champion Brad Keselowski, who finished fourth, agreed. "It seemed like the high lane was where all the speed was," he said. "I kept trying everything I could to make a pass on the lower lanes, but it wasn't going to work. I didn't want to run single file, but when you try to make a move and go to the bottom [of the track], you just go backwards. The only thing worse than running single file is running single file in the back of the pack."
Originally, there had been optimism that the new car actually would improve the quality of racing, which had deteriorated in recent years under the old car design. After a test session for the Gen-6 car last October at Talladega Superspeedway (another restrictor-plate track like Daytona), Kasey Kahne said he was excited about "the runs that you can get with this car, the way we can move around and pass cars in front of us. ... We're going to be able to race and pass more, and it's awesome from a fan's standpoint because they're going to get a much better show."
After Sunday's race, Kahne admitted that his initial expectations turned out to be incorrect. "When we did that test, it just seemed like you could get some really good runs," Kahne said. "I thought the runs would get better once we got in a big pack [of cars], but they actually got worse. It's different than I thought it would be."
Earnhardt put the blame not on the new car but on Daytona's new surface. The track was repaved less than three years ago, and the fresh asphalt provides plenty of grip for the tires. That makes it harder to pass because the cars are all running at almost identical speeds.
"If we had the old surface it would have been an incredible race, [with] people sliding around, wearing tires out, just trying to dig as hard as they could," Earnhardt said. "We'll get to that as the track ages. I'd hate to see them start messing with the car. ... I think it will get better. It's still a brand-new car. We have a whole season and the future to improve it and learn how to make it tick."
Of course, the first race in the Gen-6 car could not have gone any better for Johnson. He managed to make a rare low-side pass on Keselowski for the lead, sneaking his car a few inches in front of Keselowski's just before a late caution flag came out for debris on the track. That enabled Johnson to choose to be on the preferred high side of the track for the final restart of the race with six laps to go. He maintained the lead the rest of the way, giving him the 61st Sprint Cup victory of his career.
"The caution fell at a good time for us, right when we surged ahead," said Johnson, who might not have been able to maintain the lead on the low side of the track had the race continued under green. "I was hanging on side drafting, doing all I could to hang on to [the lead]."
It is that combination of talent and good fortune that enabled Johnson to win five consecutive Sprint Cup championships from 2006 through 2010. Now, after seeing somebody else take home the championship trophy each of the past two seasons, Johnson is optimistic that his No. 48 team is ready to make another serious run at the title.
"I think it's going to be a very strong year for us," Johnson said. "I have confidence because I know how hard [crew chief] Chad [Knaus] works. I know the tools and commitment that [team owner] Rick [Hendrick] has and gives us, how hard everybody works at our shop. ... We're really excited for the races to come."
Patrick also has reason for optimism after her historic run Sunday. After starting on the pole, she surrendered the lead to Jeff Gordon on the very first lap, but took the lead for the first time on lap 90, leading a total of five laps. She was in third place entering the final lap, but got shuffled back to eighth in the hectic dash to the finish line. It was an extremely successful race for Patrick, though she was quick to say that she is not yet ready to elevate her expectations for her rookie Sprint Cup season.
"I think it would be unwise to start telling myself that top 10 is where we need to be every week. I think that's setting up for failure," Patrick said. "The list of drivers in the Cup Series is deep. I'm still sticking to seeing how these first five races go, where we go to a bunch of different kinds of tracks. See where we settle in and start to establish goals from there on out. ... Running solid inside the top 20 and hopefully get inside the top 15, that's really all I can think right now. It might change after five races. Who knows? It might get better, it might get worse."
The same could be said of the Sprint Cup Series one race into the 2013 season. If the first 450 miles of Sunday's Daytona 500 are any indication of how the year will go, then amazingly, the racing could be even worse than last season. But if the final 50 miles are a sign of what's to come, then better days could be ahead.
No matter what, hopefully nothing else this season will be as bad as Saturday's wreck. NASCAR cannot afford many more days as gloomy as that one.
GALLERY: Action shots from the 2013 Daytona 500